The Evolution of U.S. Mail (1750 - Present)
A few days ago I was enjoying my bi-weekly viewing of
The Patriot - 
a historical fiction film about the Revolutionary War - and noticed how excited the characters became when a post rider delivered mail. I found this odd, as physical mail today tends to be very boring. This inspired me to find out about the history of U.S. Mail and the evolution of U.S. Mail.  Without further ado, I present to you an infographic even Benjamin Franklin would be proud of.
Additional Facts:
The Clermont Steamboat
Prior to its maiden voyage, The Clermont was nicknamed "Fulton's Folly" by the skeptic public who did not believe the boat would work. They were quickly proven wrong, as many watched in awe as the boat traveled 5 mph against the Hudson River current.
Its first voyage was a 150-mile trip from New York City to Albany along the Hudson River. There were no significant problems and the trip took 32 hours to complete. It is a 2 hour trip by car.
The Pony Express
Being a Pony Express rider was a very dangerous job, as riders endured rough terrain, hostile Indians, and pitch black darkness along the delivery route. A famous Pony Express advertisement read: Wanted: Young, skinny, wiry fellows not over eighteen. Must be expert riders, willing to risk death daily. Orphans preferred. 
Many brave young men applied, eager to face the route's many challenges. Only about 80 were chosen. Riders were paid $100 per month - a very handsome wage at the time.
Buffalo Bill (William Cody) is the most well-known rider. He made the longest non-stop ride (322 miles) over one of the most dangerous sections of the trail after his relief rider was killed. This trip took 21 hours and 40 minutes and required 21 horses. Makes you think a bit more seriously about the evolution of U.S. Mail.
The Most Valuable Stamp in the World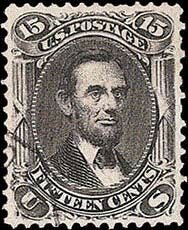 The 1867 Abraham Lincoln Stamp is valued at over
$200,000
. It was a temporary revamped design that was used during the heat of the Civil War. What differentiated this stamp from others was the "grilling" process. Stamp grills are the embossed pattern of indentations, making it harder to wash off cancellations, preventing people from reusing stamps. The 1867 Lincoln grill features horizontal ridges rather than the much more common vertical ridges. Thanks for reading about the evolution of U.S. Mail! Remember, everyone appreciates a physical letter. Send away with some sweet
JAM envelopes
;)