At JAM Paper, we believe that envelopes are just as important as the message they deliver. Check us out for mailing envelopes for any occasion, whether it be wedding invitations, a greeting card to say hello, a holiday card, RSVP cards, and much, much more! Use our sizing guides to help find the perfect one for any occasion, whether it be a business memo or a holiday party invite. Shop our enormous array of colors and sizes for every occasion and every use!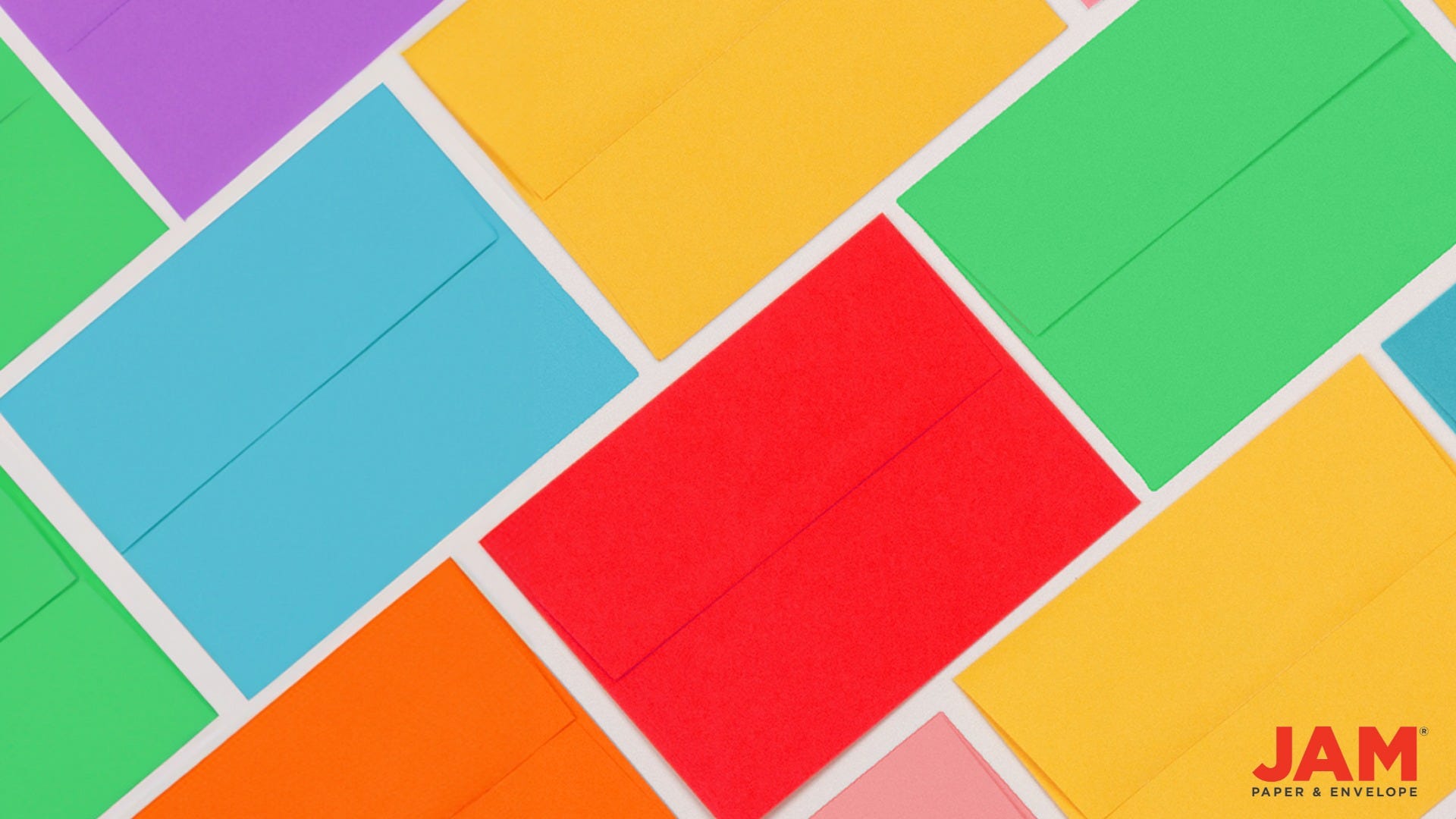 Envelopes: All You Need To Know
Envelopes are more than just stationery – they're integral tools in our professional and personal spheres. From sending out official documents to mailing heartfelt letters, they facilitate the exchange of information and emotions that shape our lives. So, let's navigate through the realm of envelopes and explore everything from standard sizes to finding the perfect envelope for your specific needs!
Why Are Envelopes Important?
Envelopes play a crucial role in upholding professionalism and establishing trust with clients, partners, and customers. They essentially signify a meticulous attention to detail and a dedication to safeguarding sensitive information. They also contribute to brand identity by prominently featuring logos and designs, thereby reinforcing the company's image.
Benefits Of Envelopes
Here's a detailed look at the benefits of using envelopes:
Organization: Envelopes help maintain order by categorizing and storing documents efficiently. They reduce the chances of documents getting mixed up or misplaced.
Professionalism: In business, envelopes enhance the professionalism of your communication. They demonstrate attention to detail and care in presentation, leaving a positive impression on recipients.
Security: Envelopes provide a level of security and confidentiality that electronic communication cannot always guarantee. They are ideal for sending sensitive information and important documents securely.
Customization: Envelopes offer ample room for branding and personalization. You can print custom designs, logos, and return addresses, further reinforcing your identity.
Versatility: Envelopes are versatile, serving multiple purposes, from sending formal letters and invoices to housing greeting cards and invitations.
Types Of Envelopes
Envelopes come in different types, so let's explore some of the most common types of envelopes:
Regular Envelopes - These are the standard envelopes used for everyday correspondence, including letters, invoices, and billing statements. They typically feature a rectangular shape and a pointed flap.
Security Envelopes - Engineered with an additional layer of security, such as a distinctive pattern or tinted interior, these envelopes are designed to safeguard the privacy and confidentiality of their contents, making them ideal for sensitive documents.
Window Envelopes - Recognizable by the transparent window on the front, these envelopes are widely employed for bulk mailing. They expedite the process by allowing the recipient's address to be visible, eliminating the need for manual addressing.
Plastic Envelopes - Crafted from durable plastic materials, plastic envelopes offer enhanced protection against moisture, tears, and other potential damage. They are favored for organizing and storing documents, especially in settings where durability is paramount.
Padded Envelopes - Also referred to as cushioned or bubble mailers, these envelopes provide an additional layer of cushioning, making them ideal for shipping delicate or fragile items. The padded interior safeguards contents from bumps and shocks during transit.
Greeting Card Envelopes - Slightly smaller and often adorned with vibrant colors, greeting card envelopes are tailored for sending greeting cards, invitations, and thank-you notes. Their size perfectly complements standard greeting card dimensions.
Leather Envelopes - A luxurious option, leather envelopes combine elegance with functionality. While less common than other types, they are favored for upscale events and presentations, where they lend an air of sophistication to the correspondence.
Invitation Envelopes - Ideal for weddings, anniversaries, and special events, these envelopes come in a variety of luxurious textures and eye-catching colors. Features like elegant linings and quality paper stock give your invites the VIP treatment they deserve. Remember, your invitation sets the tone for your event, and these envelopes ensure it's nothing short of spectacular.
Mini Envelopes - Perfect for tucking away gift cards, tiny love notes, or even seeds for a garden surprise, these envelopes are as versatile as they are adorable. Coming in a rainbow of colors and a variety of textures, mini envelopes add a whimsical touch to any small-scale gifting or messaging. Don't let their size fool you; these little envelopes know how to steal the spotlight in any setting!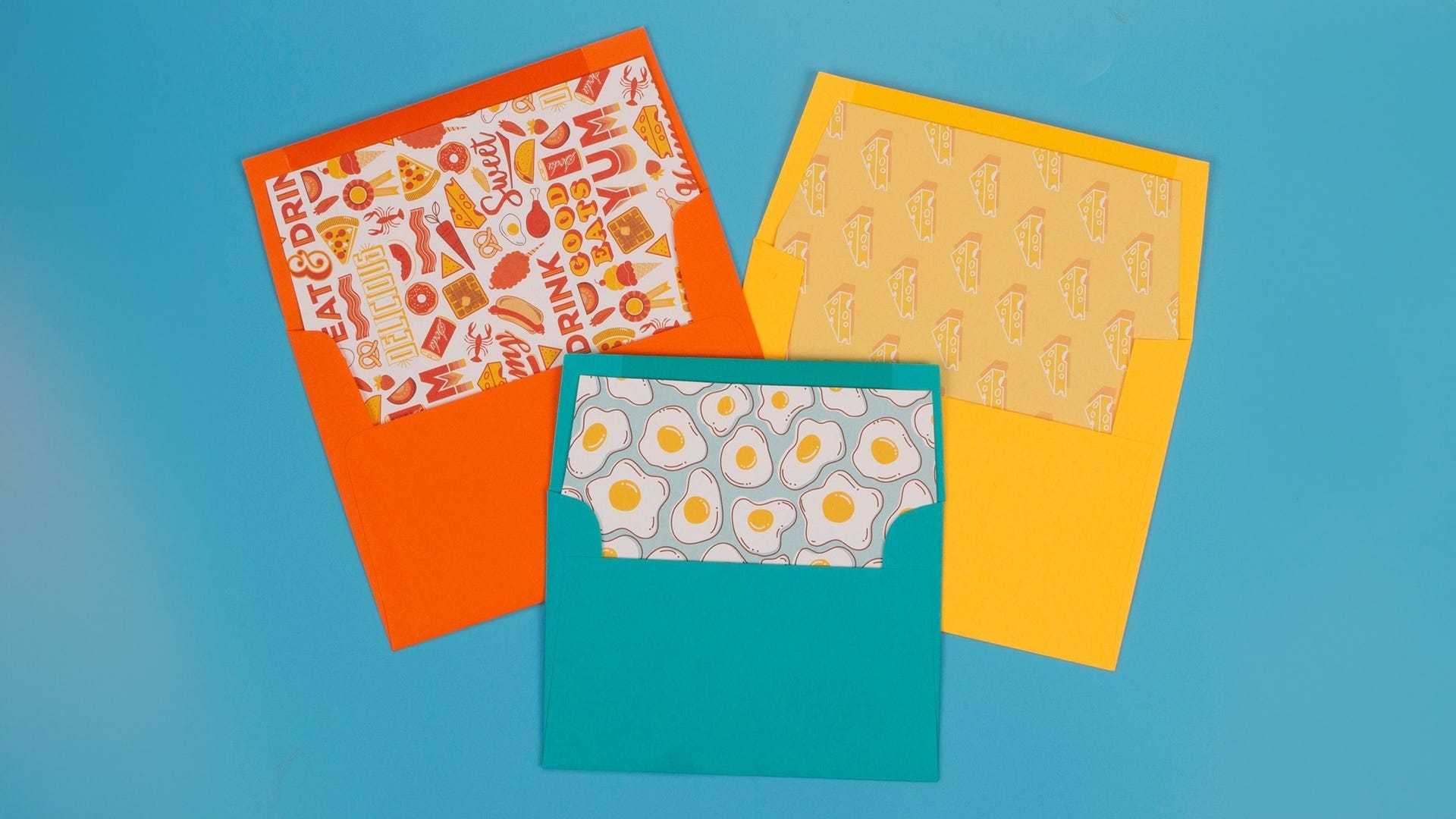 Standard Envelope Sizes
Here are some of the standard envelope sizes commonly used:
#10 Envelope: The most widely used envelope size, perfect for mailing business letters, invoices, and other documents.
A7 Envelope: The standard size for most greeting cards in the United States. They are also an ideal way to deliver event invitations, photographs, wedding programs, and much more!
A2 Envelope: A smaller envelope size commonly used for RSVP cards, thank-you notes, and small invitations.
6x9 Envelope: A large envelope often employed for mailing brochures, booklets, and catalogs.
9x12 Envelope: A popular envelope size for sending larger documents, certificates, and marketing materials.
Credit Card Sleeve: These sleeves offer a reliable solution for safeguarding your cards and IDs, keeping them organized and secure.
Materials Used In Envelopes
Envelopes are crafted using different materials, so let's explore the most commonly used materials:
Paper Envelopes: Traditional and widely used, paper envelopes offer an affordable and eco-friendly option. They are available in various thicknesses and finishes, such as matte or glossy.
Plastic Envelopes: Durable and waterproof, plastic envelopes provide extra protection against moisture, making them suitable for shipping items or storing documents in humid environments.
Leather Envelopes: Known for their elegance and durability, leather envelopes are a luxurious option. They are favored for upscale events and presentations, where they lend an air of sophistication.
Kraft Envelopes: Crafted from recycled materials, kraft envelopes offer a rustic and eco-friendly option. They are commonly used for packaging and mailing purposes.
Tips For Efficient Envelope Storage And Organization
If you already own envelopes, here are practical tips to help you maintain an organized envelope inventory:
Label and Categorize: Create clearly labeled sections or bins to categorize envelopes by size, type, or purpose. This simple step can make it effortless to find the right envelope when you need it.
Use Dividers: Employ dividers or separators to create distinct sections for various envelope sizes or types. This additional level of organization minimizes searching time.
Keep a Stock: Keep a sufficient stock of envelopes to avoid last-minute shortages. Consider buying envelopes in bulk to save time and money in the long run.
Store in a Dry Place: Ensure your envelopes are stored in a dry place to prevent moisture damage, which can compromise their quality and functionality. Proper storage preserves the integrity of your envelopes.
Envelopes for Special Occasions
Envelopes play a significant role in special occasions. Whether it's a wedding, baby shower, or birthday celebration, here's how envelopes can add a touch of elegance and personalization:
Invitations: Envelopes are an important part of invitation suites. They set the tone for the event and provide a protective covering for the content. Choose envelopes that match the theme and formality of your occasion.
Thank You Cards: Sending thank you cards in envelopes adds a special touch. Opt for envelopes that coordinate with the design of your cards, creating a cohesive and polished look.
Cards and Gifts: Envelopes for greeting cards and gifts come in various sizes and designs. From festive holiday envelopes to romantic Valentine's Day ones, there's an envelope to suit every occasion.
Professional Use of Envelopes
Envelopes are crucial in maintaining professionalism in various business settings. Here are a few ways envelopes are used professionally:
Business Correspondence: When sending important letters, contracts, or invoices, envelopes provide a formal and secure packaging solution. Branded envelopes can help create a cohesive and professional image for your business.
Mailing Campaigns: Envelopes can be powerful marketing tools for direct mail campaigns. Choose envelopes that catch the recipient's attention and entice them to open your mail.
Document Organization: Envelopes can assist in organizing and categorizing documents within the workplace. By using envelopes with labels or different colors, it becomes easier to locate specific information swiftly.
Choosing The Right Envelopes For Your Needs
Selecting the perfect envelopes ensures your documents, invitations, or items are delivered securely and professionally. Here are key factors to consider when making your envelope choice:
Size And Compatibility: Opt for an envelope size that comfortably accommodates your contents without excessive folding or creasing. This ensures a neat presentation upon arrival.
Sealing Method: Decide between self-sealing envelopes, moisten-to-seal envelopes, or those with convenient peel-off adhesive strips. Choose the option that aligns with your preference and workflow.
Appearance And Branding: Reflect your brand's identity by selecting envelopes that harmonize with your desired aesthetic. Explore options with windows for a polished look or colored envelopes for a personalized touch.
Quantity And Budget: Assess your envelope needs and establish a budget that balances quality and cost-effectiveness. Purchasing in bulk often proves to be a practical and economical choice.
Special Features: For unique requirements such as tamper-evident seals, enhanced security features, or custom printing, explore envelopes tailored to meet your specific needs.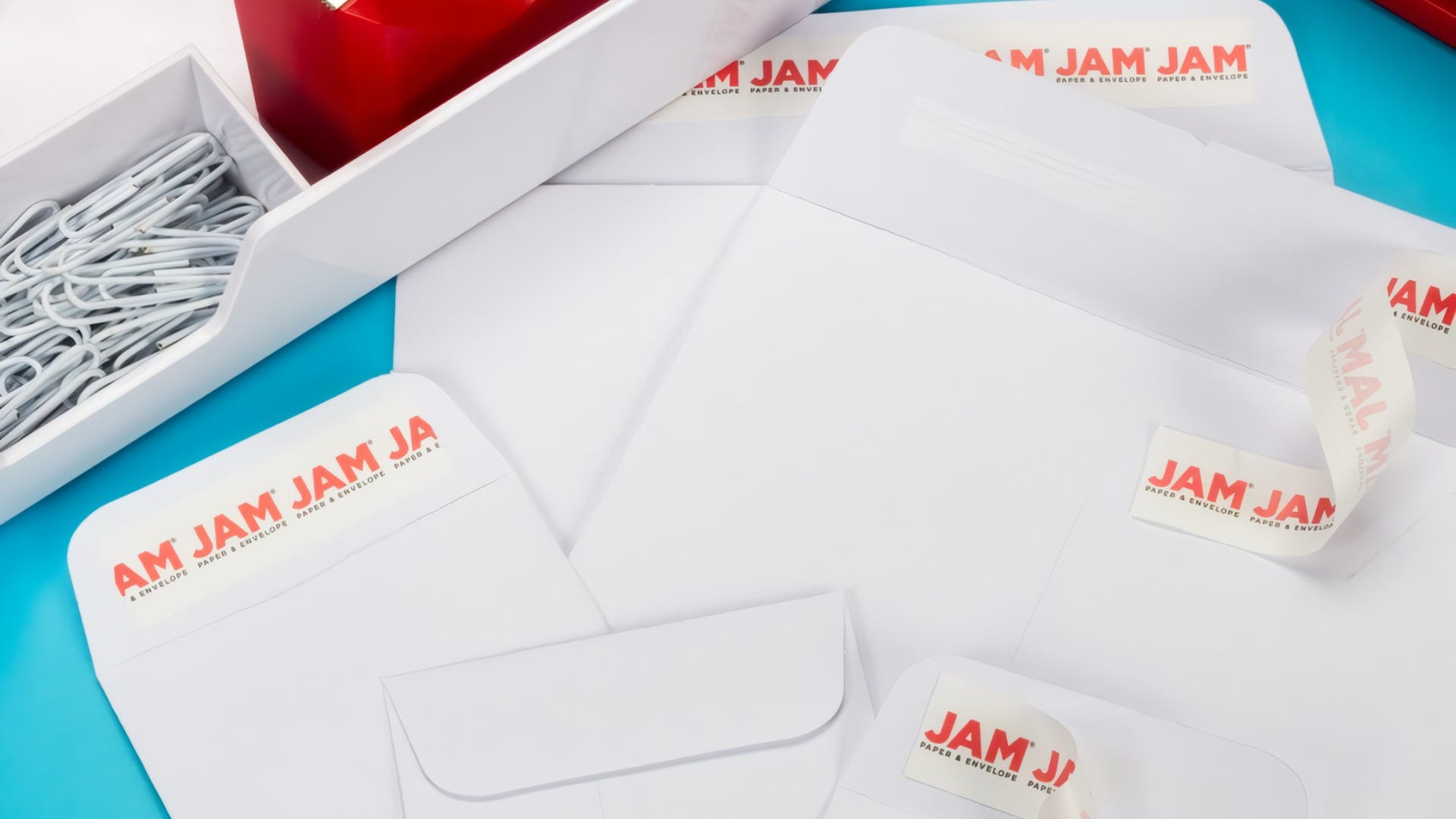 Interesting Facts about Envelopes
Here are some intriguing facts about envelopes that you may not know:
The first commercially produced envelope in the United States was introduced in 1845 by a stationery company called J.S. Abernathy.
The world's largest envelope was created in Germany in 2012 and measured over 32 feet wide and 23 feet tall.
The invention of self-sealing envelopes is credited to Americus F. Callahan. He patented the technology in 1901.
In 2017, the global envelope market was valued at approximately $58 billion and is projected to grow further.
Final Thoughts
Envelopes serve a range of purposes beyond just mailing. They offer endless opportunities for creativity, organization, and personalization in both personal and professional settings. By understanding the various types of envelopes and their uses, you can make informed decisions that enhance your communication and presentation. So the next time you reach for an envelope, remember the versatility it holds and the impact it can make.
Jam Paper envelopes are available in a wide range of colors, sizes, and styles to meet your every need. Whether you're sending a personal note, mailing out invitations, or organizing important documents, Jam Paper has the perfect envelope for you. Shop Jam Paper envelopes today and add a touch of creativity and organization to your communication and presentation!

Interested in learning more about envelopes? Read:
FAQs
What is the recommended envelope color for formal business correspondence?
Traditional choices for formal business correspondence include white, ivory, or cream-colored envelopes. These colors give a professional and sophisticated appearance.

Are there envelopes specifically designed for fragile items?
Some envelopes are designed for shipping fragile items. These envelopes often have additional padding or cushioning material to protect the contents during transit.

Can I use padded envelopes for shipping documents?
While padded envelopes are commonly used for shipping small items or fragile objects, they can also be used to ship important documents. However, it's recommended to consider using a document mailer or protective sleeves to ensure the documents remain flat and uncreased.

Are there envelopes that are compatible with automatic envelope-stuffing machines?
There are envelopes specifically designed for use with automatic envelope-stuffing machines. These envelopes have features like open-side construction and smooth surfaces to facilitate automated processing.

Can I write addresses directly on colored envelopes?
Writing addresses directly on colored envelopes is generally acceptable, as long as the address is legible and clearly visible. However, it's recommended to use a white or light-colored pen or marker for better contrast and readability.

Are there envelopes suitable for mailing bulky items?
Some envelopes are designed specifically for mailing bulky items. These include gusseted envelopes or expandable envelopes, which have pleated sides that expand to accommodate thicker contents.

Can envelopes be sealed without using traditional adhesives?
Some envelopes come with peel-and-seal strips, while others have self-adhesive closures or clasp closures that don't require moistening or licking.

What is the purpose of window envelopes?
Window envelopes have a transparent window on the front that allows the mailing address to be visible without having to write it separately. They are commonly used for invoices, statements, and other mailings where the recipient's address is printed on the enclosed document.

How can I calculate the exact postage required for my envelopes?
You can use online postage calculators provided by postal services or consult the postal rates and regulations guides. These resources will help you determine the appropriate postage based on the envelope size, weight, destination, and any additional services required (such as tracking or insurance).