1954 - Where it all began...
JAM Paper & Envelope begins in New York City in 1954, when Henry Berger opened Hudson Envelope as a paper and envelope wholesaler and printing service. In 1983, Henry's son-in-law, Michael Jacobs, would open Hudson Envelope's first retail store in New Jersey called JAM Paper & Envelope, named after his wife, Janet, his son, Andrew, and himself, Michael.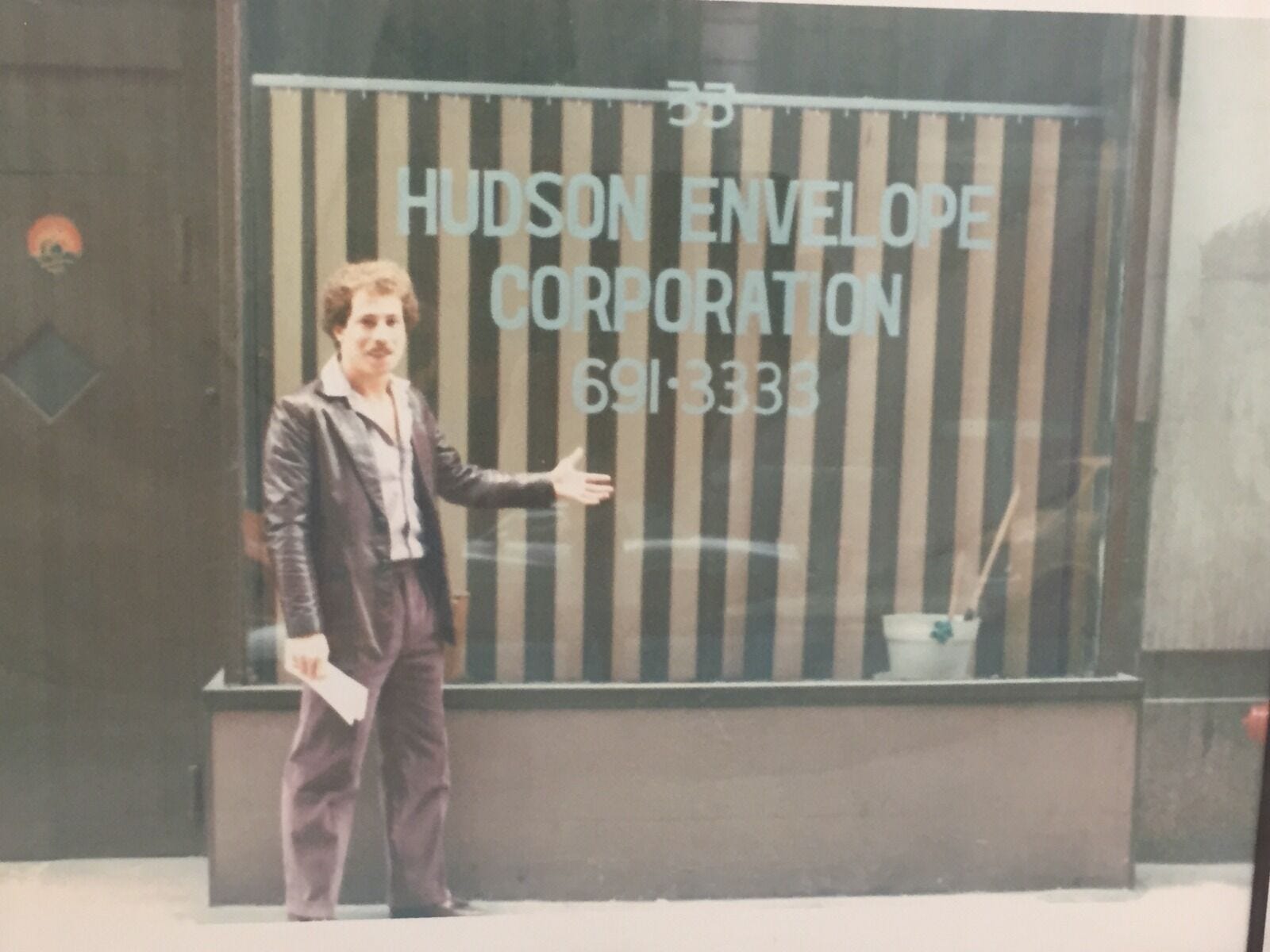 1986 - JAM Expands into New York City
The New Jersey store's success inspired Michael to expand the business into New York City. That mission was accomplished within just three years. In 1986, with a second store opening in Manhattan. During this time, JAM started gaining massive popularity among the city's trendy shoppers who appreciated the company's colorful and "funky" stationery products.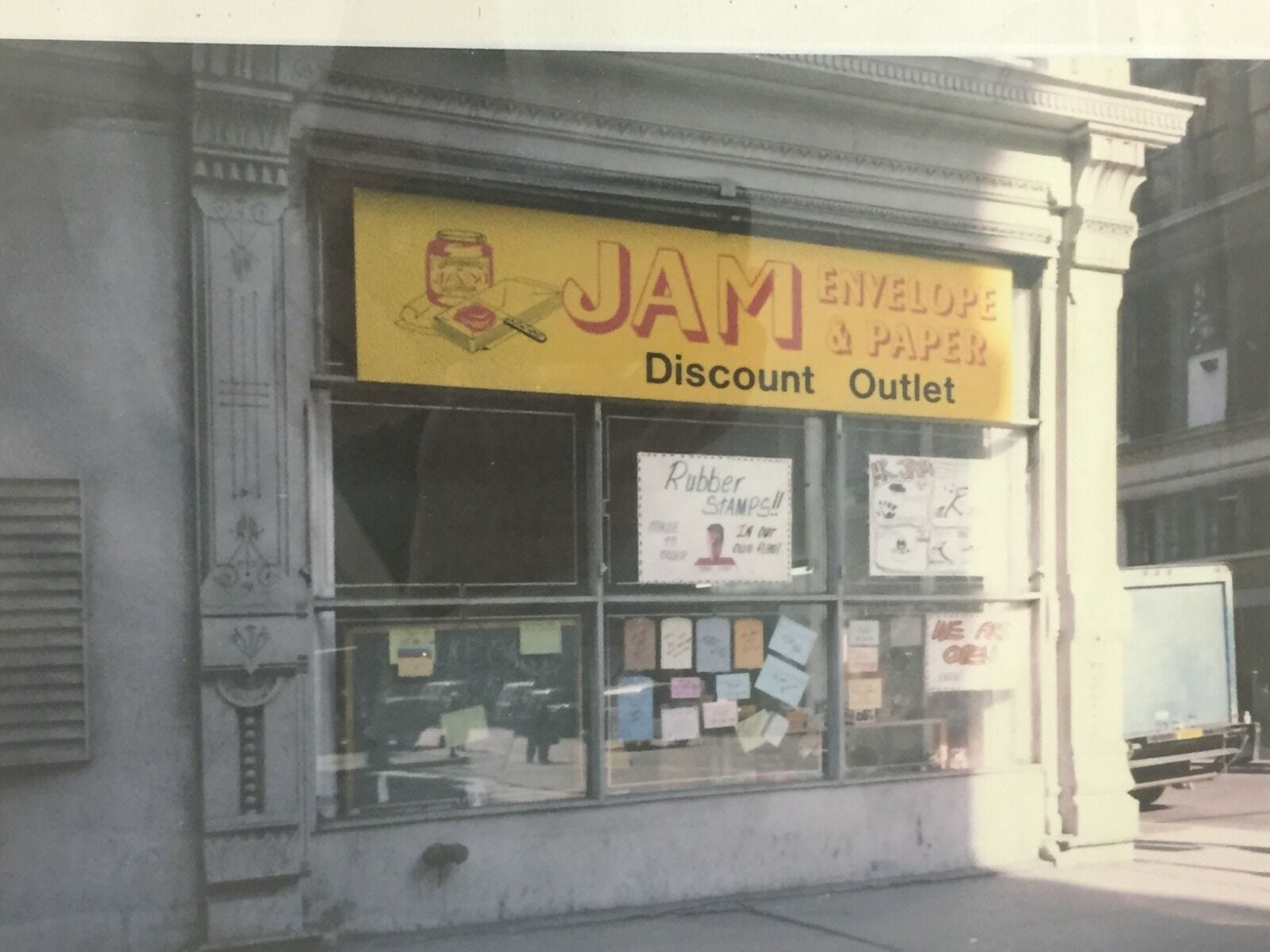 1996 - The Launch of JAMpaper.com
In 1996, the company launched JAMpaper.com, an online catalog that was used mainly for referral purposes and additional information.
1999 – The First Official Warehouse
With the newly found success of JAMpaper.com and the continued growth of the retail locations Jam acquired it's first warehouse. A 10,000 sq. ft. building in Tenafly, New Jersey. Jam has come a long way from keeping all of its inventory stored in various NYC basements!
2004 - The First Flagship Store
JAM's first flagship store opened in March 2004 at 135 Third Avenue. It served as one of the premier office, school, and stationery supply stores in NYC.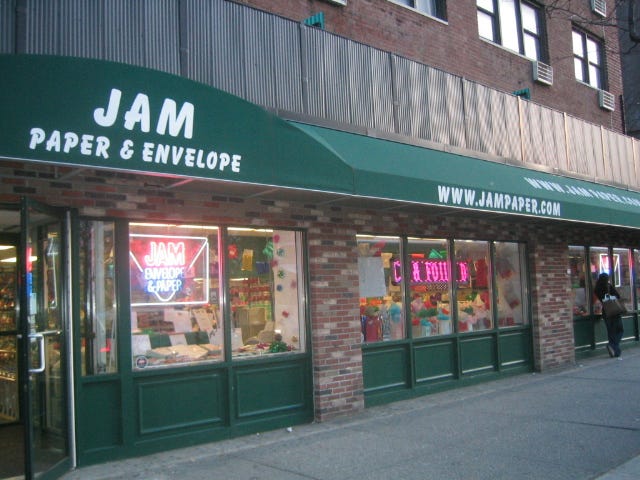 2007 – The Re-Launch of JAMpaper.com
In 2007, Andrew, decided that JAM Paper needed a stronger online presence and functionality. Andrew then built out an e-commerce site, enabling customers to buy JAM Paper products online. Since then, Jampaper.com has revamped its appearance multiple times.
Jampaper.com's first website in 1996 (top left). It underwent a redesign in 2006 (top right). In 2007, it went through another redesign and added e-commerce functionality (bottom left). JAM now has a clean, simple appearance that focuses on good user experience, 2016 (bottom right). In 2022 JAM Paper launched a new and more advanced website platform.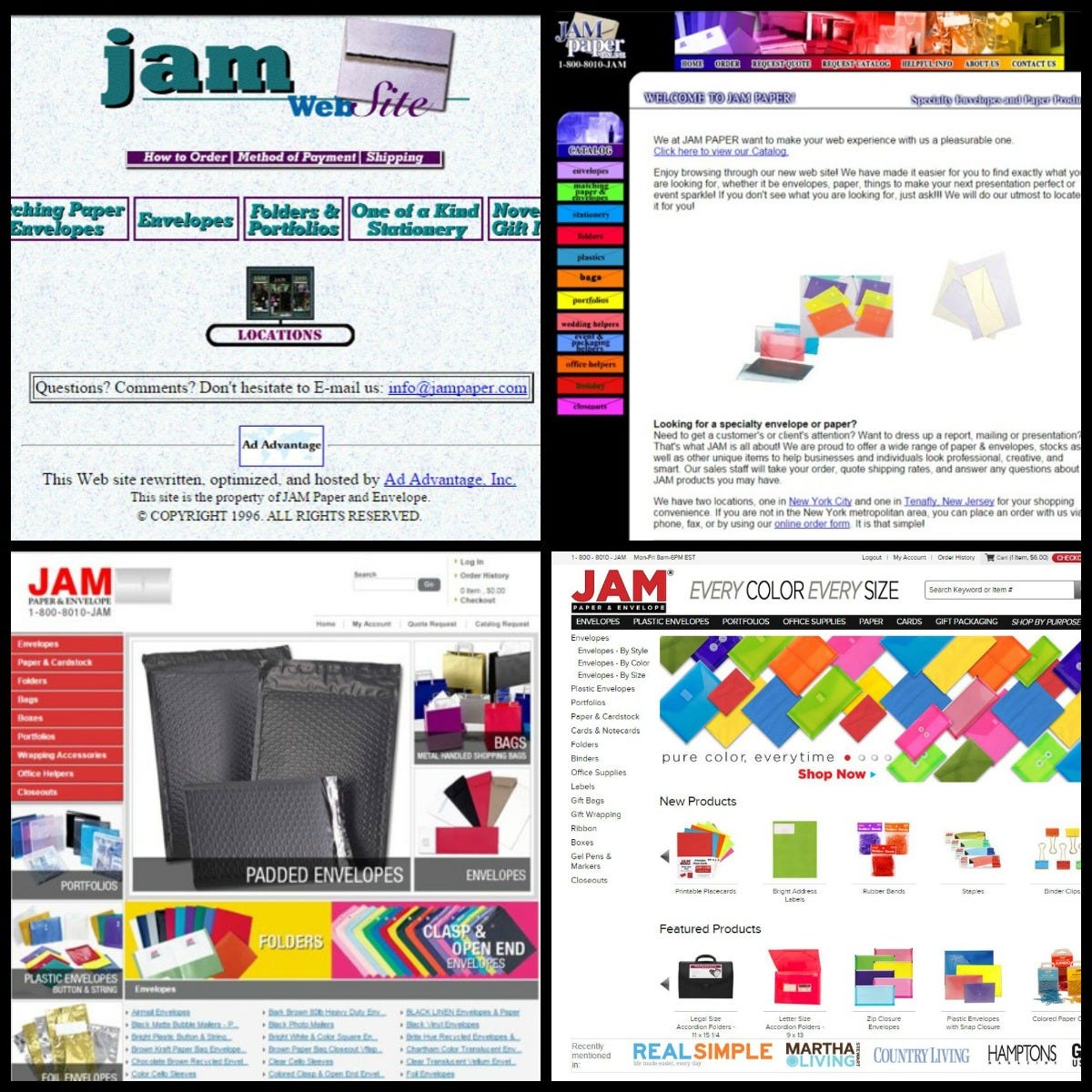 2009 - Moving on Up to Northvale, New Jersey
With the continued success of JAMpaper.com & the retail locations Jam was running out of room at the Tenafly location and needed to expand. Jam moved to a bigger 40,000 sq. ft. warehouse and office space in neighboring Northvale, New Jersey.
2011 - Launched the Jam Paper Store on Amazon
JAM Paper launched a web store on Amazon.com, marking the first time JAM products could be found outside of JAMpaper.com and its physical stores.
2013 - Continued Online Presence Expansion
During the timeframe between 2013-2015, JAM continued expanding online by launching its products on Staples.com, Officedepot.com, Walmart.com, and Target.com.
2015 - Jampaper.com Mobile Version
Jampaper.com underwent several changes in 2015, most notably adding responsive design for its mobile site which allows customers to navigate the site easily on their smartphones and tablets. Additionally, JAM added customer ratings and reviews and Q&A functionality on all product pages, allowing shoppers to shop smarter and connect with the company more easily.
2016 – Expanded Northvale Warehouse
JAM doubled its warehouse and office space with a second building 40,000 sq. ft. building adjacent to the current warehouse in Northvale, New Jersey. With all of this moving JAM acquired the first truck – a 24' beauty affectionately known as "The Paper Boy".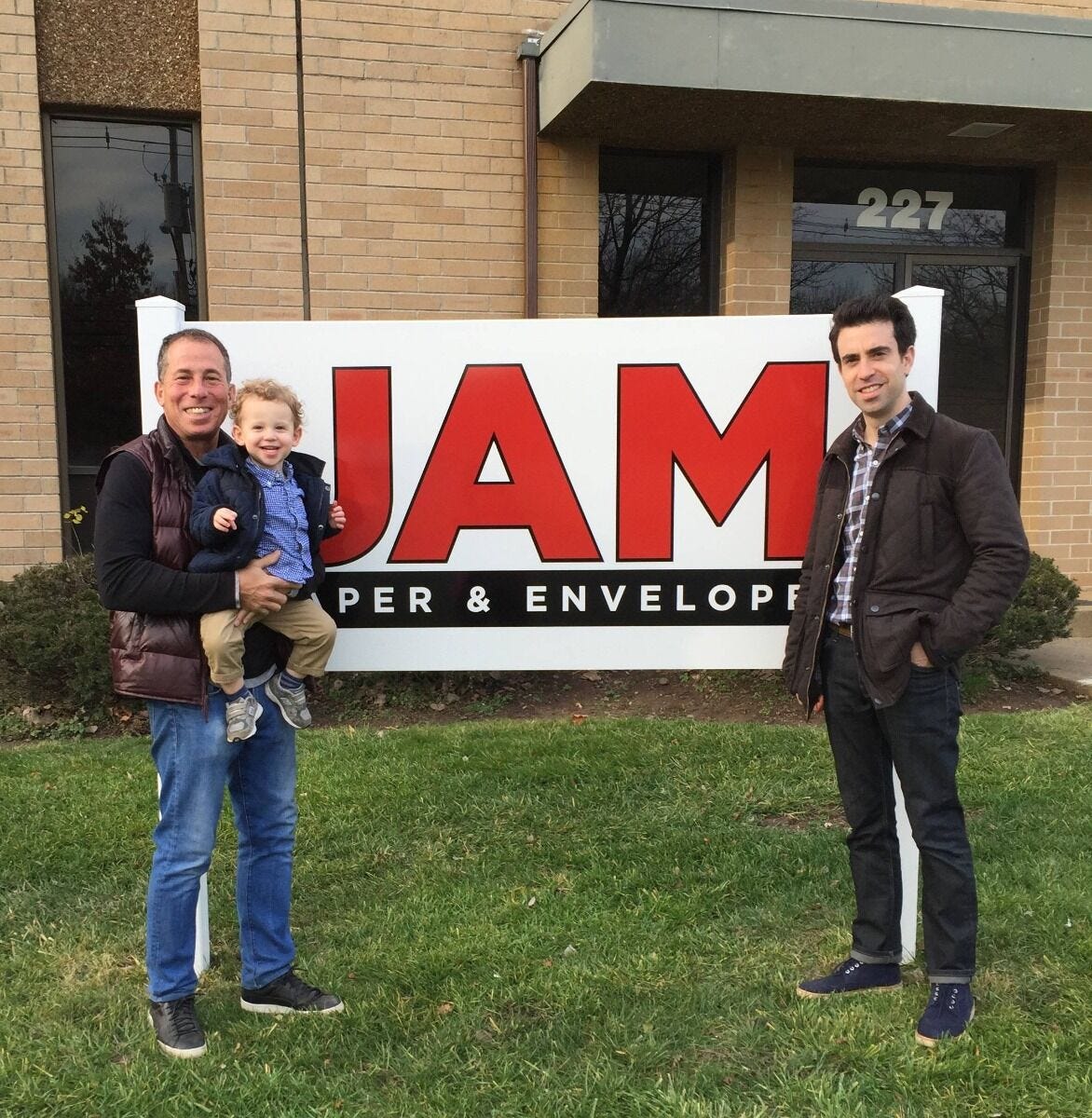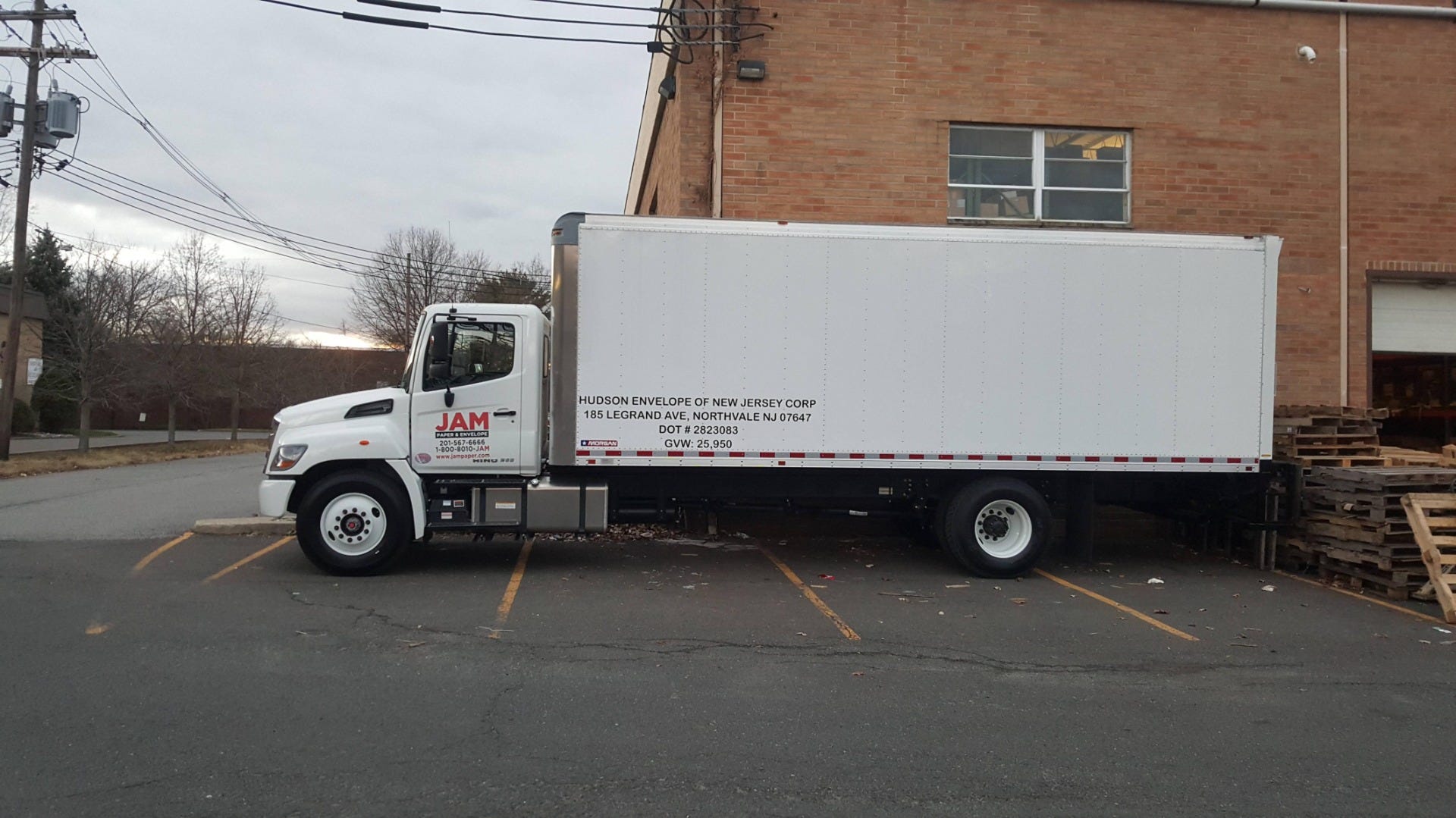 2021 – Investment & Merger
JAM Paper received investment from a private equity partner, TZP Group, LLC.
In December of 2021, JAM Paper merged with BIGNAME Commerce, the parent company of Envelopes.com and Folders.com. This merger allowed JAM to further expand its online presence and product assortment, making JAM the driving force in the Paper, Folders & Offices Supplies category.