Welcome to our collection of Wrapping Accessories, where we celebrate the art of gift giving and the joy of creating beautifully presented packages. Our assortment of gift tags, shred tissue paper, and string ties offers the perfect finishing touches to enhance your gift presentations and add a touch of personalization. Explore our collection and discover the perfect accessories to make your gifts even more memorable.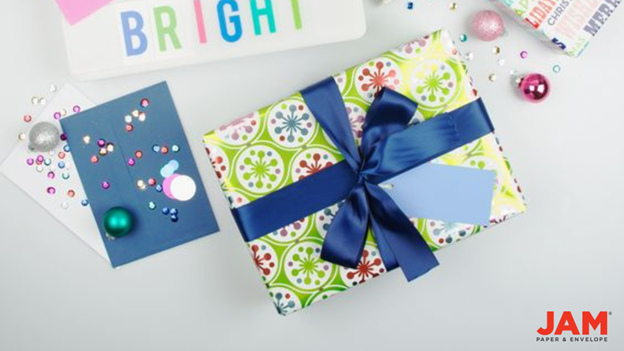 What Sets JAM Paper's Gift Wrap Accessories Apart?
Discover what makes JAM Paper's Gift Wrap Accessories a cut above the rest. We're here to take your gift-giving to the next level with a thoughtfully curated collection that's all about those perfect finishing touches for your beautifully wrapped presents.
Art of Presentation: With an assortment of gift tags, shred tissue paper, and string ties, JAM Paper celebrates the joy of creating beautifully presented packages.
Personalization at Its Best: These accessories offer a unique opportunity to add a touch of personalization to your gifts, making them even more memorable.
One-Stop Shop: From gift bows and boxes to floral accessories and tape, the collection provides a comprehensive range of options to enhance your gift presentations.
Quality and Craftsmanship: Each accessory is crafted with meticulous attention to detail, ensuring that your gifts not only look stunning but also convey the thoughtfulness behind them.
Different Types Of Gift Wrap Accessories
Gift wrapping is an art, and like any art form, it requires the right tools and accessories. JAM Paper's collection of wrapping accessories offers everything you need to create beautifully presented packages. Here's a creative guide to the different types of gift wrap accessories you can find at JAM Paper:

Gift Bags
Convenience Meets Style: Perfect for those last-minute gifts or items with irregular shapes.
Perfect For: Quick gift-giving occasions, birthdays, and holidays.
Gift Boxes
Structured Elegance: Provides a sturdy and elegant base for your gifts.
Perfect For: Fragile items, luxury gifts, and corporate giveaways.
Gift Bows
The Finishing Touch: Adds a pop of color and a dash of elegance to any gift.
Perfect For: Christmas gifts, birthday presents, and special occasions.
Gift Tags
Personalized Messages: Allows you to add a personal touch to your gifts.
Perfect For: All gifts that require a name or a short message.
Floral Accessories
Natural Beauty: Enhance your gift presentation with a touch of nature.
Perfect For: Weddings, anniversaries, and romantic occasions.
Shred Tissue
Filling with Flair: Adds volume and a decorative touch to your gift bags and boxes.
Perfect For: Gift baskets, hampers, and luxury gift sets.
Stretch Film
Secure and Decorative: Keep your gifts tightly wrapped while adding a decorative touch.
Perfect For: Oddly shaped gifts and items that need extra security.
String Ties
Rustic Charm: Adds a handmade touch to your gift wrapping.
Perfect For: Crafty gifts, homemade treats, and rustic-themed events.
Tape
The Invisible Hero: Keeps everything in place without stealing the spotlight.
Perfect For: All types of gift wrapping, especially those intricate designs.
Tissue Paper
Soft Layers: Adds a layer of protection and a burst of color to your gifts.
Perfect For: Clothing, fragile items, and adding volume to gift bags.
Key Features and Benefits Of Gift Wrap Accessories
Gift wrap accessories offer a multitude of benefits that go beyond just aesthetics. Here are some of the advantages:

Enhanced Presentation
Gift wrap accessories elevate the overall appearance of your gift, making it visually appealing and enticing to the recipient. The added charm and attention to detail can make your gift stand out from the rest.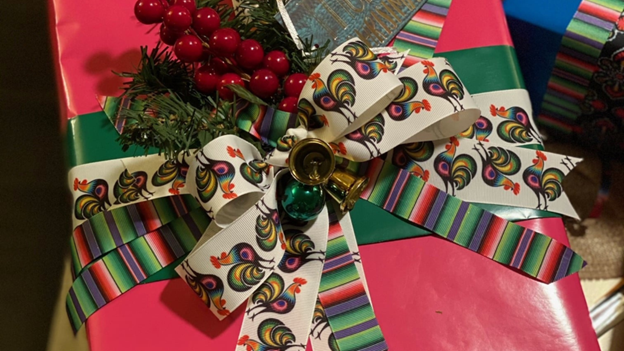 Personalization
With a wide variety of gift wrap accessories available, you can personalize your gifts to match the recipient's preferences or the occasion. From choosing the perfect color scheme to adding personalized tags or stickers, you can create a unique and thoughtful presentation.

Convenience
Gift wrap accessories provide convenient ways to wrap gifts of all shapes and sizes. Whether it's a small item or an odd-shaped gift, there are accessories like gift bags, tissue paper, and ribbons that can accommodate your needs.

Versatility
Gift wrap accessories offer endless possibilities for creativity. You can mix and match different accessories to create various styles and themes, allowing you to tailor the presentation to suit the occasion or recipient's taste.
How To Get Creative With Gift Wrap Accessories?
Now that you know why JAM Paper's gift wrap accessories stand out, let's explore some creative ideas on how to use them:
Mix and Match: Experiment with combining different patterns, textures, and colors of gift wrap accessories. For example, pair a boldly patterned gift wrap with a complementary ribbon or a unique tag to complete the look.
Theme-based Wrapping: Choose a specific theme for your gift wrapping and select accessories accordingly. Whether it's a seasonal theme, such as Christmas or Halloween, or a personalized theme based on the recipient's hobbies or interests, themed wrapping adds a special touch.
DIY Embellishments: Add your personal touch by creating DIY embellishments using gift wrap accessories. Create your paper flowers, bows, or decorative elements using ribbons and stickers for a customized and unique presentation.
Layering and Texture: Experiment with different layers and textures to create visual interest. Combine tissue paper, ribbons, and bows to add depth and dimension to your gift wrapping.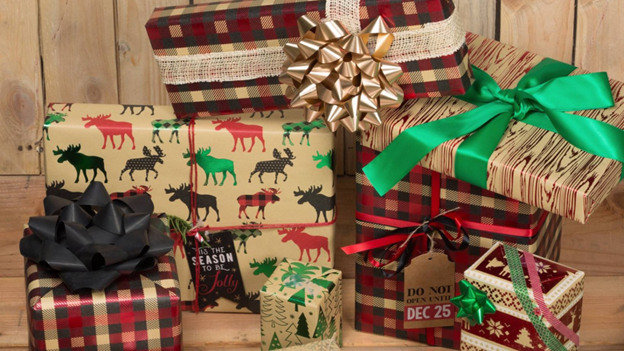 Why Choose JAM Paper's Gift Wrap Accessories For Your Creative Needs?
Gift wrap accessories are more than just decorative embellishments; they are an integral part of the gift-giving experience. They enhance the presentation, express thoughtfulness, and create lasting memories for both the giver and recipient. Whether you're looking to elevate the appearance of your business gifts or make a loved one feel special, gift wrap accessories offer endless possibilities for creativity and personalization.
At JAM Paper, we understand the importance of quality and variety when it comes to gift wrap accessories. Our wide selection of ribbons, bows, tags, stickers, gift bags, and more allows you to find the perfect accessories to suit any occasion or personal preference. With our high-quality materials, unique designs, and affordability, you can trust us to meet all your gift wrap accessory needs.
FAQs
Can I reuse gift wrap accessories?
Yes, many accessories like bows, ribbons, and gift bags can be reused for future presents.

Are gift wrap accessories expensive?
The cost of gift wrap accessories varies. You can find affordable options as well as more luxurious ones.

Can I find gift wrap accessories in different colors?
Yes, gift wrap accessories come in a wide array of colors to suit any theme or preference.

Are there gift wrap accessories suitable for children's gifts?
Yes, you can find kid-friendly accessories like cartoon-themed ribbons, colorful tags, or character gift bags.

Can I purchase gift wrap accessories in bulk?
Yes, many retailers offer bulk packaging options for those who need a larger quantity of accessories.

How do I store gift wrap accessories?
It's best to keep accessories in a cool, dry place, ideally in a storage container or organizer, to prevent damage and maintain their quality.

Can I find gift wrap accessories with holiday motifs?
Absolutely! Many accessories are specifically designed for holidays like Christmas, Halloween, or Valentine's Day.

Are there gift wrap accessories suitable for weddings?
Yes, there are elegant and sophisticated accessories like satin ribbons or lace trimmings that are perfect for wedding gifts.

Are there eco-friendly options for gift wrap accessories?
Yes, consider using recycled or biodegradable materials like kraft paper, natural twine, or plant-based ribbon alternatives.

Can I find gift wrap accessories with metallic finishes?
Yes, metallic accessories like shiny ribbons or foil gift bags are available to give your presents a glamorous look.