DIY: Valentine's Day Wreaths
When I first started thinking about Valentine's Day, I thought about money. Of course this isn't the sweetest viewpoint, but all I see are diamonds, roses, electronics, more roses, chocolates, even more roses. Not necessarily thinking about DIY Valentine's day wreaths...
Roses are marked up 400% before the 'loving' holiday.
Wait, there's more...
According to the National Retail Federation, Americans will spend more than $700 million on Valentine's Day gifts ... for their pets. Let that settle for a little ...
But spreading the love and showing off your Valentine's Day spirit doesn't have to be expensive. It can be heartfelt while keeping your wallet intact. It can show you care without going bankrupt.
We decided that for our Valentine's Day post, that we'll be creating DIY Valentine's Day Wreaths that won't break the bank, but will spread the love to anyone who comes to your door.
1. Paper Heart Wreath
If you're looking for a MODERN valentine's day wreath.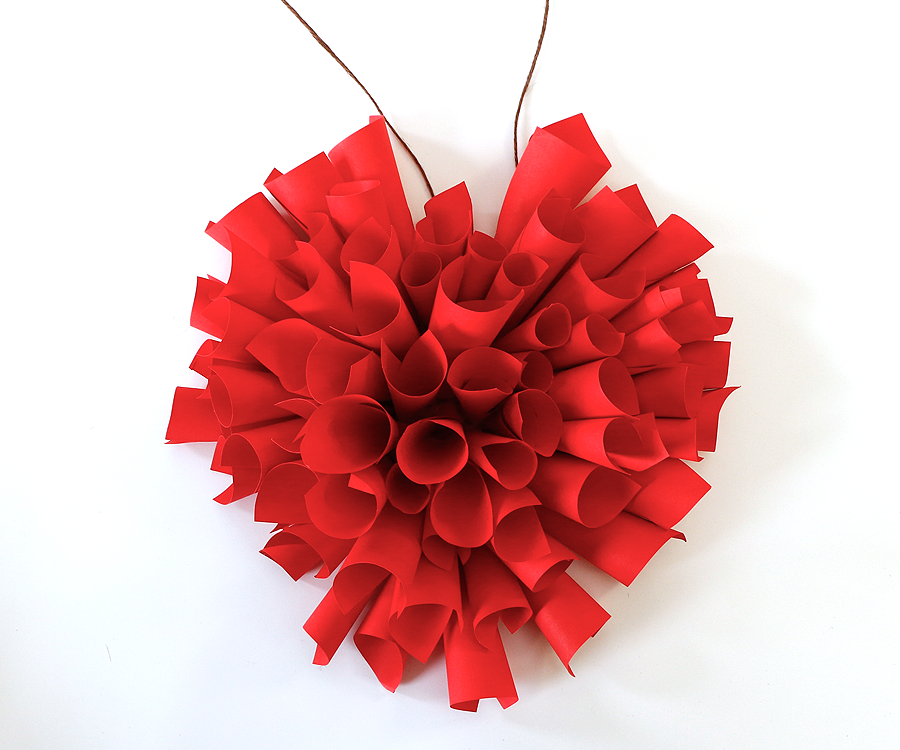 Use our Red Brite Hue Paper to make your wreath stand out, or go for a sweeter look with our Pink Paper, maybe even combine both of them! We decided to stick with red because well, what other color truly represents Valentine's Day? These immaculate valentine's day wreaths are a must-have!
Price: $10.00
Steps:
Cut out a piece of cardboard shaped like a heart.
Then use square pieces of paper, doesn't matter what size (I experimented with cutting 4 x 4, 3 x 3, even 5 x 5 pieces) and roll them into cones, taping the two sides together.
Cover your heart shaped cardboard with tons of red shaped cones (with either a hot glue gun that probably works best or a regular glue stick which was terribly frustrating). Note to self: get a hot glue gun.
Once that's finished, just poke a hole with one of our Hole Punchers and put any kind of ribbon through. Tie it on the door and you're done!
---
2. Tissue Paper X's and O's Wreath
If you're looking for a CUTE wreath.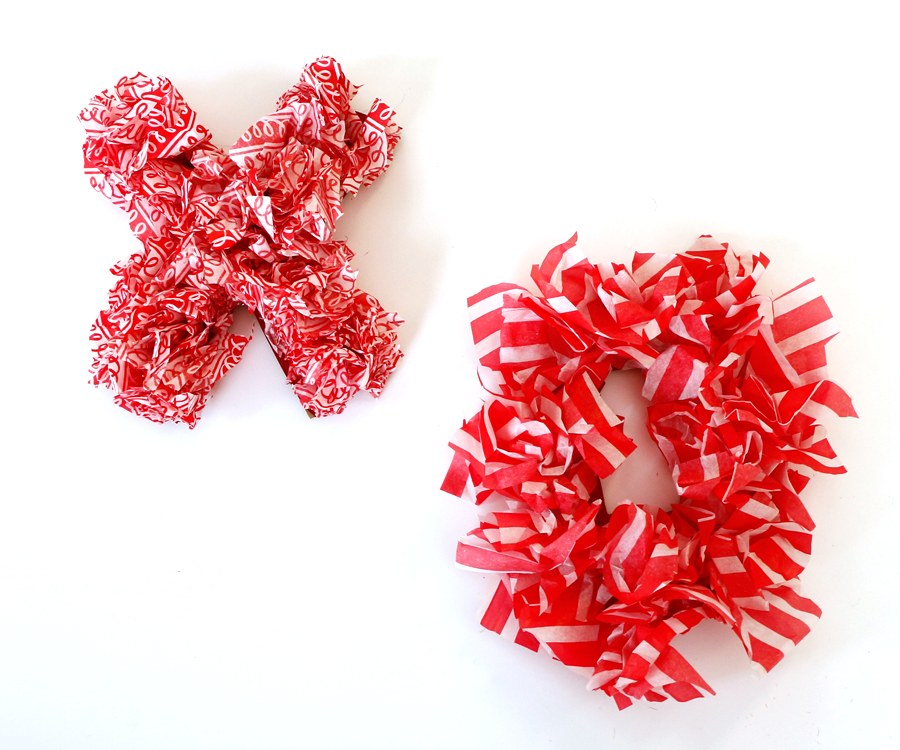 We used our Holiday Design Tissue Paper for this valentine's day wreath. You might be thinking, "wait, didn't Christmas pass" (and if you didn't then I think you need to check the calendar), but with our generic red and white designs, we were able to incorporate them into this holiday too! X's and O's are the best way to show you love someone, especially during Valentine's Day. Not only that, but this wreath (or wreaths if you will) are certainly going to stand out from the standard circular wreath everyone is so used to.
Price: $8.00
Steps:
Cut out two pieces of cardboard, one in the shape of an X and one in the shape of an O. To make the letters as even as possible, cut one side, bend it, and cut directly under the shape that's on top.
Cover your cardboard masterpieces with our Matte Red Wrapping Paper so there's no brown cardboard background peeking through. Of course, this is optional.
Cut squares out of the tissue paper of your choice (fortunately, these do not have to be exact), pinch the center so that the tissue paper comes up, and then fluff it up.
Glue it on and then keep going! Next thing you know your letters will be covered with some fun designs.
Like the first wreath, punch a hole on the top and put a ribbon through the hole! Hugs and Kisses for everyone!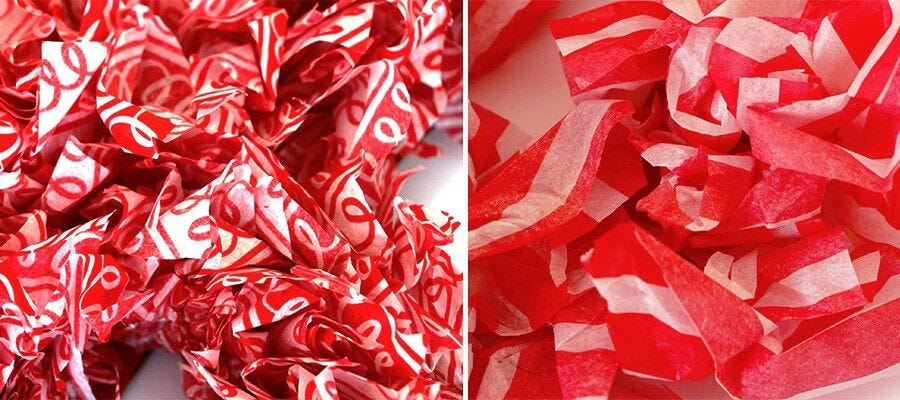 ---
3. Burlap Ribbon Heart Wreath
If you're looking for RURAL valentine's day wreaths.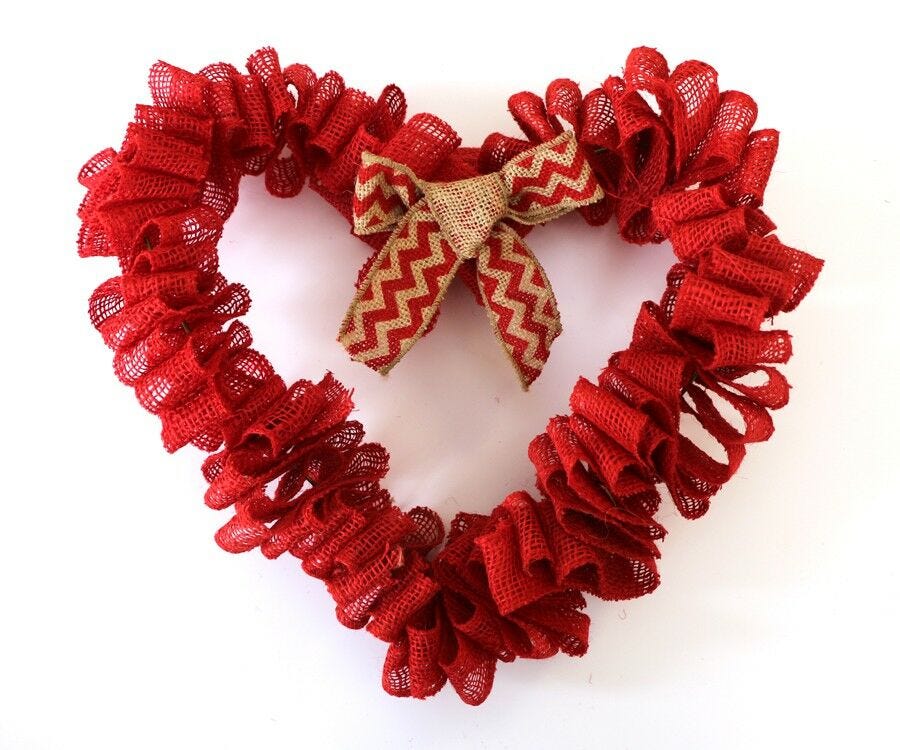 My aunt would love these valentine's day wreaths- especially this one here! She has always loved to make her house feel like a home. Whether it's a rooster in her kitchen to a burlap ribbon wreath on her front door (which I may just give her after this blog), she loves that rural feel. And you might too! Here's how to make a burlap wreath!
Price: $25.00
Steps:
Get an old wire hanger (I used one that was in my office drawer. Why did I have that? I once left my keys in my locked car. True story.) ANYWAY … get the hanger and shape it into a heart. This will need some muscles, but trust me this is worth it.
Once you get the heart shape you want, grab a spool of our Red Burlap Ribbon. All you have to do is weave the ribbon up and down through one side of the hanger. Keep this going until your heart is full (cue "awww's"). Remember to match the height of the ribbon loops and keep them centered for a more put together look.
Tie the two hanger ends together was with a hair tie or rubber band, and then to make it more decorative, glue a bow around the point of the heart. We used our Chevron Burlap Ribbon for an even homier feel, but use whatever JAM ribbon grabs your attention.
This time, tie any ribbon around the inside (the hanger part) and hang it up!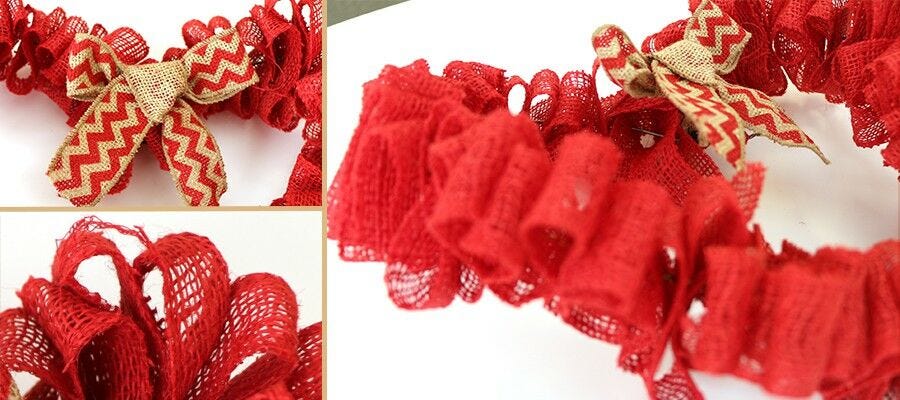 Valentine's Day is in almost two weeks! Before it comes and goes, spread the love with one of these JAM inspired wreaths.
And we'd LOVE (wow I said this word a lot) to find our which one is your favorite, so send a comment our way!
And if you really enjoy it, why not send us pictures of your own valentine's day wreaths!