Did you know mail is classified by shape and the way it is prepared?
What is the smallest size envelope that can be mailed? The classification is based on how efficiently it can be sorted through Postal Service equipment.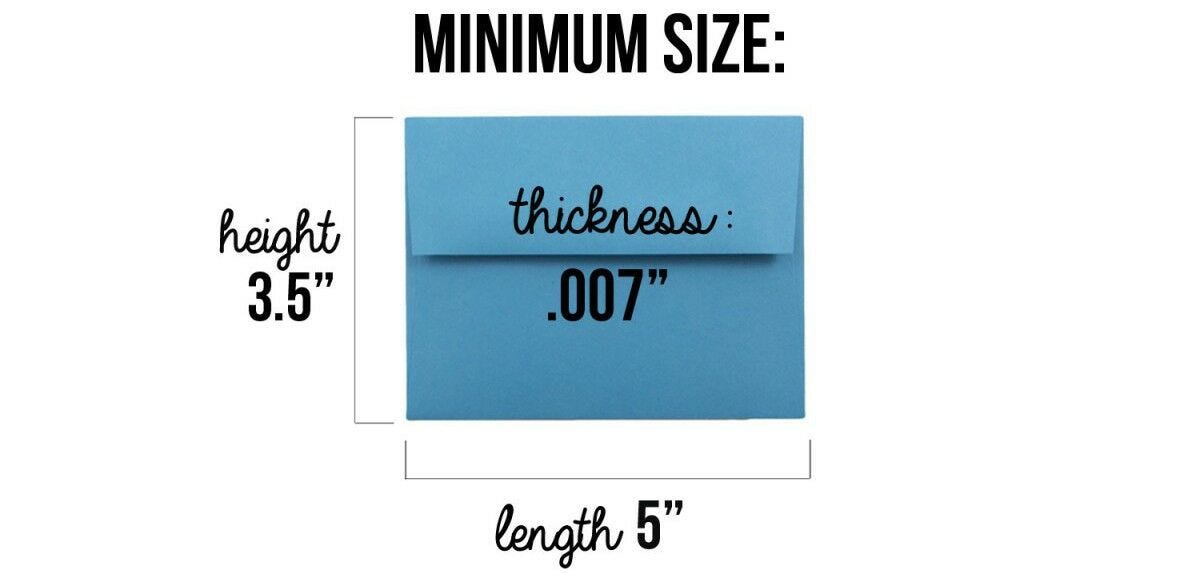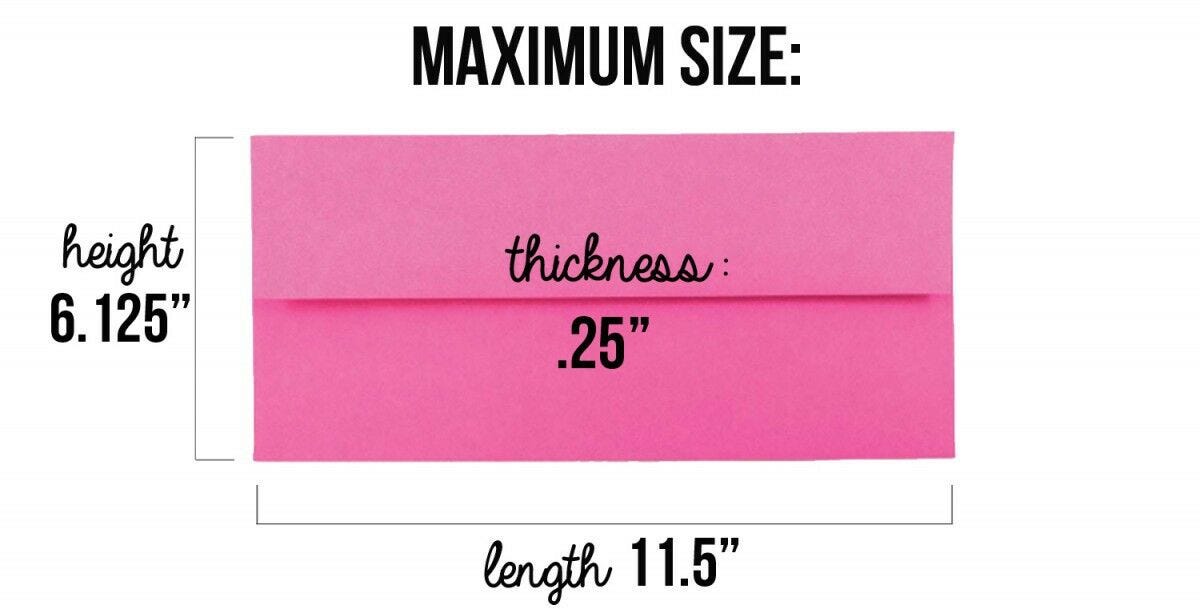 To be eligible for mailing at the price for letters:
So...what is the smallest size envelope that can be mailed?
It must be rectangular.
A minimum of 3.5 inches in height by 5 inches in length and at least .007 inches thick.
A maximum of 6.125 inches in height by 11.5 inches in length and .25 inches thick
Not more than 3.5 ounces (First-Class Mail letter-size pieces over 3.5 ounces pay flat-size prices
Rectangular, with four square corners and parallel opposite sides
FYI:
Length is the side parallel to the address.
Height is the side that is perpendicular to the length.
How can I measure 0.007 inches? An index card is a great comparison 
The Postal Service classifies letters and cards into one of three categories:
Machinable, Non machinable, and Automation.
Machinable Letters and Cards: 
If your letters and cards have an address and can be processed on Postal Service equipment, your mail is "machinable" and eligible for "presort" prices [more info found
here
]. Machinable mailpieces must meet standards, including size, shape, and weight. (shown above)
First-Class Mail letters that have a non machinable characteristic will have to pay a surcharge. The Postal Service charges extra postage because mailpieces that are rigid, square, or unusually shaped, often jam postal equipment and are difficult to process. Examples of a non machinable letter:
An aspect ratio (length divided by height) of less than 1.3 or more than 2.5 (a square envelope has an aspect ratio of 1 and is non machinable).
It is more than 4.25 inches high / more than 6 inches long / is less than 0.009 inch thick.
Has clasps, strings, buttons, or similar closures.
It is too rigid.
It has a delivery address parallel to the shorter side
Contains items such as pens, pencils, or keys that create an uneven thickness.
Letters with nonpaper surfaces, other than envelope windows or attachments that are allowed
Maximum weight: First-Class Mail and Periodicals non machinable letters: 3.5 ounces  |  Standard Mail non machinable letter: less than 16 ounces.
Folded self-mailers must be sealed or they will be subject to the nonmachinable surcharge. Use wafer seals or tabs to close the open sides
Some examples of a non machinable letter:

Automation Letters and Cards: Lower prices are available for letters and cards that are compatible with the Postal Service's automated processing equipment. To qualify for automation prices, your letters and cards must conform to specific criteria, including:
A minimum number of pieces (200 pieces for Standard Mail, 500 pieces for First-Class Mail).
An Intelligent Mail barcode encoded with the correct delivery point routing code on each piece in the address block or in the barcode clear zone
An address list that has been checked and CASS-certified within the last 180 days.
A complete address with ZIP Code or ZIP+4 code.
A specific shape and size.
No more than 3.5 ounces for automation Standard Mail and Standard Mail Carrier Route.
No polywrap, polybag, shrinkwrap, clasps, strings, buttons, or similar closure devices
We hope you've enjoyed learning about the smallest size envelope that can be mailed!
[ Shop for envelopes here! ]
all information directly from USPS. For more information on non letter pricing click here.