Whether you don't know what to get your new father-in-law for the holidays, can't decide what to bring to that New Year's Eve party, or have no cooking abilities to contribute to Christmas dinner, you can't go wrong with a nice bottle of booze. And since every bottle has its own personality, the mixologists here at JAM Paper have matched all your favorite holiday drinks with the perfect gift bags and boxes. Cheers!
How to Gift Wrap Booze for the Holidays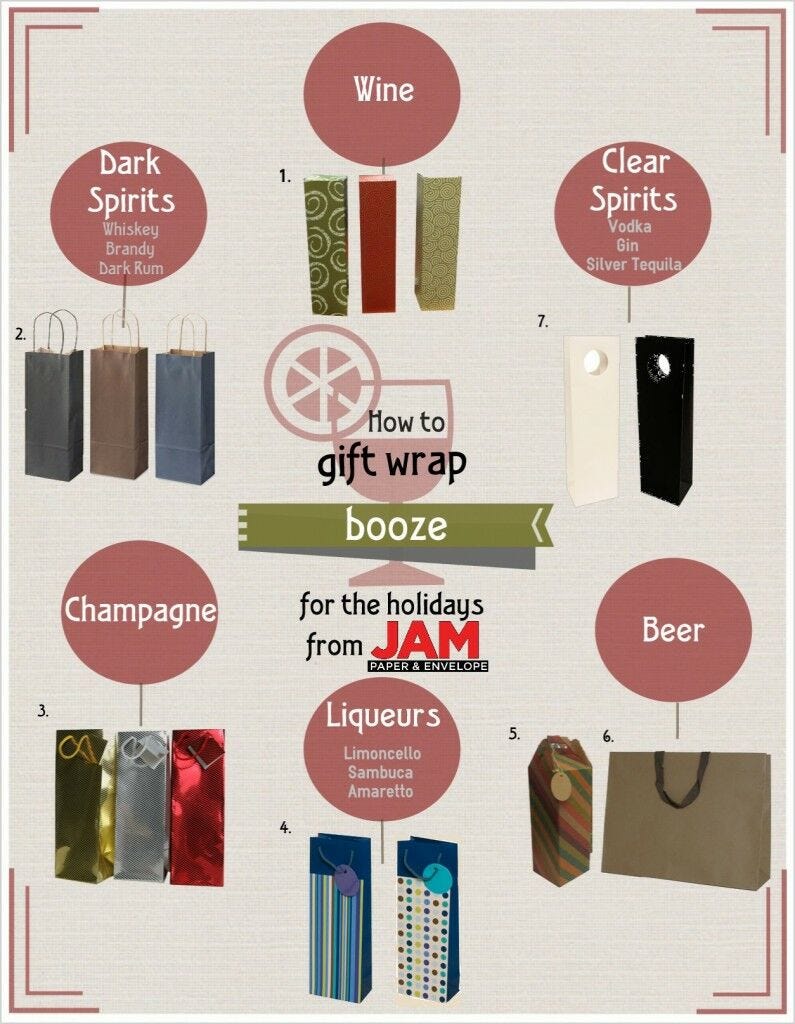 1. These
stylish packages give new meaning to the term "boxed wine"
2. Only a kraft wine bag will truly complement the awesomeness of a drink old enough to order its own drink. 
3. Wrap your Champagne in a glitzy Foil Wine Bag
4. Choose the bag that's as fun, sweet, and colorful as your gift.
5. For your large single bottle microbrews, choose this
handsome container.
6. And for your six-packs (or several fancy four-packs) go for a sturdy kraft bag that will keep all of your precious seasonal brews safe. 
7. Don't overthink it. These sleek bags will keep your bottles safe and keep them looking good. 
Whether you're bringing a $200 bottle of wine or a $10 six-pack of beer, every gift deserves to look great. So raise your glass and remember to always gift responsibly.