Creative Gift Bow Ideas
If
gift wrapping
can be seen as an art, then why don't you make the next gift you give your masterpiece? From gift bows made of out ribbon, to gift bows made out of paper, to cool substitutes for gift bows, let this post inspire you. Here are our top five favorite creative gift bow (and non-gift bow) ideas compiled into one post. Simply scroll through and choose one to recreate. They are all easy, cool, and will definitely get noticed. Get ready to be known as the person who gives the best wrapped gifts. These are JAM creative gift bow ideas!
The Round-Up
1)
The Confetti Inspired - 
Are you one of those people who just can't seem to perfect even the simplest bow? We say: skip it. This super colorful bow alternative is easier than you think and really catches the eye. Simply wrap strips of double-sided tape around your wrapped gift and then sprinkle pieces of confetti over it. In just two minutes you have a festive and colorfully wrapped gift...great for birthday presents [caption id="attachment_3374" align="alignleft" width="324"]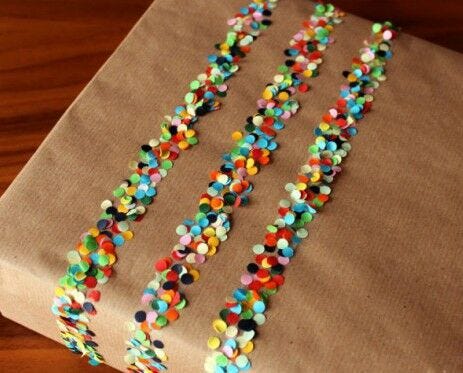 http://www.ivillage.com[/caption]
2) The Tissue Paper Bow -
Another bow alternative that doesn't require any knots or tying of any kind. Gather a few complimentary colors of tissue paper. Cut the tissue paper into squares, then cut fringes on each side. Twist the squares at the middle and glue them on (click on the images for more specific instructions). No need to be all neat and tidy with this one, a little mess and chaos actually work for this fun gift theme! [caption id="attachment_3376" align="alignleft" width="320"]
http://partyaccessories.blogspot.com[/caption]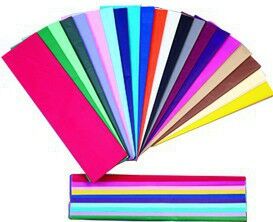 3) The Cupcake Liner Bow - 
This one is so unique, it's sure to get attention. Stack up a selection of colorful cupcake liners to instantly create a pretty flower-like bow. Attach it to the top of your gift for a beautiful finishing touch. [caption id="attachment_3378" align="aligncenter" width="395"]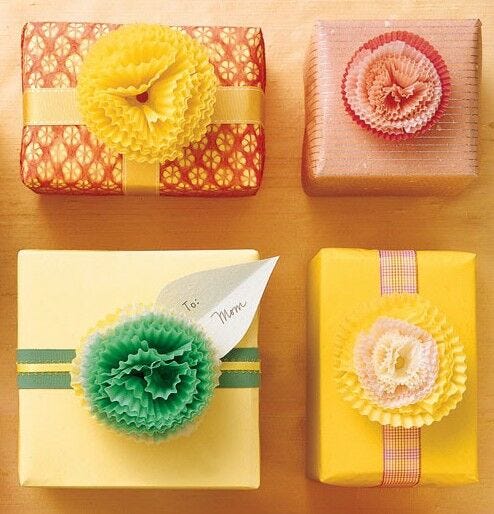 http://www.marthastewart.com/268927/cupcake-paper-carnations[/caption]
4) The Glitter Ribbon Bow - 
For this sparkly gift bow grab two  small strips of glitter ribbon and follow the 4 simple steps.Who doesn't love a present that shines? [caption id="attachment_3482" align="alignleft" width="283"]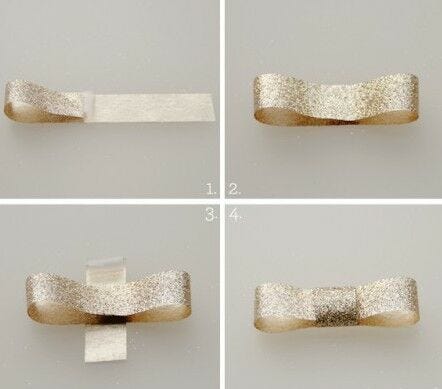 http://brunchatsaks.blogspot.com[/caption]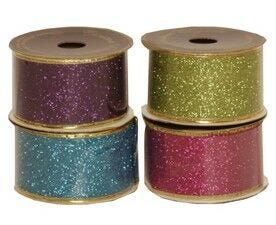 5) The Paper Bow -
with a paper bow template, making this cool paper bow-tie bow is a cinch. Just print the template out on your preferred paper and follow the easy instructions. We love the modern look of this paper bow. One of our favorite creative gift bow ideas.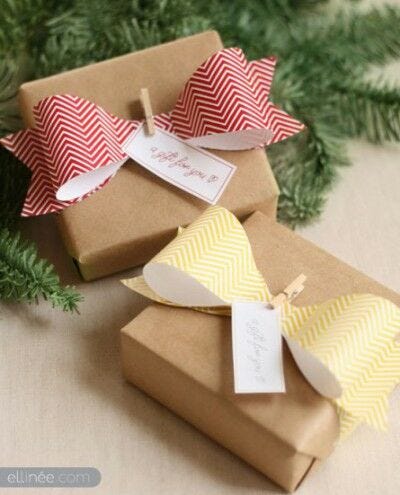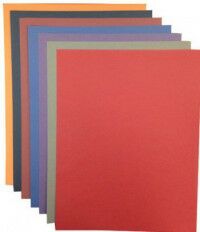 There you have it, our top 5 choices. If you're looking for something different than a standard bow, these options are all unique (and easy) enough to work. Now if you're running low on time, an already made bow is a fine option and always looks nice.  But, if you do have the time to spare, A handmade bow or finishing touch is  sort of equivalent to bringing homemade cookies to a party vs store bought ones. The genuineness just shows. Why not let your creativity out a bit? So which of our creative gift bow ideas is your favorite?