Halloween Goody Bag Idea - Ghoulish Ghost
Need a Halloween goody bag idea for an upcoming Halloween party? Look no further then our very cute, very easy to make Ghoulish Ghost goody bag.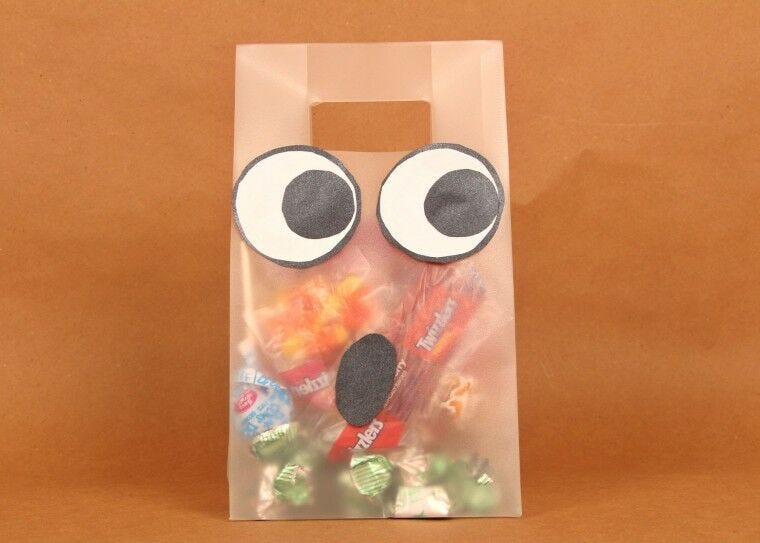 This little guy is easy to make and only requires a couple of materials.
Ghostly Body
Our clear frosted lunch bags are perfect for giving this goody bag its ghostly appearance. The translucent plastic is super durable and the handles make it easy for the kiddies to carry their snacks home. They come in
four different sizes and five different colors
. We used the medium: 4 3/4 x 8 1/4 x 2 1/2 (6 1/4 usable height) bag.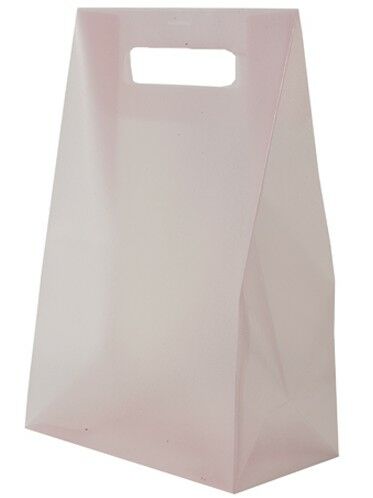 Ghostly Face
To create the googly eyes we used our
Anthracite stardream metallic cardstock
 and our bright white wove 
Strathmore paper
. For the outer circle of the eye ball, we traced a small can lid then cut out the circles. For the bright whites of his eyes we traced the same can lid. During the cutting process we trimmed the circle little by little to make sure that it was slightly smaller then the black circles. We then used this white size cut out to trace and cut out a bunch of other eye whites for our remaining goody bags. To create the pupil, we took a smaller can lid and traced a bunch on one sheet. Once you have all your eye pieces cut out, it's time to assemble. Take the white circle and glue it to the largest black circle. Make sure you center it so the black peeks out and frames the white circle. Lastly, take the smallest black circle and glue it to the newly assembled eye. To create the googly appearance, don't center them, instead shift them off to the right. To create the mouth we took the same Anthracite stardream and traced a small oval. Cut this out and then use it as a template to cut out the remaining mouths for the rest of the bags.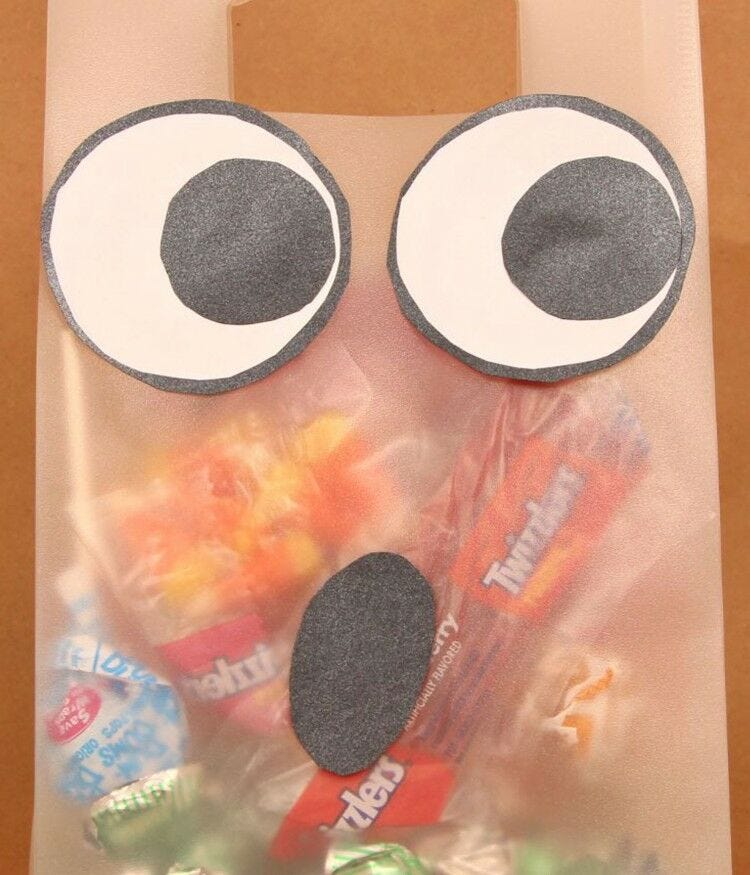 Assemble and Display
Now that you have all of your face pieces cut out, it is time to assemble them. To attach the face pieces to the bag we used tape.
Last but not least, fill with candy! Line up the goody bags on a table with other Halloween decor. We chose our candy corn garland. Want to learn how to make it? Check it out here!