Simple and Colorful DIY Centerpieces with Wrapping Paper and Ribbon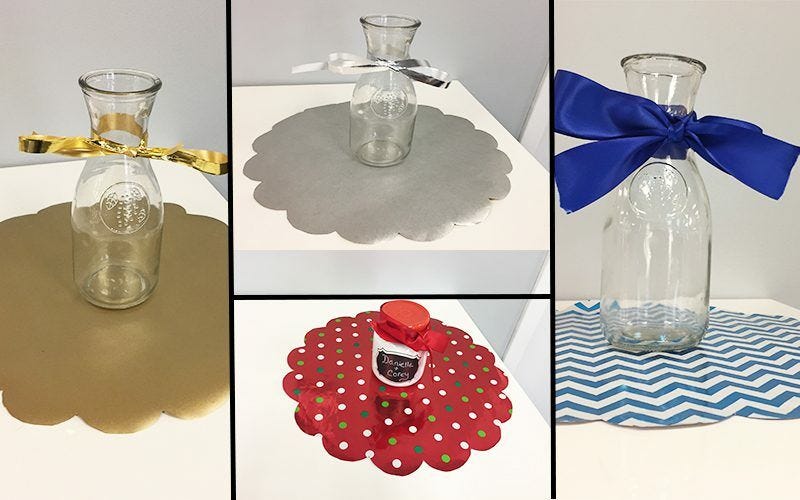 If you're looking for an easy an colorful way to decorate the tables at your next event, these centerpieces just might be your answer! All you need to make these easy DIY centerpieces is:
Colorful, patterned wrapping paper
Matching ribbon
Empty glass containers (anything from a mason jar to a wine bottle will work!)
Sissors
A fine point pen
A Chalk Marker (optional)
The base of the centerpiece will consist of a flat, round scalloped mat made from wrapping paper. First, I will show you how to create these mats!
Step 1:
First, you will make a mat that will serve as the template for the rest of your mats. Take  wrapping paper of any color and cut out a large square. For my centerpiece mats, I used 19 x 19 inch squares.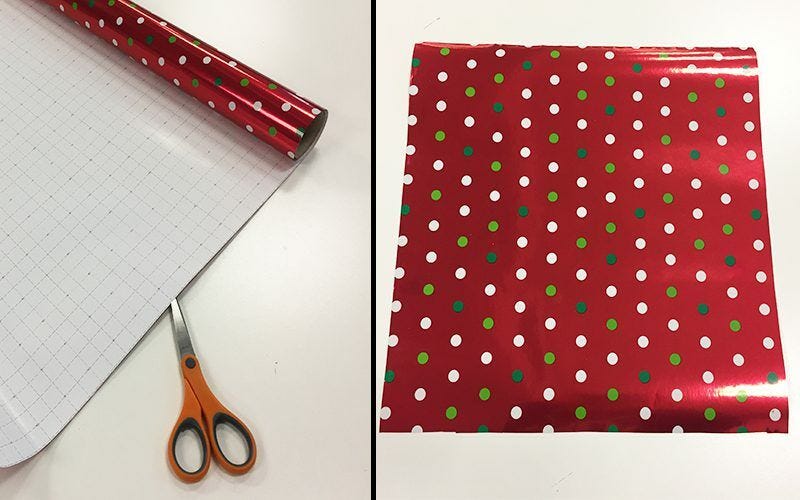 Step 2:
Fold your square of wrapping paper in half, and then fold it in half again (so that the full square is folded into fourths). Then, fold it in half a third time so that a triangle shape is formed.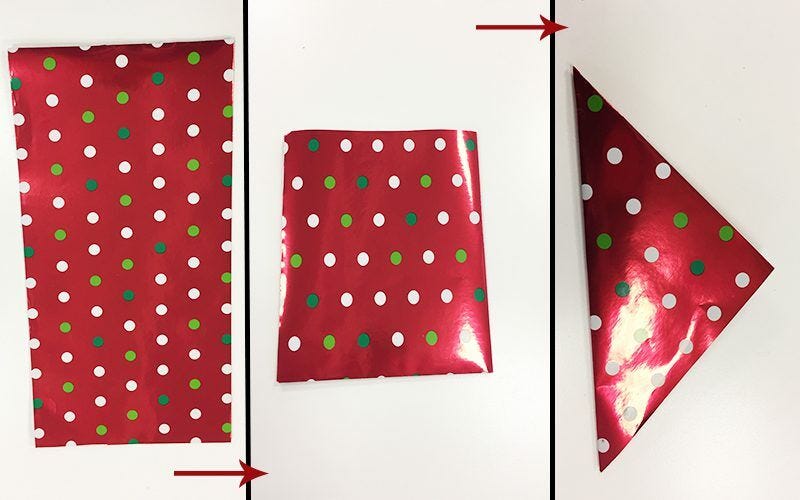 Step 3:
Place your triangular shape in front of you so that the longest side is on the bottom. Bringing the top corner down, fold it diagonally as shown below.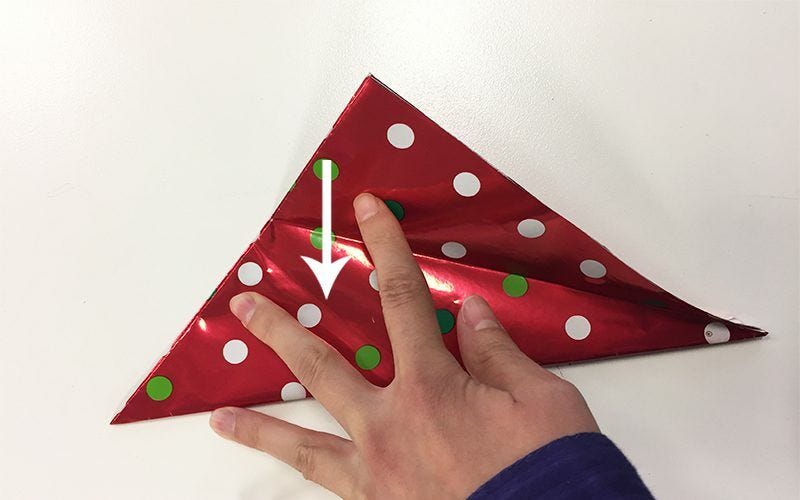 Step 4:
Fold diagonally again in the same direction.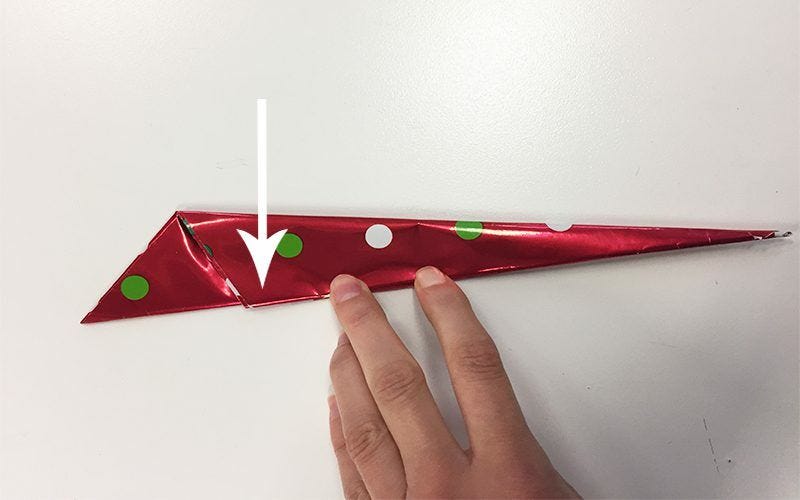 Step 5:
Now, take your marker and draw a curved line on the upward facing layer of the paper over the spot where all of the layers overlap. Use your scissors and cut along this line.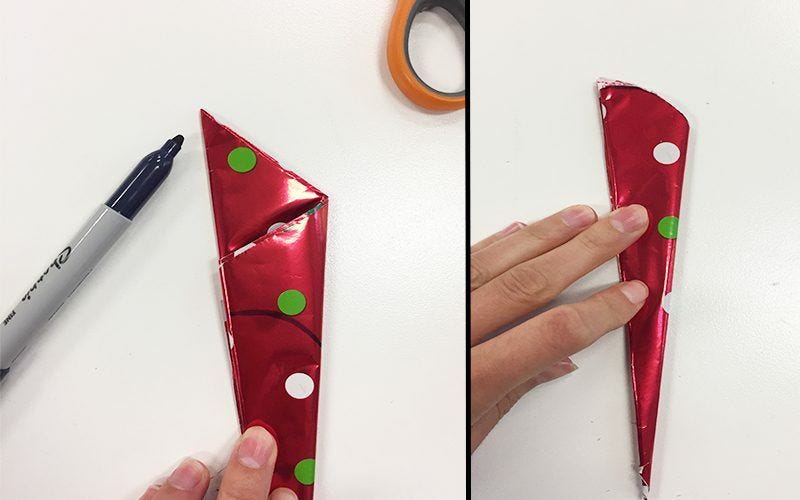 Step 6:
Now you will unfold the paper. When unfolded, you should have a large flower-like shape as shown below.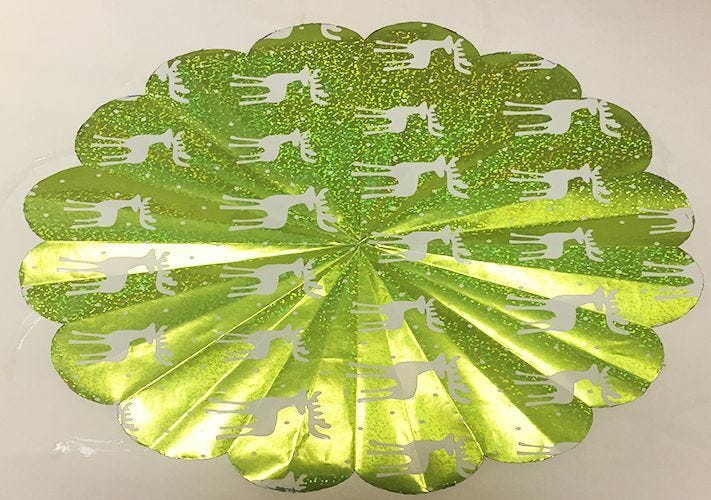 Step 7:
To avoid putting creases in the rest of your centerpiece mats, use the first one as a template by tracing its with your shape with your pen onto the back of all other wrapping papers that you would like to decorate with and cutting the shape out with your scissors! Once you have all of your mats cut out, the hard part if already over!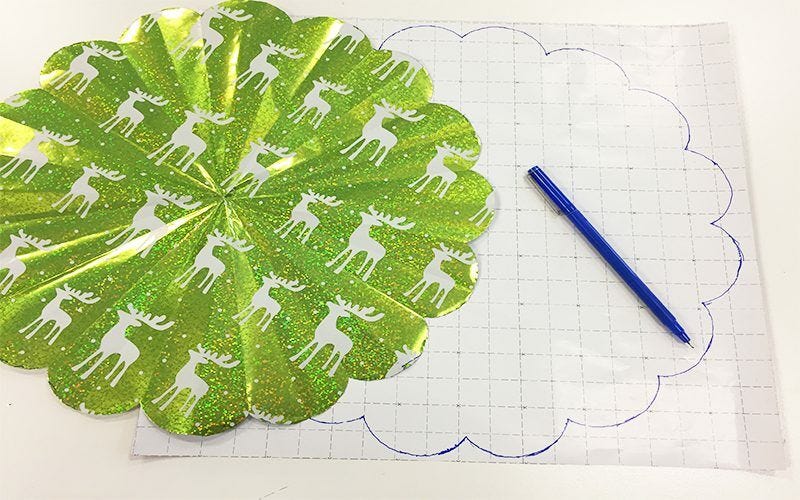 Step 8:
This is where your glass containers and ribbon come in! Take the glass container of your choice at place in the center of one of your mats. Then, choose a ribbon that matches the mat and tie a bow around the container! Wrap and style the ribbon around the container in any way you wish.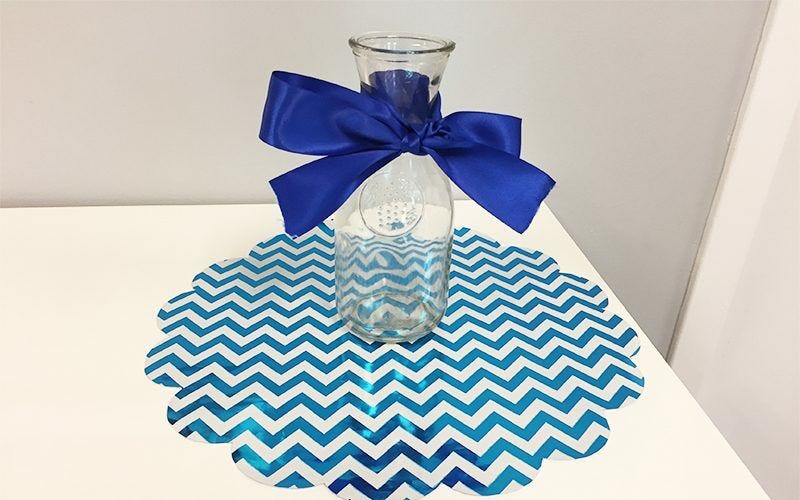 Your centerpiece is now essentially complete, but here are some tips to further personalize  and dress up your simple centerpiece.
Tip 1:
Fill your container with candies, mints, sand, pebbles, or other small items! Don't be afraid to go classic and stick a candle in the bottom of an empty container. Depending on the size and shape of the container you use, you can also fill it with water and add a floating candle.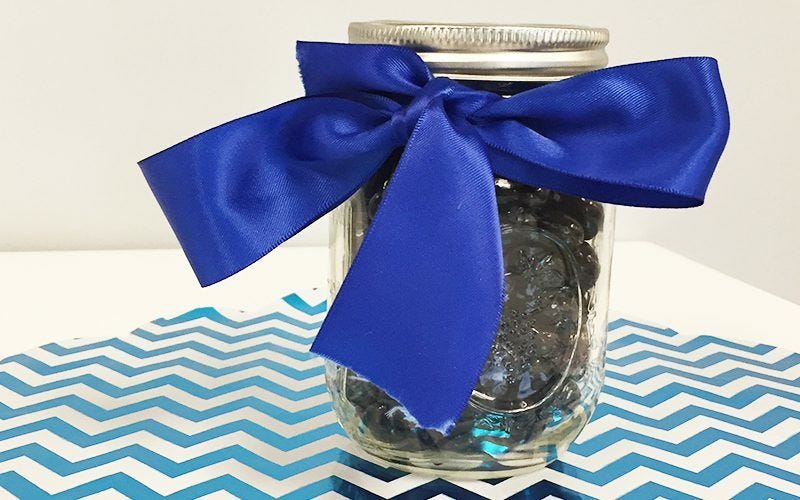 Tip 2:
If you don't mind guests taking the centerpieces apart during the meal, use bottles of wine that you want to serve or other bottled beverages instead of empty glass containers. If you want already planned to provide every table with a bottle, go ahead and make it decorative!
Tip 3:
Use a container with a full or partial chalkboard surface and use chalk or chalk markers to customize them with words, names, or initials that are relevant to your event!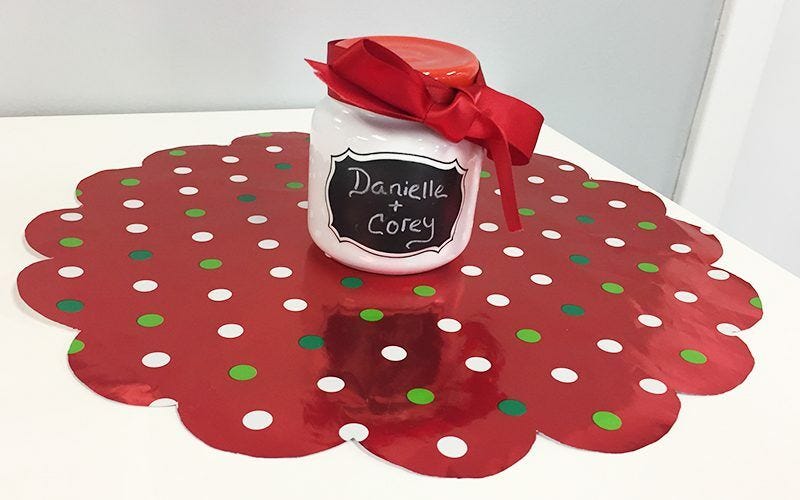 Whether you're planning for a wedding shower, a fancy brunch, a reception, or another type of celebration that calls for decorative tables, make this craft your own and create some DIY centerpieces that reflect the theme and the mood of the occasion!