This year we travel back in time, exploring popular colors of prominent art and design movements! Read on to match significant eras with exquisite envelopes.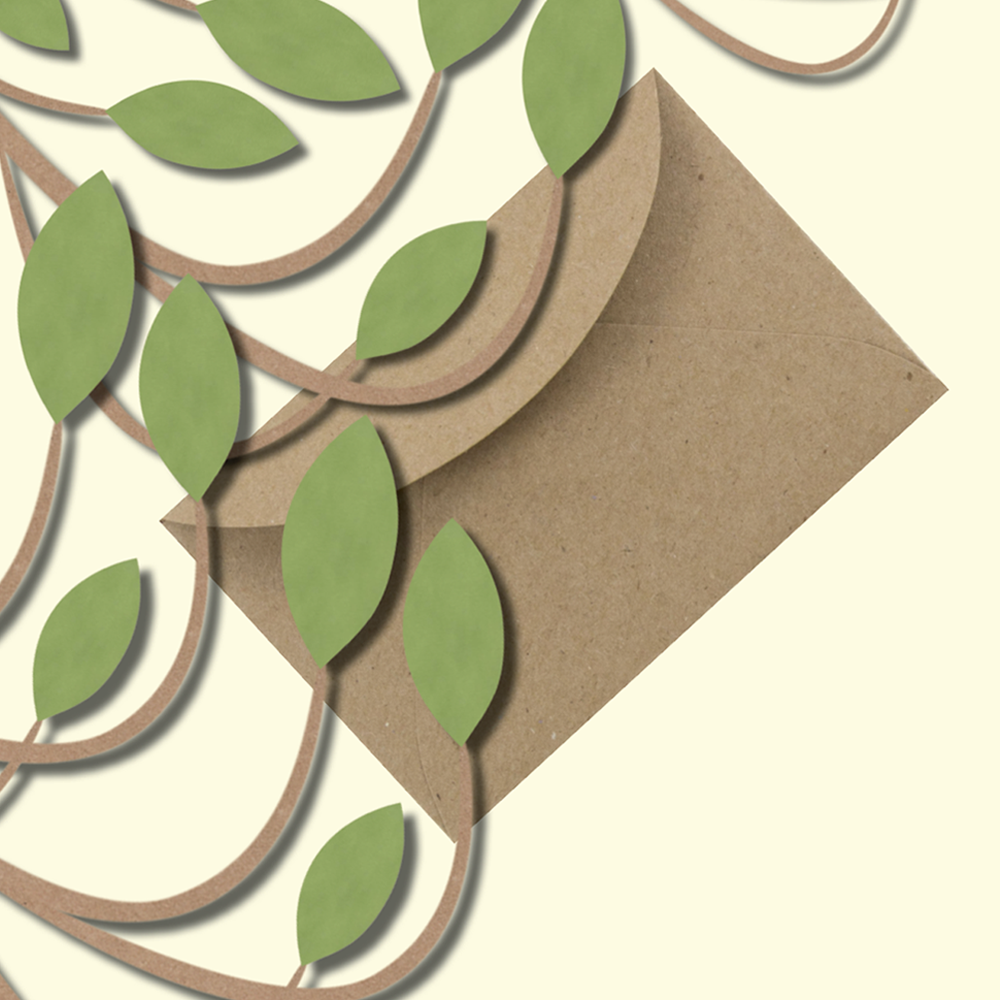 1900s
During The Edwardian Era (1901 to 1910), The Arts and Crafts Movement was flourishing in The United States. This movement emerged in Europe in the 1880s as a reaction against factory production. The Arts and Crafts Movement elevated the designer as a unique craftsman, who was connected with nature.
Organic colors – like deep forest green, dark reds, and browns – were commonly used in early 1900s decor, evoking colors of earth and foliage. Interior designers worked with woodwork and sunlight.
Fashion colors during The Edwardian Era included fresh blue pastels, natural whites, floral hues, dark reds, and greens. Middle-class women wore large hats with natural-colored feathers and flowers. The obnoxiously large Merry Widow Hat caused visual obstructions at the theatre. Shirts were usually cream or white, made of cotton. Because the Edwardian Era was short-lived and sandwiched between two extraordinary eras (Victorian and World War I), a strong and distinct style of The Edwardian Era is challenging to identify.
Arts and Crafts Movement Envelopes: Earth Brown, Husk Genesis, Brown Kraft Paper Bag, Chocolate Brown, Ivory Wove Strathmore, White Parchment, Pumice, Talc, Baby Blue, Dark Red, Racing Green, Dark Green, Green Rainforest, Leaf Green, Olive, Sage Green, and Chartreuse.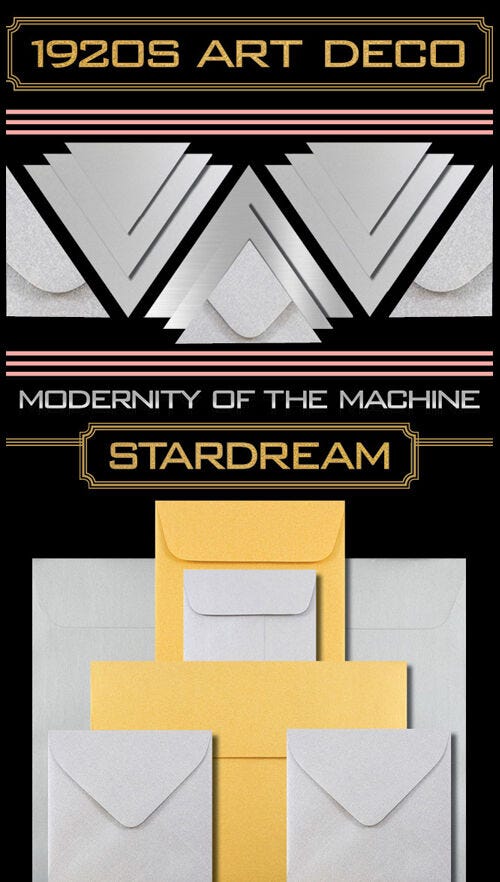 1920s
During the Roaring Twenties, art and fashion revolutionized as attitudes changed, technology advanced, and products were manufactured in new ways. It was a vast, fast change from the previous era.
Flappers emerged, painting their faces with black kohl and bright red lipstick.
Airy and semi-transparent fabrics were mass-produced in delicate, light colors. Fashion palettes featured pastels, like peach, pink, pale yellow, creams, and light grey. Black onyx was contrasted with these light colors.
Art Deco was in full swing! In contrast to The Arts and Crafts Movement, Art Deco embraced machinery. This movement promoted bold geometric patterns, polished surfaces, and stylized forms that appeared to be made by machines. Décor included high-shine metallics in chrome.
Art Deco manifested in all types of American art and design media, including fashion and home decor. It became one of the most popular architectural styles in the United States during the first half of the century.
Art Deco also inspired cinematography. The science-fiction drama film Metropolis of 1927 celebrated modernity. Metropolis presented a highly-stylized futuristic city as Utopia and — way before R2-D2 and C-3PO of Starwars — introduced Maria (a.k.a. Futura), the first major robot in film history.
Materials used in the Art Deco Movement included concrete, smooth-faced stone, steel, aluminum, ivory, jade.
1920s Envelopes: Stardream Metallic Silver, Spring Ochre Translucent Vellum, Smooth Black, and Peach.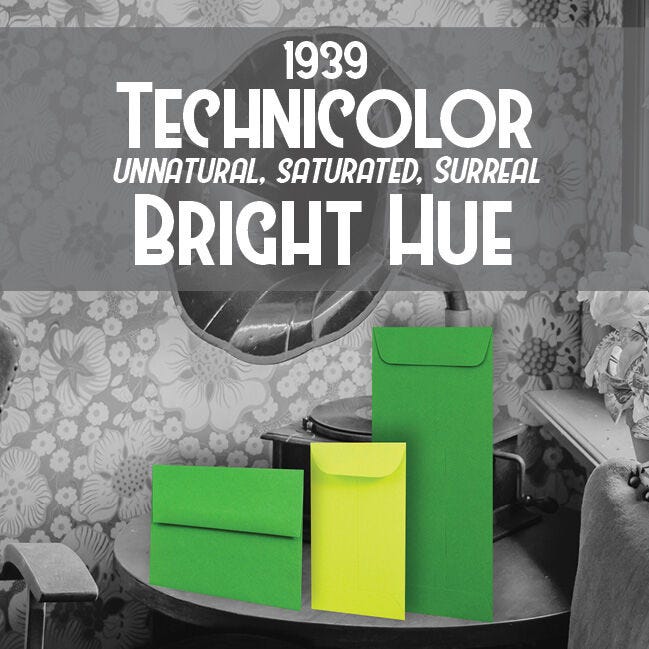 1930s
While poverty of The Great Depression dominated the cultural mindset, bold and lighthearted colors lightened the mood.
While people worried about money, prominent colors included purple, which is associated with royalty and wealth. Maybe because of The Dust Bowl, dusty versions of purple, like lavender and lilac, were popular.
Mint, emerald, and jadeite greens were also fashionable.
Green's hue intensified and its fame grew with the 1939 release of The Wizard of Oz in Technicolor, which featured the another version of Utopia: the radiant Emerald City. Books about The Wizard of Oz describe this luminous city as being constructed of green glass and emeralds. Art Deco — still a prominent style of architecture that featured bold geometric shapes of cityscapes — influenced the design of The Emerald City.
Technicolor changed cinematography forever with bright colors and eye-popping visuals.
Some filmmakers asserted that they could use color as a new narrative device. Yet many studios protested, insisting black-and-white was best.
The studios' concerns were valid. To use Technicolor in a film, the production team was under Technicolor's controlling thumb. Technicolor only had three laboratories (in New Jersey, California, and England) that featured special printers, cameras, and other equipment that studios had to rent. Technicolor even advised filmmakers on colors of costumes and cosmetics. Many filmmakers felt Technicolor was too restrictive and expensive.
While Technicolor's technology was evolving, colors could appear unnatural and overly-saturated. The visuals were so drenched with color that they could appear surreal.
Although many filmmakers argued all films should be made in black-and-white, Technicolor made the world realize that:
We're off to see the…COLOR.
1930s Envelopes: Green Recycled Bright Hue, Ultra Lime Green Recycled Bright Hue, Green Foil, Light Purple, Wisteria Purple Translucent Vellum.