10 Fabulous Gift Wrap Ideas for Your Christmas Presents
In the U.S., exchanging presents on Christmas Day is a time-honored tradition that started in the early 1800s. It's usually the event people look forward to most throughout the year. But it can be a real pain for gift-givers who are on the constant lookout for new gift wrap ideas.
That's why we've put together this list of 10 Fabulous Gift Wrap Ideas for Your Christmas Presents.
After all, every gift begins and ends with its gift wrap. From the second a gift recipient first lays eyes on a package to the instant the last of the wrapping has fallen to the floor, the whole present-opening experience is defined mostly, if not completely, by the gift wrap.
So don't be afraid to go the extra mile and make yours super creative! Not only will you look like the DIY gift-wrapping guru of the century, but your care and thoughtfulness will also leave a deep, lasting impression on your family and friends.
Check out all the fun, unique ways you can personalize and wrap your Christmas gifts below!
---
Candy Canes
What's red and white and sweet all over? Candy canes! Like the cherry on top of a hot fudge sundae, candy canes complete the ultimate holiday gift wrap look. You've probably dangled them on your Christmas tree or over your fireplace, but now you can try arranging them in cool designs for presents.
Want to take this idea up a notch? Use candy cane clay ornaments to form letters and words.
---
Peppermints
Peppermints, anyone? Glue these yummy mints onto red or green wrapping paper for a fairy tale-inspired Christmas look. As appetizing as it may look, make sure to tell the gift recipient that these mints are off the menu.
---
 Paper Straws
Red & white paper straws look a lot like candy canes and can be used as more flexible alternatives. So you can arrange them just like real candy canes or cut and shape them into letters and designs. You can also mix red straws with green ones for an ultra Christmas-y feel.
---
 Christmas Light Bulbs
Incorporating Christmas light bulbs in gift wrap is actually genius. It's different, simple, and cost-effective--just snag some lights from your tree decoration box. Next, attach them to your gift box in the shape of a snowflake or flower and you're good to go!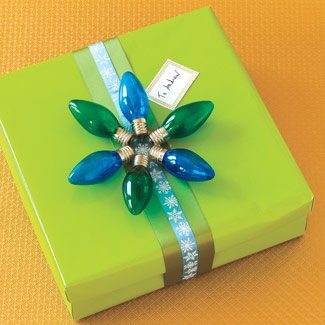 ---
 Jingle Bells
Okay, you can probably tell where we're going with this. But really, using staple Christmas items as gift bow alternatives is easy and beyond adorable. Jingle bells are just so great because they look elegant and make gentle tinkling sounds that will remind you of reindeer. Make your gift wrap extra festive by adding a touch of nature.
---
Monograms
Personalizing clothes and other items with monograms is super on-trend right now, and it's probably not going to change anytime soon. So why not try monogramming your gifts, too? Not only will having the initials make finding and organizing everyone's presents so much easier, but it'll also make your presents feel extra personal!
Simply cut out letters from wrapping paper and tape them onto your gifts. To achieve the best results, the wrapping paper you use for the monogram should be different from the wrapping paper you use to wrap the gift. Or you can just write out the letters yourself!
---
 Keys
Has one of your relatives moved recently? String a key through some ribbon and tie it onto their present to congratulate them on their new home.
---
Paper Flowers
They say that one man's trash is another man's treasure, and we honestly couldn't agree more! That's because you can use scraps from newspapers, magazines, tissue paper, or gift wrapping paper to create beautiful paper flowers like these for your gift wrap. (Check out more flower crafts here.)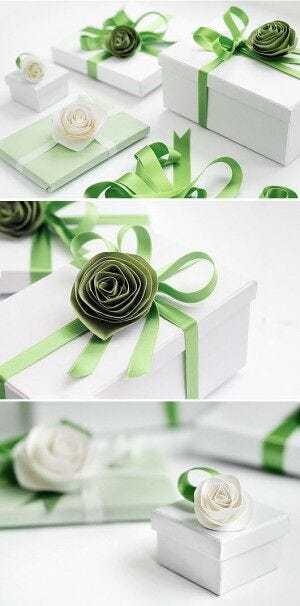 ---
 Buttons
What could be more perfect than buttons during sweater weather? You can finally put those spare buttons to good use and give your presents a dash of creativity with this fun idea.
Tip: Use 2 buttons to make a snowman or 4 for mistletoe. You can even string Baker's Twine in-between the grooves and tie a pretty bow.
---
Santa Wine Toppers
Finally, if you're gifting wine, give those bottles some adorable little Santa toppers--it'll save you the trouble of struggling to figure out how to gift wrap a wine bottle! Seriously, who could deny a drink with Santa's blessing?
Were you inspired by this list? See, you don't necessarily have to think outside the box—all you have to do is pull everything out of it. When you're done, you can even save and reuse your gift wrap!
Got any gift wrap ideas you want to share? Drop us a comment below!
---
Edited on 11/4/2019 by Dana Kim.