Last JAM Paper Store Closes in NYC! Moves to Your Desktop!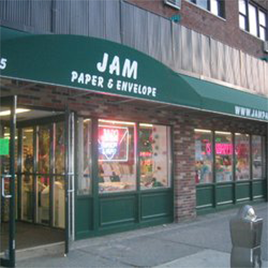 After nearly a quarter of a century in the East Village of New York City, JAM Paper and Envelope's last remaining brick and mortar location on Third Avenue between 14th and 15th Street, will be closing this month. Before you hit the panic button, business will continue as normal via its e-commerce website: www.jampaper.com
Since 2004, the Third Ave. store has seen a lot. From an appearance on the VH1 show Run DMC: My adoption Story, featuring Run DMC visiting the store and purchasing yellow paper and envelopes, to being mentioned in Zagat NYC Shopping Guide, to even being mentioned in an Associated Press story that relayed to nearly every big city publication! The store will officially be closed by the end of the month, but until then every single item in the store's inventory will be 50% off! So be sure to head to 135 Third Avenue to get your savings on!

For those New Yorkers who relied on JAM for colorful impulse buys and their last minute shopping needs, don't fret either! They offer next day shipping into New York City! Also, if you start to miss their store managers, we are keeping the store's phone number active so they will still be around to answer any questions you may have.
Written by Dylan Peters