Like a Kid in a Candy Store: JAM NYC Paper Store
Although we love being able to see all our products neatly arranged into separate pages on the website, sometimes we at JAM like to just let loose in the store. We can spot things we often overlook, or get inspiration for creative craft ideas and packaging (meaning more crafty blog posts). Plus it can be fun to just see everything all together! Having aisles and aisles of materials right in front of us does wonders for our creative thinking. It's like having a giant, colorful inspiration board. Here are some photos we took to entice you to come visit. Check out all the pretty colors....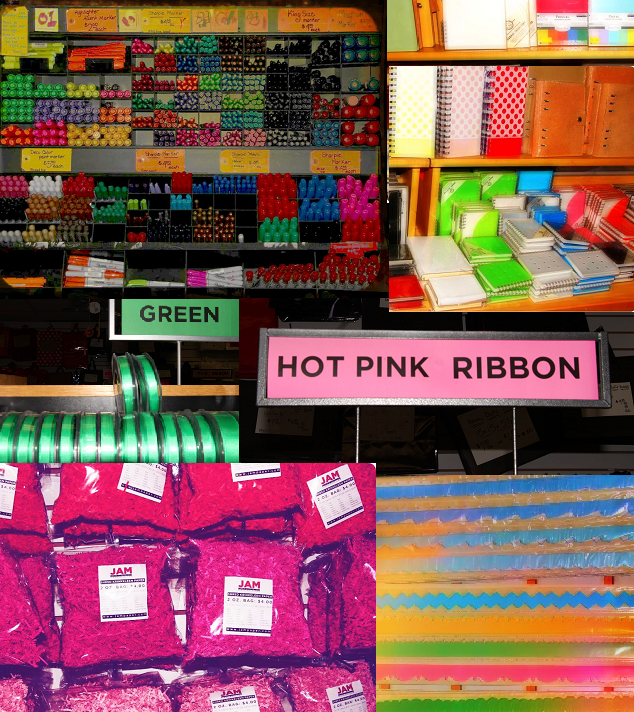 If you live in the area or happen to be in from out of town, feel free to pop into our NYC paper store (we have two - one downtown store on 
135 Third Ave (btwn 14th & 15th Street)
and a midtown paper store on 
466 Lexington Ave (btwn 45th & 46th Street)
). You can get lost in our rows of notebooks, stationery, paper, bows, boxes, ribbon, and more. Plus you can check out some exclusive items, like specialty papers, that can only be found in our NYC stores. For those of you who aren't in the area... we hope these pictures inside our store are able to inspire you a bit and give you a better idea of our range of craft and wrapping products. We've heard customers come in and say that they feel like "a kid in a candy store." We wanted to try and bring you that same feeling. If you see something you like, simply look for it online! [caption id="attachment_2729" align="aligncenter" width="266"]

Hard plastic pastel art portfolios[/caption]
More snapshots and insight into our New York City paper stores are coming up, so don't forget to check back later!
We'll be posting some creative wrapping jobs displayed in the stores, a better look at our stationery selection, as well as a spotlight on some lesser known products that you perhaps didn't come across on the website.
Stay tuned!