10 Ways to Celebrate the Holidays in the Office
You'd think that spending your days at the office during the most wonderful time of the year is the worst thing ever. But here at JAM, it's not a problem! Whether it's participating in a bake-off, decorating the office, or playing Christmas music, JAM employees are always coming up with fun, new ways to bring holiday cheer into the workplace. If you're curious about how you can improve your fellow employees' moods this season, here's a list of 10 ways to celebrate the holidays!
1.) Decorate the Office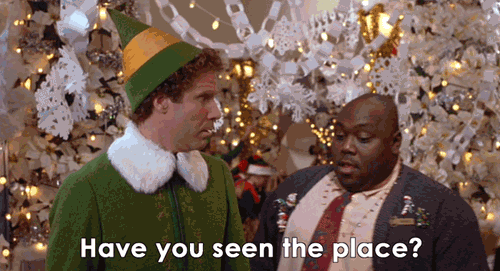 There's no better way to indulge in the holiday spirit than to set the scene. Invest in a small Christmas tree and/or Menorah for the break room (no need to discriminate). You can transform the office into a "winter wonderland" with some crafting paper snowflakes and garlands! Once all the decorations are up, sit back and watch as morale jumps through the roof.
2.) Host a Bake-Off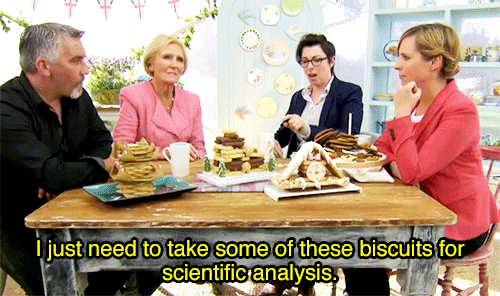 On Friday, December 20th, 2019, JAM Paper had it's annual bake-off! Every year, the members of our marketing team whip up something sweet and bring the goods in to share! In order to participate, you have to bring in something you made yourself as well as a list of the ingredients (just in case someone has allergies). After everyone has tried each other's desserts, they write down their favorites on a ballot and someone tallies the scores. The winner gets bragging rights or a prize! At JAM, we gave away Amazon gift cards to the 1st- and 2nd-place bakers.
3.) Grab Bag/Secret Santa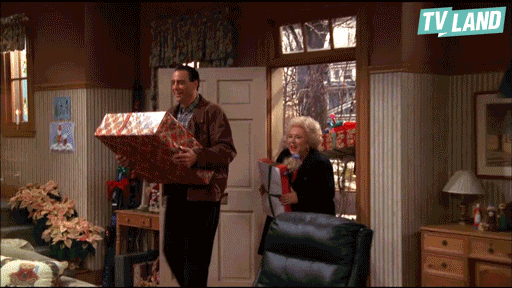 Another way to celebrate the holidays is to give gifts to one another! Instead of buying something for everyone in the office, doing a grab bag or secret Santa is a fun and affordable way to show your appreciation for your coworkers. Pick a game and set the budget. To play secret Santa, write down the names of everyone participating on separate pieces of paper. Put the slips of paper in a bag and have everyone choose a name (if you pick yourself, choose another name and put yours back in the bag). In grab bag, everyone puts their wrapped gift in a bag. Once the bag is full and all the gifts are in, people take turns closing their eyes and selecting their presents. Typically, the budget lands somewhere between $20 and $30 to keep the games fair and affordable for everyone involved.
4.) Window Design Contest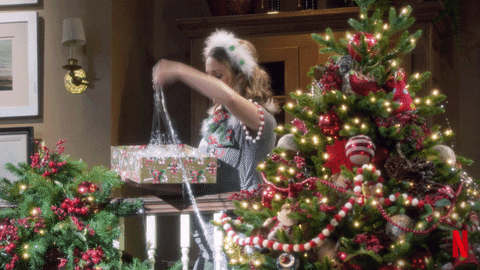 This particular contest is an entertaining one! Everyone brings in supplies for decorating and crafting. Use a name randomizer to form non-biased teams! Once the teams are formed, each claims a window. Make a pile of art supplies in the center of the room and start a timer. Set it for 10-20 minutes, depending on how much time you think will be enough to decorate one window. Whichever team decorates the window with the best theme wins! This game also doubles as a fun team-building exercise.
5.) Ugly Sweater Day This is just a handful of our Marketing team members! Along with the bake-off, we decided to have an ugly sweater day as well! This activity is pretty self-explanatory: decide on a day for everyone to wear their ugly sweaters. Do this preferably in advance, so that people who don't have sweaters will have enough time to acquire one. (Optional: set up a prize system.) As you can see in the picture above, not ALL of the JAM ugly sweaters this year were Christmas-related. People came in with Harry Potter, Bob Ross, and Hanukkah sweaters!
6.) Play a Christmas Radio Station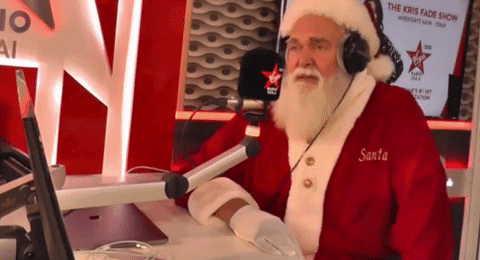 One of the most basic ways to welcome the holiday season is to turn up the Christmas music! There's just something about Christmas songs that puts everyone in a lighthearted mood. If you don't have access to the radio, you could either connect your phone to some speakers or listen on your own with headphones. No matter which medium you use, listening to Christmas music will guarantee a happy employee!
7.) Post Festive Content on Your Company's Social Media
These are just a few examples of posts we've shared this season on our Instagram, Pinterest, Facebook, and Twitter. It's important to add seasonal content to your posts in order to keep your audience alive and readers engaged. It also gives your brand a little more personality, which expands your business. That's because people are attracted to relatable, eye-catching content.
8.) Desk Decorations
You can't go wrong with a little personal desk decor! Sitting at a desk all day can get boring and monotonous. So why not make your work space festive and exciting? In this episode of The Office, Jim pranks Dwight by wrapping his "desk" in gift wrap. Although this was meant to be a joke, we don't think this look is half bad! Using wrapping paper is a unique and creative way to decorate your desk area. You can use it as a desk cover or even a mouse pad!
9.) Send E-Cards
Want to wish your fellow employees and work friends happy holidays but don't have the stationery to do so? Send an e-card! E-cards are funny, personalized, and office-friendly. Take your seasons greetings a step further by heading over to JibJab, a website where you can put your loved ones' faces on dancing characters!
10.) Throw a Christmas Party!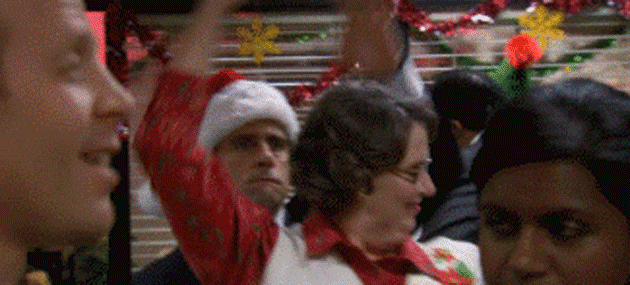 Last but not least, throw an awesome Christmas party! Hang up some banners, order a pizza, and dance your lunch break away! If you don't want to hold the celebration during work hours, simply plan it on a weekend. Rent a hall or go to a happy hour! As long as you're with your team, you're going to have a blast, anyways.
We hope you enjoyed our article on 10 ways to celebrate the holidays in the office! Whether you decide to spend them decorating the workplace, listening to Christmas music, or planning different festive activities, JAM wishes you a merry Christmas and happy New Year! Don't miss our JAM blog posts: subscribe and check back for more crafty ideas!
---
Edited by Dana Kim.