DIY Costumes: A Punny Halloween at JAM Paper
I'm not sure about you, but Halloween is one of our most celebrated holidays here at JAM Paper. Even though most people view dressing up to be childish, our team uses this as an opportunity to show off our creative outlets through DIY Costumes! Being that we are a paper company, last year we decided it would be a clever idea to dress up as characters from everyone's favorite TV sitcom The Office! This year, our JAM employees decided to go a different route —using a play on words, things we're scared of and our favorite cartoon characters. With the help of some of our products and a sprinkle of imagination, our marketing team was able to bring laughs and originality to the workplace!
Ian as a 'Premiere Error'
In order to create this simple and funny costume, all you have to do is print the picture you want to use onto some paper and then tape it onto your shirt! You can even go a step further by drawing it on with some paint markers!
Rebecca as 'Tableau'
"A handful of us decided to dress up as the software we use in the office, mine is Tableau. Can you tell I love data?" -Rebecca
Making this costume requires a little more work than taping a picture on your shirt. If you're down for the challenge, here's how to do something similar! Print out your image on some paper then tape it on a cardboard cut-out of your choosing. Punch some holes at the top and feed colorfultwine through. Now your costume is portable and comfortable!
Nicole as 'Smarty Pants'
"That's what I do. I dress up as Smarty Pants and I know things" -Nicole
The fun part about this costume is you can dress normally, as long as you wear pants that are adhesive to tape. The major principle of this costume is to stick Smarties onto your pants. If you wanted to take this look one step further, you could wear glasses and carry around a book, which would emphasize the nerdy aspect of the costume!
Lauren as 'Excel' This was my costume for my first Halloween at JAM Paper! I work with Excel everyday and it crashes on me... almost everyday. For this look I bought a t-shirt at AC Moore, sketched the design with a pen, and then colored it in using acrylic markers and paint!
Stephen as Danny Phantom
"I decided to dress up like Danny Phantom because growing up, I loved to watch this cartoon. Also the costume was easy!" -Stephen
Stephen's costume is pretty self explanatory. He bought a red collared shirt and then ironed a felt fabric oval to the front. In replace of the fabric, you could cut out some quality red cardstock paper and tape it to the front as well! Also, if you're only able to find a white t-shirt, you could color the collar and sleeve ends red with some paint markers!
Nick as ... "A Costume"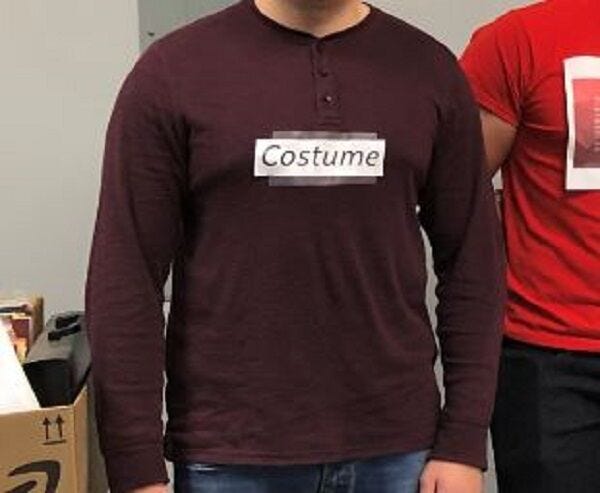 This costume is for all the people on Halloween who want to be a part of the festivities without standing out from the crowd. There are a couple different ways you could achieve this costume, but Nick was able to do it by printing out the word "Costume" and then taping it onto his shirt. You could also wear a similar outfit by writing on your shirt or wearing a hat that says it as well!
We had a JAM Halloween!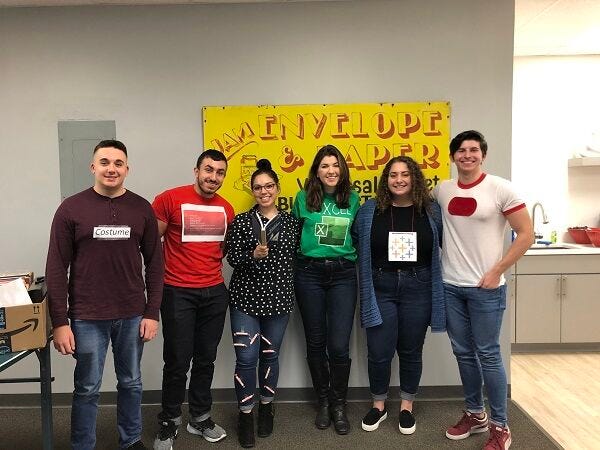 Yes, dressing up for the office is tricky, but there are still ways to make it memorable and fun! We hope this article helps you on your next Halloween costume journey.
Do you have punny Halloween costume ideas or suggestions? Leave them in the comments below- we'd love to hear from you!