An Infographic for Promotional Envelopes Sizes
This is the last and final installment of our
Envelope Size Infographics
.  With this infographic, we cover all of the promotional envelopes sizes. Promotional envelopes are typically used for sending out promotional materials for PR/Marketing or direct mail companies. They offer a unique alternative to the ordinary white or Manila envelopes. Items that fit within these promotional envelopes can be catalogs, brochures, magazines or sales materials. From Bubble Mailers to Photo Mailers and more, we will help you make sure what envelope fits best for all of your marketing and packaging needs.
We will even let you know if the promotional envelope you were planning on using requires additional postage or not. Find out what each envelope is typically used for, for help planning your own promotional mailing.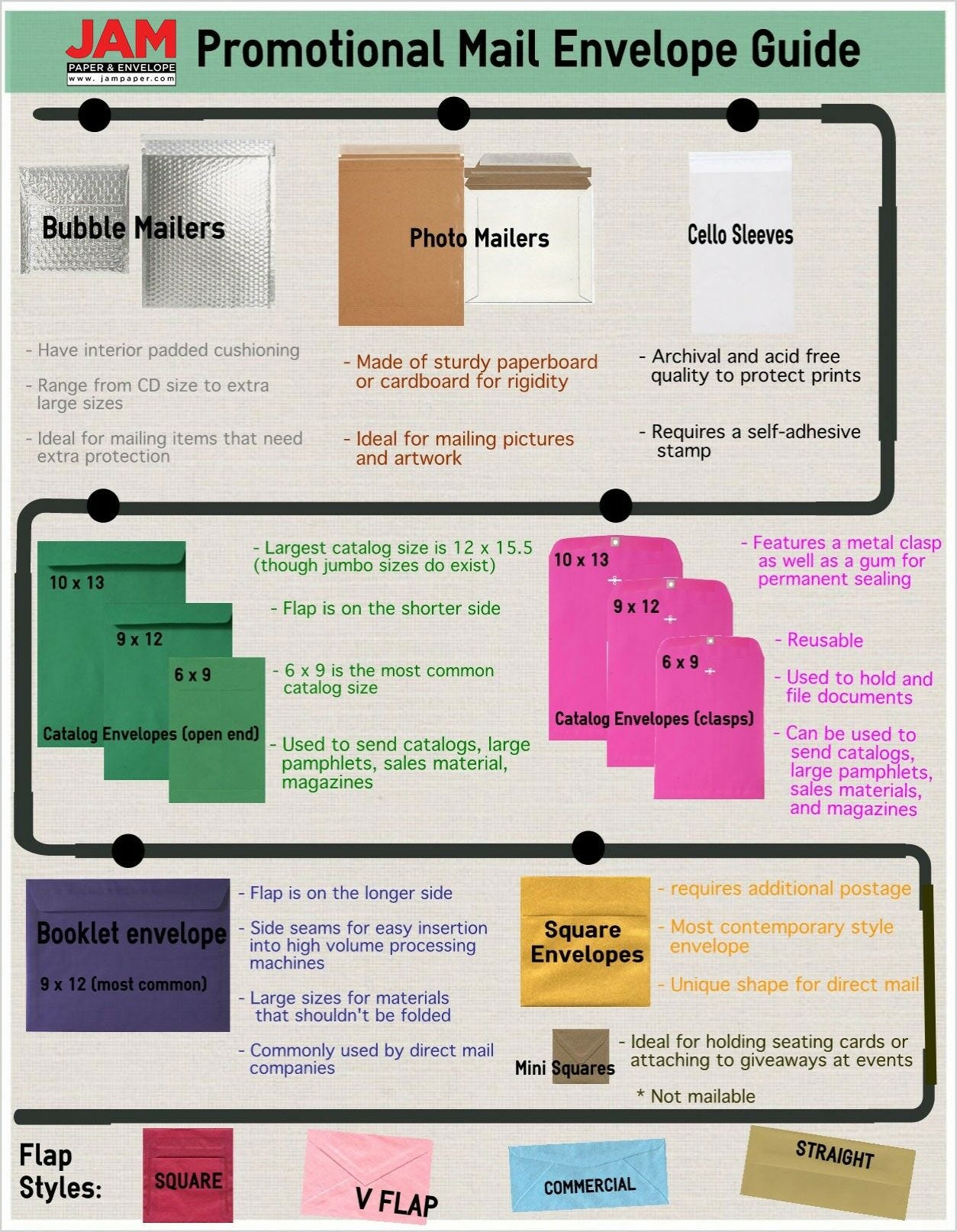 Bubble Mailers are here to make sure your mailing items need the best protection. We aren't bursting your bubble, try them out yourselves! Photo Mailers: have any artwork, pictures, photographs you want to keep safe and sound while on the move? Try our photo mailers that come in a range of colors and sizes. Worried about your photos getting worn out? With out cello sleeves, you don't ever have to worry again! They are acid free so your quality photos will remain quality. Choose our open end envelopes or clasp envelopes (depending on your style and circumstance) to mail those important promotions! Rather your envelope be horizontal? Try our booklet envelopes that open on the long side of the flap. Now are you looking for something totally different? Try our square envelopes! They're mailable, just require additional postage. And if you love them but want to go mini, we have that option too! Okay, so are you confused about our many flaps? Look at our infographic out to see the variety! From V-flap to square flap, from commercial to straight flap, you'll get a better understanding! Check them out!