Here at JAM our motto is "Every Size. Every Color"…and we mean it! With a multitude of envelope sizes to choose from, there really is an envelope to fit any need. From invitation envelopes for weddings and parties, to bubble mailer envelopes to ship something that may need a little more protection, whatever you need, we promise you'll find it! Check out our website for
a giant collection of awesome envelopes
. What do you think about an envelope size guide to clear up those questions you always have? But with that said, since there are so many envelopes to choose from, the question on everyone's minds: "What's the difference and how do I know what to choose?!" Lucky for you, we've broken it down in this nifty chart (our version of an envelope size guide) so you pick the perfect envelope for all of your mailing or storage needs! So, envelopes can be broken down into three categories:
Business & Commercial, Invitational, and Promotional
. If you need to mail something business related, send out an invitation, or mail something like catalogs or brochures, check out these charts so you can finally tell the difference! The JAM approved envelope size guide!
Business and Commercial Envelopes
Your business should be as professional as possible. Business and commercial envelopes are the right choice for both your clients and employees. For more serious circumstances, choose a crisp white or off-white envelope. If you really want to stand out, choose an envelope in a popping hue, like red or yellow, or an envelope that matches your clients' company colors. [table id=2 /]
Social and Invitation Envelopes
Social and invitation envelopes are great to use for events, greeting cards, thank you notes, photo cards, special announcements, weddings and more. If you want your message noticed, pick an interesting size, material style, and color! [table id=5 /]
Promotional
Promotional envelopes are your go-to for any other need that isn't social or business related. For example, if you need to send something that needs some protection, choose our bubble mailers. Or maybe you need to send artwork or important papers. Choose our sturdy photo mailers! OR maybe your company wants to send out larger magazines or promotional brochures. Our large open end envelopes are the way to go. Basically, anything that won't fit into our other envelope categories, you can find it in the promotional group of envelopes. [table id=8 /]
Flap Styles
In addition to sizes, there are flap styles to choose from! Check out the picture below to see what your options are!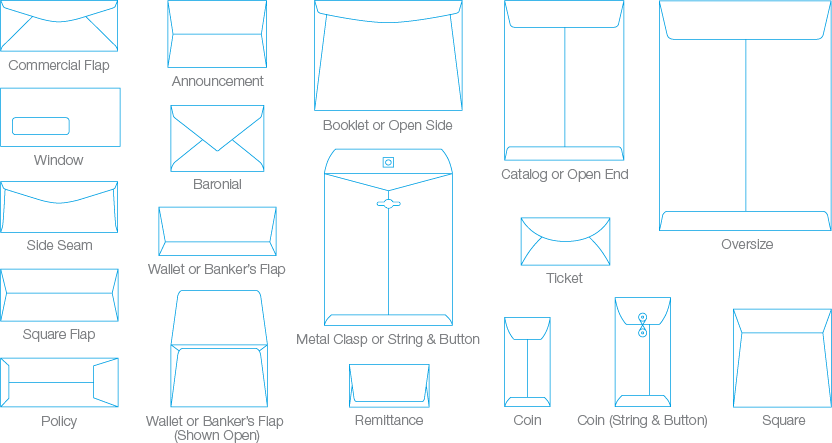 USPS Mailing Requirements
Envelope size guide important point: Note that
USPS does not give standard rate to all envelope sizes.
The USPS separates all mail into one of four size categories: letters, large envelopes &  flats, postcards, and parcels. To get the standard postage rate, follow these guidelines: