DIY: Oscar Party Invitations
Every year my sister and I watch every movie nominated for The Academy Awards' Best Picture. At Christmas time, we get an AMC gift card, and we're on our way.
When the date of the Oscars' arrive (this year it's February 28th), we submit our ballots, watch the show, and whoever gets the most guesses right, buys the other one dinner.
I'm a Beasts of the Southern Wild (2013), Nebraska (2014), Birdman (2015), Room (2016) kind of gal, so my passion for those movies gets in the way of actually deciding on the true winners. In other words, my sister has won every year.
Now this is my kind of party. But maybe your type of party is where more than just 1 person tags along. Maybe 5, maybe 10, 20? How many will you invite with Oscar party invitations?
So I decided to create DIY: Oscar Party Invitations for any kind of party and any kind of guest count.
---
Lights, Camera, Action Invitation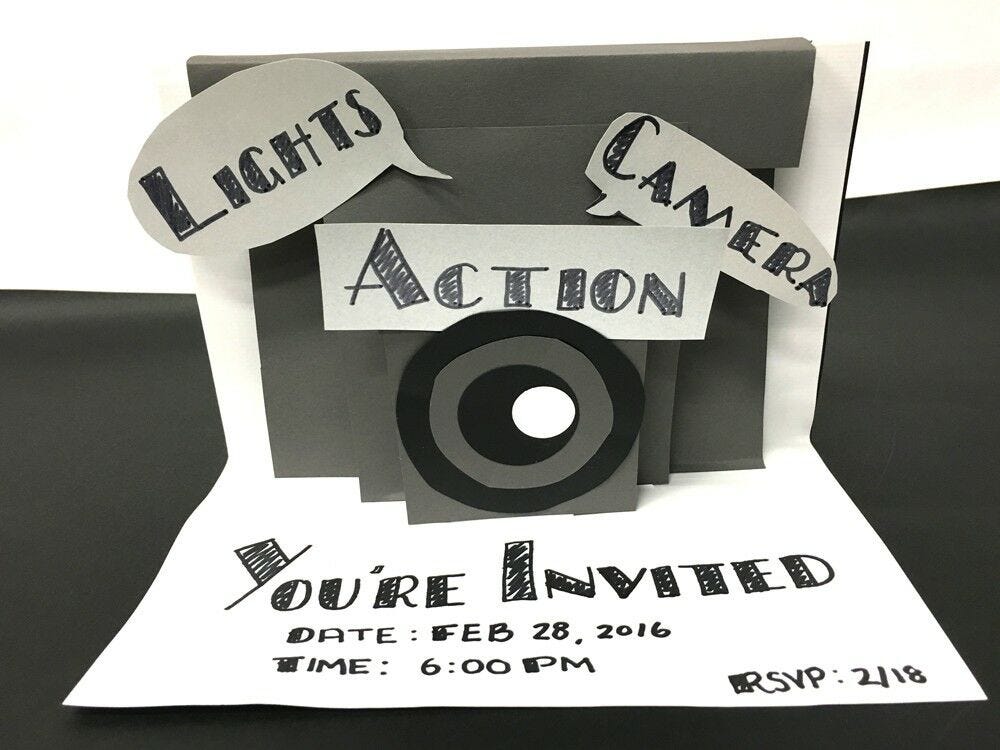 For those who appreciate film for not only what it is now but also how it all started.
This idea came from the old school cameras used way before you, your parents, maybe even your grandparents were a thought. Bringing the classic look of the accordion style camera to your oscar party invitation will make your guests excited for the classic yet fun party you'll be throwing!
Materials:
Steps:
Use the Strathmore Paper, fold it once horizontally, and cut 6 slits in the center crease. The two slits furthest from the middle should be the shortest, the furthest two to the center should be the longest. This will create the pop-up stands you will need to create the accordion camera. With 6 slits you can create 3 layers. But if you're looking for more, just add on slits by the 2's!
Pop out the slits and start creating your camera layers with our Dark Grey Paper. Cut out your shapes so you're outlining each slit. The smallest slits will have the tallest paper layer, the biggest slits will have the smallest paper layer. Paste them onto the slits and you should now have three pieces of Dark Grey Paper standing up straight.
To attach each piece, create a top section. Do this by cutting a 'roof' over each piece and taping them together. There should be two roofs.
Once you're finished with the hard part, you're ready to start really creating! Start by cutting a black circle, smaller grey circle, smaller black circle, and the tiniest Strathmore circle to create the camera lens. Paste them together and put it on the front!
Cut out Silver Stardream Paper to create your 'Lights' 'Camera' and 'Action' signs. I used a dialogue bubble shape for the words lights and camera and stuck with a rectangle for the word action. Stick them wherever you see fit!
Attach your message to the bottom of the invite, however way you'd like to say it! I used Broadway style font for that classic look, but style it any way you want!
Stick the invite in a super classy and fun Black Linen Envelope with Silver Lining and send it off!
[slideshow_deploy id='15816']
---
Red Carpet Ready Invitation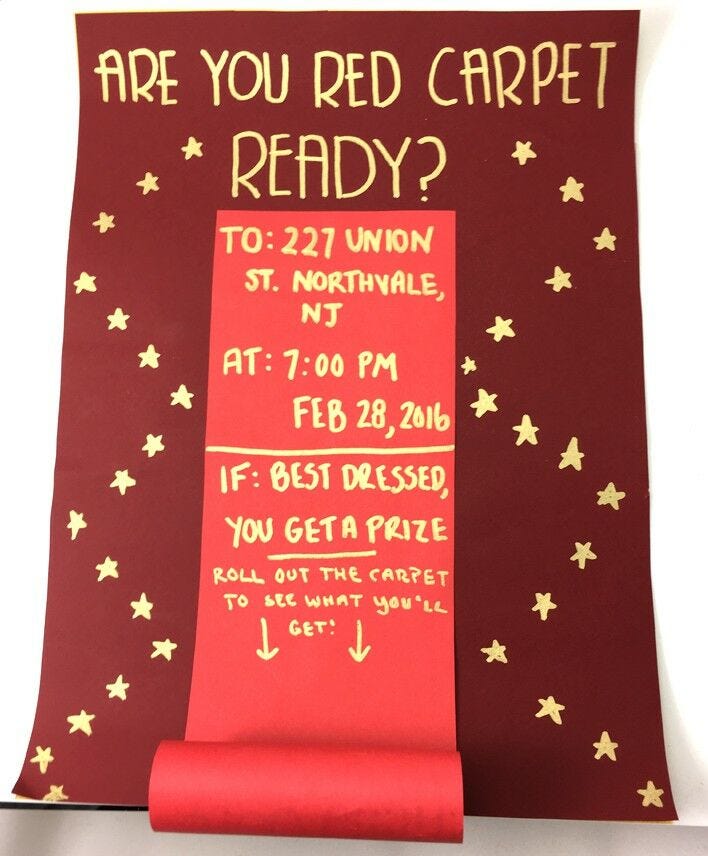 For those obsessed with who will win Best Dressed rather than what will win Best Picture.
A lot of people watch the Oscars for the dresses, glamour, and awesome tuxes. And when your group of family or friends only talk about that and how they would wear an amazing dress if they were famous, not like how those people are doing it, why not create Oscar Party Invitations that not only gives them a chance to dress up, but also gives them a prize for doing so!
Materials: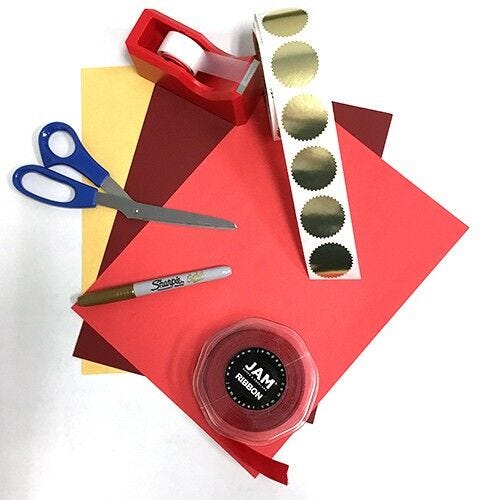 Steps:
Glue the Dark Red Paper to the Gold Stardream Paper, you'll understand later.
Write 'Are You Red Carpet Ready?' on the top. I used an Art-Deco kind of font, but again, create any font you'd like!
Cut out a long, thin rectangle on the Red Brite Hue Paper that goes way past the end of the Dark Red Paper and paste it in the middle.
Write your details with a Gold Sharpie in the Brite Hue Red rectangle. Remember to save the very bottom to writing your prize for best dressed!!!
Roll up the bottom of the red paper after writing your prize (we said $100 in cash, but it's up to you), and when the prize is no longer seen, tape it down. Once your family and friends reveal their prize, they are sure to want to RSVP quickly!
(Optional) Decorate with stars or any other design on the sides to get a more star-studded look.
Roll the invite up to make it look like a diploma. Tie red satin ribbon around it and seal with a Gold Wafer Seal. Obviously these cannot be sent in the mail, but handing them off might be more fun anyway! Lot's of ways to make Oscar Party Invitations!
[slideshow_deploy id='15822']
---
Movie Popcorn Invitation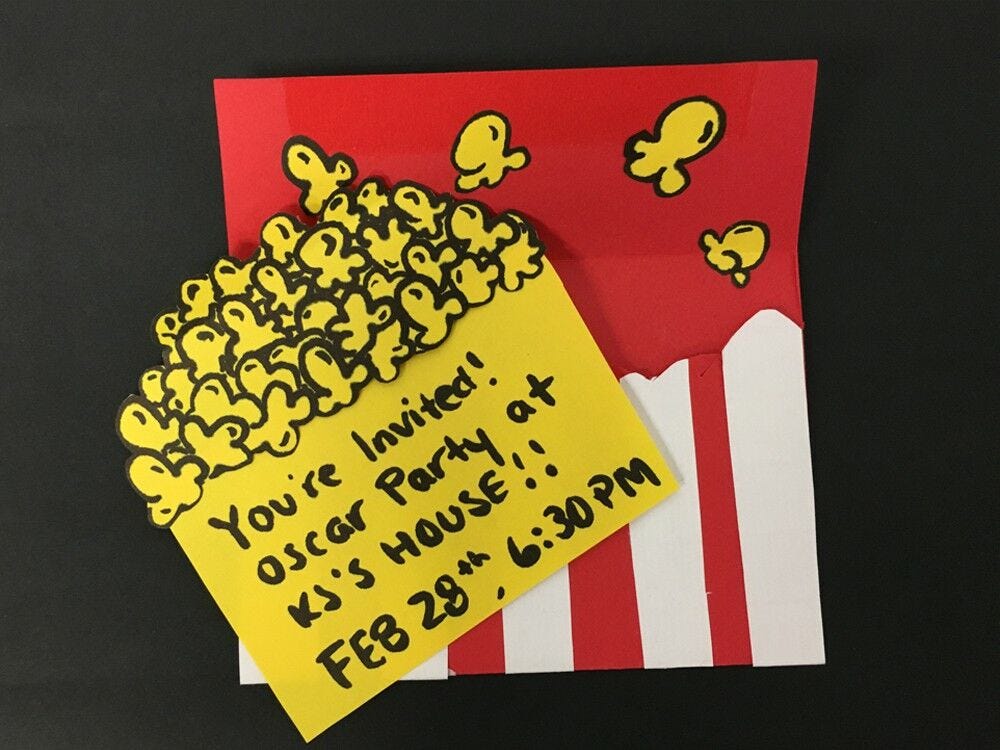 For those who love a reason to eat movie popcorn and/or really love the pop-art culture.
I asked a co-worker what popped in his mind first when he thought about movies. Of course with my personality, after he listed a few, I scream popcorn! He then rolled his eyes and went back to work. I thanked him anyway. He's a good guy after all. You think he'll get any Oscar Party Invitations?
Materials: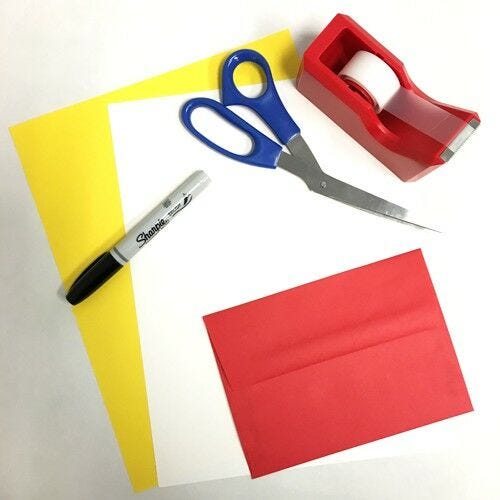 Steps:
Make the opening of your envelope curved. I did this by outlining bumps in pencil and cutting the upper part out. Warning, this does get a little annoying but it's worth it.
Cut out strips of Strathmore White Paper that will match the size of the envelope, and the size of the curved bumps you just created. With a 4bar A1 Envelope, you can make 5 strips perfectly.
Design your popcorn! I used a Black Sharpie with a Brush Tip to draw my popcorn pieces on our Yellow Brite Hue Paper. Make sure the length of your popcorn bundle is a similar length to the envelope itself. I was able to draw my popcorn but if you want to just print popcorn out, that works too!
Make extra popcorn pieces that you can paste on the actual envelope so your popcorn looks like it's actually popping!
Paste a yellow rectangle to the bottom of your popcorn bundle and write your party info! Stick the invite inside and send it off! Your guests won't know what hit 'em (besides the Oscar Party Invitations courtesy of JAM of course).
[slideshow_deploy id='15834']
---
Oscar Statue Invitation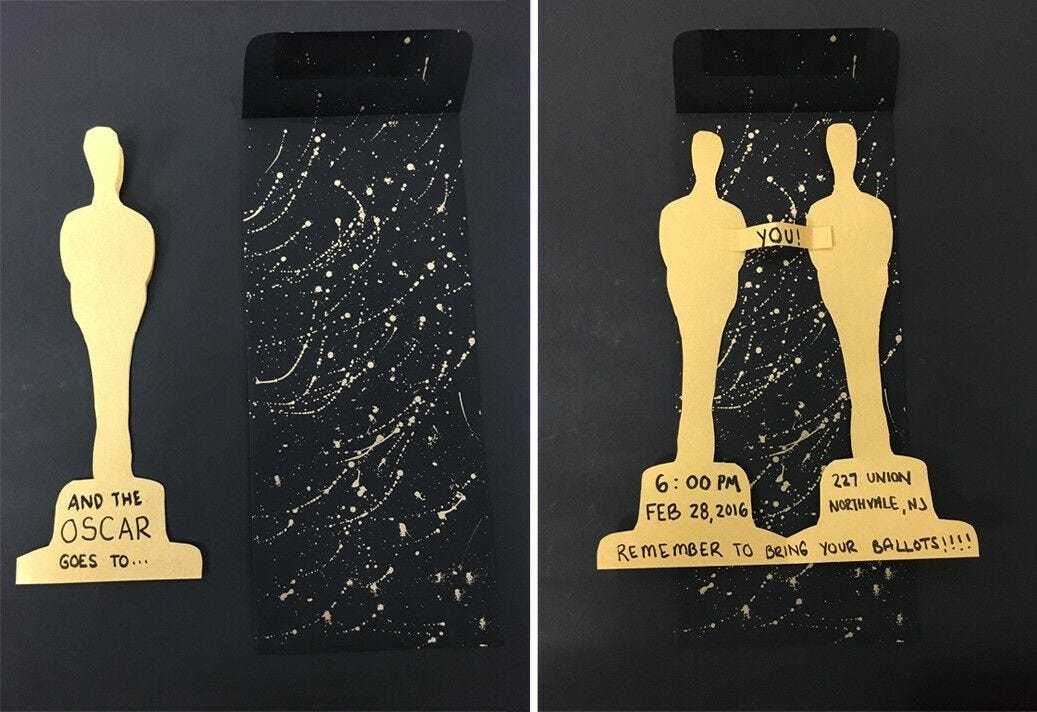 For those, like myself, that have always dreamed about winning an Oscar and always wanted a statue for themselves … and for all of their friends too.
This was my first idea. The Oscar Statue: what all of the actors/directors/producers really show up for. I wanted to celebrate the Oscar statue for all its beauty, elegance, and meaning. It celebrates the art of film, and who doesn't like a good movie? (Side trivia: Oscar statues weigh up to 8 1/2 pounds!)
Materials: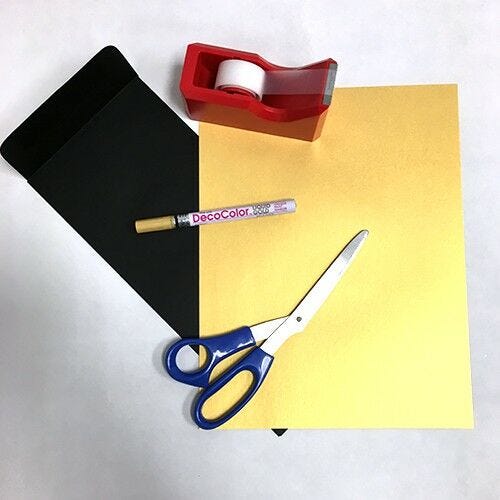 Steps:
Fold the Gold Stardream Paper in half.
Draw the Oscar Statue like I did (if you want a challenge) or search for an Oscar Statue template, print it out, and use that instead. Make sure that when you do draw it, the left widest point is on the crease. This way when you unfold it, the two statues will be attached. If you decide to print it, use standard white paper and glue our gold paper on top.
Cut out the statue. Remember that you DO NOT want to cut the corner crease. If you do, the statues will not be attached.
Write 'And the Oscar Goes to…" on the bottom of the statue, where the 'stand' would be. Open the inside and write your information.
For a personal touch, cut out a gold rectangle and paste 'you' on both end of the statue. Fold the middle part of it so that when it isn't open, the 'you' will not be seen.
If you want to make your envelope cool, try the next step (if not, stop reading here). By shaking our Gold Fine Line Opaque Paint Marker, I was able to decorate my #14 Black Linen Policy Envelope with a paint splatter pattern. NOTE: use a space where you don't mind it getting dirty, or put newspapers on a table before starting. Just throw all of your might in the work and paint should be there in seconds.
[slideshow_deploy id='15841']
And there you have it! Oscar Party invitations the JAM way!
My vote is for Room to win. I don't think it will (cough The Revenant), but I'm rooting for it. Throw us a comment telling us what your favorite Oscar nom is! We'd love to hear some predictions, but NO spoilers! Thanks for learning about Oscar Party Invitations with us!