DIY Wedding Decor Tutorial : Paper Love Garland
Recently we were lucky enough to work on a DIY paper garland tutorial for the wedding blog Savvy Deets Bridal. We created a modern twist on the classic paper chain by adding hand written love notes from wedding guest. Each guest receives a strip of paper in their wedding invite and are encouraged to send back a written note with RSVP cards. The bride and groom then use all these strips to make the paper chain of love. Hang it at your wedding for a lovely detail. What's more, your guests will feel included in your wedding, making the day all the more special for everyone.
Here's what you'll need:
Kraft Paper Roll
Ruler Tape Pencil Cutter/Scissors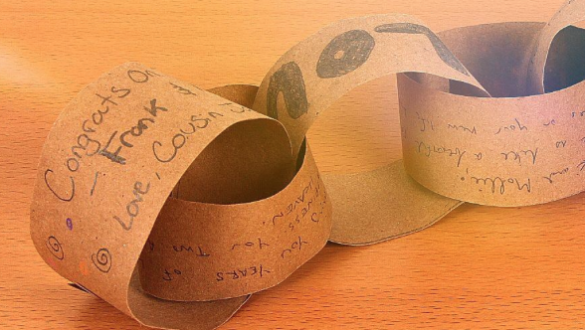 To Create: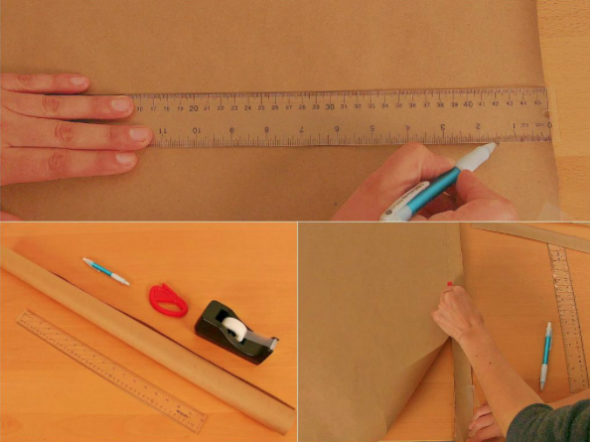 Unwrap your Kraft wrapping paper and tap the ends to a flat surface
Line your ruler along the bottom of the paper and make a pencil mark every 1 ½". This is how wide your chain strips will be.
Turn your ruler vertical and line it up with the pencil marks. Trace lines across length of the paper.
Take your wrapping paper cutter or scissors and cut out the long strips of paper.
Measure out 8" on each strip of paper and cut. This will give you the length of the strips.
Then.... When you are sending out your wedding invitations include one pre cut strip of Kraft paper in the envelope. Encourage guests to write a heartfelt love note to the happy couple and send it back with their RSVP card.
Your last step.... Once you have received all your RSVPS back you can finally put your love garland together! Create a circle with one strip of paper; secure the two ends with glue or invisible tape. Loop a second strip through the already made paper circle and secure. Continue this process until all your love messages are looped together creating one long chain. Don't have enough love notes, alternate between blank strips of paper and ones with love messages on them.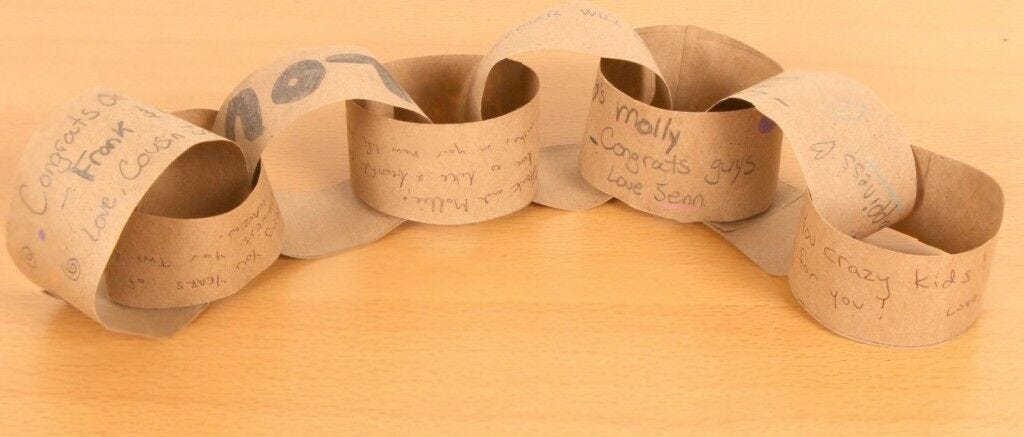 Such a sweet project! Whether guests can attend, or cannot, their love notes to you both will surround you on your wedding day. Guests will see this and maybe try to find their note. Children might gather to find their notes, which might cause for some sweet candids.
For the entire step by step tutorial check out the post
here
!