Easiest Wedding Banner Ever!
So this weekend, my dad and now stepmom had a backyard wedding party. Cue the aww's and the how sweet's. I know, I know, congrats is in order for the newlyweds.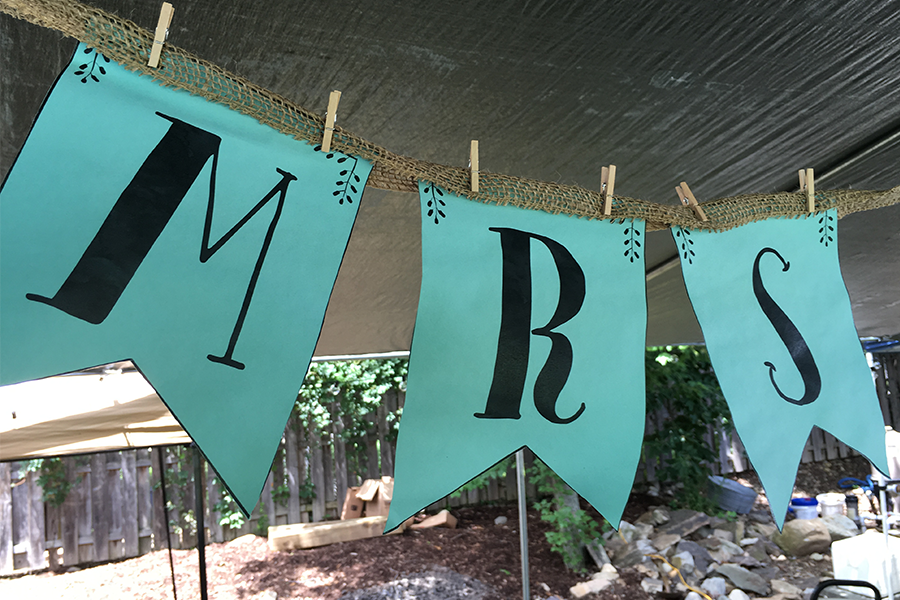 Backyard weddings are hard work. Especially when it's a pig roast party. But again, we're not a cooking company - otherwise I'd tell you it takes about six solid hours to cook a pig that weighs more than 100 pounds. And don't forget to know how much charcoal ... okay I'm getting off topic. As a little surprise for me two days before the party, my dad decides to call and ask for a banner. Obviously he knew I work for JAM, so he assumed I could manage this big paper banner about ten to twenty feet long (not a big range at all Dad) that says 'Mr. and Mrs. Smith's Wedding Party' with the date they were married and today's date ... and maybe a little bit about them? I told him oh, totally I'll definitely have time for that at work. And I might not have been too confident in that sentence, but I wanted to do this for my dad. I got to work and found one of my personal favorite JAM paper colors: Aqua and knew that was the color. Not necessarily because it fit any theme of the party, but that it's just a sweet yet not too sweet color. Great for both guys and gals alike. And what was my stepmom's first reaction to the banner? 'I love the color!' Thank you JAM, thank you. Am I rambling?
How to Make the Easiest Wedding Banner Ever: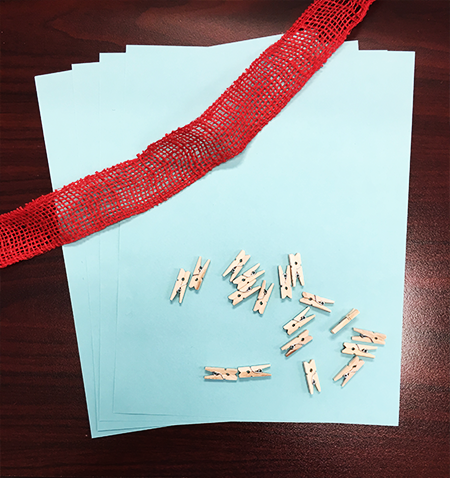 You need four supplies and four supplies only:
Now, time was of the essence, so making my own calligraphy wasn't truly an option. I mean I had ONE DAY (and not the whole day either) to get this ready for the next day. As I searched endlessly through Pinterest for inspiration, or SOMETHING, I found this wonderful invention known as a 
template
.
Shanty-2-Chic
offers these amazing, whimsical letters (A-Z and an ampersand) that I couldn't resist. Not only because of the time saved but because of the gorgeous design. You can find them
here
! And that's when it began, the vision of a charming banner that takes about 30 minutes max.
Step 1: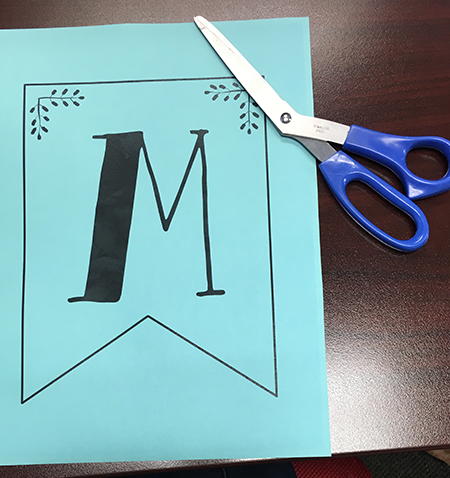 Print out the letters of your choice. I needed three M's, two R's, two S's, an I, a T, and an H. Yes people, my father's real last name is Smith. And no he does not work for the CIA, even though all of my coworkers are convinced of this.
Step 2:
Cut out the letters. Can't really elaborate on this one. How about ... make sure not to cut yourself as you are slicing away?
Step 3:
BURLAP! Okay, so I'm a super fan of burlap. It has this natural look to it that makes me feel like I'm home ... even if I never lived in a rural area. Does that make any sense whatsoever? You really want the whole spool of the ribbon to lay out on the ground before cutting it. This way you can really see how long you want your banner (I kept repeating make it to ten feet, ten feet, ten feet) and how much spacing you want in between each letter and thus each word.
Step 4: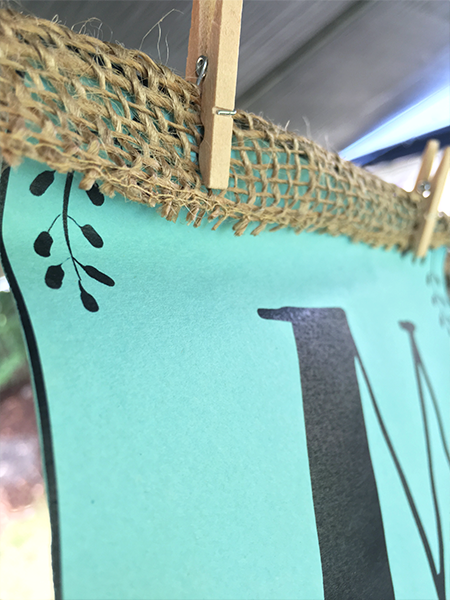 Get your wooden clips ready and start clipping! You want to bend the burlap ribbon over the letter so it's on both sides. Then you want to clip the burlap ribbon and letter together. It's as simple as that! I used two clips per letter for a more secure feel, but you can put one and be fine or five for all of those cautious people out there.
Step 5: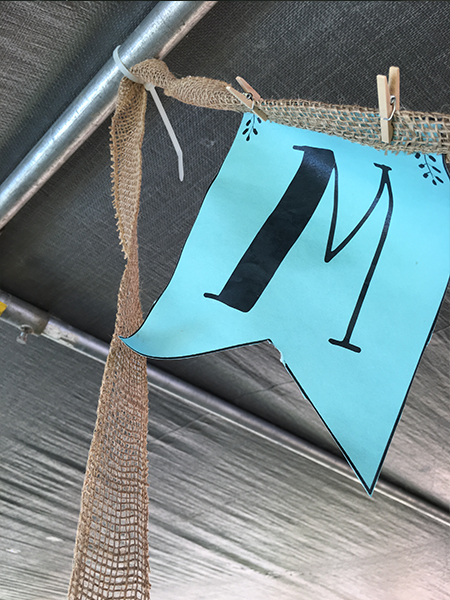 Tie it to a pole or tent or anything really, and you're done. Remember you want some extra burlap ribbon on the ends of the banner so you have room to tie it somewhere. We used zip ties just because it was going to rain that day. And no it didn't JUST rain, it down-poured. And I was thrown in the pool as lightening struck. But as you can read, I'm fine. Anyway, that's seriously all it takes. An amazing JAM color, some sturdy JAM burlap ribbon, and some cute JAM wooden clips!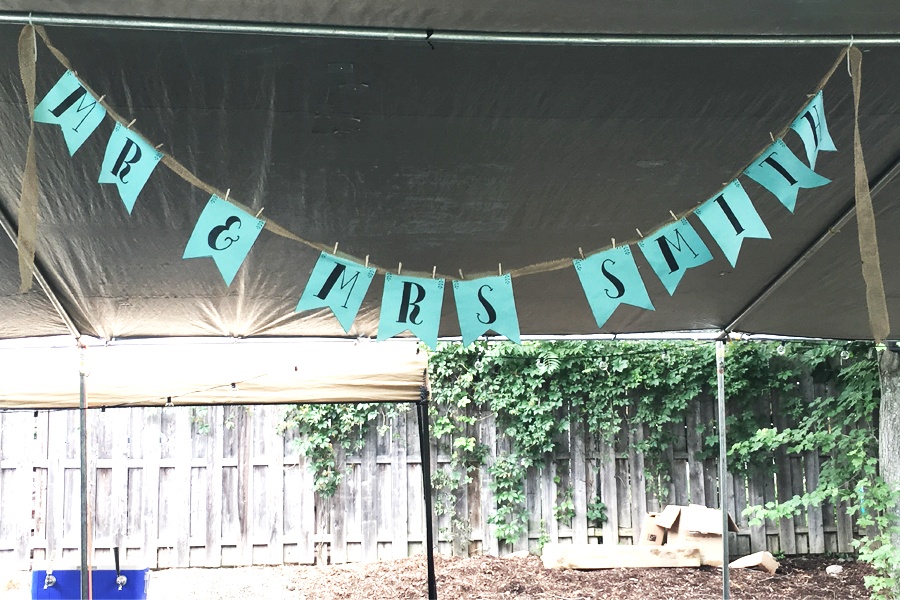 I didn't just get complimented on this easy-to-make-but-looks-professional banner, I got a few hugs out of it too. So when you're in need of a quick and easy way to make a cute banner for a wedding or anything really, just order from JAM, wait for it to ship, and create! By the way ... all of these pictures were taken the day
after 
the party. After the wind and the rain and the crazy weather. Thanks JAM for making awesome, sturdy, supplies!! My Dad thanks you too.