DIY: Paper Crafts for Halloween
Are you excited for "spooky season" but don't know how to celebrate? Well, you've come to the right place! In this article, we'll tell you how to make four super easy DIY Paper crafts for Halloween. These crafts are more than just a simple time passer. Use your fun creations to decorate your windows, doors, and parties. You can even use them to spruce up your invitations! They are the perfect tool for making October festive.
Things You'll Need:
Witch Hat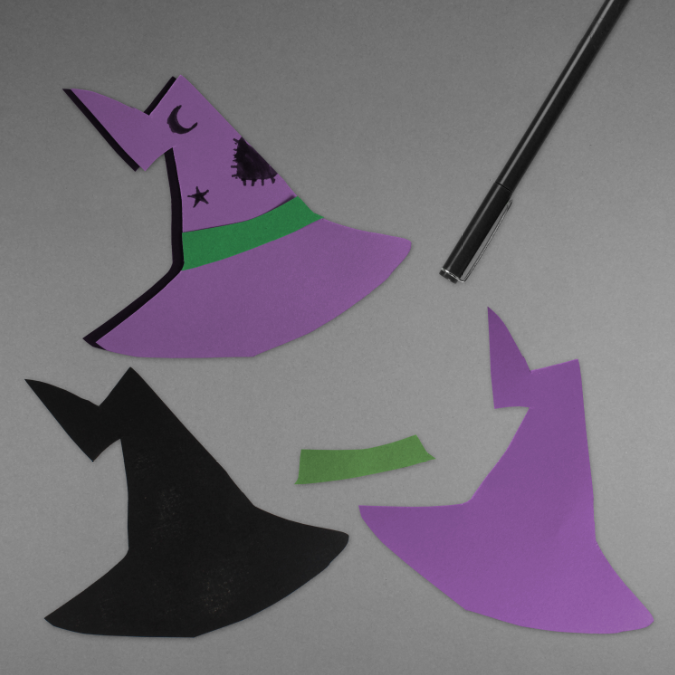 Steps:
Trace the outline of your witch hat on a piece of colored paper (it can be as big or small as you like!)
With a black sheet of paper behind, cut out your shape! (This way you will end up with two identical hats, one of them being black and the other purple)
As seen in the above photo, glue your purple hat on top of the black one. Make sure to leave some of the black hat showing on either the right or the left. This gives the illusion of a shadow, creating a 3-D effect.
Cut out a green strip of paper to attach on just the purple hat in order to make a belt.
Finally, take a black fine tip marker and add some decoration! We accessorized our hat with a patch, star, and crescent moon!
Frankenstein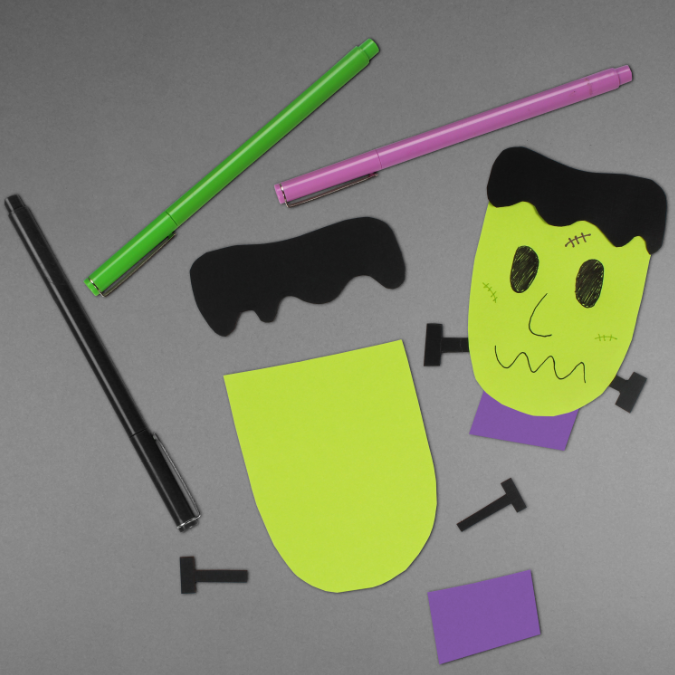 Steps:
Grab your green paper, trace the outline of an oval with a flat top, and then cut it out. This is going to be Frankenstein's face.
Next, take a black piece of paper and cut out the hair. Make sure to measure this to the size of the head you just made.
Glue the black hair on top of Frankenstein's head.
Then cut out two bold-small "T's" (these are going to be his bolts) and glue them to the bottom of his chin going out sideways.
Now let's give him a collar. Cut out a purple rectangle and glue it underneath his chin to create the effect of clothes.
Finally, take your markers and give him a face and some scars! (You can copy ours or make it your own!)
Pumpkin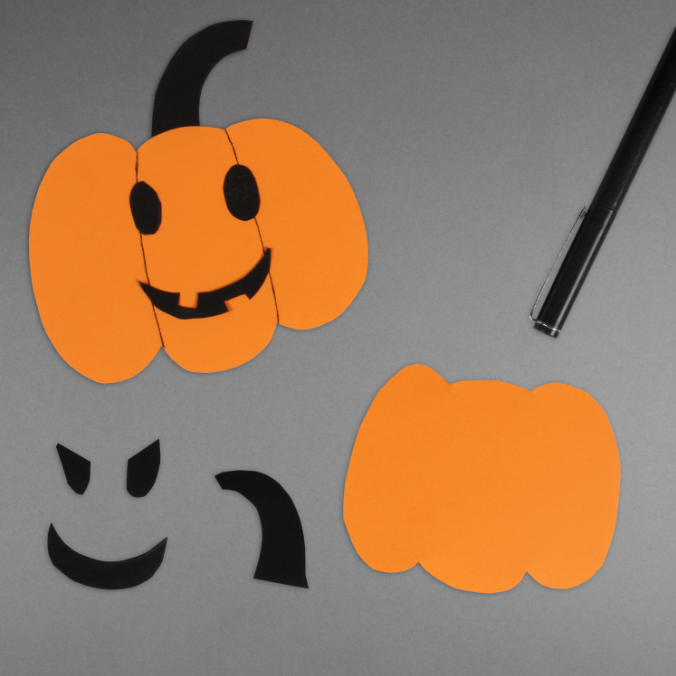 Steps:
Take some orange card stock and trace the outline of a pumpkin.
After cutting out your pumpkin, take a fine tipped marker and draw some curved lines down the middle to create a "plump" 3-D look.
Take some black paper and cut out a curved or straight stem.
Glue stem on the back of the pumpkin cut out.
Lastly, you can draw your Jack-O-lantern's face on or cut it out using black paper as well!
Spider and Spider Web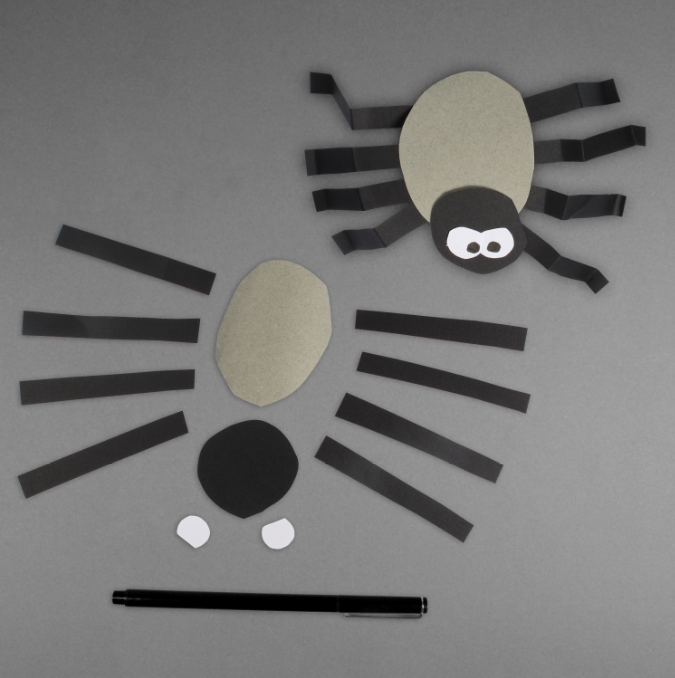 Steps:
Grab your grey paper and a pair of scissors.
Cut out a medium sized oval for the spider body.
Now take your black paper and cut out a smaller sized circle for the head.
Glue the small black circle on the top of the grey oval.
Now cut out 8 long skinny rectangles for the legs.
Glue the legs underneath the grey belly of the spider, putting four on each side.
Take some white paper and cut out two small circles for the eyes. (Make sure to make these small enough so they both fit on top of the head of the spider!)
Glue the eyes towards the top of your spider face.
Now it's time to add some features! Take a black marker and draw some pupils on the eyeballs to add some character.
Finally, take each leg and bend it inwards so it can stand up on it's own! This will make your spider come to life!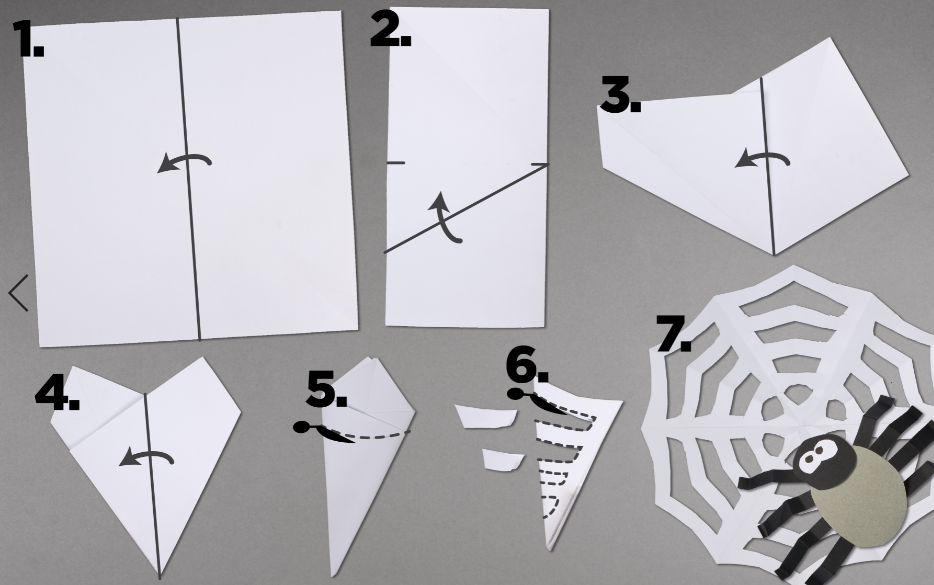 Steps:
First, grab a square white piece of paper
Fold the paper in half. Once folded, mark where the middle of the rectangle is.
Where the middle of the paper meets, create a fold another fold and crease it at a 45 degree angle.
Do the same to the other side
Next, draw a curved line towards the end of the paper fold and cut it off
Continue to cut curved pieces off of the folded triangle until you no longer can fit any more. it should look like a slanted comb.
Lastly, unfold your web! But make sure to be careful because the more you cut, the more delicate it becomes.
*Optional* Attach your spider to your web to give it a home :)
Whether you're a parent, teacher, student, or just an overall craft lover, we hope this article gave you some ideas on how to spruce up your Halloween this year! With COVID-19 around us it may seem difficult to celebrate your favorite holidays, but here we can provide easy and safe ways to enjoy them! Don't forget to leave comments down below. We'd love to hear how these DIY paper crafts for Halloween worked for you. And if you have any suggestions don't be shy, we're all ears! For more crafty ideas make sure to look out for more blog posts and follow us on Instagram and Pinterest!