9 Types of Back to School Movies in Need of Some JAM!
Last week Caitlin discussed the movie 'Clueless' and it really got me thinking.
Back to School movies kind of,
Pretty much,
Totally,
ROCK.
And since going back to school is closer than we all think (or care to admit), I decided this week to talk about all of our favorite school movies.
And how they would've done even better with some JAM products of course.
1. Basically Any John Hughes Movie
Sixteen Candles, The Breakfast Club, Pretty in Pink
Moral of each story: The most popular kid always falls for the weirdo.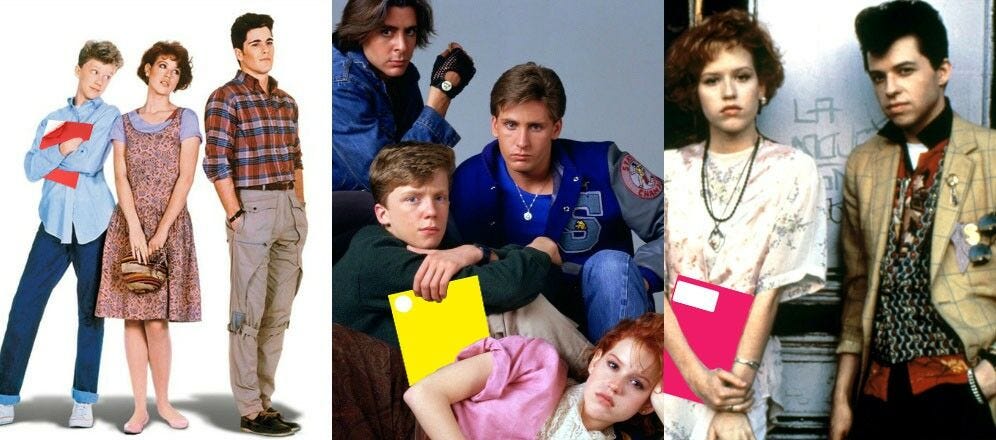 Better with JAM Labels because:
John Hughes movies are all about the labels and how high school students are affected by them. But our JAM Labels don't discriminate. So whether you're a brain, an athlete, a basket case, a criminal, or a princess, our large assortment of colors and styles will fit any type of personality. Maybe if Duckie used our labels in the literal way, he would've been able to impress Andie. Then she would've picked him over dumb Blane. Obviously I'm still not over that ending. I mean, are you?
2. Singing and Dancing in Every Scene Movies
Footloose, Grease, High School Musical
Moral of each story: Being able to dance on cafeteria tables looks super fun.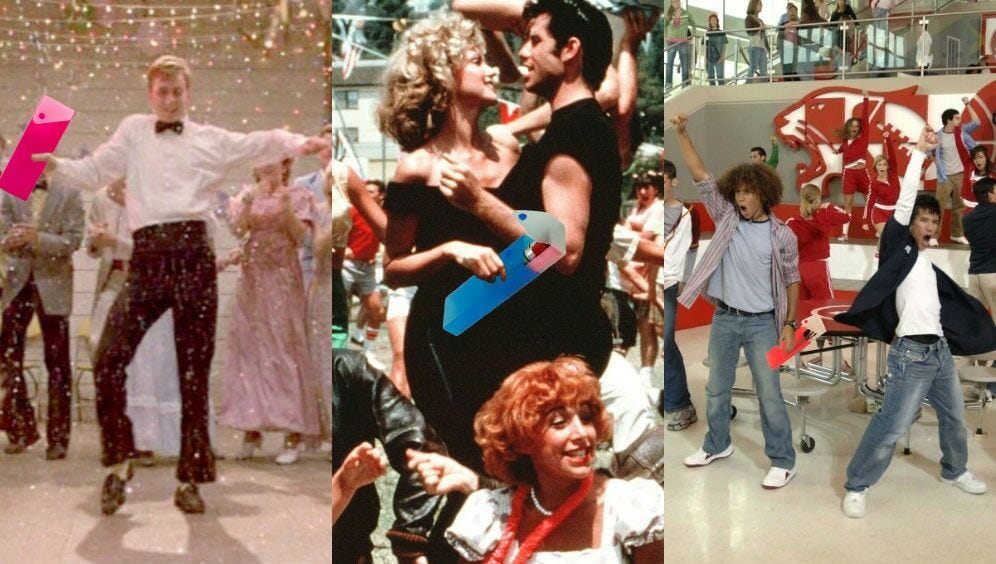 Better with JAM Pencil Cases because:
 From Summer Nights to Let's Hear it For the Boy to Breaking Free, dancing and singing to these movies is basically a must. But with our Pencil Cases, all of those dancers would have had inspiration for the best dance move out there! Maybe, just maybe, the case would've made the students more productive during school. Because honestly, I STILL wonder how they passed all of their classes since they just sang and danced the whole time. Comment if you know the answer, I'm dying here!
3. 13 and Under Movies
Diary of a Wimpy Kid, Jack, Matilda
Moral of each story: People say college will be the best years of your life, but HELLO ... grammar school!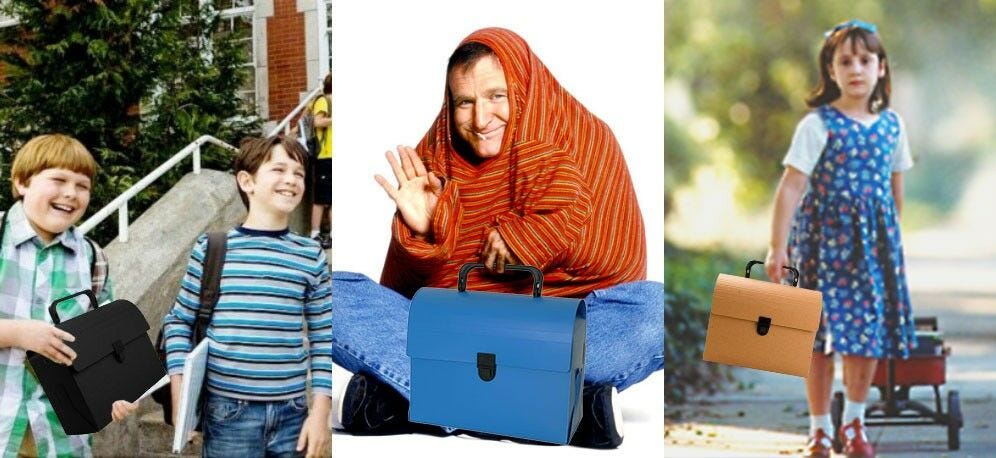 Better with JAM Lunch Boxes because:
When you ask a grammar or middle school student what their favorite subject is, they'll most likely say lunch (at least that's what I use to say. Ugh, great times). Our awesome Lunch Boxes would've gone great with these movies! And Jack (RIP Robin Williams) would've ruled the school from the very start if he walked into Ms. Marquez's class with one. Even if he did look forty … and had more hair than some of the students' parents did.
4. I'm in College, Let's Party Movies
Accepted, Animal House, Old School
Moral of each story: We basically all pay a lot of tuition to party every day. Wait, what does the word 'class' mean again?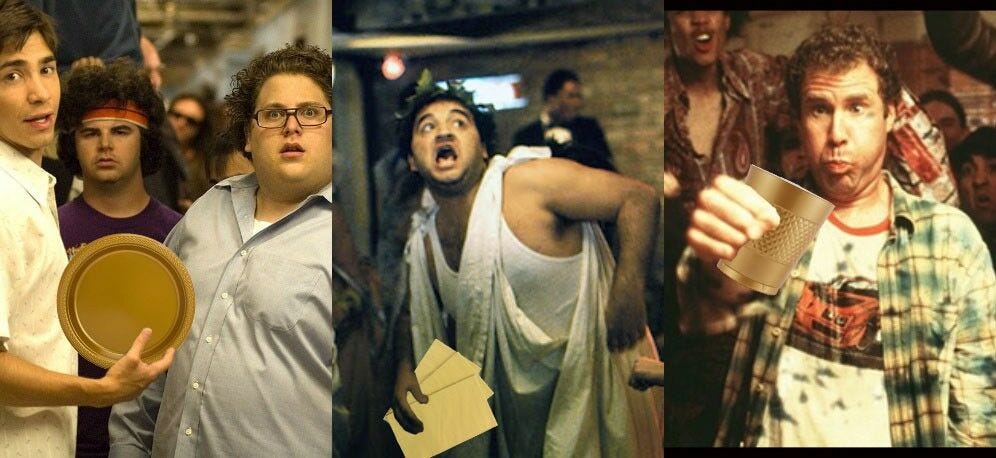 Better with JAM Party Packs because:
Throwing parties in college is the ultimate sign that you're too cool for school. JAM party packs would save every college party a lot of money. Best part? They're easy to throw away when you wake up the next morning to that horrible hangover. Our Gold Tableware would've matched perfectly with that Animal House toga party. This color is seriously fit for the Greek Gods! Toga! Toga! Toga!
5. Fitting in Means Everything Movies
Easy A, Mean Girls, Superbad
Moral of each story: Being yourself is overrated.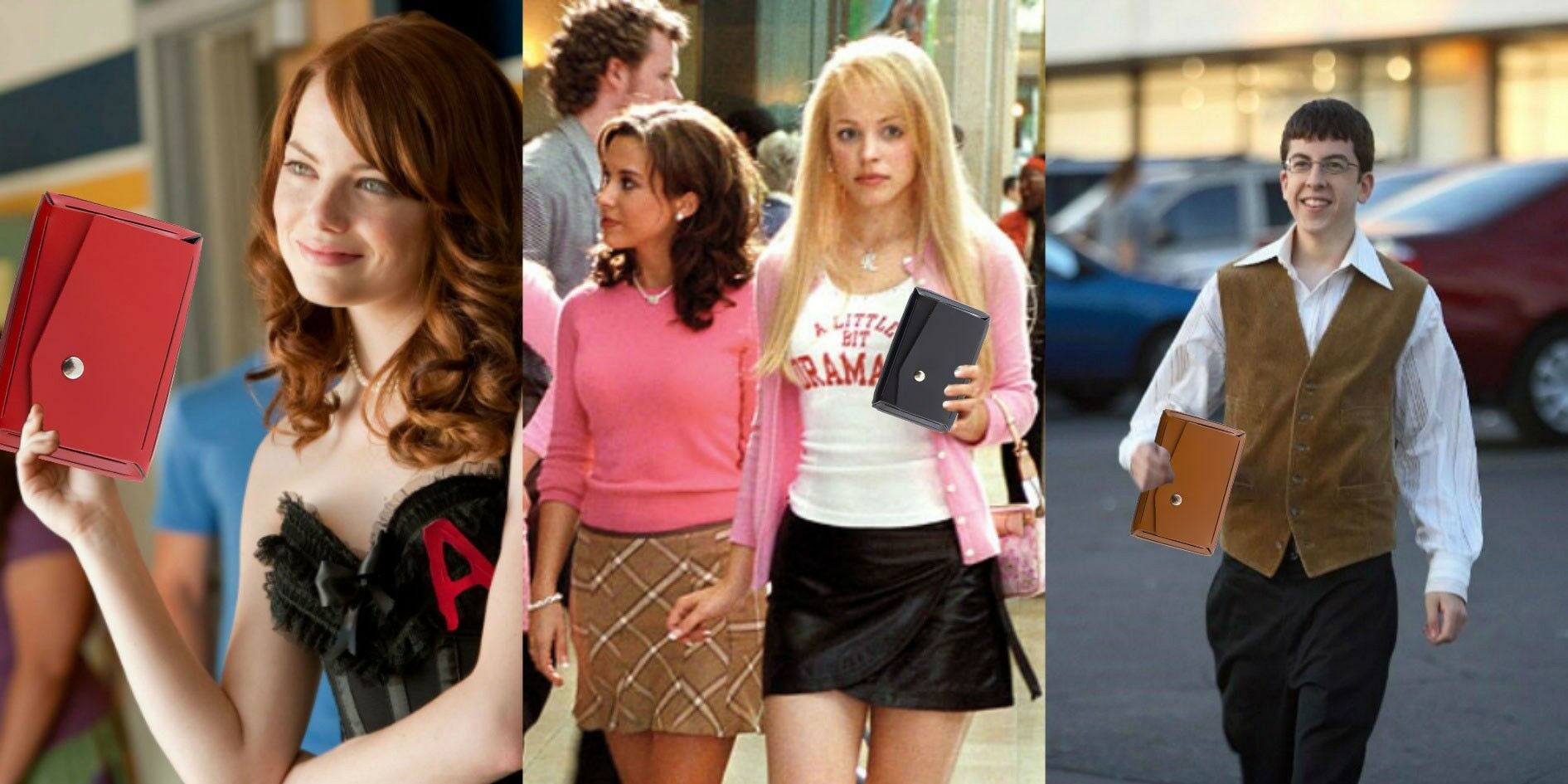 Better with JAM Card Cases because:
For some reason fitting in is all about having the right accessories. It also has NOTHING to do with having the right school supplies. So for this category I chose our Leather Card Case. Carrying this around with all of your awesome credit cards that daddy pays for (wait, did I say that?) would totally make Regina George compliment your style … and not be lying for once either!
6. Fitting in Means Nothing Movies
Perks of Being a Wallflower, Heathers, Ferris Bueller's Day Off
Moral of each story: Being yourself is underrated.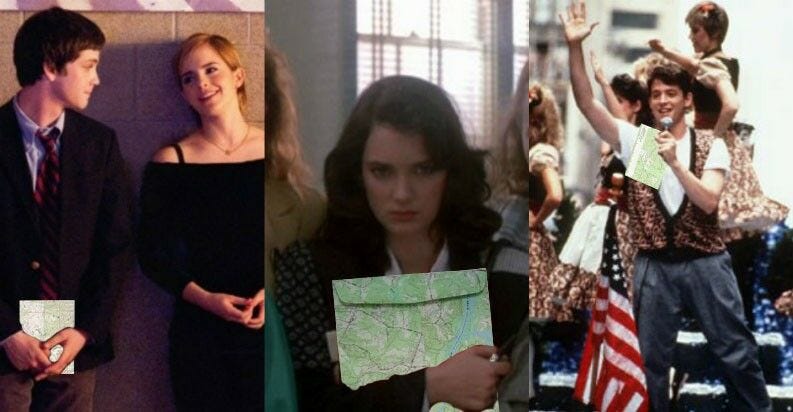 Better with JAM Envelopes because:
Being nerdy, unique, or just plain rebellious looks totally awesome when watching this category of back to school movies. And the standard envelope definitely wouldn't be used by Charlie, Veronica or Ferris. Instead they'd bring a different style into their letter writing with our Map Paper and Envelopes! Hey, maybe if Ferris carried one of these maps around Chicago, Cameron wouldn't have been so nervous all day. (Then again, probably not.)
7. The Perfect Role Model Movies
Lean on Me, Dead Poets Society, Freedom Writers
Moral of each story: Teachers really do make an impact.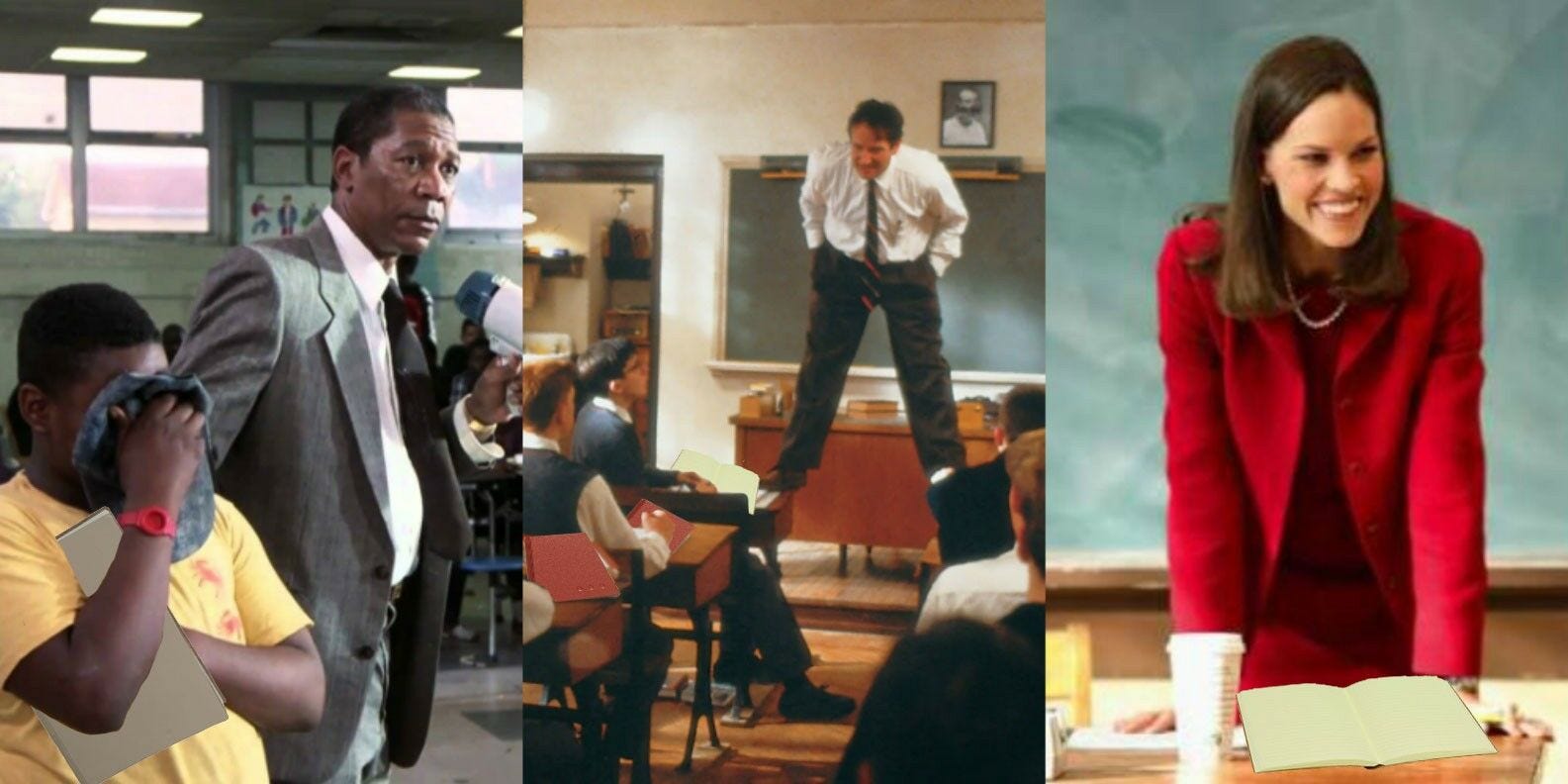 Better with JAM Journals because:
Getting inspiration from teachers is something students can take for granted. These movies remind us that teachers can make or break students' futures (shout out to my sister for all she does as a teacher, love you Sam). And having the perfect journal to jot down all of those beautiful interactions is definitely needed. If these students had a Leather Lined Journals, inspiration would've been at their fingertips at all times and these stories commemorating great teachers would've been even stronger. You never know, that standing scene in Dead Poets Society might have been even more moving. Makes you cry every time, doesn't it? *crying emoji should be inserted here but I was too lazy to insert it, Instead I wrote this obnoxiously long sentence*
8. It's All About High School Football Movies
Radio, Friday Night Lights, Remember the Titans
Moral of each story: Water is for cowards. Water makes you weak.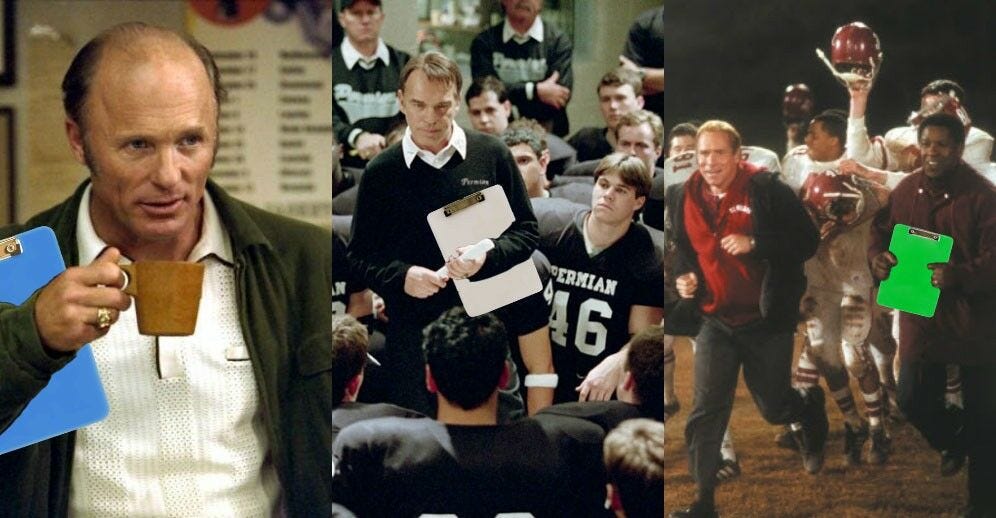 Better with JAM Clipboards because:
We never really think that coaches need back to school supplies, but every great coach needs a great clipboard! If Coach Jones, Coach Gaines, or Coach Boon had our awesome Plastic Clipboards, winning would've been way easier. Then again, those amazing football movies that are all about beating the odds wouldn't have made great movies now would they?
9. People Who Shouldn't Go Back to School, Go Back to School Movies
Back to School, Billy Madison, Never Been Kissed
Moral of each story: No matter what the circumstances are, going back to school is the best thing in the world.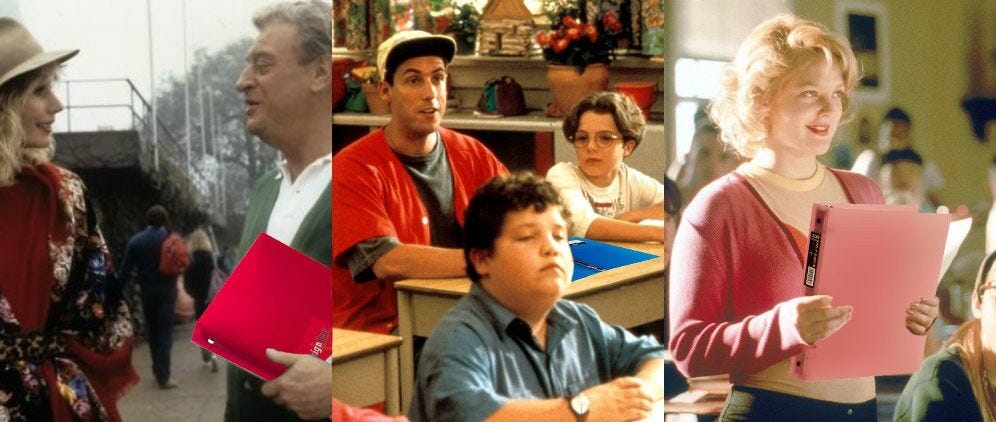 Better with JAM Binders because:
If you're going back to school to prove to daddy that you're not a fool, pretty sure all you need is one of our Plastic 3 Ring Binders. Organization and style: the perfect combination! These binders would've made Billy Madison seem way cooler and at least semi-smart when he finally got to those terrible high school years (for the second time). And maybe with these binders, chlorophyll wouldn't have been so borophyll.
Maybe...