7 Wicked Pumpkin Carving Alternatives
What's Halloween without pumpkins? Nothing! Pumpkins have Fall written all over them. I'm obsessed with all things Fall. The apple picking, boot wearing, pumpkin carving, and Thanksgiving dinners all tug on my heart strings. My tummy smiles at the fall. If you think I'm kidding then ask me what I ate for breakfast- pumpkin donuts!
But if carving pumpkins isn't your strong point then check out these convenient and equally festive alternatives for you and your kids. We've searched the web for pumpkin carving alternatives to cater to everyone's style. You'll be amazed at how little effort it takes to make your pumpkins fabulous. 
Bloody Pumpkins
 These white based pumpkins are oozing red blood. Bloody pumpkins are a must have for Halloween parties, haunted houses, or just to greet trick or treaters on your doorstep.
[caption id="attachment_11113" align="aligncenter" width="331"]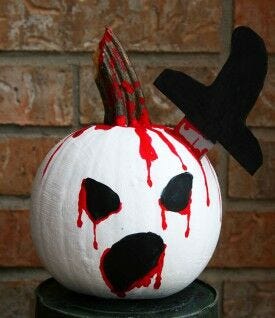 via
The Mommy Talks
[/caption] [caption id="attachment_11097" align="aligncenter" width="332"]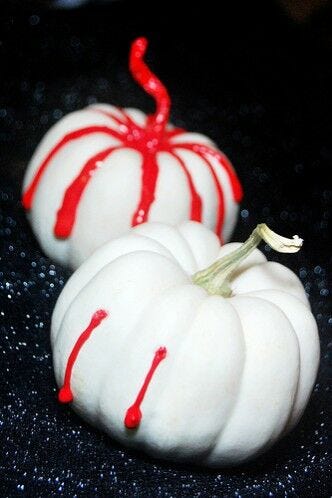 via
The Swell Designer
[/caption]
---
Mummy Pumpkins
Add a bit of mystery by wrapping your pumpkins with gauze and gluing on some googly eyes. These pumpkins will definitely get the little ones in the Halloween spirit.
[caption id="attachment_11099" align="aligncenter" width="438"]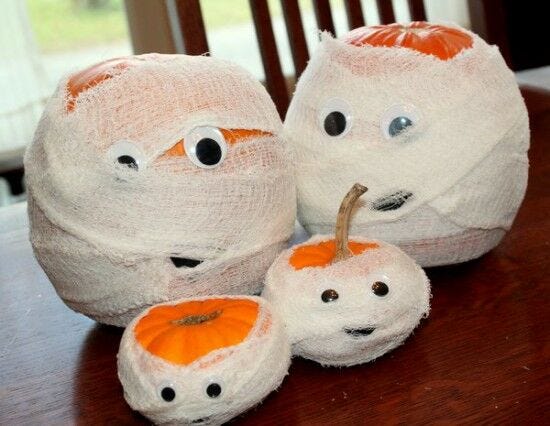 via
Hands On As We Grow
[/caption]
---
Painted Pumpkins
Pumpkins are like blank canvas, you can literally create whatever you want and however you want. Paint on intricate Dia de Los Muertos skulls or a basic Frankenstein face.
[caption id="attachment_11111" align="aligncenter" width="436"]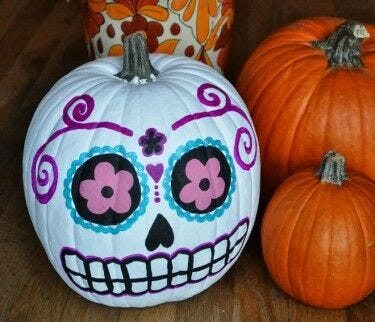 via
Casa Artelexia
[/caption] [caption id="attachment_11115" align="aligncenter" width="579"]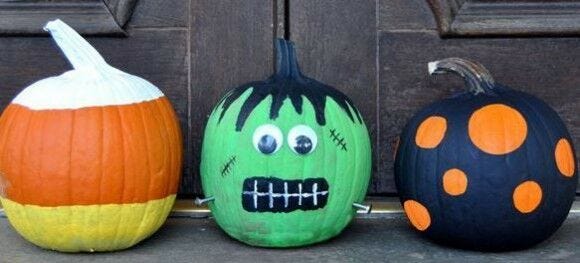 via Entertainment Fort Smith
[/caption]
---
 Felt Face Pumpkins
You can make the same looking Jack o'lanterns with felt. Just cut out the shapes of your pumpkins eyes, nose, and mouth. 
[caption id="attachment_11101" align="aligncenter" width="562"]

via
A Small Snippet
[/caption]
---
Lace Covered Pumpkins
Hey, not everyone has the time or artistic ability to carve and decorate their pumpkins and that's okay! Simply slip on pumpkin lace covers and keep it moving. Lace covers come in many designs for children and adults including bats, spider webs, polka dots, and flowers!
[caption id="attachment_11103" align="aligncenter" width="375"]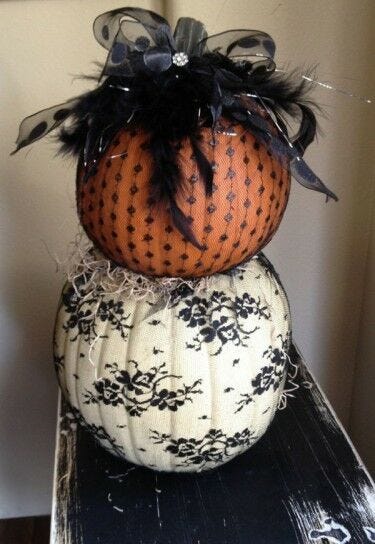 via
Home to Indy
[/caption]
---
Chalk Paint Pumpkins 
Paint your pumpkin in black and scribble on cute Halloween phrases or faces with white chalk paint.
[caption id="attachment_11104" align="aligncenter" width="425"]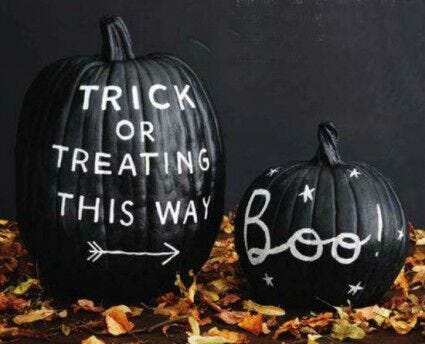 via
Pinterest
[/caption]
---
Glitter Pumpkins
Last but not least, glitter pumpkins! If you've got a house full of kids who aren't quite ready to see evil faced Jack O'lanterns, then cover your pumpkins with different shades of glitter. Keep the Halloween spirit alive with black, orange, and gold glitter. Place your pumpkins on your front porch or put them in the centerpiece on your dining table. You can even use them for Thanksgiving decor.
[caption id="attachment_11108" align="aligncenter" width="500"]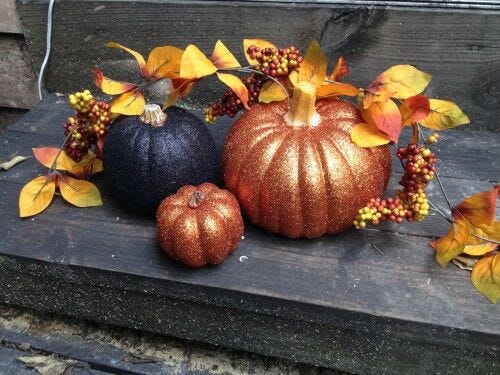 via
House Food Baby
[/caption]