As a kid I always loved moving the little stuffed Santa down the Christmas advent calendar and getting the hidden piece of candy in the window each day. If you have never purchased your own advent calendar but want your kids to feel the joy of counting down till the big day, create this homemade advent calendar instead. It uses mini white envelopes and kraft paper. Each tag has a Christmas inspired task for your kids complete before they can grab a piece of candy from the bucket.
Homemade Advent Calendar: Kraft Paper & Candy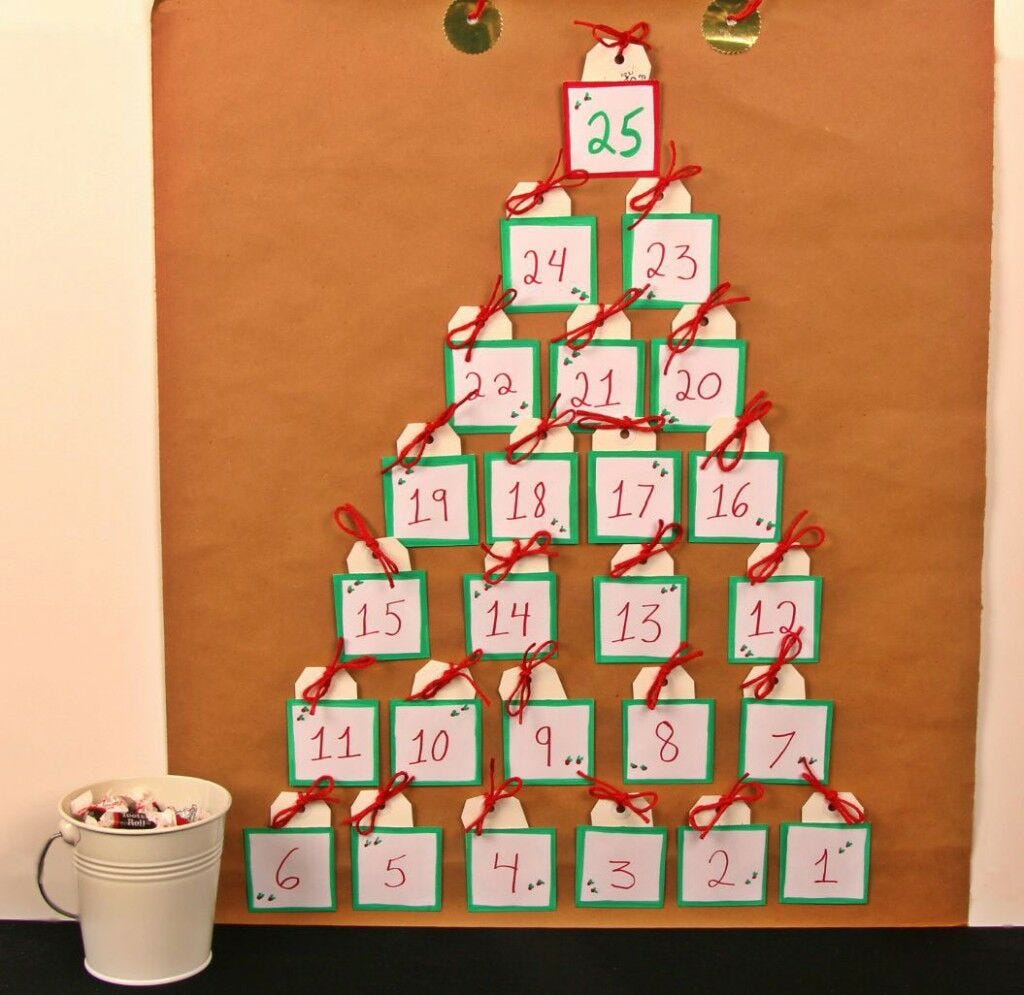 Materials:
25 (2 3/8 x 2 3/8) Square Envelopes
25 Medium Gift Tags in

White

Red Twine
Green, Red and Black Markers
Bucket for Candy
Step One - Creating the Countdown
To create the numbered windows, we took 25 of our white square envelopes and decorated them. They can be any size but we thought the (2 3/8 x 2 3/8) were best. Find them
here
. First we took a green broad line opaque paint marker and traced along the edges of 24 of the mini envelopes, giving them a festive boarder. For the 25th Christmas Day envelope, we made it stand out by outlining it in red. Next, using that same red marker, write the numbers on each envelope 1-24. To fill in some of the white space of the envelope, we drew two pieces of holly.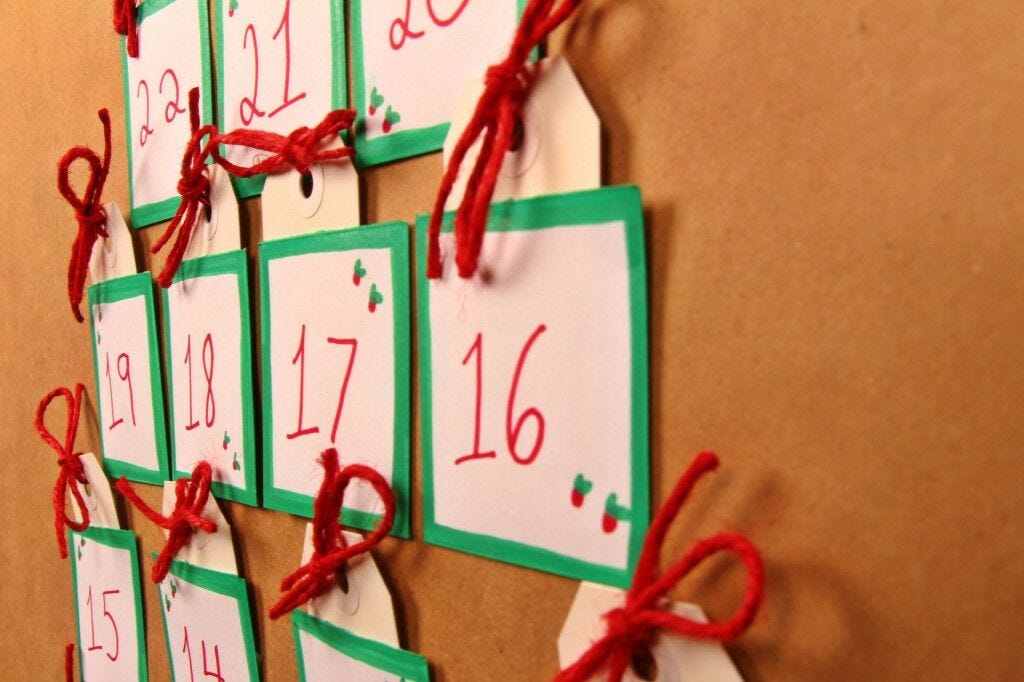 Step Two - Create the Tags
There are two parts to decorating the tags. First, we took off the plain white string that comes with the gift tags and replaced them with festive red twine. Tie them into little bows for a pop of color. The next step is to hand write tasks for your kids to do on every day. These should be fun Christmas-style activities. For instance, "Decorate the Tree with Mom" or "Bake Cookies with Grandma." Every time they pull a tag and complete a task they can grab a piece of candy from the metal bucket.  Do this for all 24 days, and decorate the 25th with a festive "Merry Christmas" note.
Step Three - Putting it Together
Now that you have all of your envelopes decorated and your tags ready to go, the last step is to add them to the kraft paper. Roll out a piece of kraft wrapping paper about 23 inches x 23 inches. You can opt to place the envelopes in whatever shape you'd like, but to stick with the Christmas theme, we created a Christmas tree. Place the 25th red envelope at the top as the star, then add another envelope for every row. The last row should have 6 envelopes in a row and be the longest. You can rearrange them to make sure they fit properly before gluing
(note that the 5th row does have the same amount of envelopes as the 6th but they are spaced out wider)
. Once your envelopes are evenly spaced out, secure them with glue.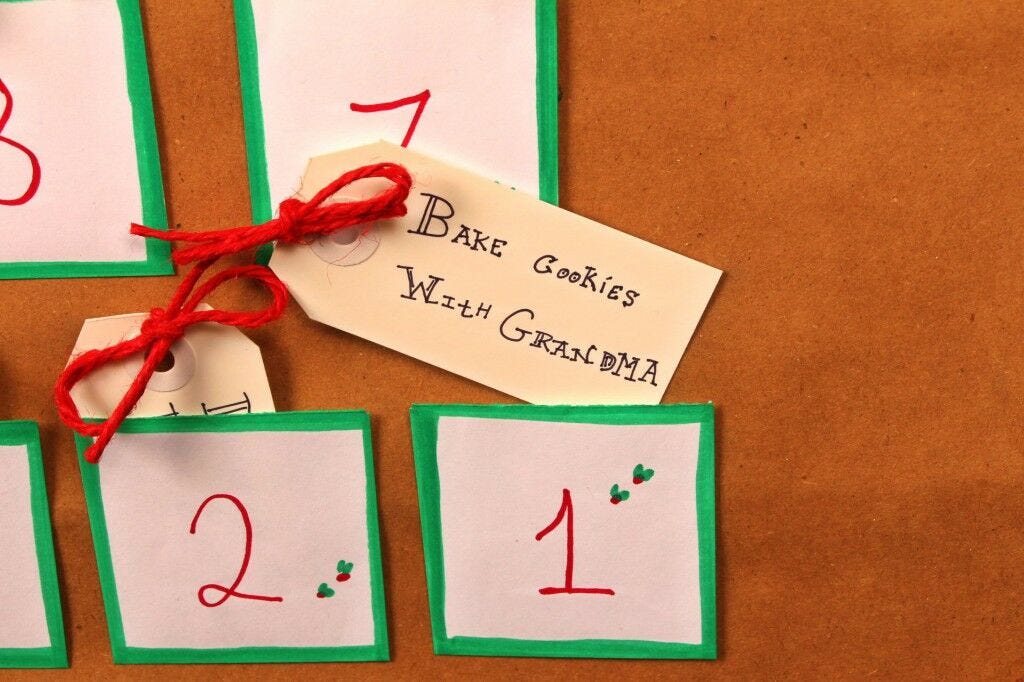 Once they are dry, add the tags to each envelope, making sure that the Merry Christmas tag is at the top. Hang on your wall with thumb tacks or cut holes and loop with extra twine. Encourage kids to pick a tag to help count down to Christmas.