DIY New Year's Clock Streamer Decorations
New Year's Eve is just a few days away! Many of us are making plans to have guests for a party, or to attend a party elsewhere. If New Year's eve is taking place at your house or venue this year, you are no doubt trying to find quick and simple ways to prepare. Once the food and beverage menu has been figured out, the next step is , of course, decorations! That is where we step in to help with these unique, shining clock streamers that can be hung anywhere! These streamers depict clocks of different sizes counting down to midnight, and to the new year!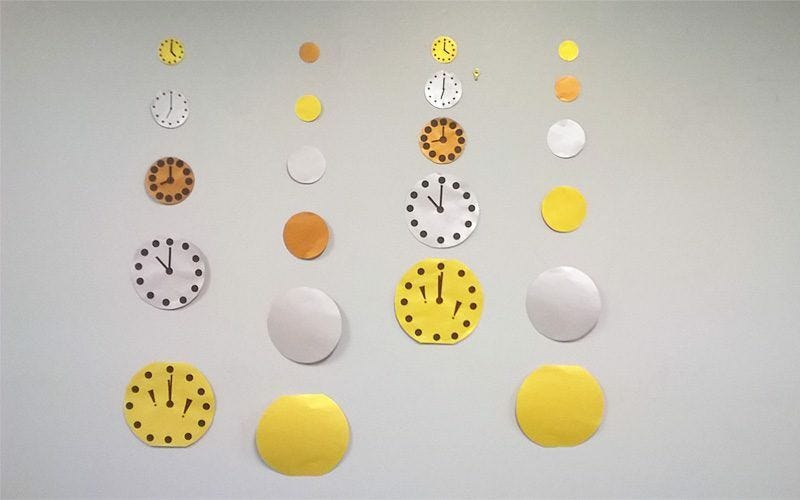 You Will Need:
Fiver or six round objects for tracing (I used a plate, a bowl, a candy container, a mason jar, and a small plastic circle.)
A pencil
Scissors
A  sewing needle
Clear thread or fishing line
Clear tape
Glue stick
1 inch Hole Punch
Standard Sized Hole Punch
Step 1:
Choose which order you would like to place your Metallic Stardream Colors to appear in within your finished product.  Be prepared to trace 5-6 circles of varied sizes.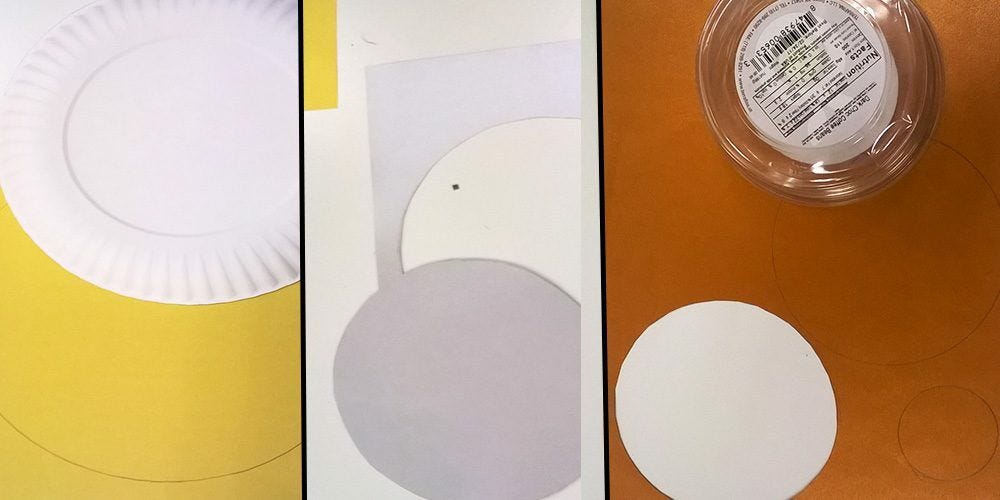 Step 2:
Using round objects and a pencil, trace circles onto the paper in the color order of your choosing. Make sure you have one of every size circle you want to end with. Cut out these circled with scissors.
Step 3:
Time to make clocks! For this, you will need your scissors and 1inch hole punch. Begin by punching 13 holes into a sheet of black card stock.  Open the hoe punch and remove the black dots. These will be the number markers on your first clock.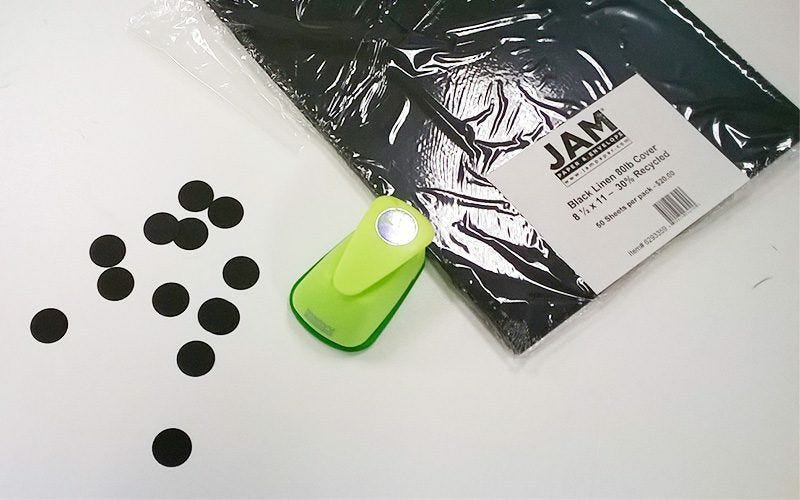 Step 4:
 Take your largest circle and glue and, using a glue stick, glue the black circles around the edge of it in the same places the numbers are located. Glue one black dot in the exact middle.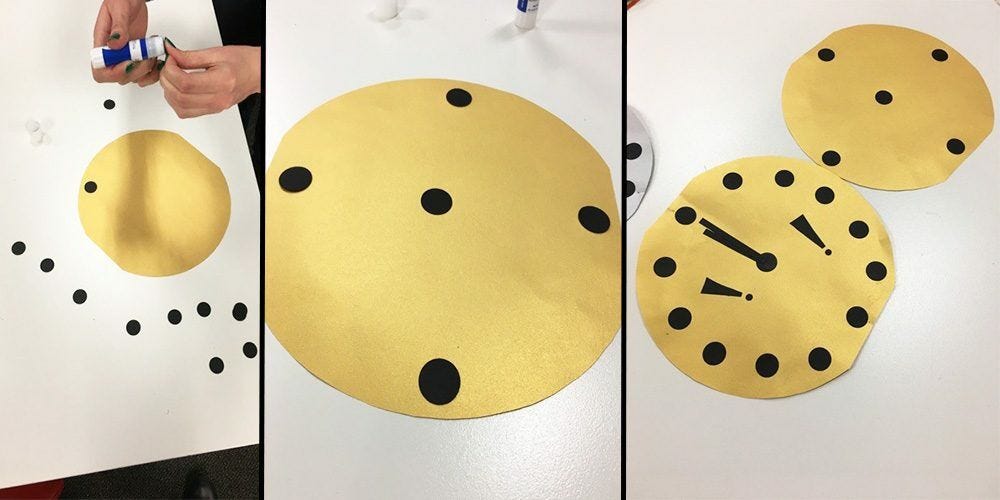 Step 5:
Cut a long, thin rectangular piece of black card stock. Trim it down to become the hour hand on your first clock. Trim a second piece to be slightly shorter to become the second hand. Glue both of these pieces onto the middle dot to show the desired time. If you, like I have done, want to make your biggest clock read midnight, make sure to point both of those hands towards the top dot!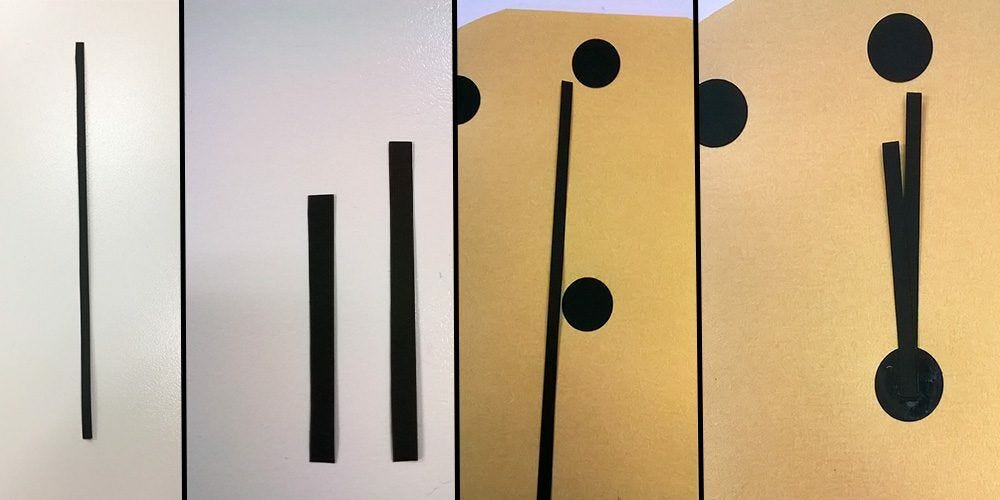 Step 6:
Repeat steps 3-5 with the two next smallest circles.
Step 7:
Now you will need to create number markers for your smaller circles. This can be done with a standard sized whole punch! Punch 13 small dots and glue them in the same way you did for the larger circles. Cut and glue small hour and minute hands as you did for the larger circles as well.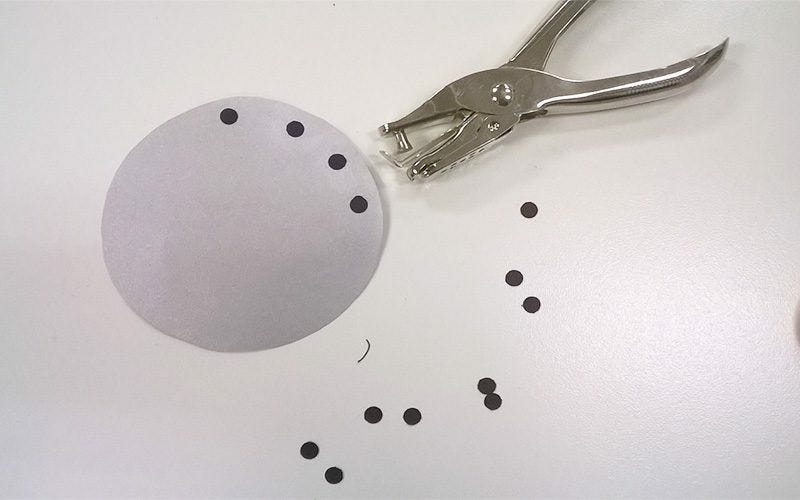 Note: You can make your clocks count down to midnight from the top down or from the bottom up, but make sure you are gluing your clock hands to read progressive time going forward towards the new year!
Step 8:
Now it's time to make sure that you're clock reading midnight stands out from the rest! Express your excitement about the first midnight of the new year with some exclamation points!  For the dots on the bottom of by exclamation points, I used dots from a standard hole punch. For the lines, I cut rectangles from the black card stock and angled them accordingly with scissors. Glue them on with your glue stick.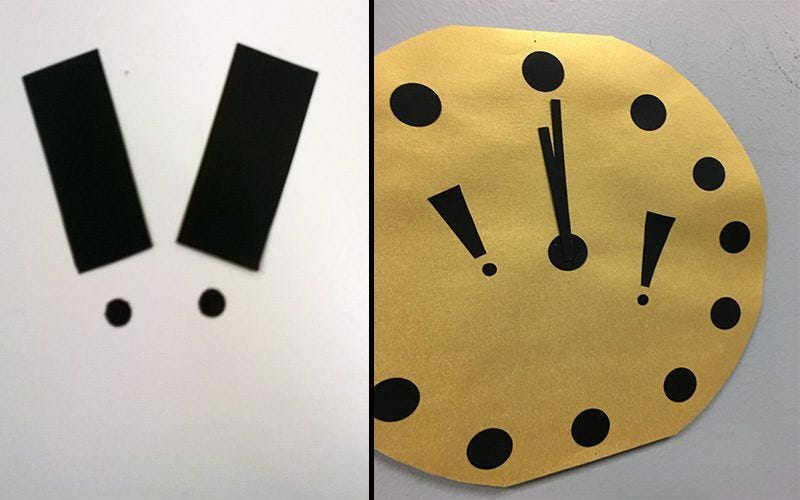 Step 9:
Now you can strings your clocks together! Using the needle, poke a hole in the top and bottom of each circle.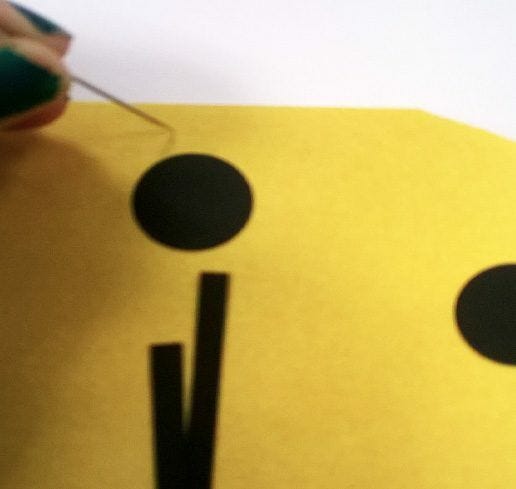 Step 10:
Starting with the bottom circle, thread the clear thread through the bottom hole going in through the front. Pull it until only about a half if of thread is left sticking out the hole in the front and tape it in the back. From the back, pull the thread through the top hole. Thread it through the bottom of the next circle in the same way, securing its placement with tape. Repeat until all circles are strung into the thread and spaced as desired. There should be an excess length of thread at the top. This will be used to hang your streamer.
Step 11:
Tape or tie the streamer up in any place desired! Circles will face in one direction if placed against a flat surface and will rotate if hanging freely.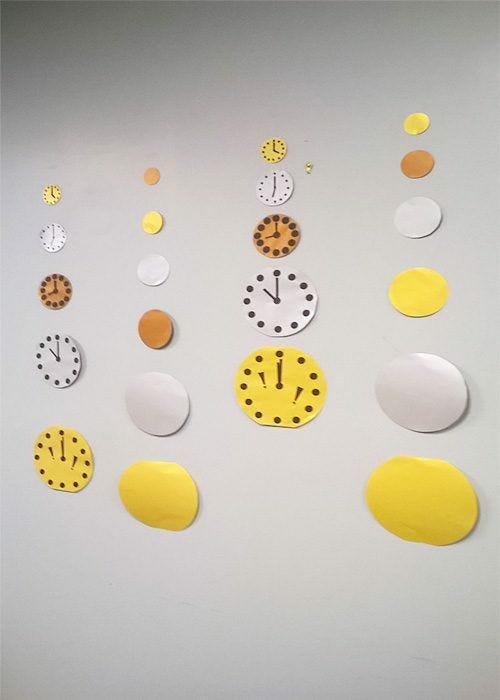 Note
: Here, I have also made streamers from blank circles. I made this using all the same steps, aside from those involving black card stock and glue.  These basic streamers make festive and fantastic fillers to be displayed with your clocks!