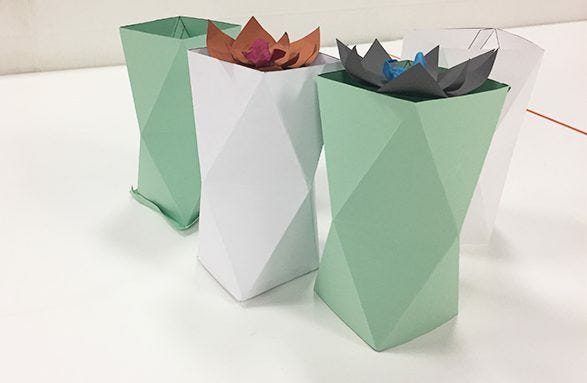 DIY Geometric Cardstock Vases
Though it may still be snowy and cold where you live, we can all take comfort that spring will soon be on its way! With the arrival of spring comes the planting of gardens and houseplants, and the decorating of our homes with the lovely things that grow outside. As you bring flowers and ferns indoors this spring, you will need vases to put them in! Stoneware and glass vases can be expensive, cumbersome, and breakable. This year, try making your own unique geometric vases out our sturdy card stock! Using just a few supplies, you can easily create modern looking vases in just a few minutes. Here's how! Supplies:
Geometric Vase Template (provided below)
Legal sized JAM Paper® Cardstock in a color of your choice. 110lb or 130lb cardstock is reccomended
Scissors
Glue
A printer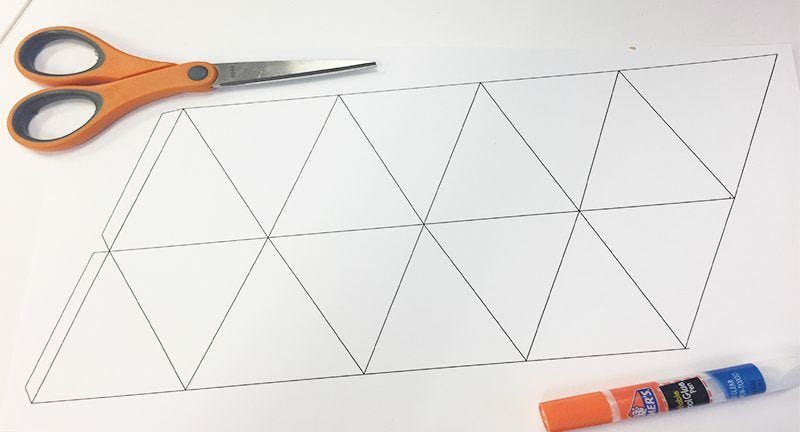 Step 1:
Here is your template! Use your printer to print this template full sized onto the JAM Paper® cardstock of your choosing.
[media-downloader media_id="19899" texts="Vase Template"]
Step 2:
Use scissors to cut the template out along the outer edge. Note: Do NOT cut any of the lines that appear on the inside of the figure.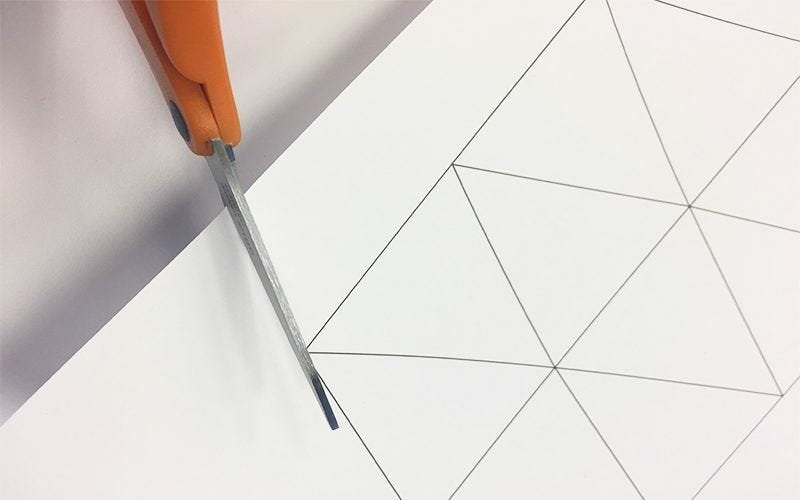 Step 3:
The figure you now have will become your vase! Fold the figure along all lines. Because lines will be facing inward when the vase is finished, first fold with lines outward to ensure that all fold are straight, and then with lines inward so that all angles will be bent in the correct direction. (All lines should be folded towards the inside.)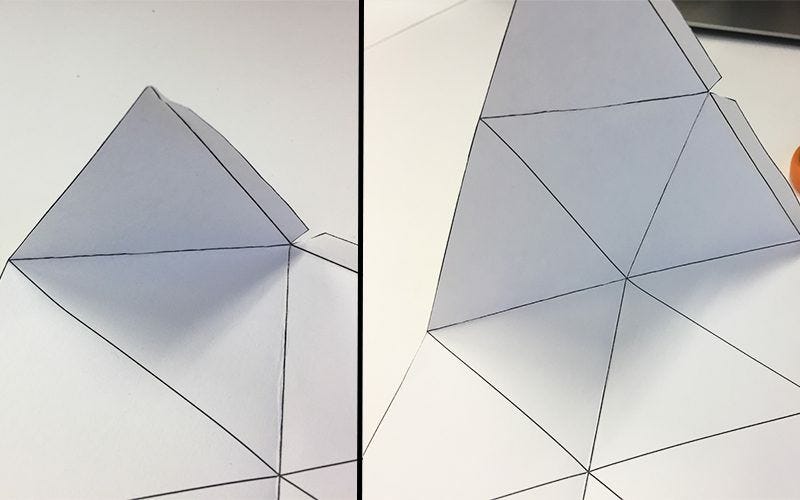 When finished, it should look like this:
Step 4:
Place glue on each tab on the side of the paper without lines.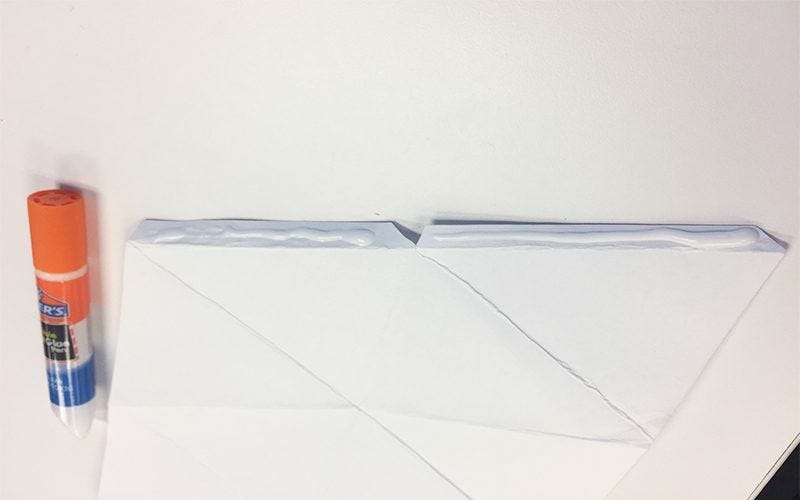 Step 5:
Bring the ends of the paper together until the tabs located on one end are aligned with the underside of the opposite surface. Glue the tabs in place so that the edges of the adjoining triangles line up.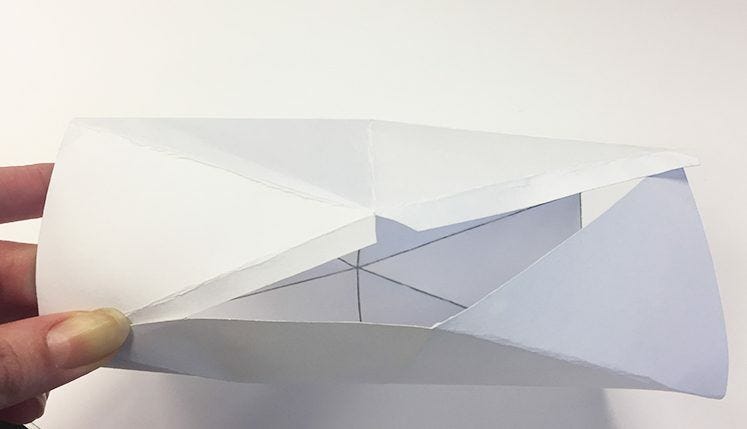 Step 6:
Let the glue dry for several minutes.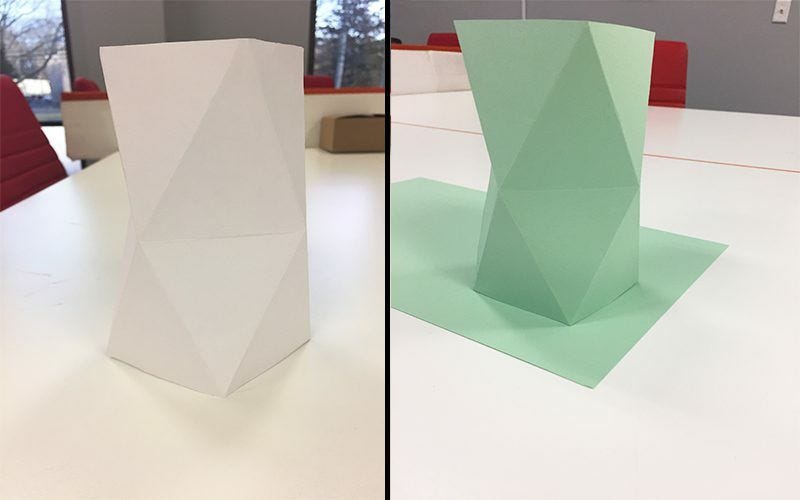 Step 7 (Optional):
Trace the bottom of the vase onto a piece of matching card stock. Cut out the traced shape with some excess space around the outside. glue this shape to the bottom of the vase. Your vase now has a bottom!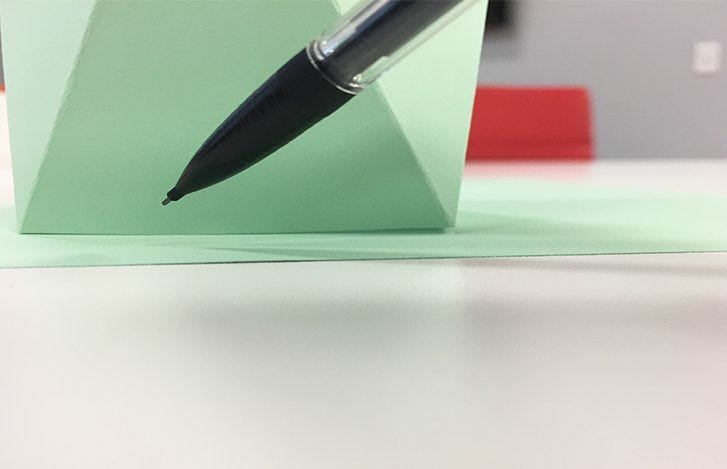 Remember to leave about 1/2 inch of excess space around the outer edge of the square.

Step 8:
-If you will be keeping large plants in your vase, step 7 is recommended. Additionally, live plants require water, so you will need to line the vase with cellophane or a plastic bag. You may secure the plastic lining with glue or tape!
-If you will be keeping fake plants in your vase, step 7 is not necessary, but it helpful if you would like to weigh your vase down to help it stay in one place. You may do so by placing sand, dirt, pebbles, or decorative glass beads into the vase.
-If you wish to use the vase as a decoration on its own, no bottom or plastic lining is necessary! Go ahead and leave it as is.
Your vase is now complete! Place it on any surface in your home to display your floral arrangements and more!