Blue Folders are available in six rich shades: classic Blue, Dark Blue, Navy Blue, Baby Blue, Presidential Blue, and Teal. Each folder can hold 8 ½ x 11-inch letter-size documents, brochures, flyers, and presentation materials with ease. Pick from durable plastic and sturdy cardstock materials, each with a standard two-pocket interior.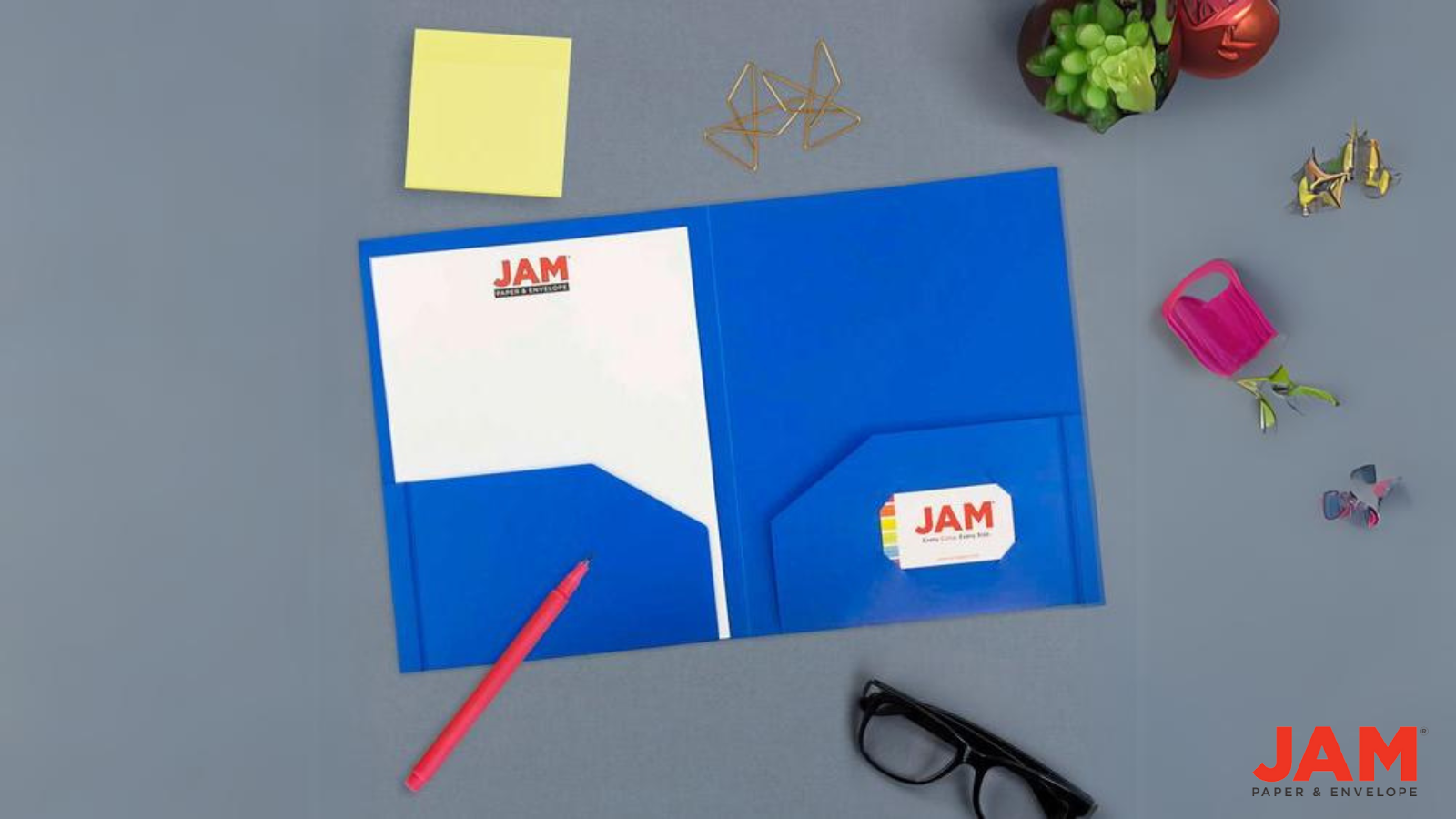 The Essential Guide To Choosing The Perfect Blue Folder
Whether you're prepping for a big presentation at work, organizing important documents at home, or making sure your school papers are in order, the right blue folder not only keeps you organized but also conveys a sense of professionalism and style.
At JAM Paper, we believe that the small details can make a big difference. That's why we offer an extensive selection of blue folders to suit every taste and need. Our collection is designed to help businesses and individuals like you look professional, creative, and smart. With such a diverse range of shades, textures, and sizes to choose from, you'll surely find a blue folder that is not just a place to keep your papers, but an extension of your personal brand and style.
Join us as we guide you through the various options available for that perfect blue folder, ensuring that your documents are not only well-protected but also exude the essence of your unique flair. Remember, at JAM Paper, you get the flexibility of ordering any quantity you need with NO minimum order—a convenient perk that we take pride in offering.
What Makes JAM Paper's Blue Folder Stand Out?
When it comes to organizing documents with style and reliability, JAM Paper's Blue Folder is an exceptional choice for students and professionals alike. Its standout features include:

Vibrant Blue Hue
The rich, eye-catching blue color of the folder adds a pop of personality to your workspace while allowing for easy color-coding.
Optimize your office organization and never lose track of important documents again with JAM Paper's brightly colored Blue Folder.

Durable Construction
Made with heavy-duty, high-quality material, these folders are designed to withstand frequent handling and long-term use.
Ensure your papers are secure and protected in a JAM Paper Blue Folder, crafted for durability that you can count on.

Multiple Pockets
The folders are equipped with two internal pockets, providing ample space for sorting and storing various documents.
Stay organized and efficient with the dual-pocket design of JAM Paper's Blue Folder, perfect for managing all your essential papers.

Business Card Slot
Each folder includes a convenient business card slot, which is perfect for a professional presentation or networking.
Make a lasting impression at meetings and interviews by presenting your business card neatly in the designated slot of the JAM Paper Blue Folder.

Sustainable Choice
These folders are made with eco-conscious materials, adhering to JAM Paper's commitment to sustainability without compromising quality.
Choose JAM Paper Blue Folders for an organization solution that aligns with your eco-friendly values while offering superior quality and design.

Versatile Size
The standard size accommodates letter-sized documents, making it a versatile option for a variety of organizational needs.
From school projects to boardroom reports, the versatile size of JAM Paper Blue Folders fits all standard letter-sized documents, making it a universally practical choice.
Different Types Of JAM Paper's Blue Folders
JAM Paper offers an array of blue folders, each with unique features to cater to diverse organizational demands. Here's a look at the different types of blue folders you can choose from:

JAM Paper's Glossy Blue Folders
Tap into streamlined office organization with these smooth and shiny folders that bring a touch of professionalism and modern flair to your documentation needs.
Enhance the presentation of your reports and projects with the sleek finish of JAM Paper's Glossy Blue Folders—a stylish upgrade to your filing system.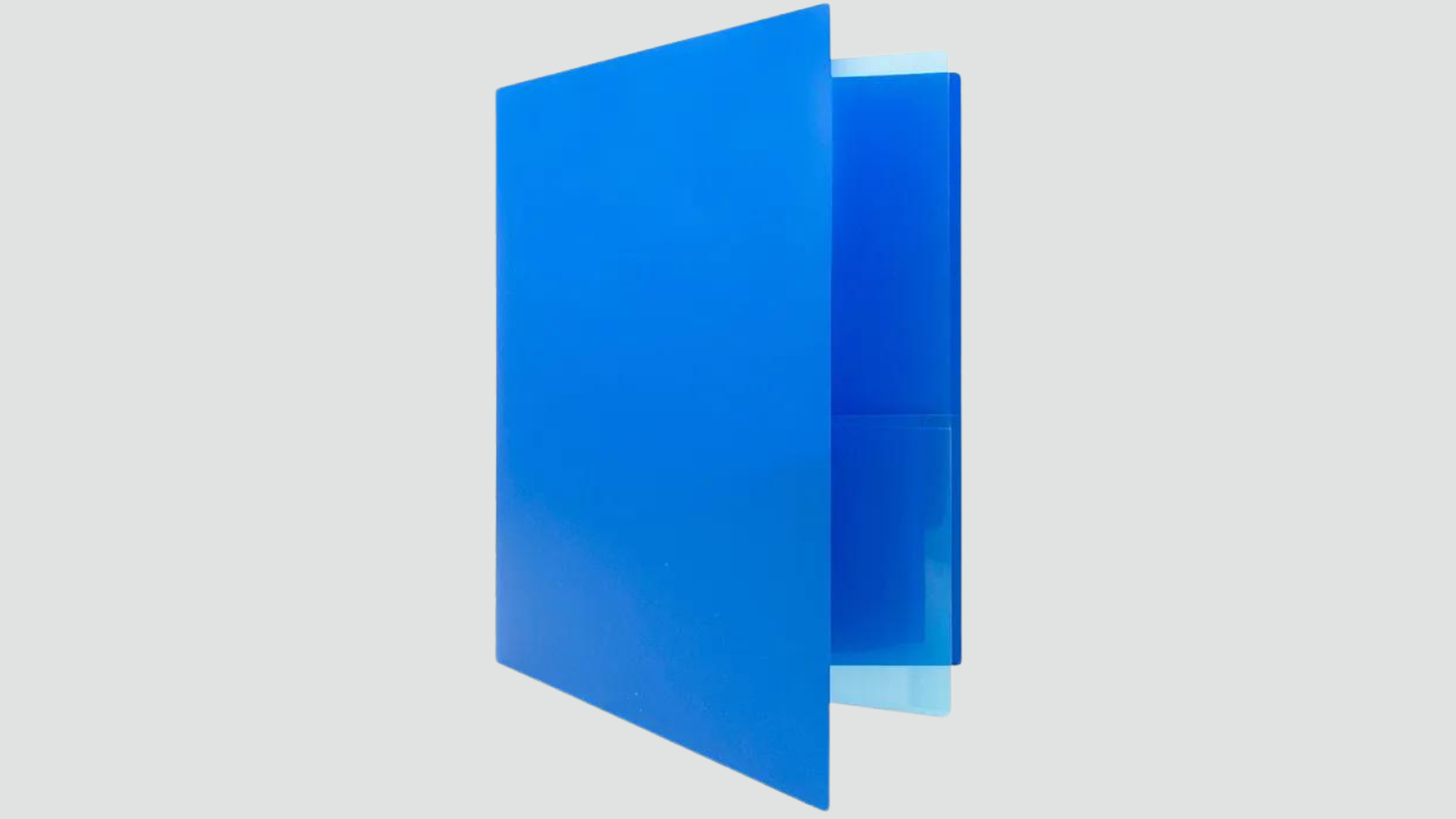 JAM Paper's Linen Blue Folders
For those who seek a tactile experience, JAM Paper's linen blue folders offer a subtle texture that's not only visually appealing but also pleasant to the touch.
Elevate your document handling with the sophisticated texture of JAM Paper's Linen Blue Folders, combining function with a sensory touch.
Don't just organize; elevate your experience with JAM Paper's Linen Blue Folders. Feel the difference in every touch and see the sophistication in every glance. Ready to transform your workspace with both style and substance? Click here to explore our exclusive collection and bring the tactile elegance of linen to your documents today!

JAM Paper's Heavy Duty Plastic Blue Folders
When durability is key JAM Paper's heavy duty plastic blue folders stand up to the challenge, providing exceptional protection against wear and tear.
Secure your important papers in JAM Paper's Heavy Duty Plastic Blue Folders, the reliable choice for keeping your documents safe in transit or storage.

JAM Paper's Two-Pocket Blue Folders
This makes organization easy with their convenient compartmentalization, ideal for categorizing different types of documents.
Organize and separate your work effectively with JAM Paper's Two-Pocket Blue Folders, designed to keep your papers neatly arranged and accessible.

JAM Paper's Eco-Friendly Blue Folders
For environmentally conscious consumers, JAM Paper's eco-Friendly blue Folders are made from sustainable materials, showing your commitment to the planet while keeping your papers in order.
Stay green while keeping your blue papers neatly filed away with JAM Paper's Eco-Friendly Blue Folders, aligning with your dedication to sustainability.

JAM Paper's Blue Presentation Folders
Comes with additional features like slots for business cards and CDs, tailor-made for those needing an extra edge in professional settings.
Make a compelling impression at your next meeting with JAM Paper's Blue Presentation Folders, all-in-one solutions for carrying and displaying your professional credentials and media.
Key Features And Benefits Of JAM Paper Blue Folders
JAM Paper's Blue Folders are more than just a place to store your papers; they are designed with thoughtful features and benefits that cater to the needs of anyone looking to enhance their organizational system. Discover the key attributes that make these folders an ideal solution:

Vivid Colors For Easy Sorting
Offered in a spectrum of blue shades, these folders make categorizing and finding documents a breeze.
Never misplace an important file again by using JAM Paper's color-coded Blue Folders to organize your documents efficiently and effectively.

High-Quality Material
Crafted with premium materials, these folders stand up to regular use and protect your papers from damage.
Count on the resilience and strength of JAM Paper Blue Folders to safeguard your documents through daily wear and tear.

Versatile Storage Options
With spacious pockets and some options including additional slots for business cards or CDs, these folders can hold a variety of documents and small items.
Maximize your storage capabilities with the versatile organizing options provided by JAM Paper Blue Folders.

Professional Appearance
The sleek design of these folders presents a professional image at school, work, or any presentation.
Boost your professional image with JAM Paper Blue Folders, ensuring your documents are as polished as your presentations.

Convenient Size
Designed to fit standard letter-size papers, these folders accommodate most documents, making them an all-purpose organizational tool.
JAM Paper Blue Folders are perfectly sized for your everyday needs, keeping your standard letter-size documents neat and orderly.
How To Get Creative With JAM Paper's Blue Folder
Getting creative with JAM Paper's blue folders isn't just about organizing your papers; it's about crafting a personalized experience that speaks volumes about your style and ingenuity. Here's how you can harness the versatility of these folders to bring creativity to your work and personal projects.

Personalize With Labels And Stickers
A simple and fun way to personalize your blue folder is by adding labels and stickers. Whether you prefer minimalist designs or something more colorful and bold, stickers can transform a plain blue folder into a reflection of your personality. Plus, they're an excellent way for educators and parents to encourage kids to stay organized in a fun way.

Create A Folder For Every Occasion
With no minimum order requirement, it's easy to create a tailored blue folder for every project or event. You can differentiate your folders by hue, assigning a particular shade of blue to each class or business department. This color-coding system isn't just pleasing to the eye; it streamlines your search for the right documents when you're in a hurry.

DIY Folder Tabs
If you're someone who likes a bit more detail in your organization, creating custom folder tabs is a great way to level up your blue folders. You can design tabs that align with the folder's contents or even go thematic with symbols or icons. This small touch can greatly enhance the functionality and visual appeal of your folders.

Incorporate Into Presentation Themes
If you're preparing for a presentation, a blue folder is your ally. You can integrate the color theme of your folder into your PowerPoint slides, handouts, and even your attire. This creates a cohesive and memorable presentation style that impresses clients and colleagues alike.

Craft A Professional Portfolio
For professionals, nothing beats the sophistication of a well-assembled portfolio. Customize your blue folder with your name, credentials, or company logo to stand out in interviews or client meetings. The customization services at JAM Paper put this professional touch within easy reach.

Assemble A Press Kit
Are you launching a product, hosting an event, or making an announcement? A customized blue folder can serve as an impressive press kit. Fill it with press releases, high-quality images, company information, and contact details. The high-quality material and the option of glossy finishes can elevate the perception of your brand.

Turn It Into A Memory Keeper
A blue folder doesn't have to be all work and no play. You can use these folders to store precious memories, such as artwork, cards, and photos. The durable materials ensure that your mementos are kept safe over the years, and the wide range of shades can match any occasion you're commemorating.

Organize Your Home With Style
JAM Paper's blue folders can be a stylish addition to your home office or family command center. With their durability and design, they can store everything from important household documents to your favorite recipes, adding a pop of color and a dash of organization to your living space.
Why Choose JAM Paper's Blue Folder For Your Creative Needs
Selecting the right folder for your creative endeavors is about more than just keeping your documents in place; it's an expression of your personal style and a reflection of your innovative spirit. Here's why JAM Paper's blue folder is the ideal choice to meet and enhance your vibrant creative needs:

Express Yourself With Color
Creativity thrives on the ability to express oneself, and what better way to do that than with color? Blue, as a color, is versatile and evocative, signifying trust, calmness, and intelligence. JAM Paper's blue folders come in a range of shades, allowing you to pick just the right tone to match the mood and message of your creative project.

Quality That Supports Creativity
To let your creativity flow uninterrupted, you need a product that you can rely on. The superior quality of JAM Paper's blue folders means that they won't tear, wear out, or let you down when you're on a creative roll. Whether you're carrying your latest drafts, art prints, or design sketches, your blue folder is there to protect your ideas every step of the way.

A Canvas For Your Imagination
Think of JAM Paper's blue folders as blank canvases for your creativity. The sleek, unadorned surfaces are perfect for personalizing with your own decals, doodles, or designs. Or, keep it minimalistic and let the bold blue speak for itself. Either way, you're in control.

Tailored To Your Creative Process
Every creative individual has a unique process, and having the right tools can make all the difference. JAM Paper understands this and offers blue folders with various features like pockets, fasteners, and card slots—perfect for organizing brainstorming notes, concept art, or scripts in a way that suits the way you work.

Flexibility For Every Project Size
JAM Paper's no minimum order policy means you can select the exact number of blue folders you need for your project, big or small. This eliminates waste and ensures you can manage resources effectively, adapting to the ebb and flow of your creative demands.

Cut Above The Rest
In the creative world, standing out is key, and JAM Paper's customizable blue folders can help you do just that. Get your blue folder embossed or printed with your logo, artwork, or contact information to make an impact. When you hand over a folder that's been customized to represent you or your brand, it elevates your creative prowess in the eyes of clients and collaborators.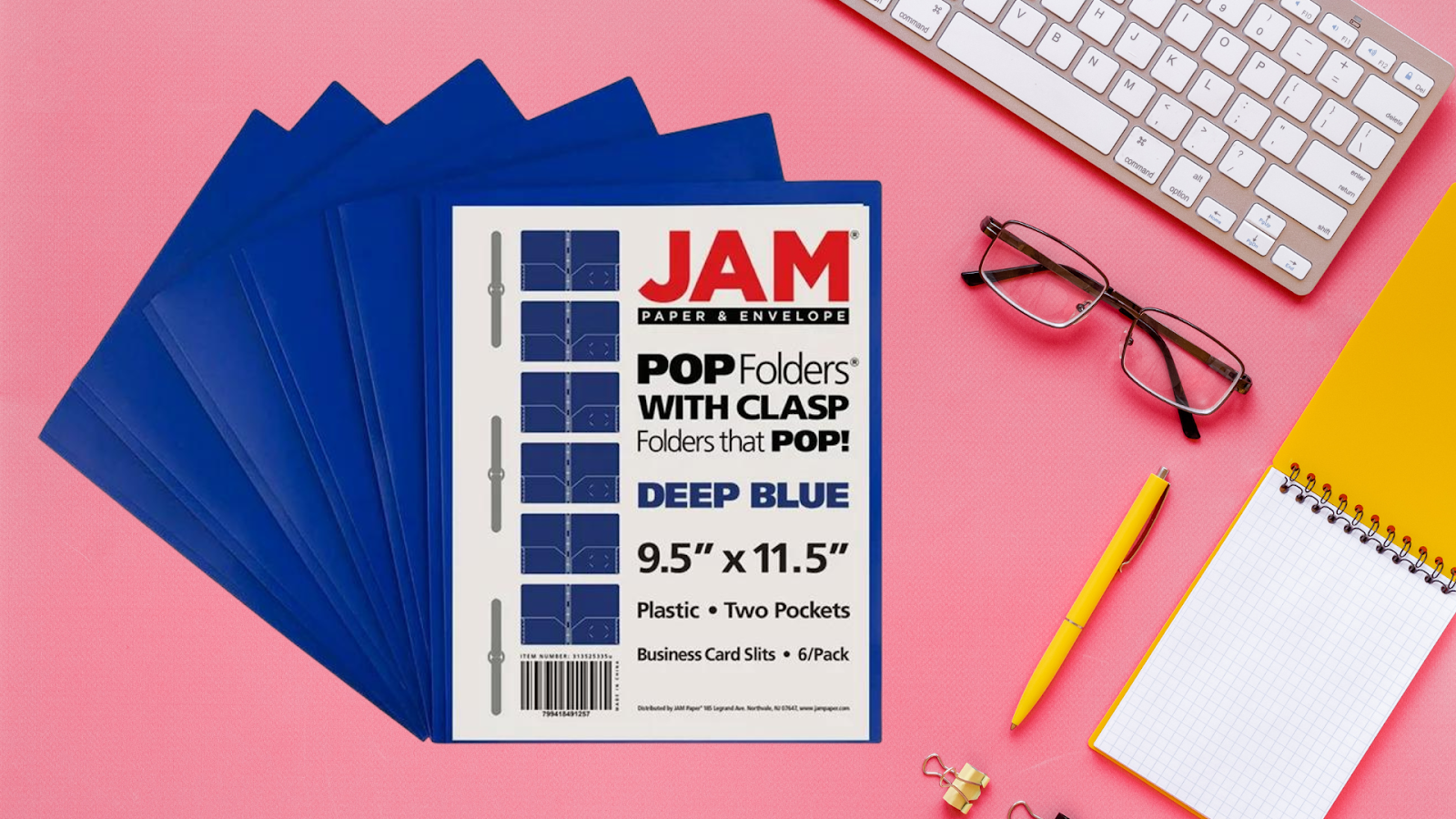 FAQs
Are there folders available with business card slots?
Yes, JAM Paper offers blue folders that have business card slots. These slots provide a neat and professional way to present your contact information along with your documents.

What are these Blue Folders made of?
Our blue folders are made from various materials, including durable cardstock and plastic. The specific material varies depending on the folder style you choose.

Can I place a bulk order for these Blue Folders?
Absolutely! Whether you're stocking up for your business or organizing a large event, you can place a bulk order for any quantity you need. Remember, JAM has NO minimum order requirements.

Is it possible to order a custom size?
Customization is part of what JAM does best. We can typically customize most portfolios to the exact specifications you need. Just let us know what you're looking for!

Are these folders suitable for professional use?
Definitely! Our blue folders are designed with both style and functionality in mind, making them perfectly suited for professional contexts such as meetings, presentations, and office organization.

Do these blue folders come with fasteners?
Some of our blue folder options do come with fasteners. Be sure to check the product description to see if the folder you're interested in includes this feature.

Can I request a sample before purchasing?
We understand the importance of ensuring quality before making a purchase. Contact us to inquire about the possibility of receiving a sample of our blue folders.

Are there customer reviews available for these blue folders?
Yes, customer reviews for our blue folders can typically be accessed on the product page. We encourage you to read through them to see how others have used and appreciated our products.

Do these folders meet standard durability and quality measures?
Our blue folders are designed to meet high standards of durability and quality, ensuring that your documents are protected and your presentation looks polished.

Can the folders be recycled or are they eco-friendly?
We strive to provide eco-friendly options where possible. Many of our paper-based blue folders can be recycled. Check the product details for more information on the recyclability of specific folder types.