Write Yourself an "Open When" Letter
How's your mental health these days? Are you feeling good? Exercising every day? Eating right? Do you feel fulfilled in your life, and are you pushing yourself to achieve more? You are? Wow. Even if you're not doing your best but you feel like you have some mental clarity and a decent handle on things, you might want to harness your good vibes and invest it in your future. How can you do that? Well, it's one thing to keep taking care of yourself and do all the things that are making you feel good right now, but we all have times when we feel low or frustrated or stressed. It happens to the best of us, even when we do everything in our power to prevent it. And during those times, it can be difficult to think clearly and see what's important. Fortunately, you're (probably) thinking clearly now. So why not make an investment in your future well-being and make yourself a little care package? No, not a chocolates and wine care package, although if future you is anything like current me,you'll appreciate that. No, I'm talking about a written care package. Think of some possible future feelings that you might have based on the direction your life is heading, your current feelings, or situations you have had to work through in the past. These could be as small as "getting frustrated with a coworker" to as big as "wanting to quit your job and hike the Appalachian Trail." In your current clear headedness, think of the advice you would like to get in those situations. Get some paper and a envelopes, sit down, and write yourself a letter of advice for each situation. Then, seal them in an envelope, and label the envelope for the situation. Now I know it can be hard to think of possible future stresses when you're feeling pretty good right now, so I've come up with a few for you. "Open when you're feeling sad" "Open when you're feeling lonely" "Open when you're stressed about work" "Open when you're stressed about money" "Open when you're bored" "Open when you're being antisocial"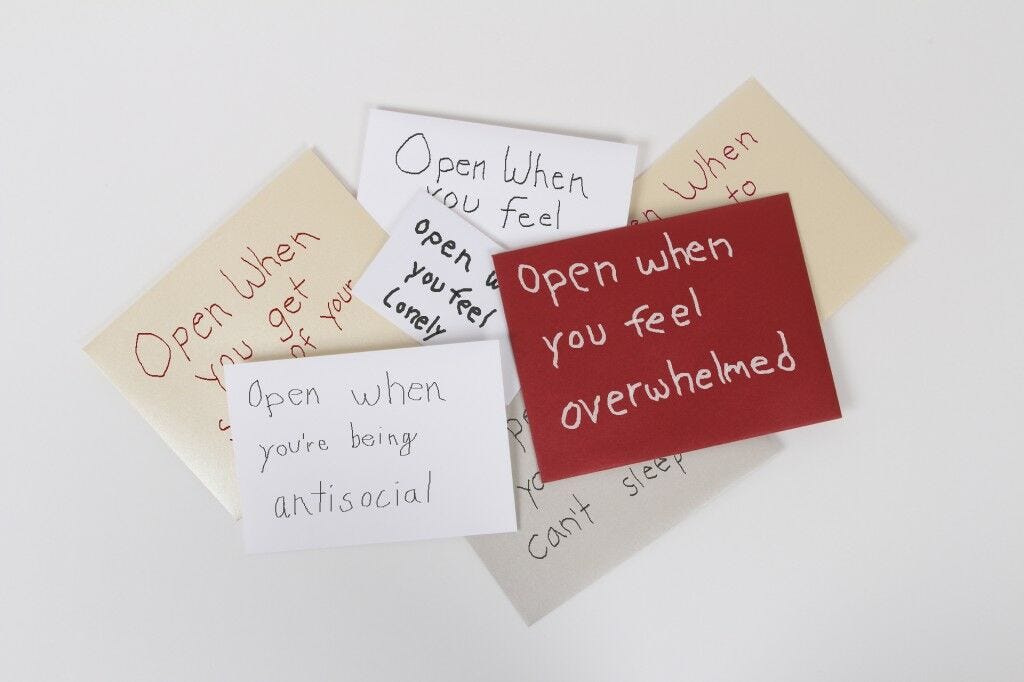 These are just a few examples. You can pick and choose the ones you like or  make up your own. Now, the "open when" style of letter has become popular for people in long distance relationships, but who says you can't modify it for the long distance relationship you have with the person you're becoming! So take a minute and help out your future self. And maybe throw some wine and chocolate in that care package while you're at it. Your future self will thank you.