What is Quilling?
"Do you guys know what quilling is?"
"What is quilling? Isn't that like with thread, like grandma stuff, making blankets? Uh idk. "
"That's quilting."
"Haha whoops."
This was an actual conversation I had with an actual coworker. Not too sure if he was serious or not, since he's the jokester of the group (shoutout to Michael), but I honestly didn't know what quilling was either – that is of course until I found it on Pinterest (where you find every craft you never ever thought of before). And I just had to try it (like I do with every craft that catches my interest. This time I didn't quit!).
So wait, I should probably answer the question and get to the point right? "Haha whoops." WHAT IS QUILLING?
 Quilling is basically contorting paper into different shapes. You start off with coiling thin strips into circles, and go from there. You can pinch certain parts of the circle, glue the end of the strip, tighten the circle or loosen it. It's really up to you.
And after a while, coiling for a decent amount of time, I wondered where this all came from and the name of the person who started it. Unfortunately I couldn't find the answer to the latter – maybe someone was just like hey… paper + circles = art. But, I did find the answer to my first question. It actually started in the Renaissance when monks and nuns would decorate book cover edges and other religious trinkets.
 It's assumed, from my research (yes, I didn't just randomly know this stuff), that they first curled the paper around the base of a quill (to modern day people – it's a feather pen). Hence … Quilling.
Then when the Victorian age took over, the more … let's say … lucky ladies that didn't have to do any work because they didn't have to (or weren't allowed to) did this in their spare time (which was often). They'd decorate tea pots, purses, even jewelry. After that, it kind of fell off the grid, until around the 1970's. Now it's mostly for fun but also for artists who are just insanely good at it.
Now most quillers (yes, that is an actual word), use a needle to help coil the paper. I, of course, didn't have one and our push pins didn't work, so I just used my fingers. I understood after a while why a needle would be easier to use, but still went for it. So, what is quilling?
I started off easy: hearts!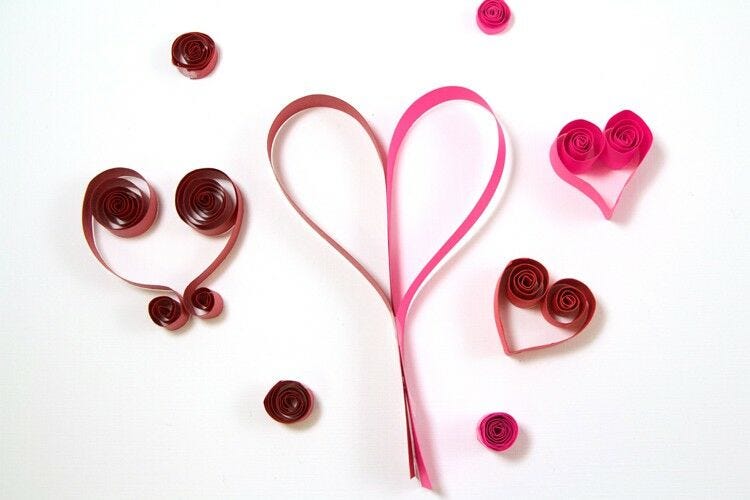 Whether you want to make a heart out of one piece of paper, two pieces of paper, or attach two together, these hearts are a cute way to decorate a card for Valentine's Day, Mother's Day, or a just-because-I-love-you kind of day (brownie points will be rewarded).
Then, I turned to the next easiest thing … flowers. Or what I assumed would be easy.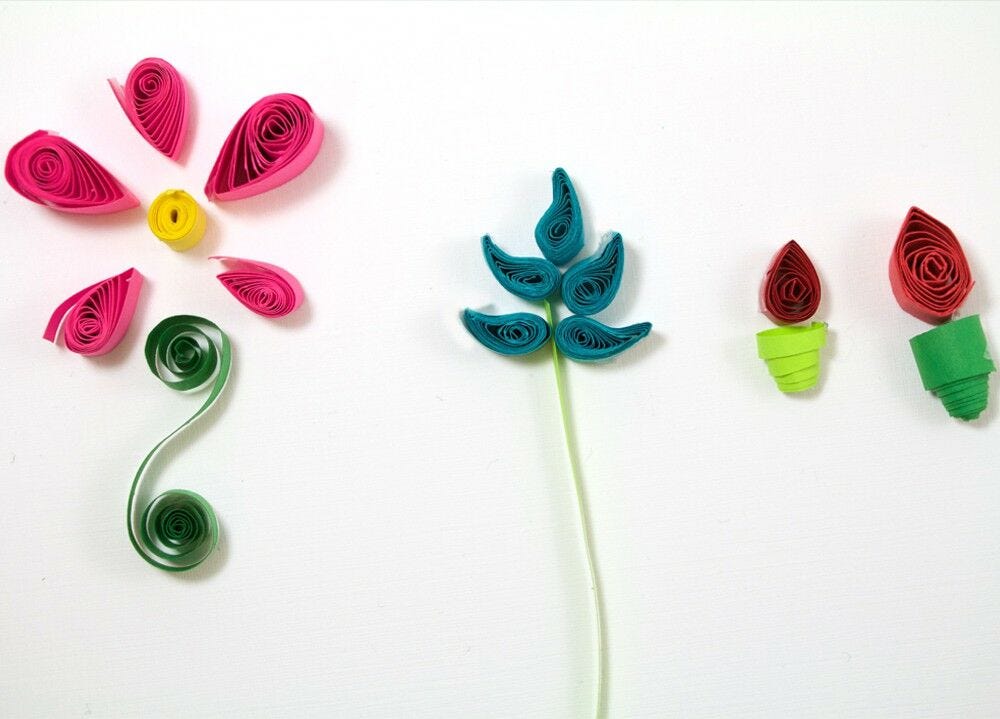 When completing this collection, I realized the most important part about being a quiller is having patience. And not just regular patience, like superhero patience. This was my last display I took pictures of, so at this point I just wanted to finish. But actually creating these flowers were as soothing as could be … no seriously.
It's said that quilling is a great way to relieve stress and relax. It makes you focus on what you're doing without your mind getting all flustered and frustrated. It's not a complicated craft once you get the hand of it (pun not intended). I was even able to talk to people and read things while I quilled. If asked what is quilling whilst quilling, I could definitely answer!
And then I tried … animals.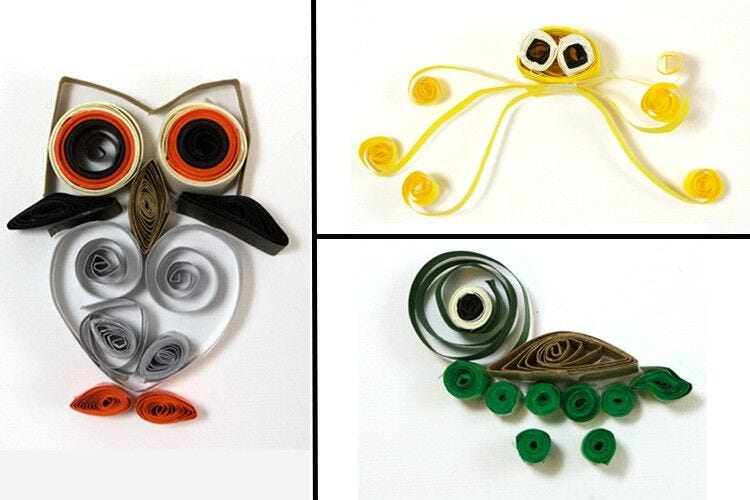 Okay, I'm going to be honest here – that octopus is super cute and totally my favorite (he's on my desk now – still need to name him, any ideas?). But that owl is currently on my bad side. It was so difficult to put all of the shapes together nicely. For some reason the eyes and ears were the hardest. But once I finished this bad boy, I wasn't only relieved but proud. I mean, this was my first time quilling, and I didn't do so bad (if I do say so myself).
From learning about quilling, and trying this DIY craft out, I realized I love it! Maybe I'll post again – with more intricate and complicated designs.
Like these that I found on Pinterest: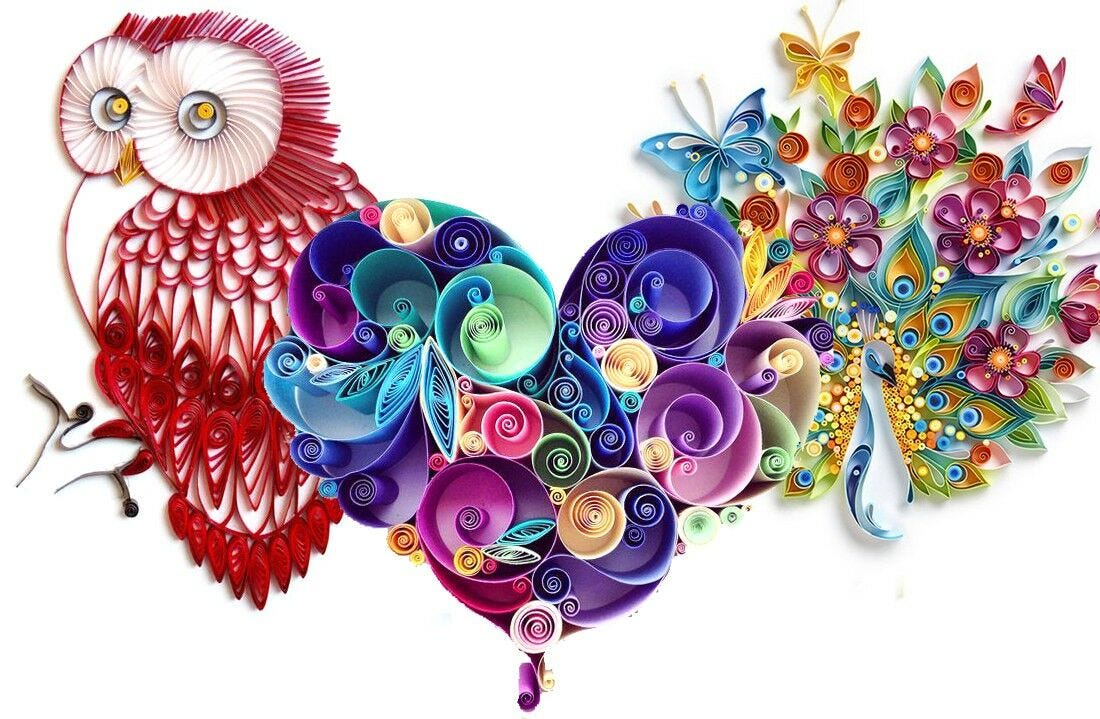 Hey, you never know. So, tell us in the comments- what is quilling?