Wedding Thank You Card Etiquette
So your wedding day is finally over. The seating charts, the caterers, and the flower arrangements are all a distant memory.  All the months of planning and scurrying around have finally ended. Or so you thought. It's time thank your guests for celebrating your big day. In this article, we answer all of your wedding
thank you card
etiquette questions. We cover when to send them, how to address them, & other tips that should make this last wedding task a breeze.
When to Send Your Wedding Thank You Cards
Proper etiquette is to send out thank you cards within 2 months of the wedding.
How to Address Your Thank You Cards
When addressing the mailing envelope, you should follow the same rules that you used for mailing your invites. (
Check here
)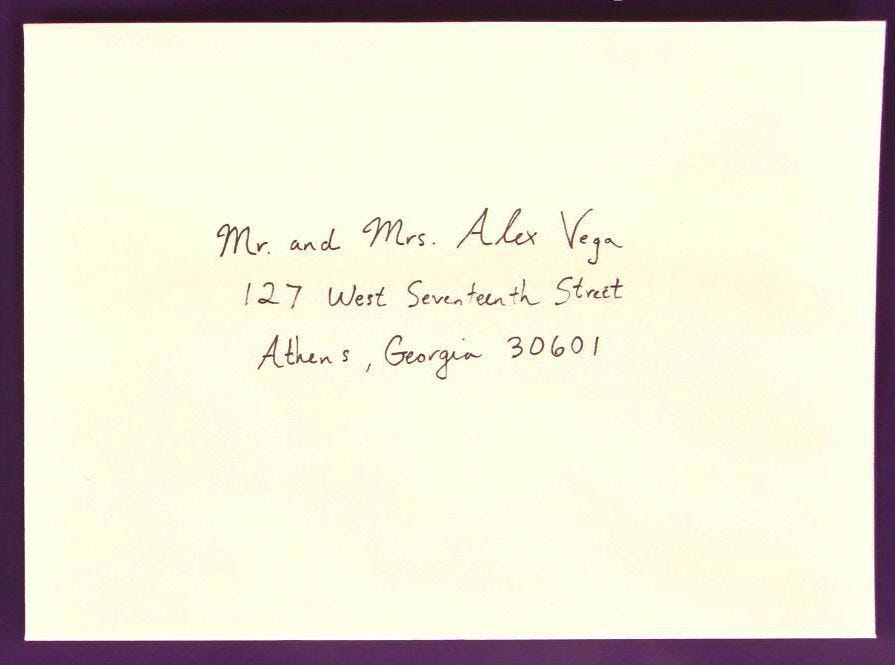 On the inside of the card, you can be informal and address them by first name. Also it's best to include all individuals who attended or who signed their name on the card with the gift.
Tips for Writing Thank You Cards 
Be personal. Don't write generic messages to all guests
Make mention of the actual gift that you received
If they did not send a gift, still thank them for attending and celebrating
Use blue or black ink
Start writing thank yous as soon as you receive gifts. It makes it a lot easier at the end
Thank You Card Wording Examples
Here are examples of how to word the inside of your thank yous depending on what gift you received.
For a cash gift:
Dear Sue, Matt & Little Franky
Thank you so much for your generous gift. As you know, we are saving up to buy a home and this will certainty help in reaching our dream. Thanks again for thinking of us and being a part of our special day.
Love,
John & Kim
For a gift:
Dear Sam,
Thank you so much for the beautiful silver picture frame. Once we get our wedding photos back we will certainly use it. Thanks again for thinking of us and being a part of our special day.
John & Kim
For a donation in your name:
Dear Frank & Jen, 
Thank you for your thoughtful donation to the Boys & Girls Club in our name. This charity has always been dear to our hearts. We can't imagine a more wonderful present than a donation to such a cause. 
Best, 
John & Kim 
For a member of the bridal party:
Dear Sean,
Thank you so much for being a best man and sharing this special day with us. We appreciate all that you did to help during the wedding and we couldn't have done it with out you. 
Love,
John & Kim
For someone who didn't attend but sent a gift:
Dear Sarah, 
Thank you so much for the crystal flower vase  you sent us as a wedding gift. It is so beautiful and is sitting on our dinning room table! We are sorry that you couldn't attend the wedding but I'd love to show you the pictures real soon. 
Best, 
John & Kim 
We cant help you with the hand cramps you will likely get from addressing dozens of thank yous, but at least we can help you with the proper wedding thank you card etiquette!