Top 5 Desk Essentials You Can't Live Without! Are you searching for that special touch to bring your work space to life? Well, look no further! Here at JAM, we offer the finest options for your desk organization. When it comes to office supplies, we don't joke around! JAM offers high quality products to improve not only your work area, but style as well! You can find durable desk supplies in every color. You'll never have problems creating the perfect office aesthetic again! Since red is the JAM brand color, every desk is crowned in red staplers, tape dispensers, and more to give us a uniform look that's pleasing to the eye! Why not do that with your company? It's an amazing way to display brand spirit and show how passionate your organization is about the product or service you provide. So without further a do here are Top 5 Desk Essentials You Can't Live Without!
Stackable Paper Trays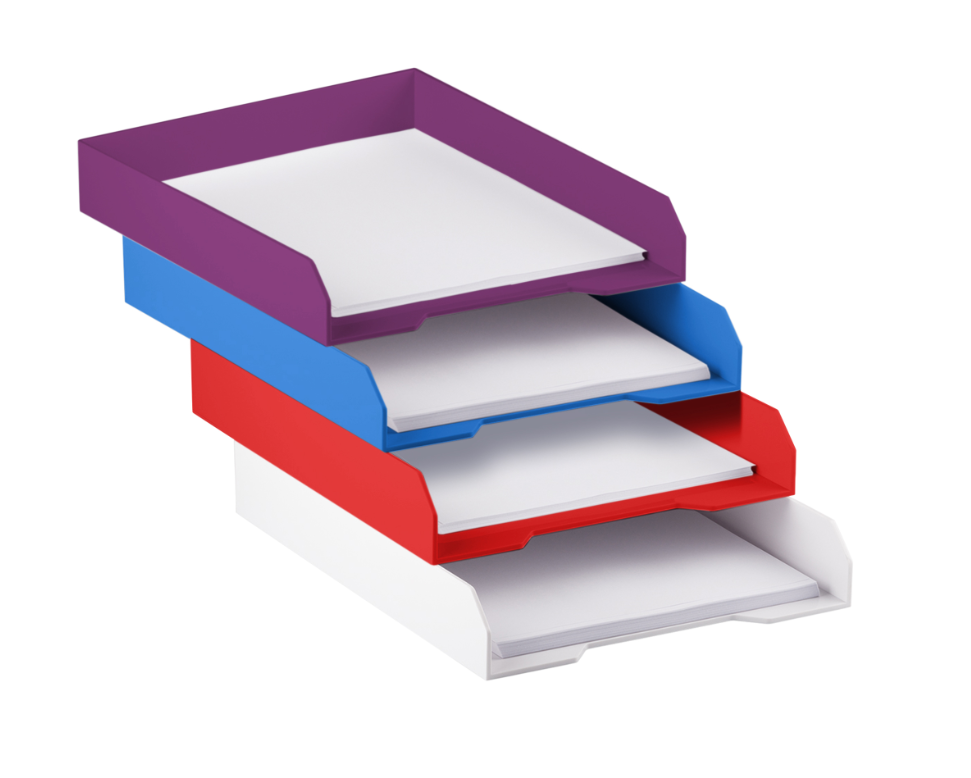 Achieve optimal organization with JAM Stackable Desk Tray Sets! These colorful trays will give your workspace a pop of color and help you clean up your desktop. Stack them or separate them–whichever is most convenient for you! Paper trays can hold up to 300 sheets of letter size paper each. You'll have all the paper storage you could ever need. The office supply tray is perfect for holding an extensive variety of desk supplies. Fits pens and pencils, staplers and staples, paperclips, and much more. Combine the office supply and paper trays for the ultimate desk organizer!
Organize your files in the way that makes most sense to you. The more trays you stack, the more space you have to organize!
Stackable Desk Tray Sets measure 12 3/8 x 5 1/4 inches. Each set includes 2 Stackable Paper Trays and 1 Office Supply Desk Tray for a total of 3 items.
Paper Clips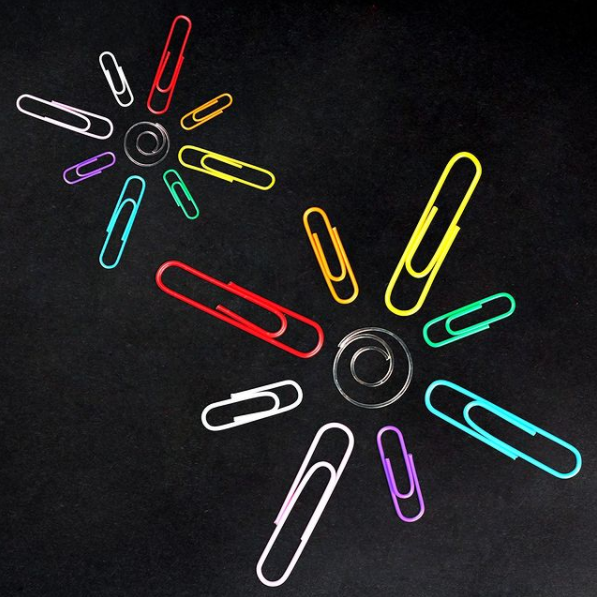 Recommended in Martha Stewart Living's Colorful Craft Room suggestions. These color paper clips were also declared "The Official Clip of Graphic Design USA Magazine." So why wouldn't you want a famous clip? Available in regular paper clips, jumbo paper clips, giant paper clips, circular paper clips, and butterfly paper clips. Whether you want to stay with the classic or want a unique twist, it's up to you! Just know that JAM paper clips don't just help keep documents together, they make a statement. We believe that being different and living in color is important. Even for something as small as paper clips.
Available in over 10 different colors, you'll certainly be able to find your favorite color, the one that fits most with your documents, or the one you want to stand out the most. From bright yellow to baby pink, from classic navy to passionate red, we have it all.
3-Hole Punchers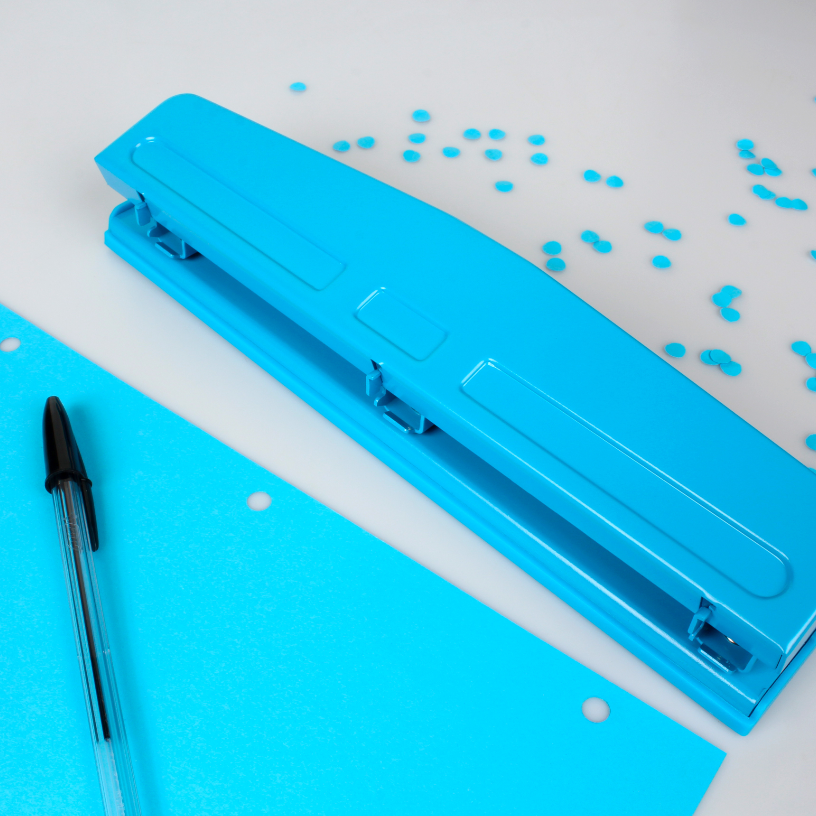 Our 3-Hole Punchers are so high-tech, they feature an adjustable paper guide and are made from hefty metal construction. Not even a fall to the ground is breaking these babies! Kiss one page hole punching goodbye because these have a 10 sheet limit with 20lb paper. You can spend less time punching holes and more time admiring how good it looks on your desk! Just think about how many loose papers you can punch and put neatly away in a binder for later use. Your workspace will be cleaner and more organized than ever before. The best part is your scraps from punching holes will be trapped in the handy dandy tray on the bottom, ensuring no mess in your area. These hole punchers come in fashionable colors as well to coordinate with your other JAM Stationery.
3-Hole Punchers measure 10 3/8" x 2 1/4" x 1 5/8" and are currently available in White, Blue, Black, and Red. The 3 holes are 9/32" each.
Push Pins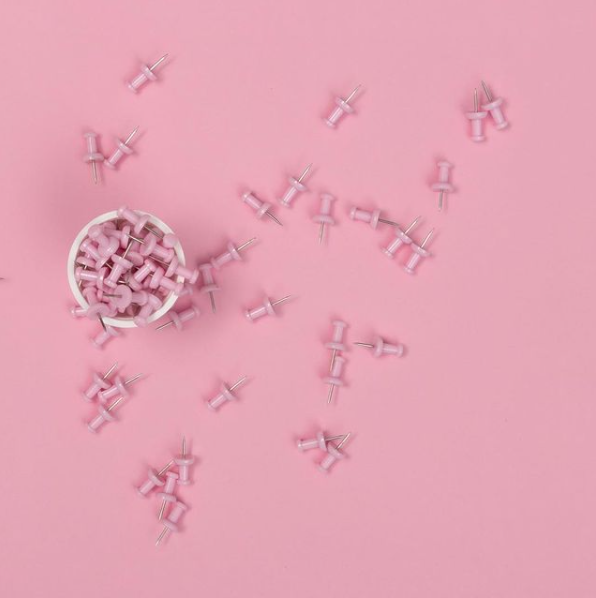 Push aside that tape and those staples and choose JAM Push Pins! Your board needs some color. The best way to do this is with something that will not only make your papers stay on, but also brighten up the office space.
Keep organized in the most creative and fun way possible. Sold in packs of 100, these vibrant, pristine thumbtacks are essential to anything worth posting. Colored decorative push pins make for a great way to add some style to the board and additional color to whatever you may be pinning. Choose orange for Halloween bulletins, or Baby Blue and Baby Pink for Baby Shower flyers, even Red and Green for Christmas party flyers.
JAM Push Pins are available in Blue, Baby Blue, Green, Lime Green, Yellow, Fuchsia, Light Purple, Purple, Red, Black, Chocolate Brown, Orange, Baby Pink, Teal, Silver, Gold, Rose Gold, and White. We even have clear push pins! Round-top Push Pins are available in Silver & Gold. We also have packs of push pins when you can't decide on one color: 2 pack, a 5 pack, and 8 pack - all with an assortment of colors.
Pen Holders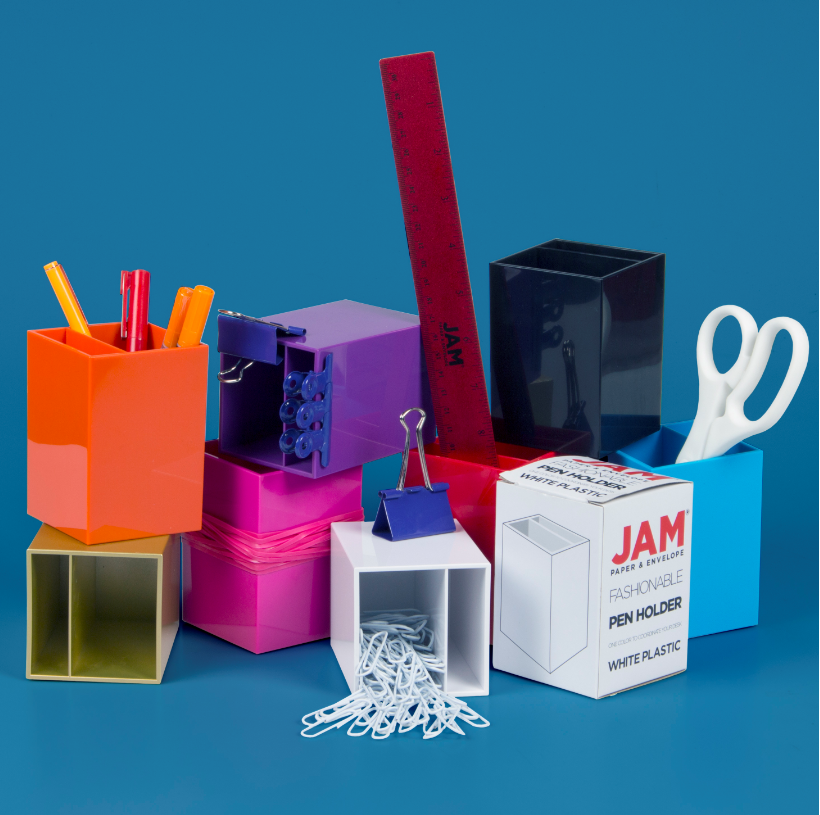 Desktop organization just got so much easier with JAM Pen Holders! They are the ideal way to store all of your pens and other writing instruments. A perfect supplies organizer for the office desk or home office! While most struggle with cups and mugs tipping over or breaking, professionals know that pen holders are the way to go. Our Plastic Pen Holders are strong enough to withstand your top heavy stationery like rulers and scissors, all while looking stylish. But don't stop there, take it home and use it as makeup storage for your brushes or even incense sticks. Let your imagination run wild.
These are also built with two slots to fill all your storage needs. They come in colors: red, purple, white, black, light blue, grey, dark blue, orange, pink, and beige. Don't forget to mix or match with our other desk essentials in order to enhance your desk style!
We hope that this list of Top 5 Desk Essentials You Can't Live Without helped you come up with more fun ways to spice up your office desk appearance! It's JAM's goal as a company to provide you with quality products and amazing ways to use them. Make sure to follow our blog, Instagram and Pinterest to get the scoop on our latest new crafts and items! Also our Facebook and Twitter for promotions and sale updates! Don't forget to leave comments down below. We'd love to hear how these products worked for you!