Test Your Knowledge with Memorial Day Trivia
Happy Memorial Day everyone! I hope you all had a safe and enjoyable weekend. I'm sure you grilled hot dogs and hamburgers and placed them on patriotic paper plates. You excitedly sang "God Bless America" as you toasted beers but what are you really celebrating? As parents you want to teach your children to see beauty in everything. Though the reality of what Memorial Day stands for may be sorrowful, it's still phenomenal and beautiful. People we've never met risked their lives in order for us to live happily with freedom. Teach your children what a real hero is, they're hard to come by.
[caption id="attachment_8496" align="aligncenter" width="440"]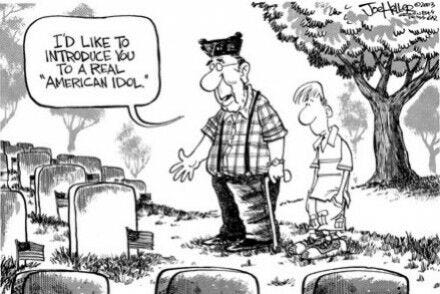 via
Happy Memorial Day 2014
[/caption]
 Test how much you really know about your country with some Memorial Day trivia. It's important you all know the answers to the following questions, these are the basics!
1. Memorial Day was created to honor fallen soldiers of what what war?
2. When is Memorial Day usually celebrated?
3. What was Memorial Day originally called?
4. What do people fly on Memorial Day?
5. What is the flower of Memorial Day?
6. Which season does Memorial Day unofficially mark?
7.  On Memorial Day, what cemetery puts American flags on  the head of each gravestone? 
8. What year did Memorial Day become a federal holiday?  
Bonus: Who wrote this poem?
We Shall Keep the Faith
Oh! you who sleep in Flanders Fields,
Sleep sweet - rise anew!
We caught the torch you threw
And holding high, we keep the Faith
With All who died.
We cherish, too, the poppy red

That grows on fields where valor led;

It seems to signal to the skies

That blood of heroes never dies,

But lends a lustre to the red

Of the flower that blooms above the dead

In Flanders Fields. 
And now the Torch and Poppy Red
We wear in honor of our dead.
Fear not that ye have died for naught;
We'll teach the lesson that ye wrought
In Flanders Fields.
How many questions did you get wrong? It's okay! It's never too late educate yourself about Memorial Day
.
Answers: 1. The Civil War 2. The last Monday of May 3. Decoration Day 4. The American Flag 5. Red Poppies 6. Summer 7. Arlington National Cemetery 8. 1971 Bonus: Moina Michael