No Dye Easter Kids Crafts: DIY
The mess, the horrible mess that comes with egg dye! People with kids, you know what I'm talking about, right? It not only gets on your hands as you try to help your girl get that perfect pink color, but it stays on her hands way after all the chocolate is gone. Let's try another option for Easter Kids Crafts.
Why bother with all that fuss when you can use JAM paper to create as many Easter Eggs as your kids can handle (depending on their attention span of course).
When your mind is worrying about all the chocolate bunnies you need to get, Easter egg hunts you have to create, and decorations you need to put up, here are a few easy and fun no dye Easter kids crafts!
1. The Classic Easter Patterns
Polka dots, zig zags, you name it. We all know the classic Easter patterns when we see them.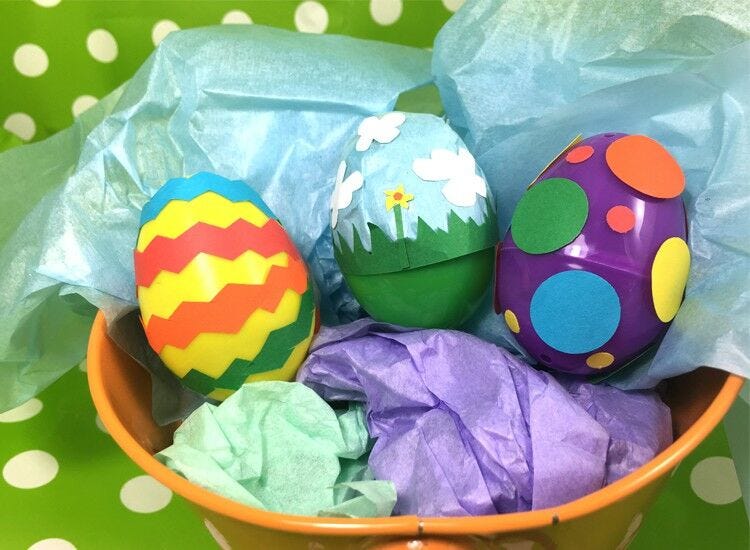 With our Brite Hue Paper and Circle Hole Punchers, you can create our polka dot egg in a flash but still come out with a fun and festive egg. This is one of our absolute favorite Easter kids crafts.
Or go for our cool zig zag pattern with our Brite Hue Paper by stapling the colors together as you cut. This way you can have the same shape zig zag for each color! You can also choose to make zig zags and stripes to have an even cooler egg.
My last one I put in this collection has a spring feel to it! I used our Blue Tissue Paper to create the sky and chose a green egg for the grass. With clouds and a flower, my scene was set.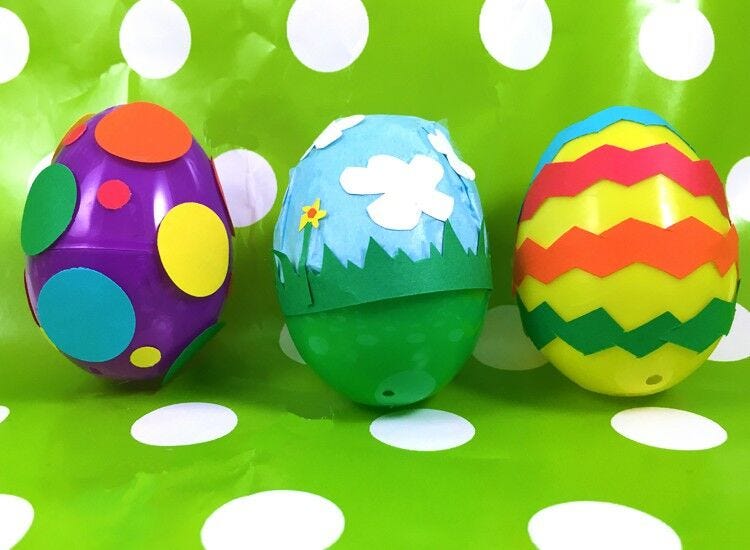 2. CHOCOLATE!
YUM! All of your kids, no matter what age, can't resist a Reese's Easter egg (for some reason, they are the best Reese's by far - am I right?),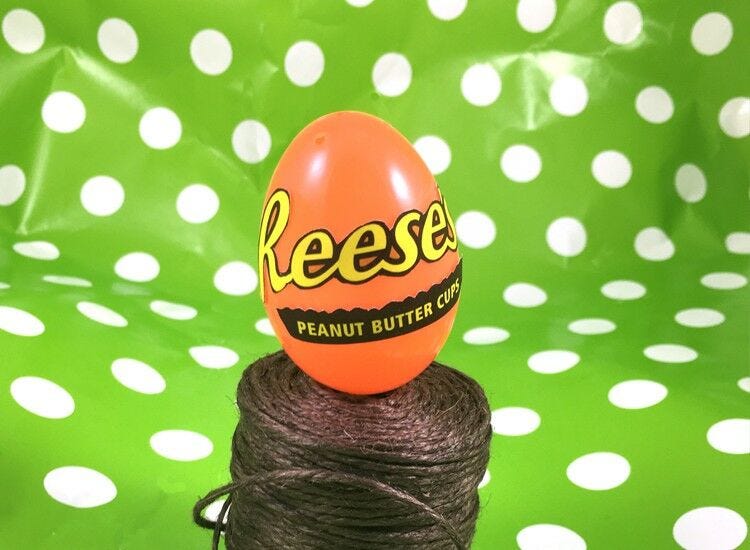 or the awesome feeling when they bite into a Crunch bar,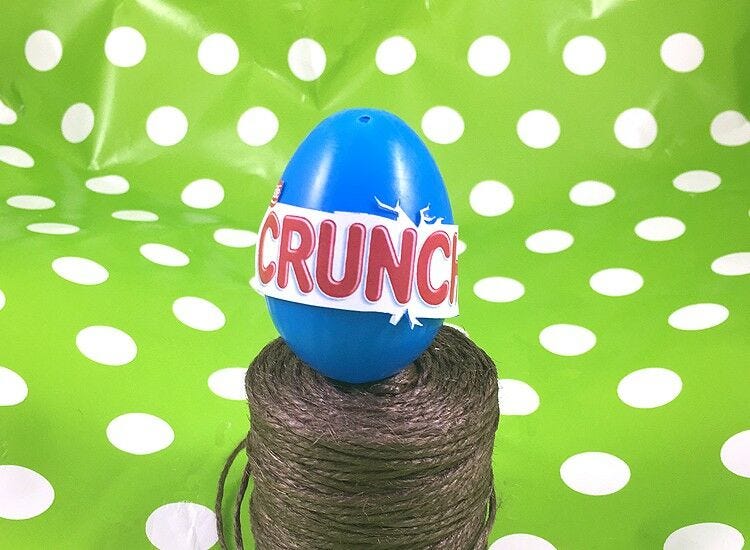 and they ESPECIALLY cannot resist a chocolate hollow Easter bunny.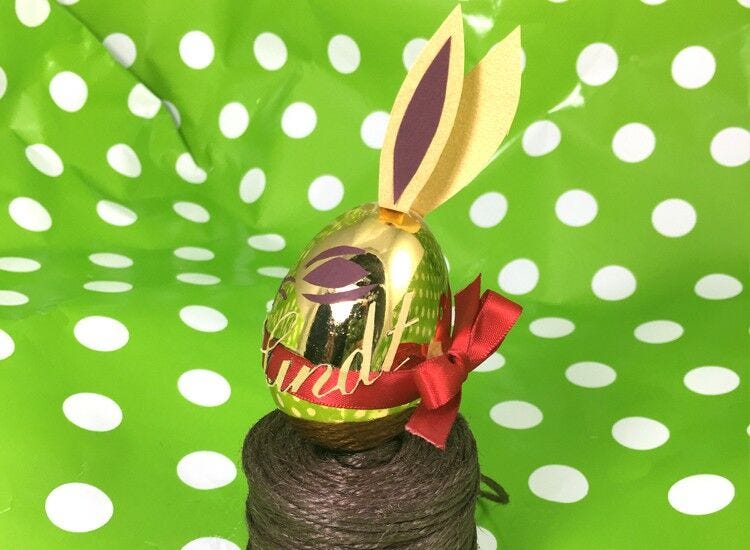 These may have been the easiest since all I did was print their logos out and choose a colored egg that matched. The Lindt Chocolate Bunny was a little harder. I cut out the eyes, nose and whiskers with our Burgundy Paper and wrapped our Red Satin Ribbon around it. With Gold Stardream Paper, I made the ears and logo!
Do you see any resemblance?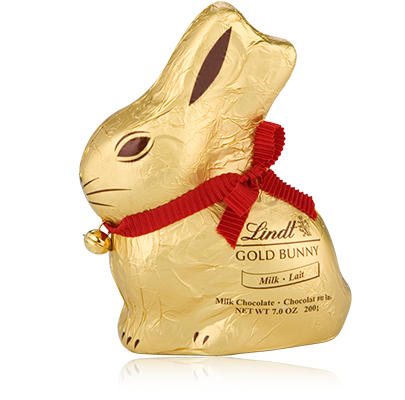 3. Animals We Think of When We Think of Easter
Okay, definitely my favorite eggs to make were these adorable animals.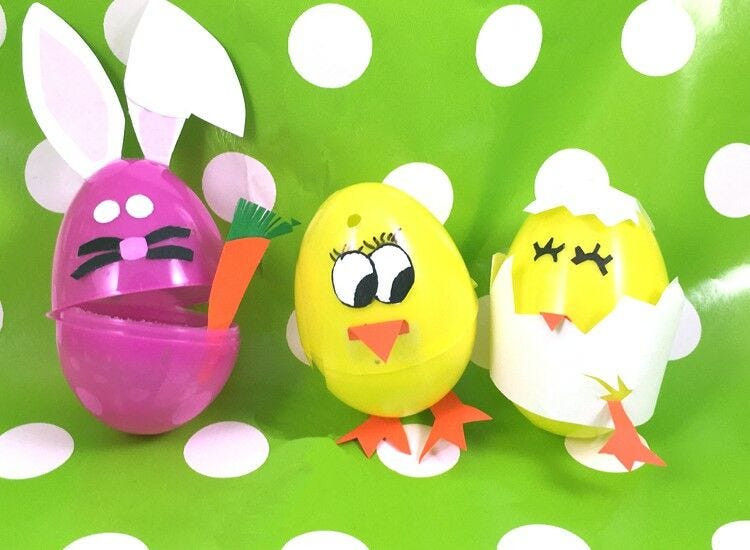 So cute RIGHT?! Okay sorry, anyway, all I really used for the chicks were Orange Brite Hue Paper and Strathmore White Paper (with a sharpie marker to help out with the smaller details).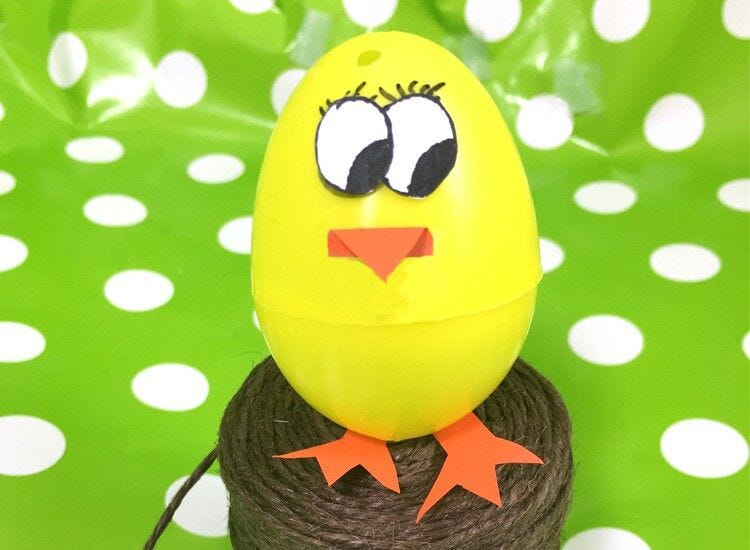 For the momma bird, create big circles for the eyes (looking down on her little girl/boy), a triangle for the nose, and legs made out of orange paper to match.
For the baby bird, cut out what looks like a break in the egg on a long zig zag strip of Strathmore Paper. Tape the orange leg to the back of the paper before putting it on the egg, this way you won't have to struggle with it later. A triangle nose is needed to match the mom and cute eyes are needed to give you that 'aww' feeling. Lastly, give a cracked top to the bird to show she really did just hatch. Create a circle and add zig zags on the line, place the cracked top on ... well ... the top, and you're done! Aren't these wonderful Easter kids crafts?
Now this bunny is by far the funniest looking. I named him Thumper after one of my favorite Disney characters (side note this information was definitely not needed). Using Baby Pink Tissue Paper and Strathmore White Paper, I created his floppy ears. Remember that the baby pink paper should be a slightly smaller size, since they are supposed to be the inside of the ears. With our Standard Hole Puncher, I made the eyes. The nose and whiskers I made with some of our markers, pasted them on and I was done. Of course, I couldn't just let Thumper go hungry! So I opened the egg and put a Orange Brite Hue carrot in his mouth. It makes for a fun accessory, doesn't it?
4. Batman vs. Superman?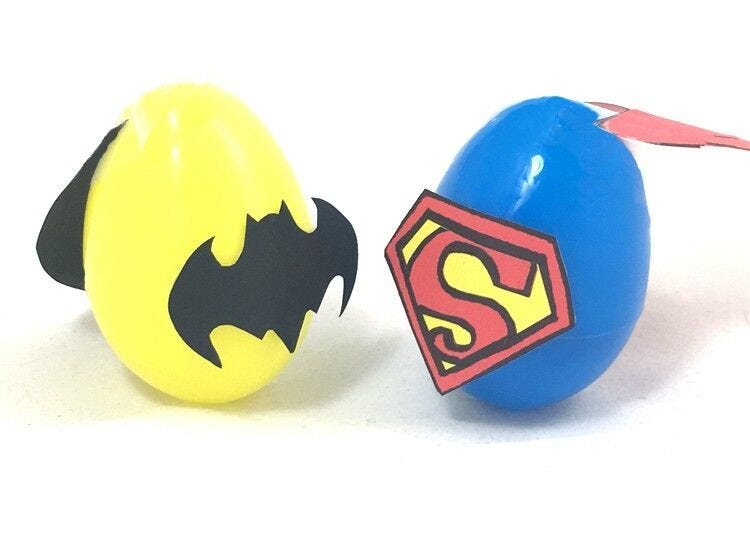 Okay, so not Easter related but for some people, this might be equally or more important this weekend. The movie comes out on Friday and I just had to make some eggs to represent the (hopefully not disappointing) Batman vs. Superman.
With Red and Yellow Brite Hue Paper I made the Superman logo and attached a cape on the back.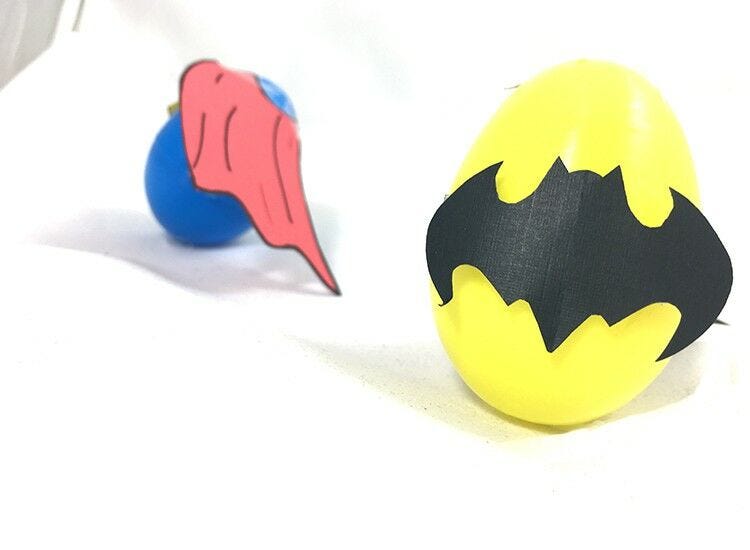 With Black Linen Paper, I made the Batman logo (this was my third try doing so) and his own cape to go with.
Hope these eggs will give you inspiration for your own awesome eggs that are easy for kids, equally as fun for adults, and quick to clean up. No dye needed this year! Just JAM Paper!
Have a very Happy Easter everyone- glad we could show you our favorite Easter Kid crafts. Enjoy that Lindt Chocolate Bunny!