Christmas is only two weeks away! For some of us, this is exciting news. But for others, there is a Christmas party coming right around the corner and our houses are still not decorated!  What can be done? How will your living or office space because holiday ready in such a short time? Take a deep breath. Here at JAM, thanks to our wide variety of festive holiday wrapping paper, we have your solution.  Few things remind people of the holiday season like decorated pine trees do! These bright and shiny evergreens are easy to make and will bring a both cheerful and minimalist appearance to your Christmas décor. Bring a wintry forest scene inside using only four supplies:
Empty Toilet Paper Rolls
Clear Tape
Scissors
(Optional: JAM Brite HueYellow Paper, Star Hole Punch.)
The JAM wrapping papers used for the trees in this post are:
Green with Ornaments
,
Blue and Silver Snowflakes,
Merry Christmas Stripes
,
Christmas Kraft Glitter Trees
,
Holiday Zig Zags
,
Holiday Flowers
Step 1:
Take a toilet paper roll and carefully unroll it along the seam, making sure it only comes apart where it had previously been glued together.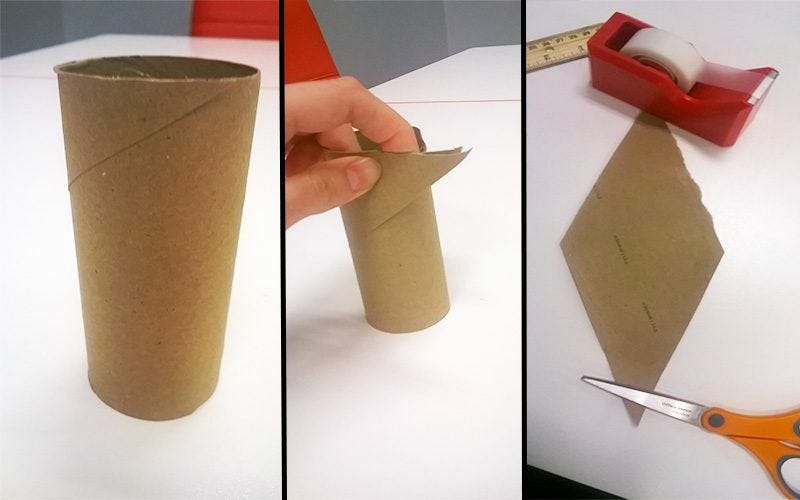 Step 2:
Realign the tube so that the corners overlap and the bottom edges of the corned form a straight line. Tape the corners together like this. Because the tube will try to roll back into its original shape, more than one piece of tape may be necessary.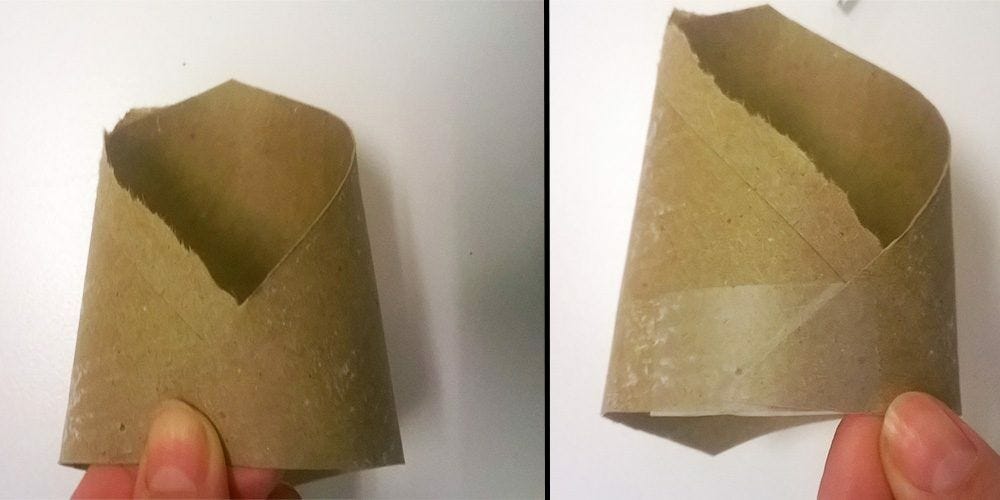 Step 3:
Cut the tube along the straight line where you taped it in the previous step so the entire bottom of the tube is even with this line. It does not have to be perfect, as this part of the finished product will be hidden from view.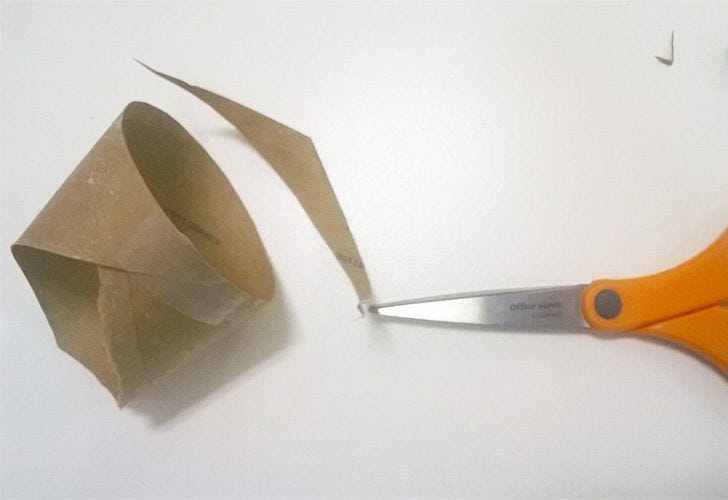 Step 4:
Take a wrapping paper roll of your choice and cut a roughly 7 x 10 inch rectangular piece of wrapping paper out of this roll. You may cut a piece larger or smaller, depending on the size of tree you wish to create.
Step 5:
Place the reconfigured toilet paper tube on its side with the bottom edge aligned with the bottom edge of your wrapping paper piece. Tape them together at the bottom with a single piece of tape.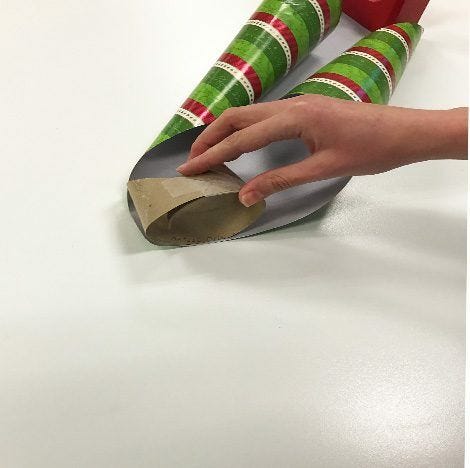 Step 6:
Begin rolling the paper around the tube at an angle so that the paper forms a cone around the tube. Complete this cone by taking the right top corner of the paper and folding it over the cone, pulling gently until no empty space can be seen at the point of the cone. Step 7:
Holding the outer fold of the cone firmly, tape it in place. When you left go, the wrapping paper should not unroll and should look like this: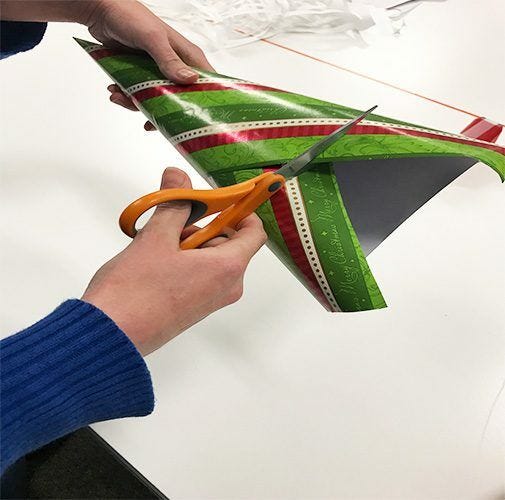 Step  8:
Cut evenly along the bottom of the cone to create a flat tree bottom. It is okay if the line is not perfect, but make it as straight as you can so that the tree will stand upright.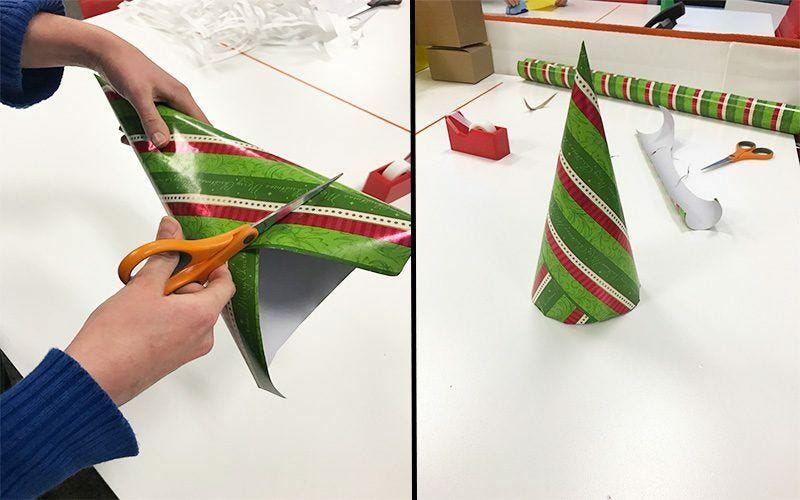 Step 9:
(Optional): To give your tree a finishing touch, you may way to add a star on tap! For my stars, I used a star shaped hole punch and yellow paper. Simply a star out of the yellow paper and tape it to the top of the tree!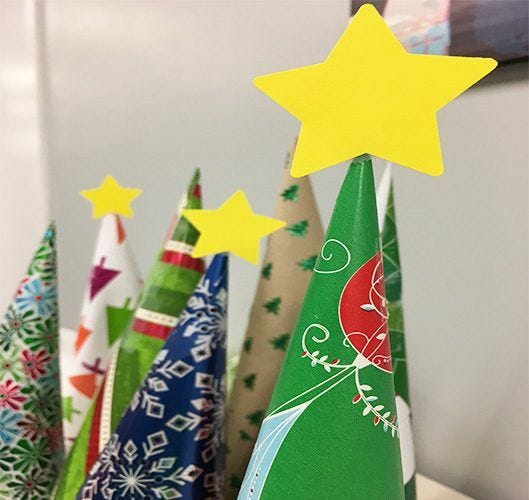 Your tree is now complete!