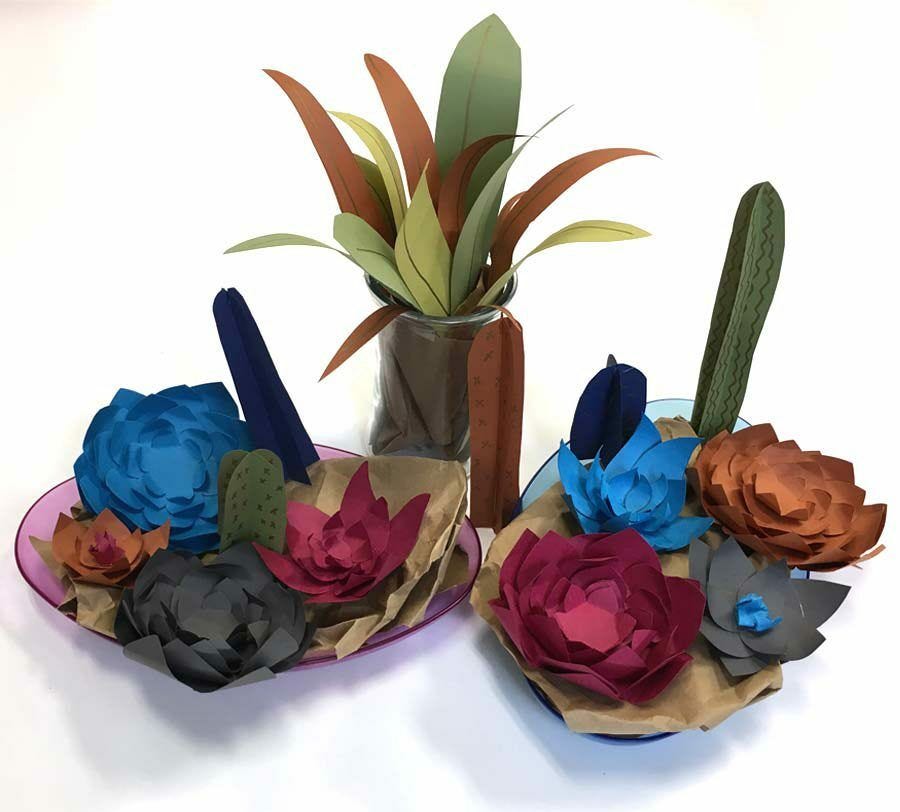 Did you know that having plants on your desk at work can increase productivity up to 15%? That's a pretty big percentage…especially towards the end of the week. I don't know about you, but when 3 p.m. on Friday rolls around, I need as much motivation as possible to make it to 5 o'clock. So, if something as easy as having some plants on my desk would supposedly help do the trick, why wouldn't I try it out?
Well, I can give you one reason. I have a very not green thumb. I can't keep a plant alive if it killed me. And trust me, I've tried and lost a lot of plants in the process. RIP, my foliage friends. But after reading that statistic, I knew I needed some greenery in my life at work.
So, I did what the internet told me to do: I bought a cute little succulent plant. Apparently, they don't need to be watered and can adapt to artificial lighting. So obviously, those beautiful florescent lights in the office were the perfect replacement to actual sunshine. Well, after a few weeks, I noticed the thing going limp and leaves starting to dry up and fall off.  Really? I was literally killing a plant that was supposedly un-killable.
Well, I started watering it occasionally and that seemed to do the trick but, sorry I didn't sign up for responsibilities when I got this seemingly self-sufficient succulent.  Some people call me lazy – I call it efficient – but regardless of which side you're on, I wanted to have a plant that I could reap the productivity rewards from, yet have to do nothing to try to keep it alive.
 Spurred by my lazy (read: efficient) ways, I decided to make some of those succulents out of….PAPER. You didn't see that coming did you?
These paper succulents require templates, some of which we were inspired by The House That Lars Built. And others, we are excited to announce, are our own creations! We're so pumped for this blog because it's the first (of many to come) post that we are offering FREE, printable crafting templates!
The directions for these are super simple: Print, cut, curl, glue, display. And the supply list is even simpler: JAM Card stock! Well, and a few more things but check out the list here:
Supplies
1. JAM Templates (downloadable links at the bottom of this post)
2. JAM Card stock, in various colors
3. JAM Kraft Wrapping Paper
4. Hot glue gun
5. Small dish or pot
6.Pencil
7.Sharpie
Steps:
Print out the templates on colored cardstock. We chose a variety of our awesome Cardstock in various colors. We used Presidential Blue, Olive Green, Peacock Blue, Dark Orange Base, Dark Grey Base, Bakri Raspberry, and Chartreuse.
The flower-y succulents all have the same assembly directions. After you cut out your shapes, use your fingers or the edge of a scissor to gently curl your card stock and then glue the pieces in descending size order together, like so: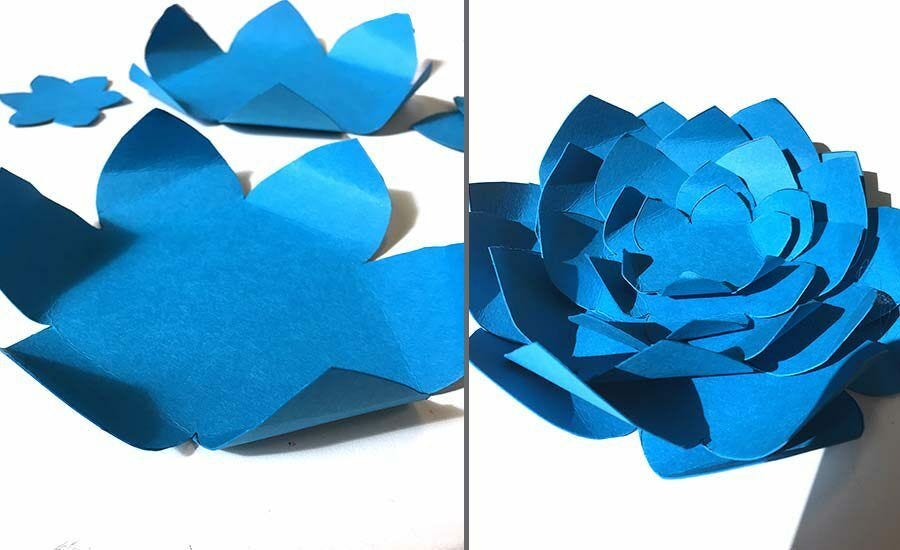 The cactus shapes are slightly different, but still easy to do. Once you cut the shapes, cut along the line on the template that dissects the middle of the paper. This will create a slit. If you want to, decorate using a Sharpie marker, Assemble the two pieces together and use a bit of hot glue to secure them together. Done.
The leaf ones are the easiest of the bunch to make. Cut, decorate if desired, and stick them in a vessel. Boom. Foliage goals achieved.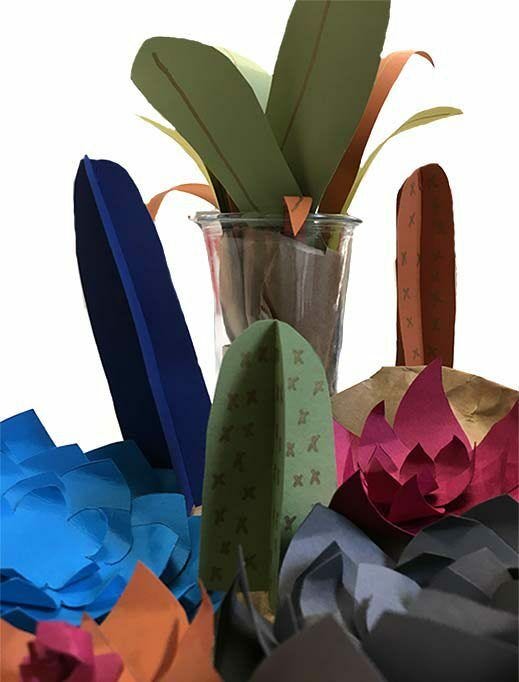 When all of your succulents are assembled, it's time to arrange them! We bought low, flat serving platters from the dollar store to display the plants. You can line the plates or pots that you use with anything from paper to rice. I saw a bunch of different options online such as pebbles, moss, rice, dirt, and more. We got creative and used what we had on hand: paper, duh. Kraft Wrapping Paper to be precise.
I am so happy with the way these turned out! The bright colors are uplifting for those dreary office days, they still have that cute factor that all succulents seem to have, and the biggest bonus: I have to water zero things or worry about taking a life. A plant life that is. Check out some close ups of these beauties:
I love Bakri Raspberry and Peacock Blue flowers the best. The colors are so vibrant and beautiful and really standout against the Kraft paper and the other succulents!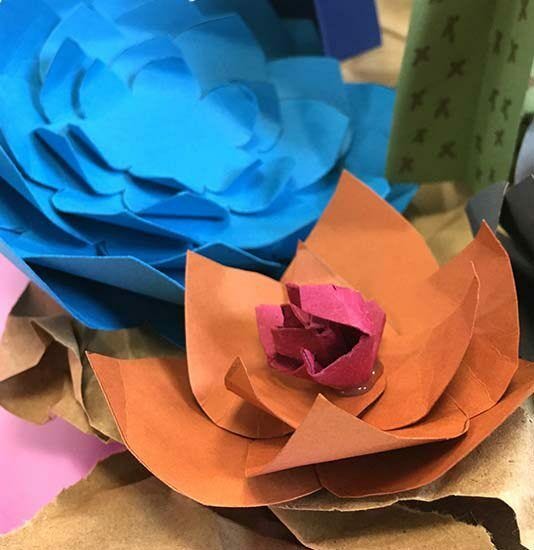 For the middle of this orange flower and the grey one in the other dish, I simply crushed a small piece of paper and glued it in the middle. Easy peasy.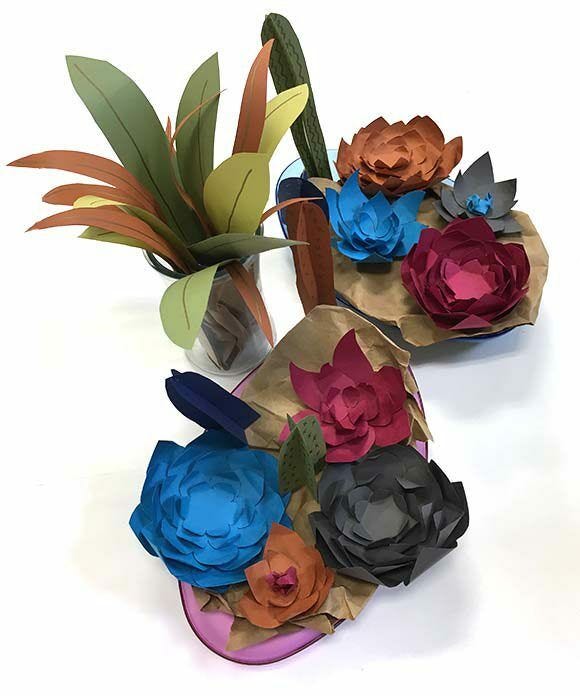 Beautiful right? And they aren't only for desks or for people who are totally inept at gardening. These would make a beautiful centerpiece at a party, are great to keep on the windowsill in the kitchen, or are absolutely perfect for people with plant allergies! Take a stab at making some of these and tag us on social media so we can see your creations! Follow us on Facebook, Instagram, Twitter and Pinterest!
[media-downloader media_id="17661" texts="Succulent Template 1"] | [media-downloader media_id="17662" texts="Succulent Template 2"] | [media-downloader media_id="17655" texts="Flower Template"] | [media-downloader media_id="17649" texts="Cactus Template"] | [media-downloader media_id="17668" texts="Big Leaves Template"] | [media-downloader media_id="17650" texts="Small Leaves Template"]
In love with the real thing? Don't forget to check out Groom + Style's awesome article on
12 Air Purifying Plants That Will Clean Your Air
! Choose a favorite and comment! Ours is the umbrella tree!