How to Make a Family Meal Plan Binder
Family dinners are special times where everyone can take a break from their hectic schedules and appreciate one another. Studies have shown a positive impact on children who eat with their families during meal times and their development.
The Family Dinner Project has found these children are less likely to become depressed, partake in substance abuse, get pregnant in their adolescent years, have eating disorders, or become obese. Luckily, they are able to develop higher self-esteem, bounce back from tough situations, and have higher grades than their peers.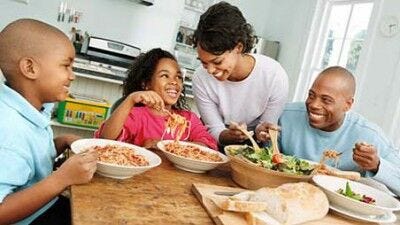 In addition, family dinners are healthier and way cheaper than going to fast food restaurants. Something that holds such value and joy should be given proper time and preparation. I'm not only talking about cooking meals but putting aside a couple of minutes to plan them in advance as well.
Whether you're a stay at home parent or work away from home, planning your meals ahead of time will save you just that. No more ransacking the pantry and cabinets for last minute concoctions. Say goodbye to running to the grocery store and spending a lot more than intended to.
---
Brainstorming Yummy Ideas
The thought of a meal plan binder may seem like another chore and a lot of work, but it's as easy as 1-2-3. All you need is a binder, paper, pen, and genius ideas from you and your children.
Compromise
Ask your kids what dishes they like the most and compromise by giving them animal shaped chicken nuggets, if they pledge to eat all of their broccoli. By now you know what meals get eaten and what gets fed to the dog, you don't want food going to waste so come to an agreement because fruits and veggies are a must!
Think Themes
Make it fun by creating themes like Marinara Mondays, Taco Tuesdays, and add a surprise meal for What's for Wednesday? Give your family something to look forward to and keep them on their toes.
Save Time
Keep in mind days you and your partner will be working late or when your son has soccer practice. For nights you know everyone will be coming home late, make lasagna the night before or pull out ingredients for burritos and have everyone serve themselves. These dinners can be prepared quickly.
After you've come up with thousands of ideas, all you have to do is decide when you'll be serving them!
---
Why binders?
Why not? No really, binders are probably the best tool you can use to store all of your plans and recipes. You can hole punch paper and folders, insert plastic pencil cases, use dividers, and sticky notes. Binders are most valued for allowing you to have more than one section for different subjects or recipes for appetizers, entrees, and desserts.
You can stick anything in them from coupons to magazine scraps. Using a binder for your meal plan is also more favorable than a notebook since it isn't permanent. You have the option of moving on to a new binder or starting fresh with the old one by removing previous contents.
---
What can I put in my meal plan binder?
Recipes
Stick those recipes your family loves from your grandma Ida along with the ones you've mastered over the years. Jot down recipes you see on the cooking channel or print out the ones you find online. Stick pictures of scrumptious meals and desserts in your binder too. Think of this binder as your personal meal scrapbook.
Ideas/Themes
Have a section for the meals you plan and dream to cook! Your brainstorming process is allowed right in your meal binder. Put lists of themes you'd like to bring into your household. It doesn't matter if you ever get to them or not, they will be there just in case, if ever the opportunity strikes. Try and think of fun titles to make the "yucky" foods appealing and serve them with your kids' favorites.
Calendars
Whether you plan to write your meal plans on a calendar or not, it's helpful to see the days to come. With such busy schedules we often forget the big days like birthdays and holidays. Besides, shouldn't these occasions be reserved for the best meals of all? You can also write what days you plan on ordering take-out or eating at a restaurant on calendars.
Shopping lists
Before you go off to the supermarket, have a look at what you have and don't have to ensure you don't buy too little or too much. Writing shopping lists will help you to budget and manage your expenses.  
---
Do I have to stick to the script?
Absolutely, not! Don't feel guilty if you can't stick to the schedule, though you should aim to. But hey, sometimes life gets in the way of our grand plans and all we can do is improvise. Save your plans for a better suited day and push back a couple of meals if you have to.
Maybe a great idea turned out to be not so great and that's okay! Cross out ideas, draw arrows for a later date, and replace them if you have to. Whatever you do, never tear out any pages because you never know when those ideas will come in handy.
---
Help me break it down
It's okay if you still can't visualize how you will organize your meal plan. Find a strategy that works best for you or combine multiple ideas to make one really terrific one!
[caption id="attachment_9887" align="aligncenter" width="575"]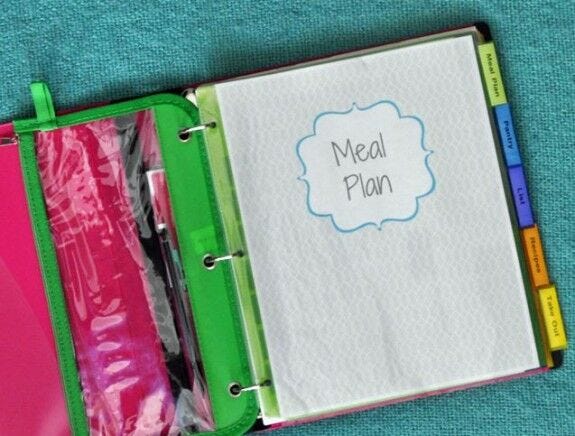 via
Stacy's Savings
[/caption]
Weekly
Make a menu and plan meals for each week. I think weekly planning is fairly easy. Buying your groceries each week will prevent your food from getting spoiled and keep you from overspending. We usually have a clear notion of what our week will look like so figuring out how our food will taste should be a no-brainer.
[caption id="attachment_9866" align="aligncenter" width="600"]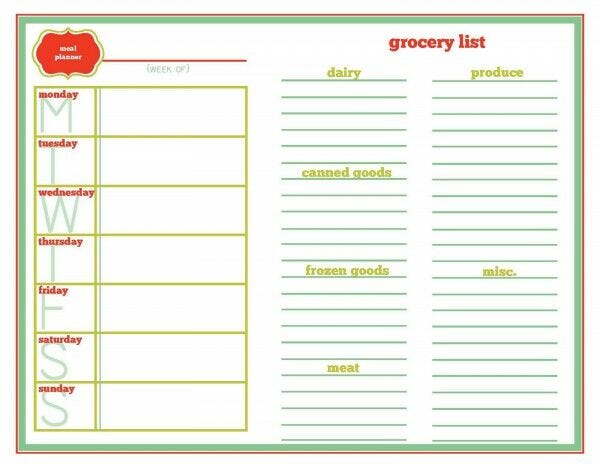 via
Taylor Gray
[/caption]
Another cool weekly idea is listing your meals by recipe and its ingredients. This way you'll see exactly what you need to cook and if there is anything you need to buy. Use your meal plan binder as a shopping list and take it with you to the grocery store
Monthly
Plan for the entire month on a calendar. This doesn't mean you will have to buy all your food a month in advance or that you have to write your meal plans all at once. Go at your own pace and take one day at a time if you want to. Calendars allow you to see upcoming holidays and events. It also helps you visualize what's to come in the near future. If you do decide to plan for a whole month in one sitting, don't be discouraged if a couple of things change.
[caption id="attachment_9869" align="aligncenter" width="560"]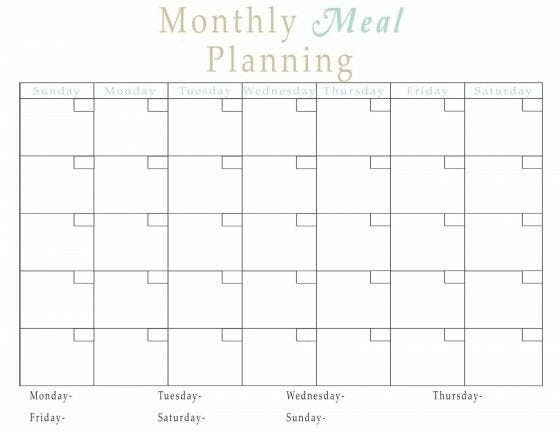 via
Fun Cheap or Free
[/caption]
Doesn't meal planning make you feel like a better person already? You can print out templates or hand write your own system in your binder.