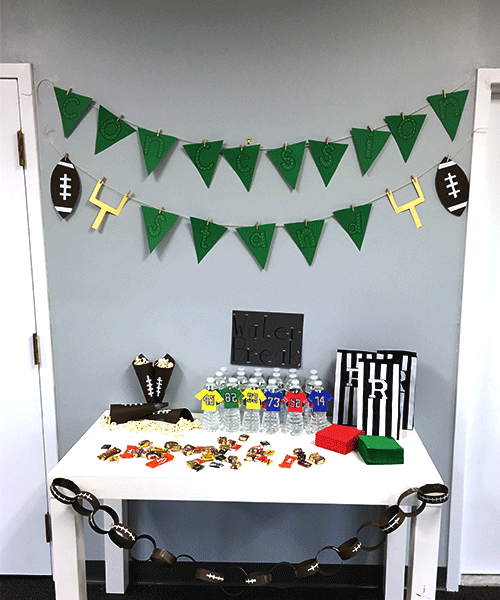 Want a guide on how to host a DIY football party? Since football season is upon us we thought you would! And whether you're into college or pro, or you're team Sunday afternoon or Monday night, there is one thing that ties fans together: parties! And if you're not attending football themed gatherings, maybe it's time to throw one yourself. Luckily, here at JAM we created the perfect guide on how to host a DIY football party to help get you throw the greatest get together ever! And the best part is that they are totally customizable to represent your favorite teams.
So what did we put together for you to host a DIY football party? Everything from garlands (a favorite here at JAM), popcorn holders, bags for goodies, and a festive water station to keep your guests hydrated during intense games. Plus, candy because…candy. Everything we made is pretty self-explanatory so I won't bore you with directions that include "next, cut out a shape and glue it together". And the best part is all of these decorations can be made with JAM paper…duh.
Garland
The first thing you need to decorate your snack table is a sign. We dubbed our table the "Concession Stand", to keep with the football theme. You can cut out any shape, but we chose triangle flag shapes and added some football flair to the ends. Use JAM's mini clothing pins to secure each piece to some twine and hang up above your table.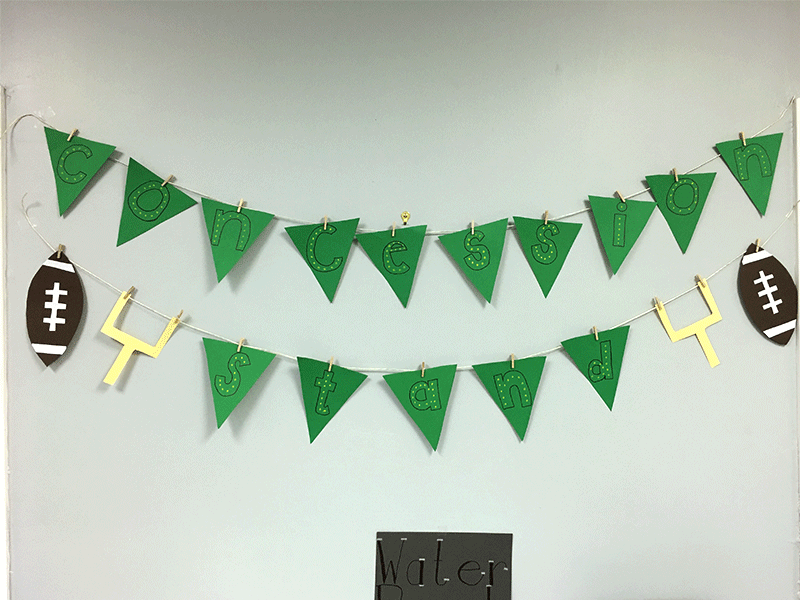 Paper Football Chain
Next up we have our football chain. This took me back to my elementary school days when we would make paper chains to hang around the classroom and thought that they were beautiful works of art. While they may not be masterpieces, these easy-to-make chains are the perfect accessory to spruce up a table! Simply cut strips, draw on laces with our chalk markers, tape together and ta-da! Paper chain complete.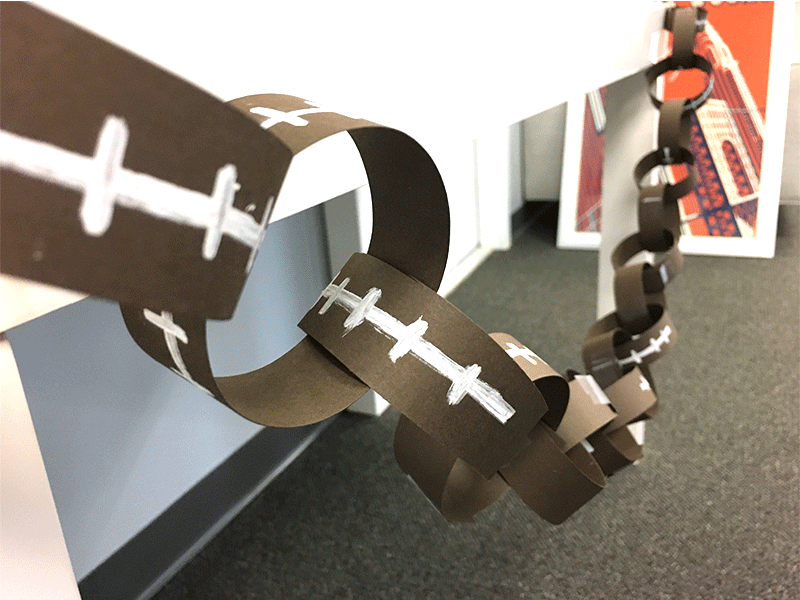 Popcorn Cones
Now we need something to hold treats. We chose popcorn because who doesn't love the salty, buttery taste and smell of this snack? To make these popcorn cones, simply roll some brown JAM paper into a cone shape, glue, and draw on laces again with the chalk marker.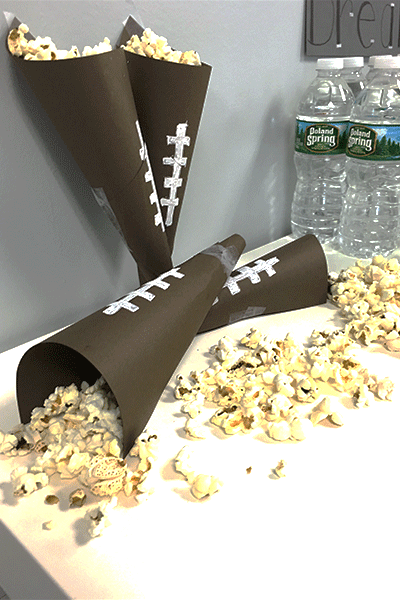 Water Break Station
After all that salty popcorn, your guests will probably want a water break, so naturally we made a water station and dressed up the bottles to keep the table festive. Remove the label from the water bottle, trace onto some JAM paper or cardstock and tape to the bottle. Finish off with a matching jersey in the colors of the teams that are playing!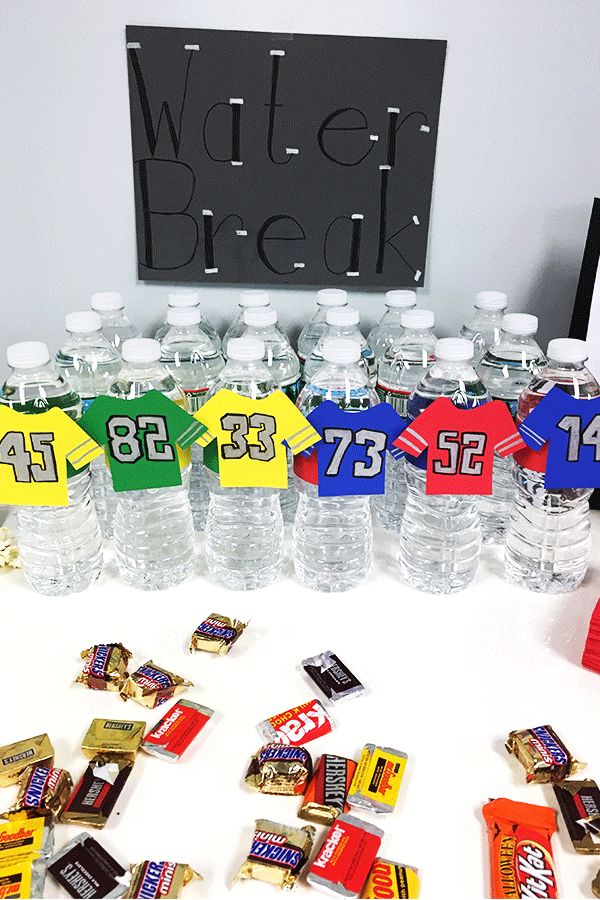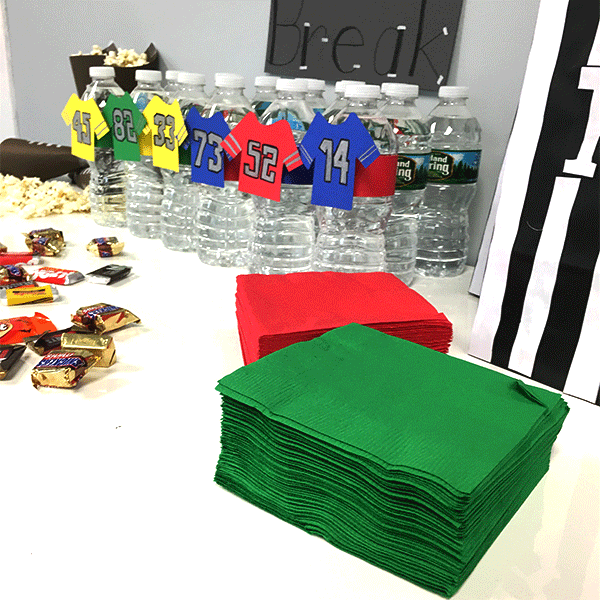 Referee Goody Bags
Lastly, a good idea to get rid of leftovers is to hand out goody bags at the end. When people leave, make them take some food for later and have them put it in these adorable referee bags. All you need to make these are black kraft lunch bags and some white paper!
When you have everything set up, spread some mini candy bars and treats around some your guests can munch on something sweet!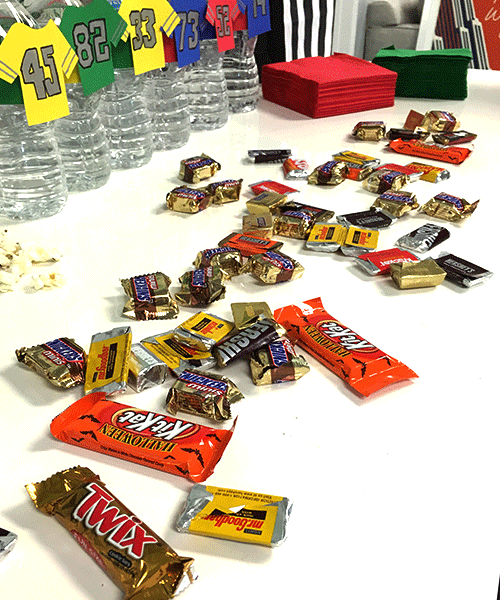 And there you have it! The perfect snack station for when you host a DIY football party! Add some other foods like chips, pretzels, sandwiches, and veggies and dip to really round out your table and your guests will be fed, happy, and ready to cheer on their team!