It's finally October! That means it's time to create that spooky feeling both inside and outside your home with some fun and creative Halloween crafts. Today, we'll be covering Halloween Door Decorations. They'll be perfect for your next Halloween party. The best part: they don't have to cost you a fortune! Here we've shared 5 easy, creepy, and fun Halloween door decorating ideas that will spook your guests before they even set foot in your house!
Since our office only has 1 front door, I thought every door inside the office should get some Halloween door decorations.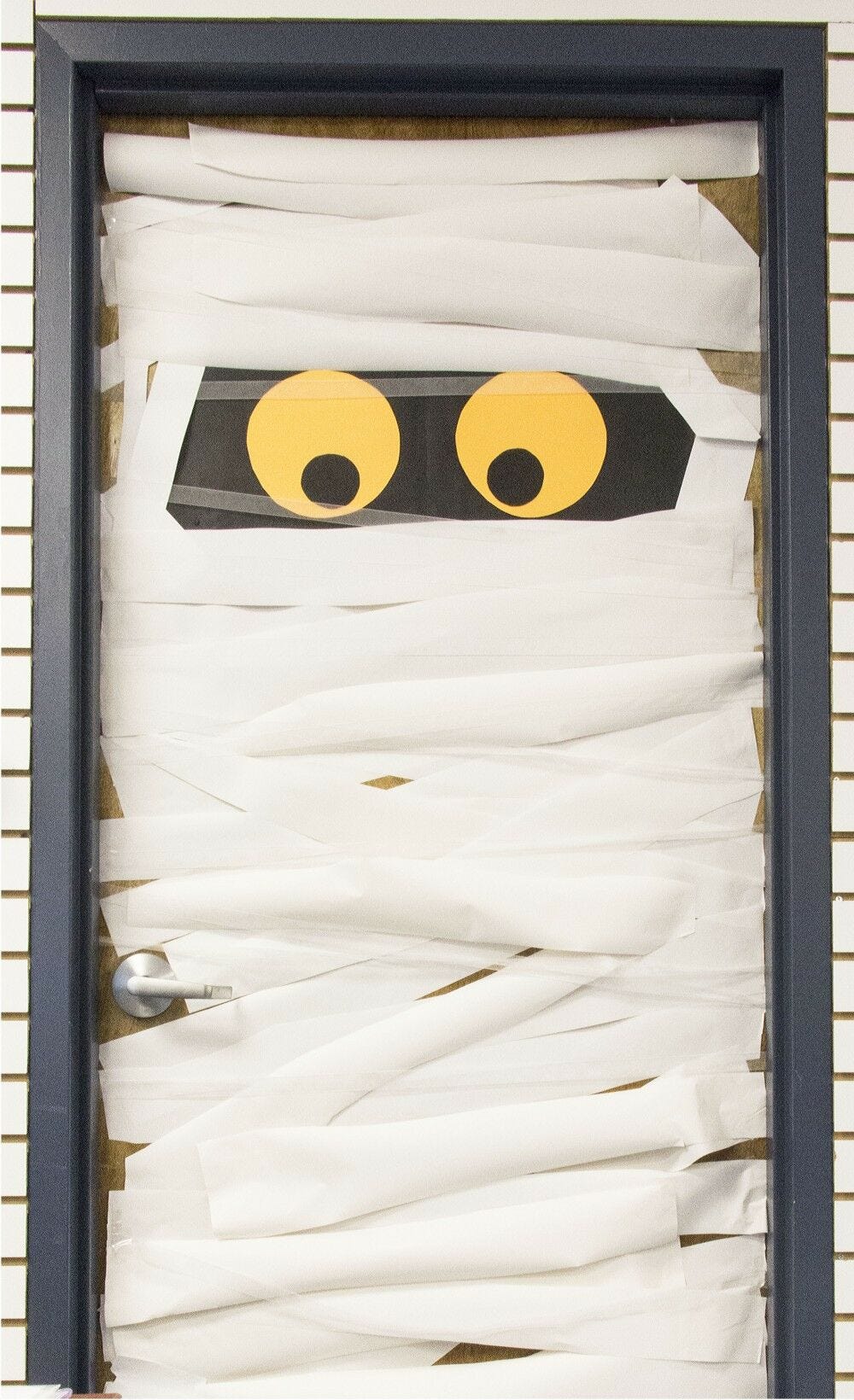 Mummy:
This one is a totally spooky Halloween door decoration idea. First, I cut one large strip and two small circles of black wrapping paper and two larger circles of white card stock to create the eyes. I secured that down with tape. Then, using white wrapping paper, I cut strips long enough to almost completely cover the width of the door and continued taping and layering them all the way down to the bottom of the door. Finally, I loosely draped some white sheer ribbon over everything to give the decoration some extra texture. Get wrapped up in this Halloween décor!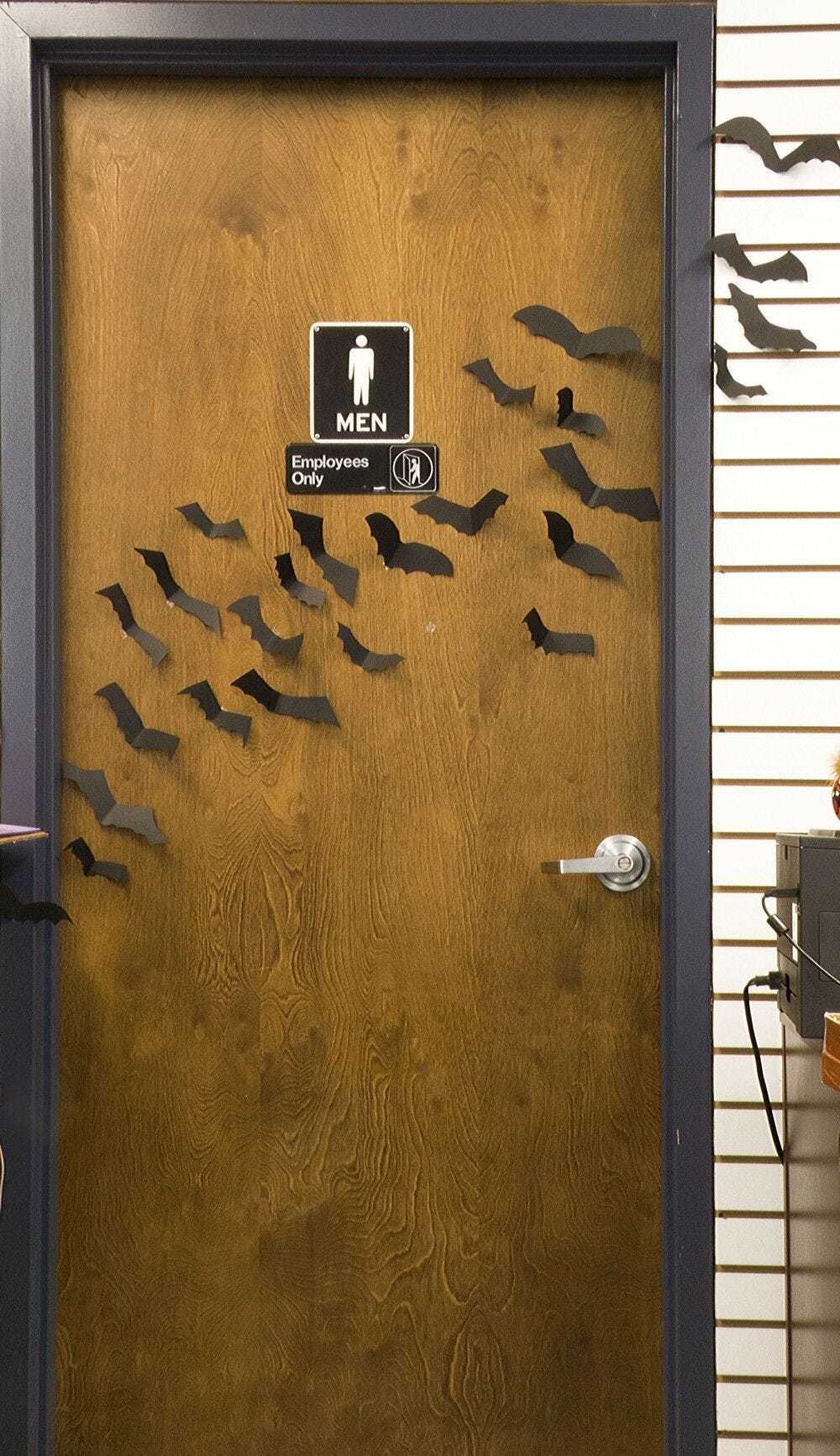 Bats:
These bats will make for some great and simple holiday decorations! Fold your black paper in half and draw one wing, with the body part on the fold. Once you cut it out, your bat will be even on both sides. You could create a template to cut multiple bats in the same size or cut out various wing sizes for a cooler look. Here we taped just a small piece in the middle, so that the wings look 3-D.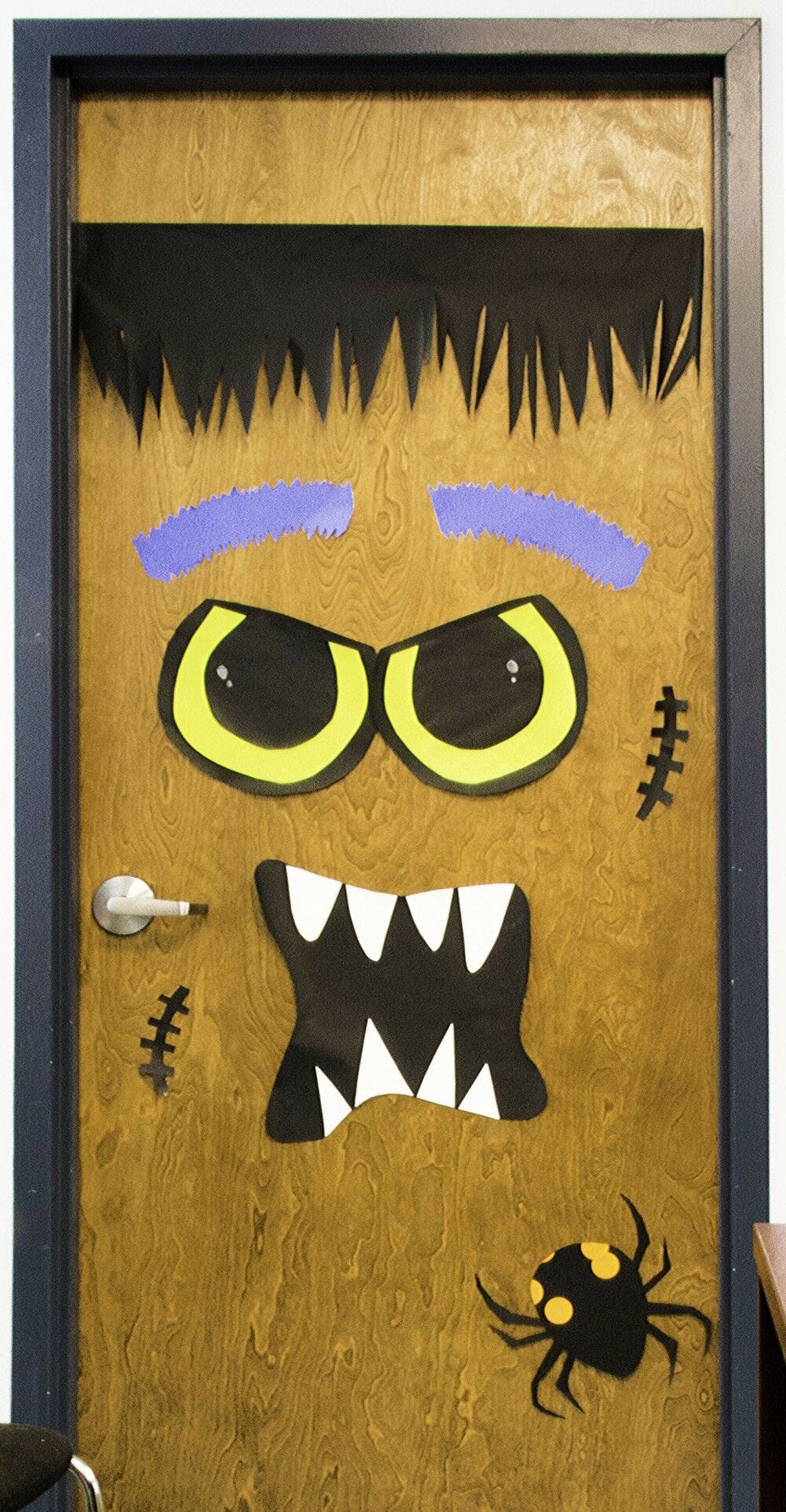 Monster Face:
It's easy and fun to bring your Halloween front door to life with a door monster. Here's where you can get super creative with hair, eyes, and any creepy additions like scars or bugs. On this Frankenstein monster, I used wrapping paper for the larger pieces like the hair, eyes, and mouth, and used various colored paper for the smaller pieces.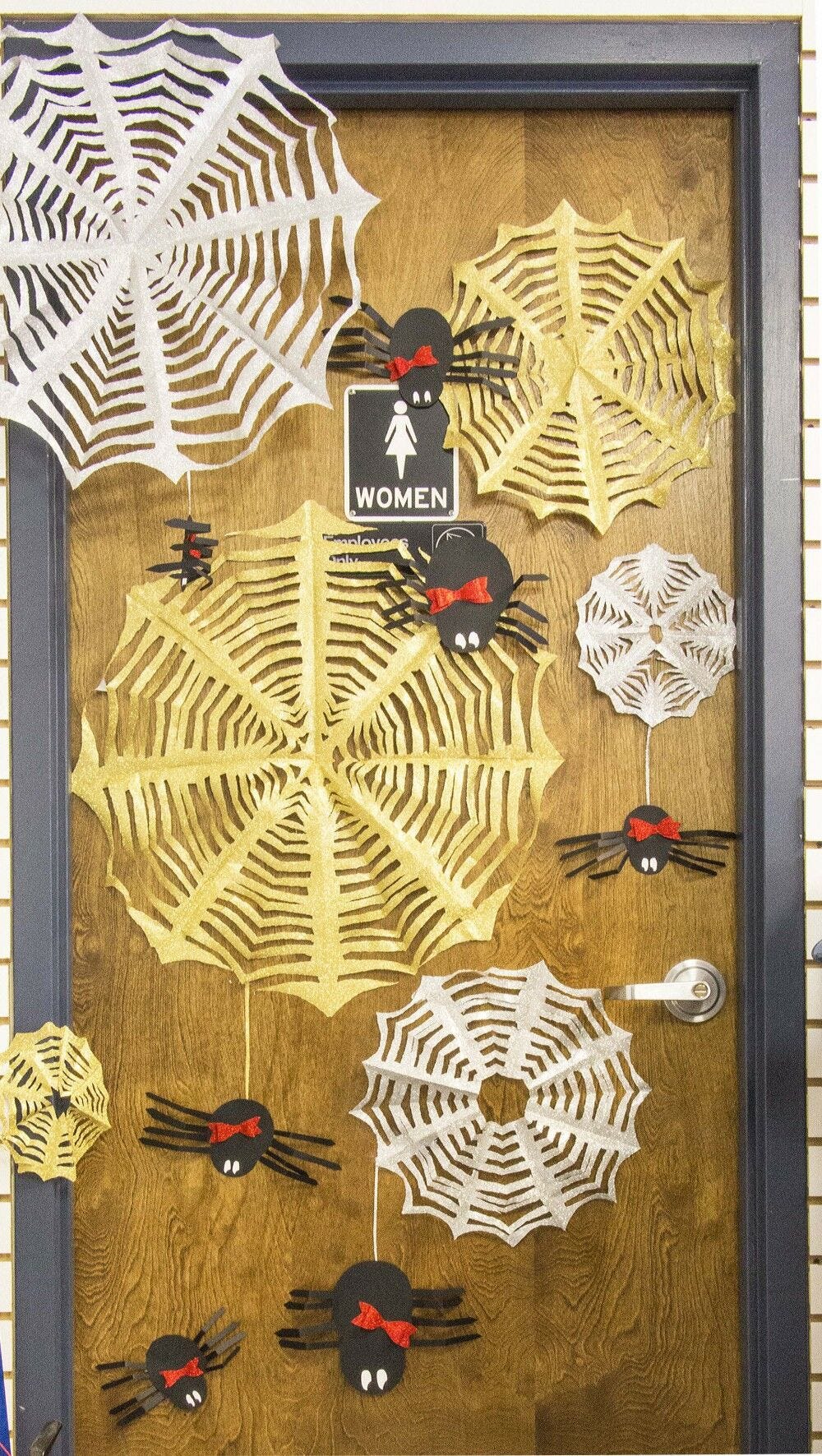 Spider Webs:
Could there be anything better than a glittery spider web for a chic Halloween?! I cut our glitter wrapping paper into various square sizes to make the spider webs (tutorial coming soon!). Next, I cut out 2 circles (1 smaller than the other) for each spider and 8 strips for the legs, folding the strips in half to give them a 3-D effect. The red glitter bows are also made from our wrapping paper. If you want to make the door look less glam and more like the doors in haunted houses, you could create a menacing spider.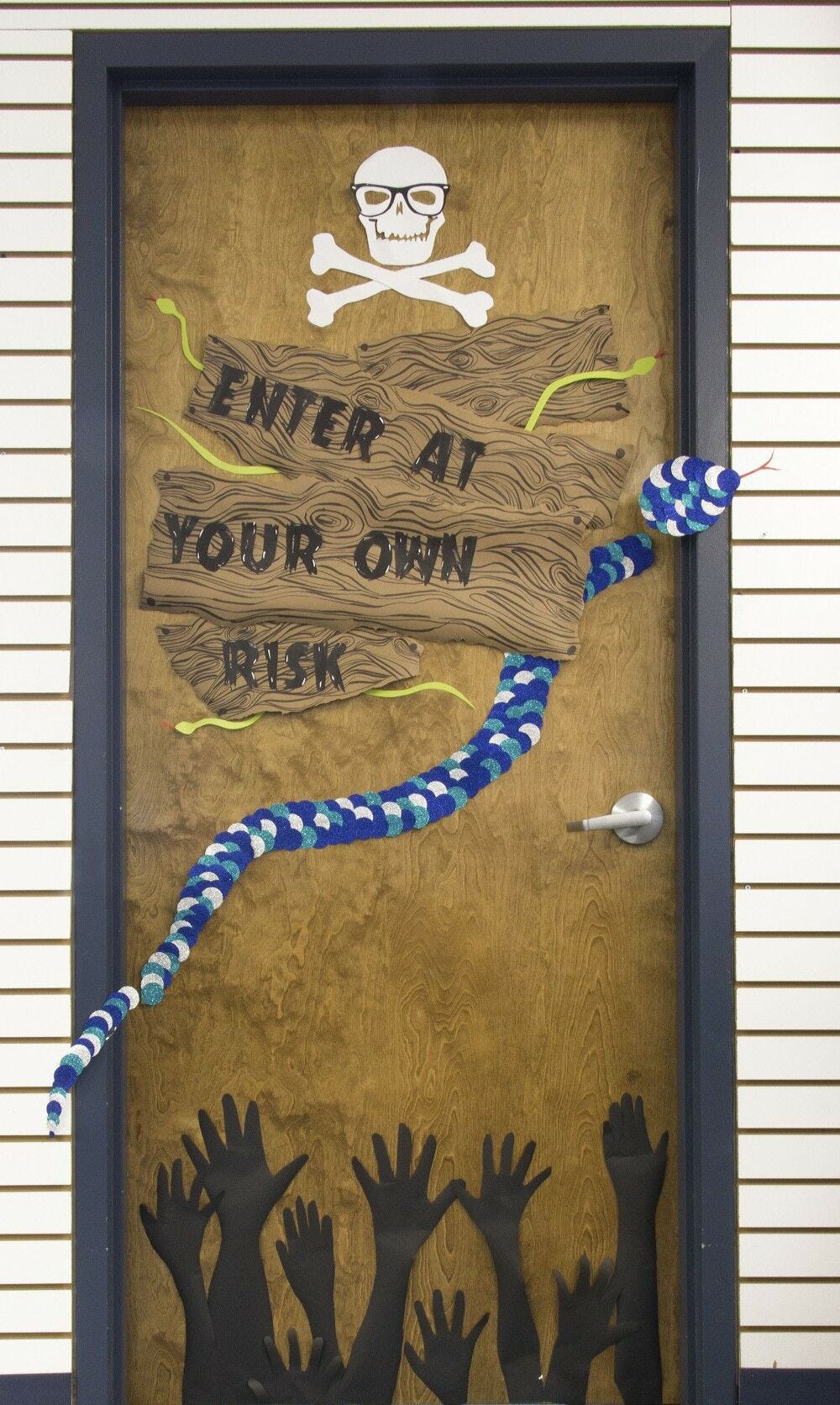 Enter at your own risk:
My boss's door needed that extra flair so I wanted to use an entire scene for his Halloween décor. I traced the outline of my coworkers' and my hands on black wrapping paper to decorate the bottom of the door. I then cut two thicker strips of kraft wrapping paper, tore around the edges, and drew lines with our black calligraphy pen to create a wood grain-like look. Next, I traced a skull and set of bones onto our white paper as well as a pair of glasses on our black card stock for the 'skull and crossbones' component of this design. After that, I printed and cut out letters from white paper. I used our kraft wrapping paper as the base for the snake. I created a scale pattern using a circle cutter and glitter wrapping paper, making sure to glue each circle so that it overlaps the other in order to achieve the right effect. Lastly, using our neon green paper, I drew and cut out smaller snake pieces to go under and over the wood pieces.
Which Halloween door decoration will you be trying this year? Do you have any more fun Halloween ideas you'd like to share with us?
---
Edited on 12/16/2019 by Dana Kim.