Get With The Program: A Homemade Wedding Program (for overstressed brides)
In the honeymoon phase of your wedding planning, you delighted in every choice and decision presented. You started dreamily making arrangements. You were ambitiously ready for whatever was next.
But as time went on, you began to realize just how many things needed to get done. And something funny happened. Questions became daunting, helpful family members became overbearing, and the price of those flowers made you realize just how over budget you had gone.  You started to drive yourself crazy poring over every detail.
Now you just want to give up. If you feel like you're losing motivation, that's okay. It doesn't mean you're not excited or somehow "over" your wedding. It just means that the stress has gotten to be too much. But it can take just a simple and relatively carefree task to get you back on track and inspired again. Creating your own wedding program is fun, easy, (and cheap) enough to do the trick.
Do Something About It
I'm offering you a 4 step tutorial on making your own wedding program. Now note: this how-to guide doesn't come with bells and whistles. It's straightforward and basic. But if you
have
in-fact become that bride who is powerless to nitpicking, then THIS IS WHAT YOU NEED.
Here at JAM we've dealt with our fair share of weddings. So we have some experience when it comes to knowing what brides want. We also know that, despite the appeal of those intricate projects seen on wedding blogs and pinterest, not everyone is born a professional crafter. These are steps that anyone can do. I'll tell you in simple terms how to make it and what to put inside. Once you've nailed the fundamental steps, you can give your creativity a chance to shine. Pick colors that speak to you, calligraphy you love, or any other embellishments that you have mind.
So slash the complicated choices and the pressure of coming up with something that's never been done. And while you're at it, stop running around from place to place collecting all the (un)necessary materials. At JAM you can get everything in one place. (Though with this simple DIY there's only 4 things you really need anyway).
Okay. Ready to save money, time, and your sanity? Here we go:
Materials




Standard Single Hole Puncher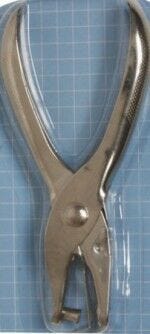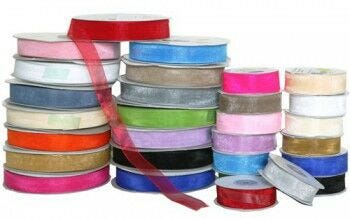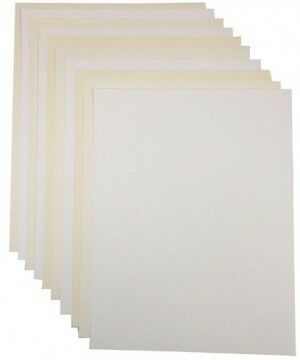 Step 1: THE COVER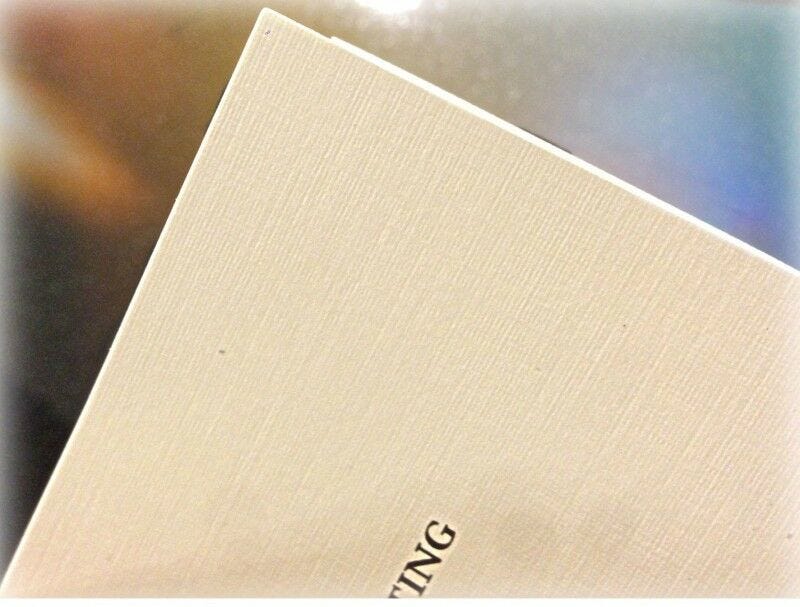 Use the Strathmore Linen Cardstock for the program cover. You can choose from a selection of white, natural, and ivory Strathmore shades for your programs. Cardstock is made from heavyweight paper, which is great for giving your program an elegant and professional look.
 Include on the cover:


Date –  day and time


Names of the bride and groom


Location – venue, city, state


 * NOTE: Depending on your printer, it can be tricky to print on cardstock due to its thickness. Many newer inkjet printers are equipped to handle cover and cardstock. You can indicate a media type on your printer settings to accommodate. If you're not sure whether your printer can handle it, you may want to opt for the 80lb cardstock over the 110lb cardstock (which isn't as thick, so it's easier to print on). Also, try using the sheet feeder on your printer (slot where you feed paper in manually). Of course you can always look to a helpful friend with a better printer.
Here's a step-by-step guide on printing on cardstock with an HP printer cardstock for more guidance.
Step 2: INNER PAGES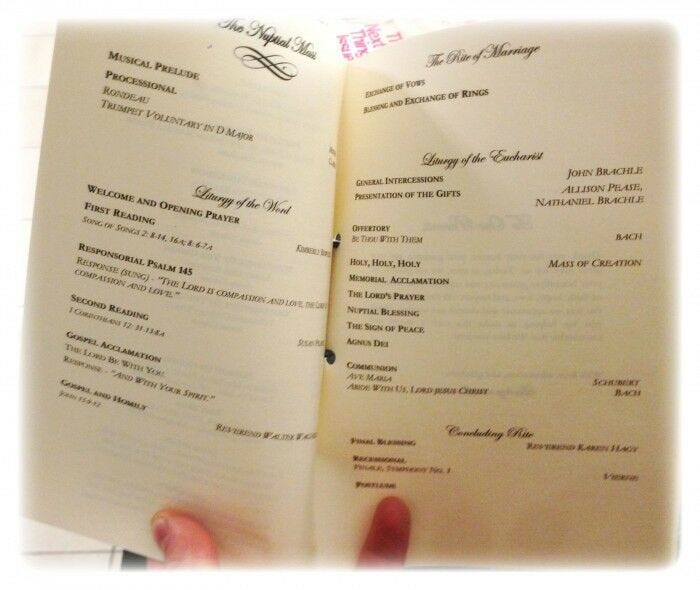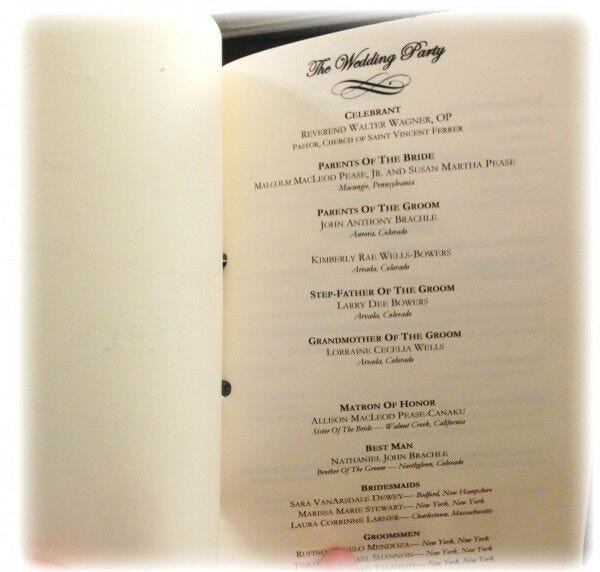 Use Strathmore Linen Paper for the inside pages. This is crisp quality paper that you can print double-sided on. It's lighter weight so printing shouldn't be a problem. Strathmore Linen Paper is standard 8 ½ x 11", but if you want it to be smaller just cut the paper down to your desired size.
Include inside the program:


Start on the first page by mapping out the order of events. Processional music, officiate's greeting, special readings, prayers, exchanging of vows, ring ceremony, communion / song/ candle lighting, pronouncement of marriage, recessional music.


Next include the wedding party. List the bridesmaids, maid of honor, groomsmen, parents of the bride, parents of the groom, the officiate. Also include a small thank you to all the guests.


Use proper names (i.e. miss, mr, mrs)


If your party needs to travel to the reception, include direction for them on the next page


Ok, I'll give you a little freedom. If you'd like to add memorials, extra thank yous, an important quote, a special song or poem, or something else that you feel compelled to add (not something that you are going back and forth between manically), then by all means...


Step 3: GETTING THE PROGRAM READY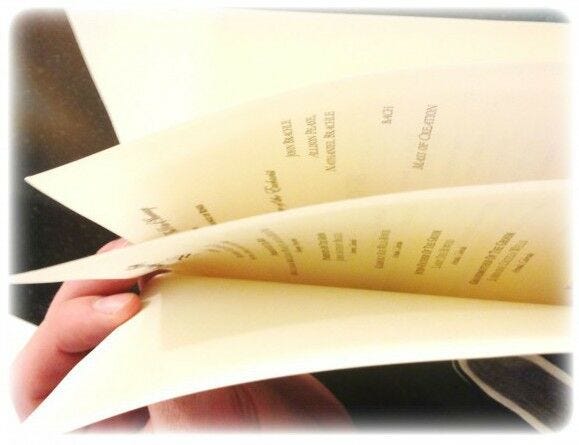 Once the pages are ready, put them in the correct order. Using a ruler, determine the center point of the left margin of the paper and punch two holes an inch apart.
Next pick two ribbons. Go with the theme colors of your wedding, classic wedding shades, or just a palette that you love. The one shown here had a nautical vibe. Mix sheers and satins even glitter ribbon, wrafia, or twine. You can even try three different ribbons if you want. Just don't freak out over it…this is the fun part!
Step 4: TYING IT TOGETHER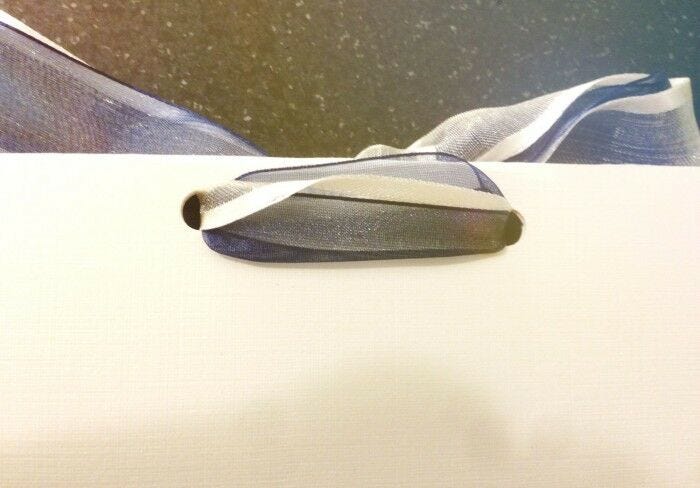 Make sure all the papers are in the correct order. Then turn them over so that you are looking at the back of the last page. Hold both strands of ribbon together as though they are one. Stick one end of the ribbon through one hole punch and the other end through the second hole punch. Pull tight. The ribbons strands will be loose on the front cover. Tie the two ends together into a bow.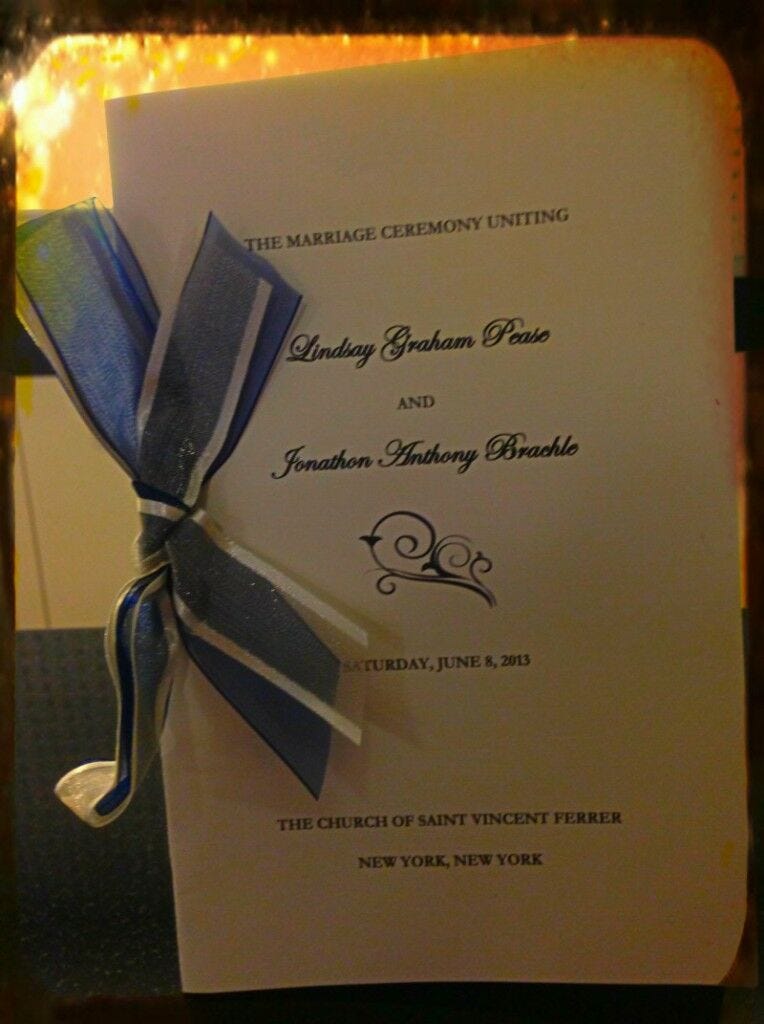 Ta-da! You have an elegant wedding program. Now here is the key: don't rush these. Get into a rhythm and relax as you work. Even better, you know those friends and family members who have been dying (maybe a little too much) to help? Invite them over and let them make your wedding programs with you. Make a night out of it. Have some fun. So you can de-stress from your wedding, while still making progress on the planning.
Don't forget to save a copy so you can always look back on your special day!