Game Of Thrones Premiere: The Bad Guy Banners
So we all root for the good guys, it's in our blood to be a Ned Stark super-fan, a Daenerys lover. I guess I just didn't get that kind of Game of Thrones blood. Honestly, my hope is that the White Walkers take over and rule the world. But that might be because I'm just ... cold. (Get it?) But let's start off with the Lannisters. The King Slayer, the 'imp', the psycho mother. I'm a huge fan of Cersei Lannister. Every season she gets worse and worse, and you can't even imagine that that could ever happen. But if you're caught up, it absolutely gets worse. And that's why I love her. No one else wants her to succeed, and I'm not sure if I want her to either - but she does know what she's doing. I mean her planning skills must be crazy. Give her props for that? Also - her power hunger? I mean, I'm impressed. Also, they do have the best colors. Gold and red come on! Without getting to specific into color theory - let's just say luxury + blood = Lannister.
Lannister Banner Supplies for Lannister Banner: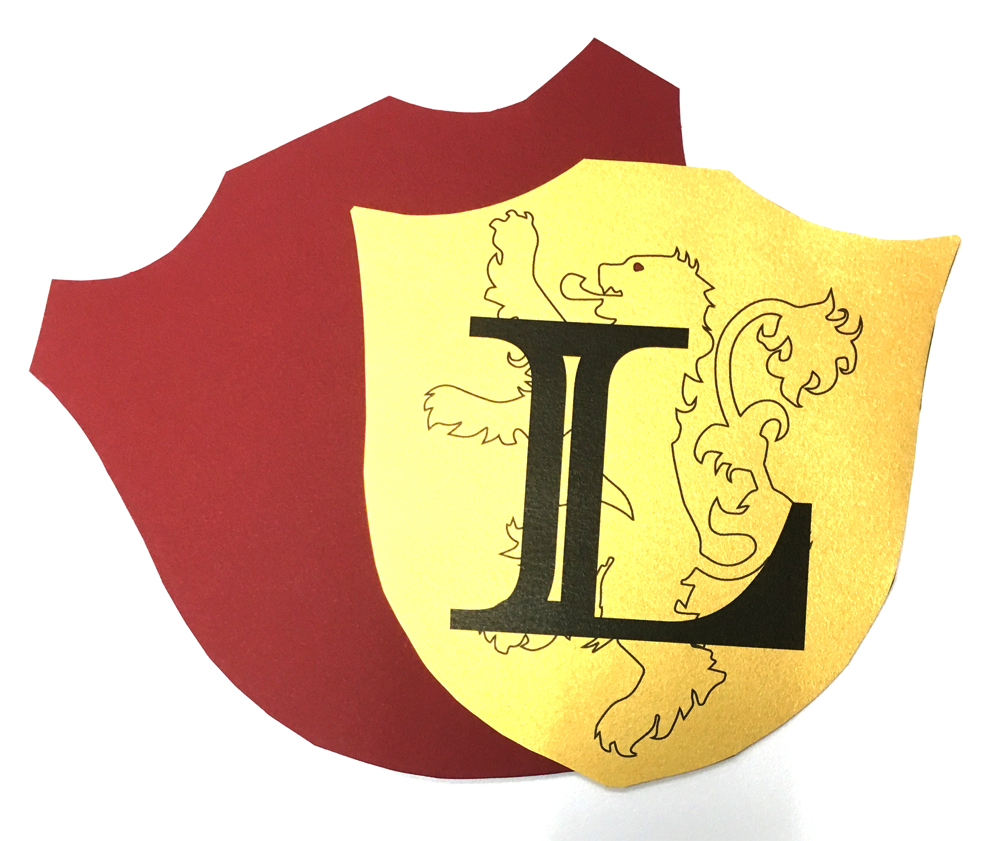 Basically in a few steps:
Download our awesome templates and cut cut cut
Cut some baker's twine (leave a lot of slack just in case)
Glue or tape the front to the back panel
Set up the letters backwards (this got me a little bit confused but just take your time with it!) and lay the twine out
Tape
Hang!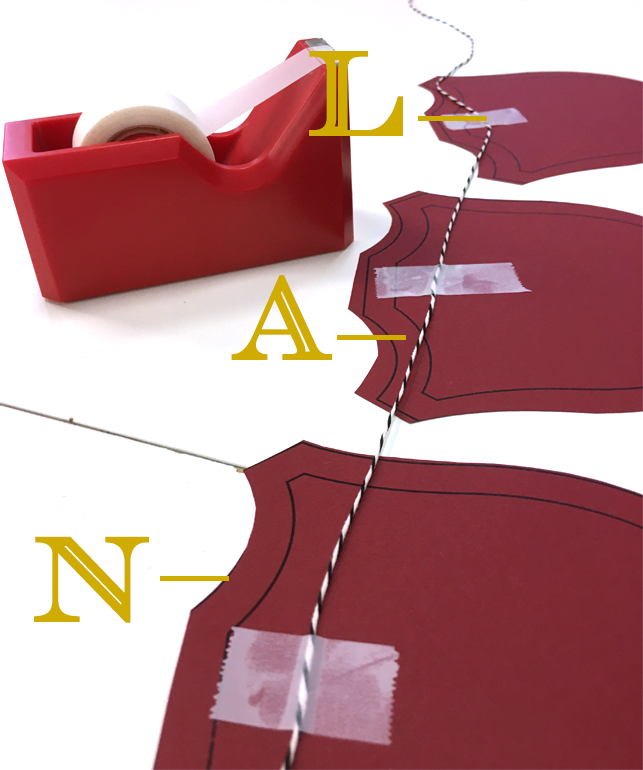 Here you can see that you start the first letter of the name to the right instead of left. When you flip it over, it will be the right way. Also, this took us a few times to figure out so don't worry. I almost put walk-RES instead of walkERS. I know, and I'm an English Major. Now, we had a discussion at lunch today about how crazy I am that I want the White Walkers to be the 'winners'. I think because it would be so ironic - they aren't looking for the throne and they aren't even playing that game. They're looking for a takeover, and a scary one at that. But their eyes? You can't hate their eyes. Sorry getting weird...
White Walkers Banner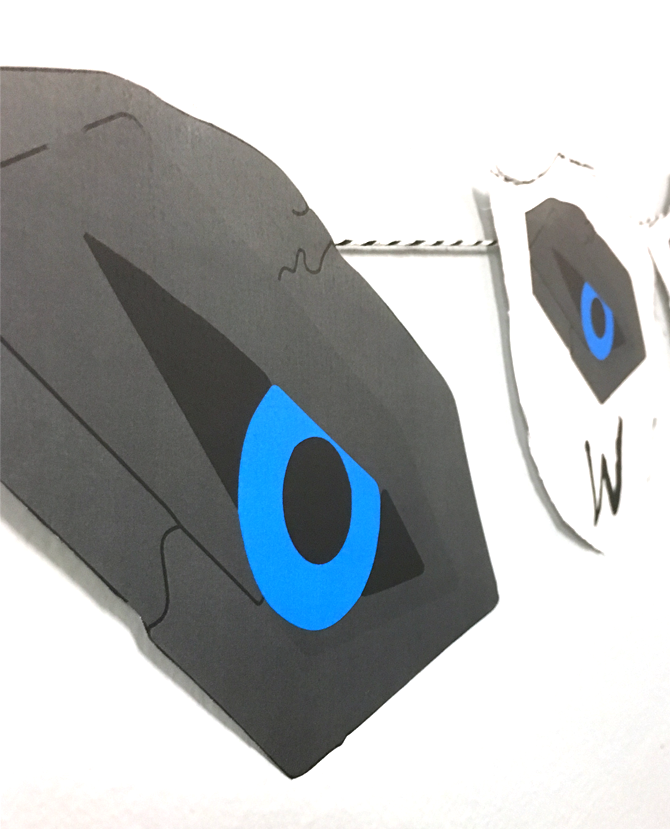 Supplies for White Walkers Banner:
Distresser (I got this from Joann's)
Tape
Scissors I used an
edge distresser
that made the edges look worn out and I didn't want to put a back on their banner because they are way better than that. Kidding. But not. If you're a good guy, well I feel bad for you. But my baby girl blogger did the
good guy banners
! Go check it out!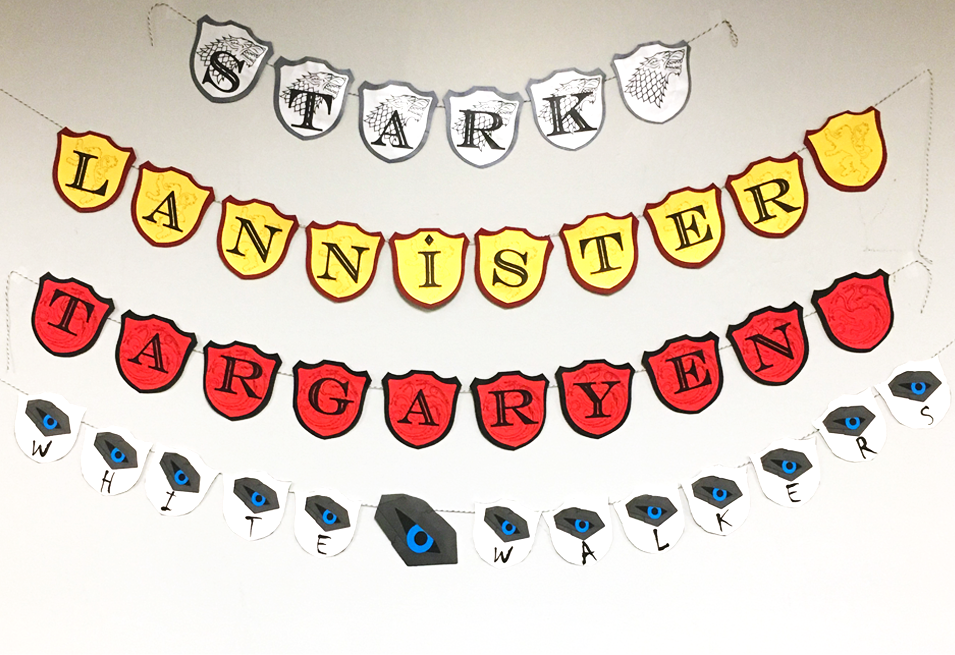 Here are our amazing, can't wait for Game of Thrones Season 6 Premiere banners! Pick your favorite (whether good or bad - cough White Walkers FTW) and hang it up before the big night! Sunday 9PM HBO! [media-downloader media_id="24780" texts="Lannister Letters LA"]  |   [media-downloader media_id="24781" texts="Lannister Letters NN"]   |   [media-downloader media_id="24779" texts="Lannister Letters IS"]   |   [media-downloader media_id="24783" texts="Lannister Letters TE"]   |   [media-downloader media_id="24783" texts="Lannister Letter R and Lion"] [media-downloader media_id="24789" texts="White Walker Letters WH"]   |   [media-downloader media_id="24786" texts="White Walker Letters IT"]   |   [media-downloader media_id="24785" texts="White Walker Lettes EW"]   |   [media-downloader media_id="24791" texts="White Walker Letters AL"]   |   [media-downloader media_id="24787" texts="White Walker Letters ER"]