Funny St. Patrick's Day Cards
When you think of the Irish, the first thing that comes to mind (other than those stereotypical stereotypes) is St. Patrick's Day. It's what everyone knows to be a holiday for partying, drinking, and having a great time (even if it is technically a holiday to celebrate a saint, but we won't go there). Therefore, a blog was needed on funny St. Patrick's Day Cards.
I had no idea, for a long time, what my blog would be about. I was going to write a list on things not to do during the holiday and then I thought to myself … everything is allowed and excused on this day, so that would have been a bust.
Next, I thought of table decor. But that was already stolen by another blogger on this exact blog. My disappointment was uncalled for.
 And then I thought of two things: funny and cards.
So here are some funny St. Patrick's Day cards that might make someone's morning, before the chaos starts and the forgetting begins.
Warning before moving on: My humor is either dry or corny.
1. Confused Italian Card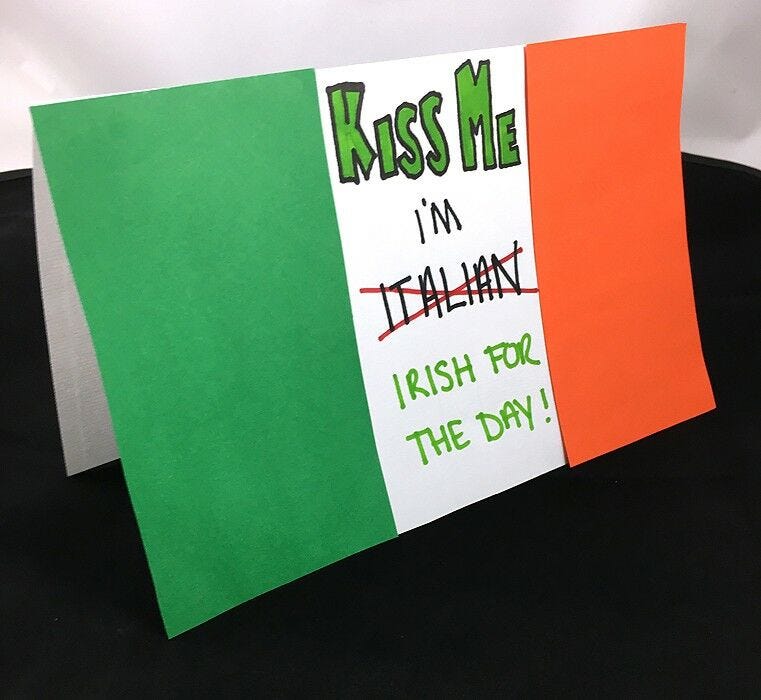 Inspiration: From the Italian in the office who says that everything (and I mean everything) is because of the Italians. Thanks Mike.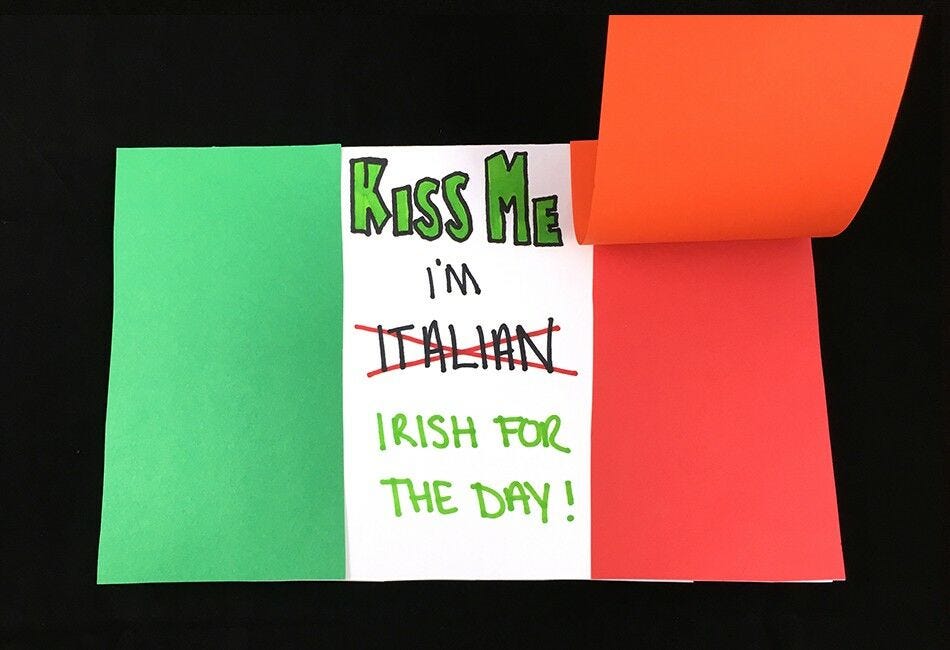 Since I'm half Italian, half Irish, I thought this would be a great card to make. Easily done with a few colored paper and markers, I designed the Italian flag first. I covered the red up with orange, and you got yourself an Irish flag.
Inside, I realized that just Happy St. Patrick's Day might be a little boring (even though that's what's on the inside of most St. Patrick's Day cards). So instead I searched for the most well known Italian Saint. I found St. Francis of Assisi and thought why not? It makes it funnier ... to me at least.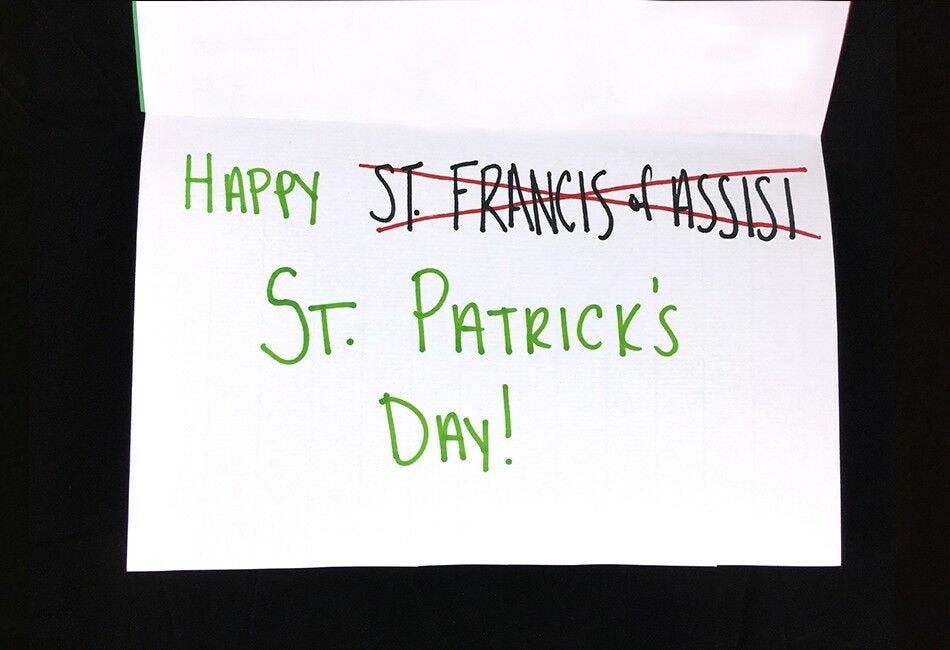 This can work with any nationality! Cover up your flag with an Irish one and get a laugh from your family.
Materials used: Strathmore Bright White Laid Paper | Green Brite Hue Paper | Red Brite Hue Paper | Orange Brite Hue Paper | Sharpie Fine Point Markers
2. Pot of Beer Card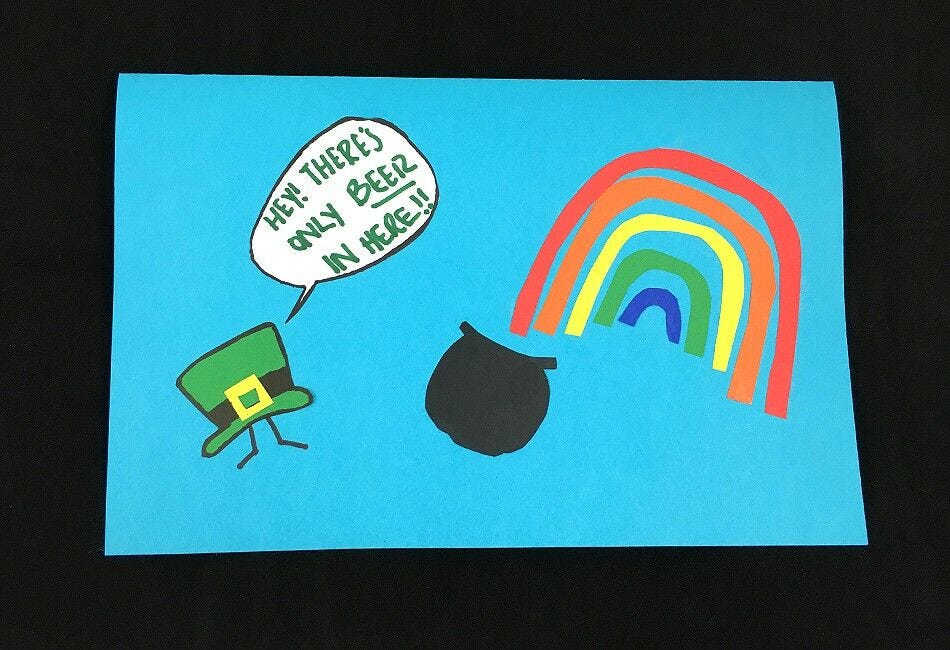 Inspiration: Thinking of St. Patrick's Day and what goes along with it, I thought of beer, rainbows, and leprechauns. Okay, so I might be stereotyping here, but if you don't think of the word beer when it comes to St. Patrick's Day, I congratulate you … but also think you're a liar. This is one of our favorite funny St. Patrick's day cards!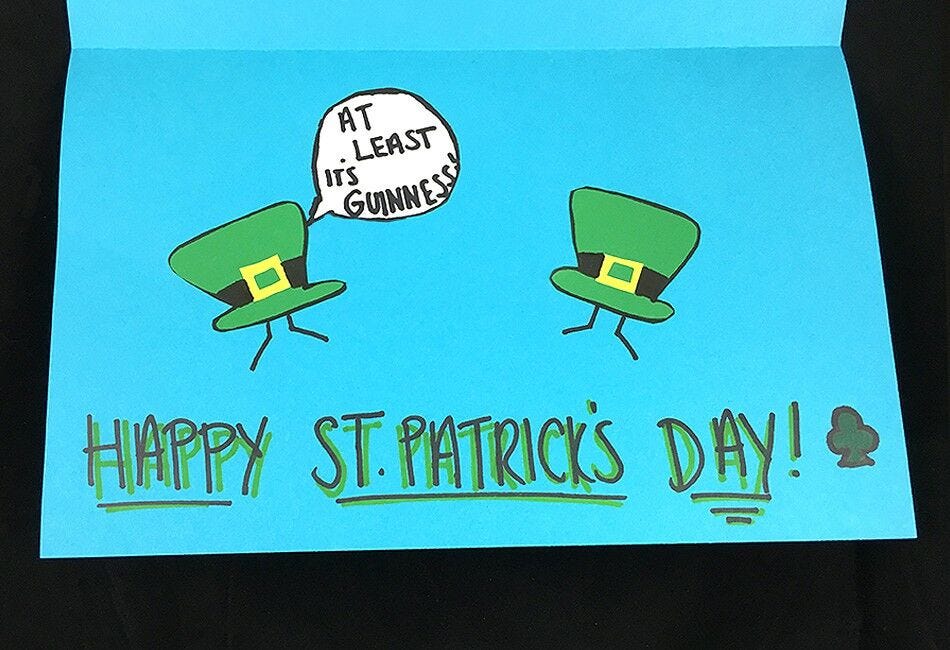 I realize I shouldn't have to explain the joke because then it might ruin it.
If you get the joke, I commend you. If you don't, I will only say … read on please.
Materials Used: Blue Brite Hue Paper (and many others) | Black Linen Paper | Sharpie Fine Point Markers
3. The Best Beer In The World Card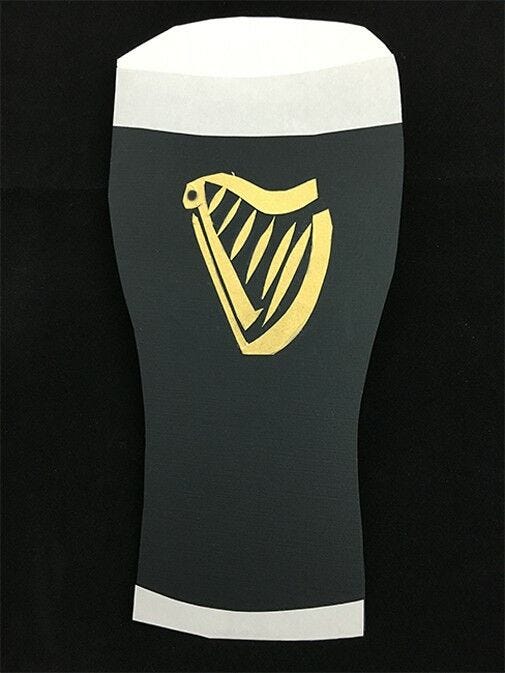 Inspiration: You know how Guinness was in my last card? Well the inspiration for this card came from that one (inception). The inside of the card is plagiarized, stolen, snatched, robbed ... from a t-shirt.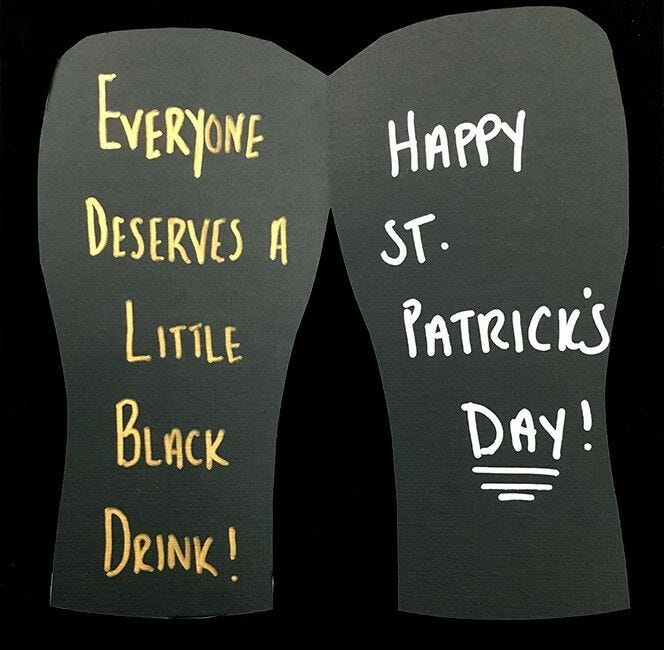 When I was in Ireland, I found a shirt that said 'Every Girl Deserves a Little Black Drink' along with a girl drinking Guinness and of course bought it because ... hello … it's awesome. So why not share the awesomeness with all of you fine people? I thought making this card gender neutral is more appropriate for St. Patrick's Day ... because women not only celebrate this holiday, but men do too. (Women might celebrate a little harder than men but we save that topic for another time).
Not a drinker or too Irish to care? Try our next card- an undeniable highlight of our Funny St. Patrick's Day Cards!
Materials Used: Black Linen Paper | Gold Stardream Paper | Ivory Paper | Platinum Translucent Paper | Metallic Sharpies
4. Irish Pride Card
Inspiration: Boondock Saints … yes the movie. I mean it is the epitome of all Irish people, isn't it? (Sarcasm). When searching for a good quote from the movie, I found a random line from the movie The Fabulous Dorseys circa 1947 and just had to make it into a card!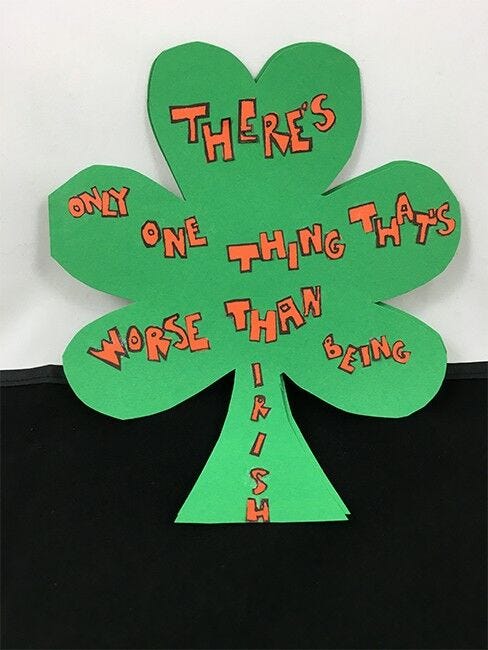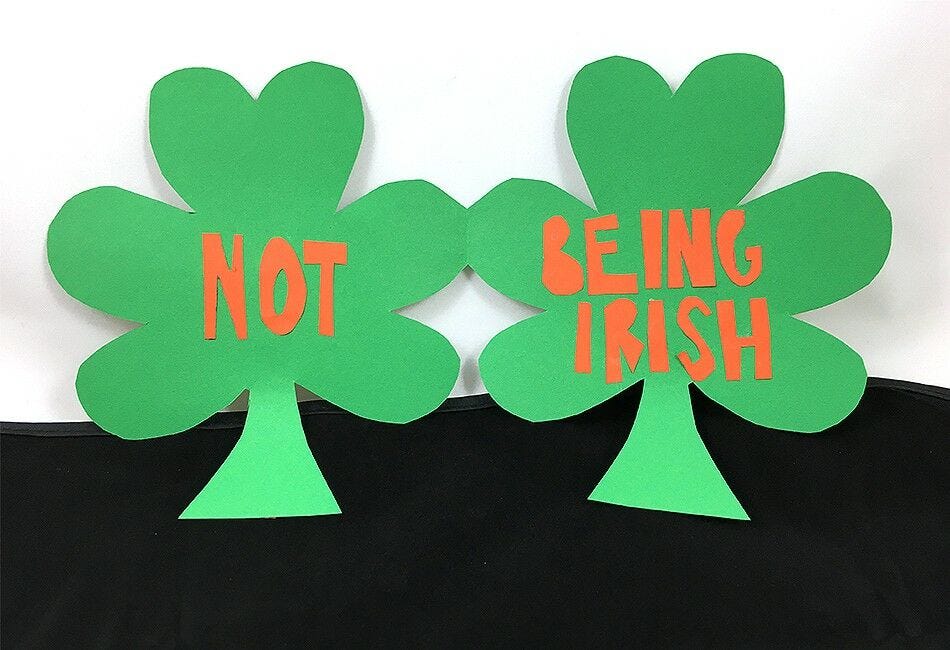 Take this card and give it to your Irish grandpa who still has the accent, loves his home, and always talks about it. No, I do not have that kind of grandpa, mine's Sicilian. And he talks more about how he he used to see Marlon Brando on the streets of NYC while working in sanitation than Italy itself.
Materials Used: Green Brite Hue Paper | Orange Brite Hue Paper | Sharpie Ultra Fine Point Markers
Hope you liked my ideas! Have any of your own blueprints for Funny St. Patrick's Day Cards? Show us, we'd love to share!
Too lazy to make your own idea up? Create all of these with JAM paper, markers, a pair of scissors, and glue. It's that simple.
Have fun and have a Happy St. Patrick's Day!