Free Printable Halloween Invites and Cards
Hey all! We are so happy to announce that we are giving away
Free Printable Halloween Invites and Cards
this year! Yes,
FREE
! This is super exciting for all of us because it's the first time JAM blog has ever done this! We're super excited to see everyone's reactions to the freebies. Because we ALL love freebies. Who doesn't love free things? Did I mention it's free? We have a huge selection for you - from cute to funny to killer (literally). All you have to do is click the template of your choice and a downloadable Word doc will appear. Each page comes with four cards, this way you can print more invites (since we all know you're so popular). We added lines dividing each card for easy cutting.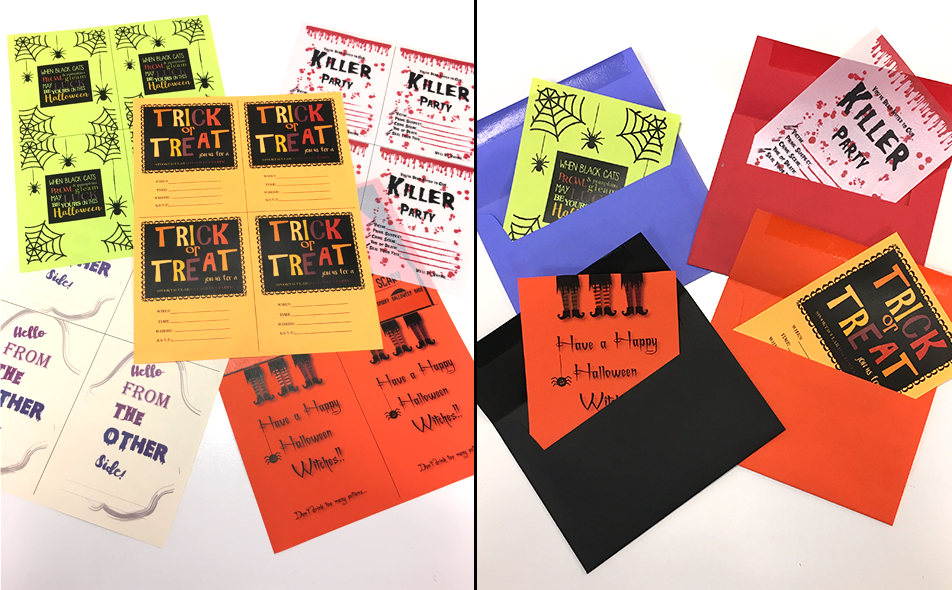 Best part? Once you choose the
JAM Paper
of your choice, all you need is an
A6 JAM envelope
to send it off! On the bottom of every description, we gave you our choices but we'd love to see your own take! Tag us in an
Insta Pic
! We'd love to see your color choices!
Start scrolling Spook-heads!
Jess' Collection of Crazy Cards:
[media-downloader media_id="18585" texts="Witches Template"]
This card if a fun way to tell all your witches to have a happy and SAFE Halloween this year!! You can print this on almost any kind of paper, my favorite was the Ultra Orange Brite Hue.
Envelope Choice: Black A6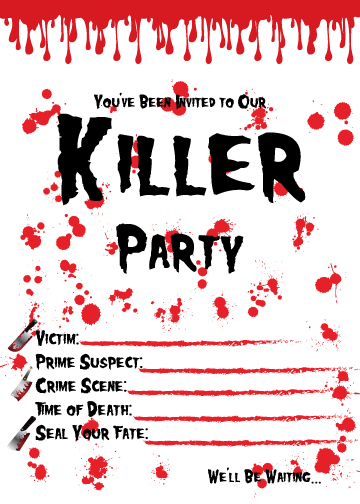 [media-downloader media_id="18592" texts="Killer Party Template"]
Inspired by the amazing podcast Serial, hosted by the remarkable Sarah Koenig. Podcasts are a great way to take a break from listening to music all the time. This invite is a play on a murder investigation so it may be a little confusing. Victim – who the invitation is going to. Prime Suspect – who the invitation is from. Crime scene - where the party will be, venue. Time of Death – what time the party will be. Seal your fate – where and who to R.S.V.P. This invite prints murderously on Platinum Translucent Metallic paper!!
Envelope Choice: Red A6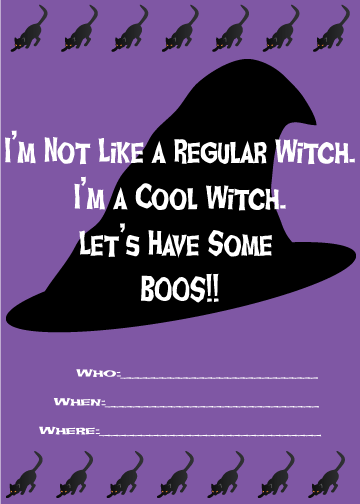 [media-downloader media_id="18583" texts="Cool Witch Template"]
Mean Girls? Ever heard of this classic movie? This card was inspired by Amy Poehler's famous line "I'm not like a regular mom – I'm a cool mom." Even almost eleven years later that is still my favorite part of the movie. You can print this out on almost any color, just not too dark so you can see the witch's hat and cats. I liked it best on the Violet Brite Hue paper. Send this invite to all your "cool" friends and let them know you're party will be meantastic!!
Envelope Choice: Black A6
****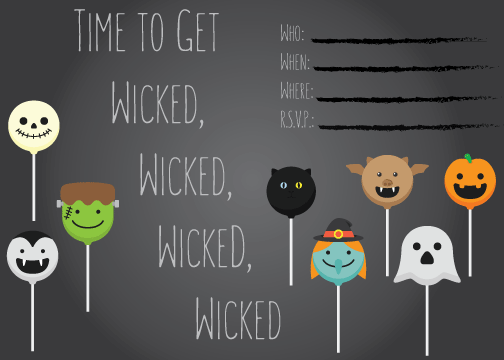 [media-downloader media_id="18593" texts="Wicked Template"]
Three clues: 1. He is a fan of Lady Gaga. 2. He was born in Atlanta, Georgia and 3. He always wears sunglasses. Future Hendrix!! This invite was inspired by his song "Wicked" from his Album
EVOL
. Although for the longest time I thought he was saying "wiggle", I love this song – yes, I still say wiggle. This wicked invite prints nicely on silver paper like Silver Stardream Metallic.
Envelope Choice: Silver Stardream A6
****This template only comes with two invites per page.
---
Ellison's Sophisticated and Punny Take on Halloween: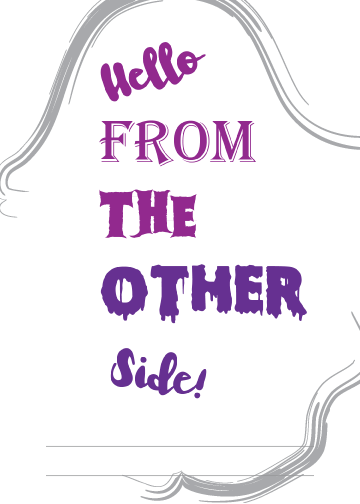 [media-downloader media_id="18581" texts="Adele Template"]
This ghost's got serious "boo" issues. (And he's not Adele.) Get your Halloween on with this insanely spook!-tacular pun inspired by the other side! (No mic required.)  Add some Ivory Paper for even more Adele-like sophistication. 
Envelope Choice: Violet A6
---
Kate's Fantastic, Fun, and Frightening Cards: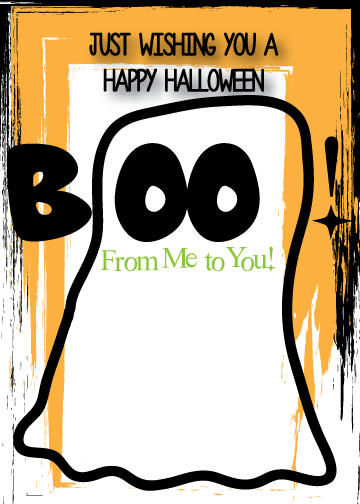 [media-downloader media_id="18579" texts="Boo Template"]
This card was inspired by the classic Halloween ghoul! Perfect to send a simple and spooky greeting this Halloween, this card looks great printed on white paper!
Envelope Choice: Black A6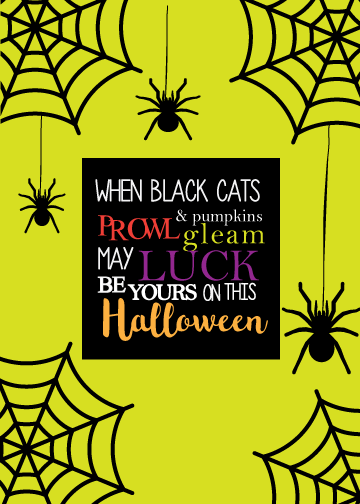 [media-downloader media_id="18591" texts="Quote Lover Template"]
Made with the quote –lover in mind, this greeting card features a fun Halloween-inspired passage wishing luck to whoever the recipient may be! Spiders and cobwebs adorn the corners, to add a hint of Halloween flair. This card looks awesome printed on any color JAM paper from Ultra Lime to Violet and any color in between!
Envelope Choice: Ultra Orange A6 or Black A6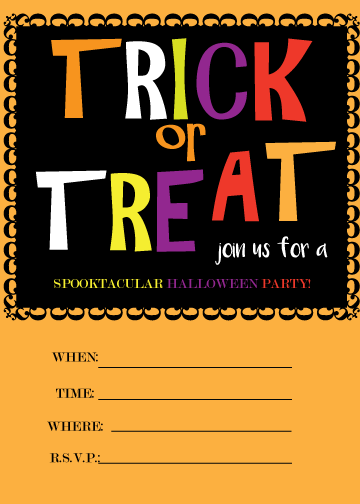 [media-downloader media_id="18590" texts="Trick or Treat Template"]
Having a Halloween party and need an invitation? Check out this Trick or Treat invite that's perfect for any get together! Simple and to the point, these invitations are colorful and stunning! Try printing this card on some JAM paper that matches one of the font colors for a cohesive theme. I picked Ultra Orange!
Envelope Choice: Violet A6
---
Kristin's One (and Only) Card: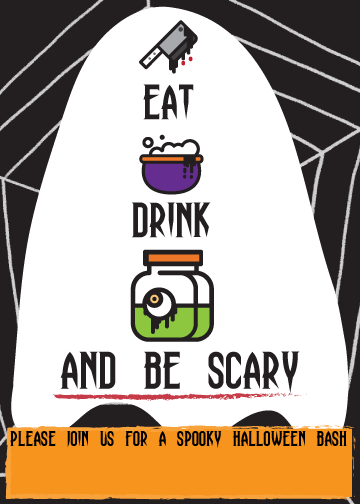 [media-downloader media_id="18588" texts="Eat Drink and Be Scary Template"]
I actually created this one for an Illustrator tutorial for the bloggers above. For this exact blog actually. Look at how great these all came out (so proud of you bloggers!). Yes, I am the blogger mom.  But anyway, this card is perfect for that party you know will be a little crazy, a lot of fun, and a night to remember (or forget, whichever you prefer). I left the bottom blank for everyone to write their own message or details! You're welcome. As for color? Try our white cardstock! 
Envelope Choice: Ultra Lime A6
We really hope you enjoyed our Free Printable Halloween Invites and Cards. Again, templates are available under each card, and once you get a pack of JAM Paper, there's no stopping the invites from being sent. Doing an E-vite? You can actually copy the image into an email and send it that way too!
One more thing, we would LOVE everyone's feedback because we're planning on making more for Thanksgiving and Christmas!
Shout us out, comment below, or repost your card on Insta and tag us! This way we can keep going with our FREE templates!
We love you all! And have a Safe and Happy Halloween!