Exclusive JAM Interviews for Teacher Appreciation Week Being a teacher is one of the most important jobs in the world. They are responsible for the growth and education of our youth, constantly coming up with new ways to learn all while having fun! Their patience is unmatched, who knows where we would be without them. No one becomes a teacher because they feel they "have to," they do it because they desire to. Teachers genuinely want the best for their students and will do anything to watch them succeed in hopes for a better future. That's what makes them so special. Here at JAM, we recognize the kind of passion one must possess in order to be a teacher. We respect their work and want to continue to support them in all that they do. So naturally, we interviewed two of the most AMAZNIG teachers we know, Ms. Melanie Capalbo and Mr. Tommy Biggiani.
Ms. Capalbo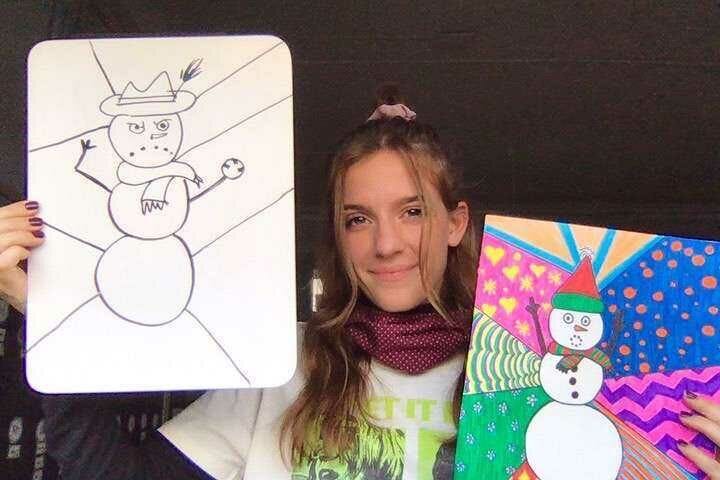 What classroom supplies do you use most frequently?
I like to change the supplies I use, but more frequently I've been using construction paper, watercolor paper, drawing paper, crayons, markers, and paint!
What is your funniest teaching story?
During a virtual class, my kindergarteners were to find objects in their home to create a color wheel. Every student was able to share with the class what they found when it was their turn. On the color red, I saw a bottle of wine slide into view in a student's camera. She said, "My mommy said this is red!" And I laughed and said, "Yes it is!"
What is your favorite part about teaching?
I love sharing my passion with my students and watching them get as excited as I am. When I show my joy for an art project or new skill we are learning about, my students feed off of that energy and are even more motivated to create!
What is your favorite desk essential?
Push pins!!! I love push pins because I can hang up my students' artwork in the hallways and on my bulletin board.
What are some innovative ways you kept your students engaged during remote learning due to Covid-19?
I had to rely on kids having some kind of materials at home. My lessons consisted of the most basic supplies, like paper and crayons. But after a while you can only do so much with those two items. So an innovative way I kept the kids engaged was by creating art with things around their household! We made facial drawings by manipulating wrinkles in a blanket. We had a texture scavenger hunt by placing paper on objects in the home and rubbing a crayon on top. We also made sculptures out of laundry and other bedroom items! Not only were the kids engaged during virtual class, but they were active and not just sitting at their screens.
Please feel free to share any unique teaching techniques that have enriched the classroom experience for both you and your students!
Teaching art-on-a-cart has taught me many ways to pack up and travel with supplies. The best investments was buying a jug with a spout for clean water and an ice bucket for dirty water when it came to painting in classrooms with no sinks. When they are done we have two students walk to the bathroom at the end of class to dump the dirty water rather than trying to get the entire class to the bathroom at the same time. I also pack all the supplies ready for use in a green bin and when they are finished at the end of class they place all their materials in a red bin. That way they know which materials they can use and I know which ones need to be sanitized. Easy clean up!
Lastly, how do you think JAM can help inside and outside the classroom?
JAM can help inside the classroom by providing bright colors to spark creativity!
Mr. Biggiani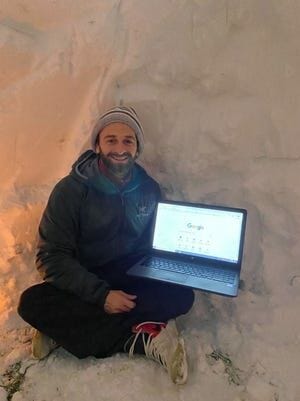 Do you teach anything other than US History/World Civilization?
Yes! I am the Basketball Coach, teach Ballroom Dance and run our school's Public Speaking Club.
What are some innovative ways you kept your students engaged during remote learning due to Covid-19?
My school has stayed in a hybrid model all year. But in an effort to make things fun, during a December snowstorm, my brother John and I built an igloo and I taught from inside.  The Wi-Fi was just strong enough. But the kids really enjoyed it. One of the Local newspapers wrote a feature called, "NJ history teacher leads virtual classroom from inside homemade igloo." the article went quasi viral and since then many people have seen me and asked, "Aren't you that igloo teacher?" 
If you want to read more about how Mr. Biggiani taught from outside the classroom click here!
We would just like to have a round of applause for all of our teachers out there who are trying their absolute hardest to do their job during these desperate times. We admire all that you do and are so thankful for all your hard work. I'm sure we speak for everyone (even your students) that we are so proud of you. Make sure to follow our blog, Instagram and Pinterest to get the scoop on our latest new crafts and items! Also our Facebook and Twitter for promotions and sale updates! Don't forget to leave comments down below. We'd love to hear how these teachers influenced or encouraged you!