Eco Friendly Wedding Favor Idea - Kraft Envelope Goody Bag
Are you a bride planning her upcoming nuptials? Are you also super concerned with recycling and saving the planet? Then we got the perfect Eco friendly wedding favor idea for you. Its really easy to make and is 100% recyclable, so you don't have to worry about your favors polluting the landfills.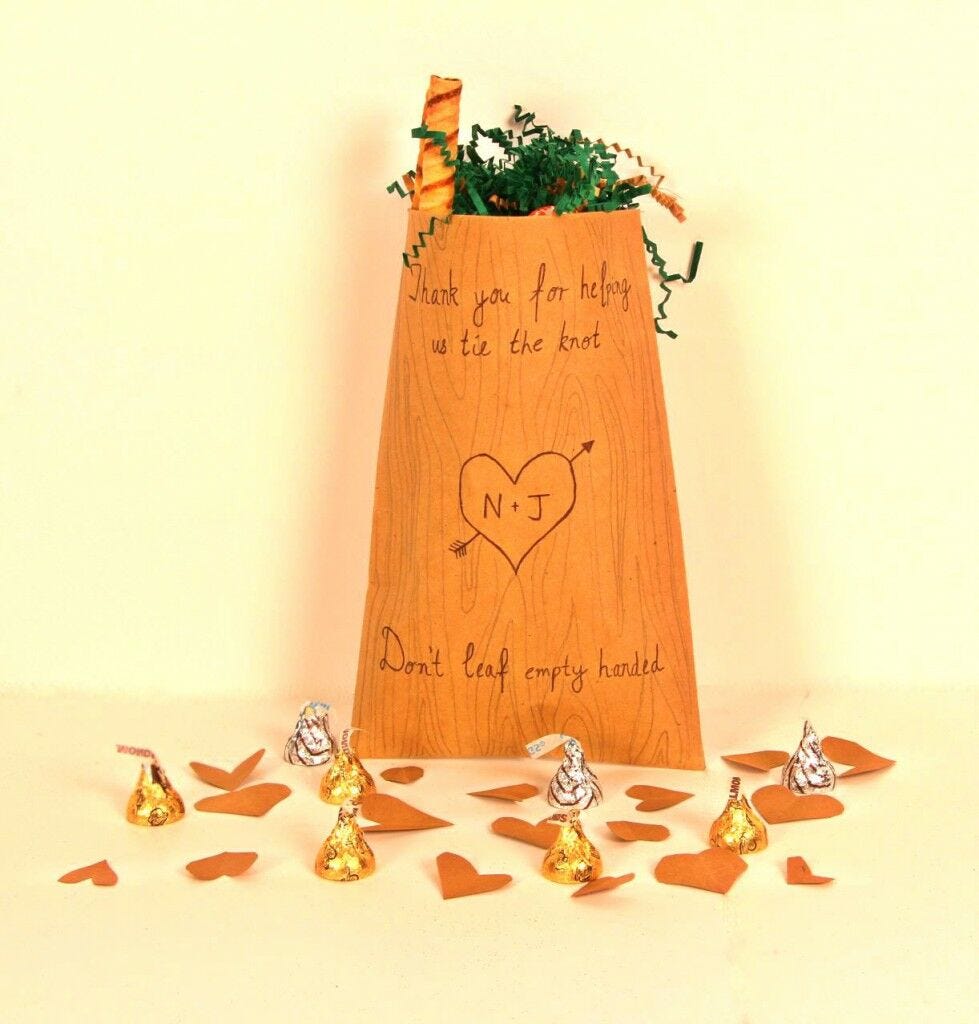 Materials
Creating the Tree Trunk
To create the illusion that the Kraft envelope is a  tree trunk we simple hand drew some bark onto the front and back of the blank envelope. Since trees aren't perfectly straight don't worry about if your lines look a bit crooked, it gives it a more natural look. Next we sketched out the saying "
Thank you for helping us tie the knot
" on the top of the envelope and "
Don't leaf empty handed
" on the bottom. (We thought we were pretty witty with this clever saying, but feel free to add your own tree-like pun.) To give the envelope its wedding feel, we then drew the couple's initials in the center of a heart (like in the 50's when a man professed his love to his woman by carving their name into a tree). The last step is to trace over the saying and the initials to make them really stand out. Don't trace over the bark in the background, that will make it took cluttered.
Stuffing the Envelope
This is the easy part of this little wedding DIY. Mix together the bags of green and kraft colored shredded tissue. Take a small handful and stuff it in the bottom of the envelope. This will create a nice base so that the candy stays in place. Next fill the envelope with your assorted goodies. We used Hersey kisses, lollipops, and mints in our envelopes. We then stuffed two rolled wafer cookies on top to look like tree branches.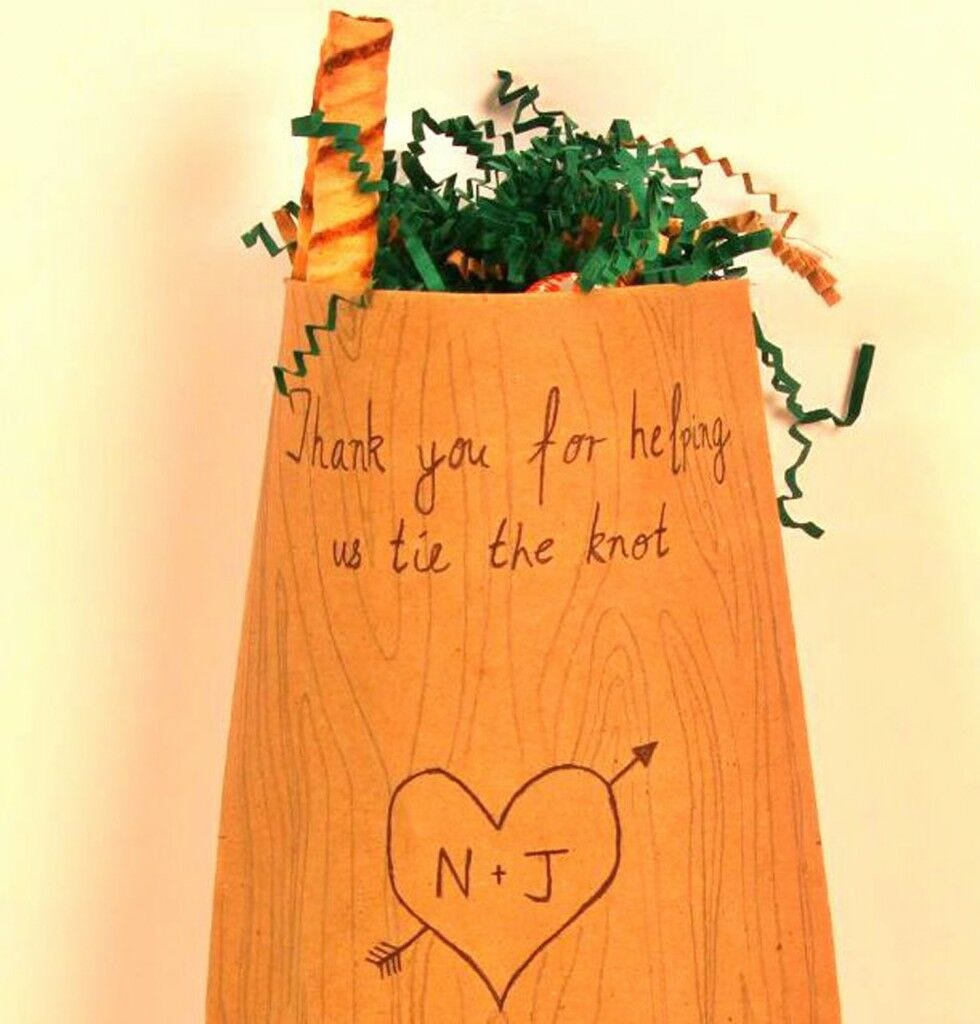 Setting up Favor Table
To really tie in the whole tree theme we created mini hearts to cover the favor table, giving the illusion of falling leaves. Take some kraft paper and
 a heart hole puncher and get
punching. It's way easier than cutting out a ton of mini hearts by hand. Sprinkle the hearts all over the table and add some Hersey kisses for a sweet finishing touch.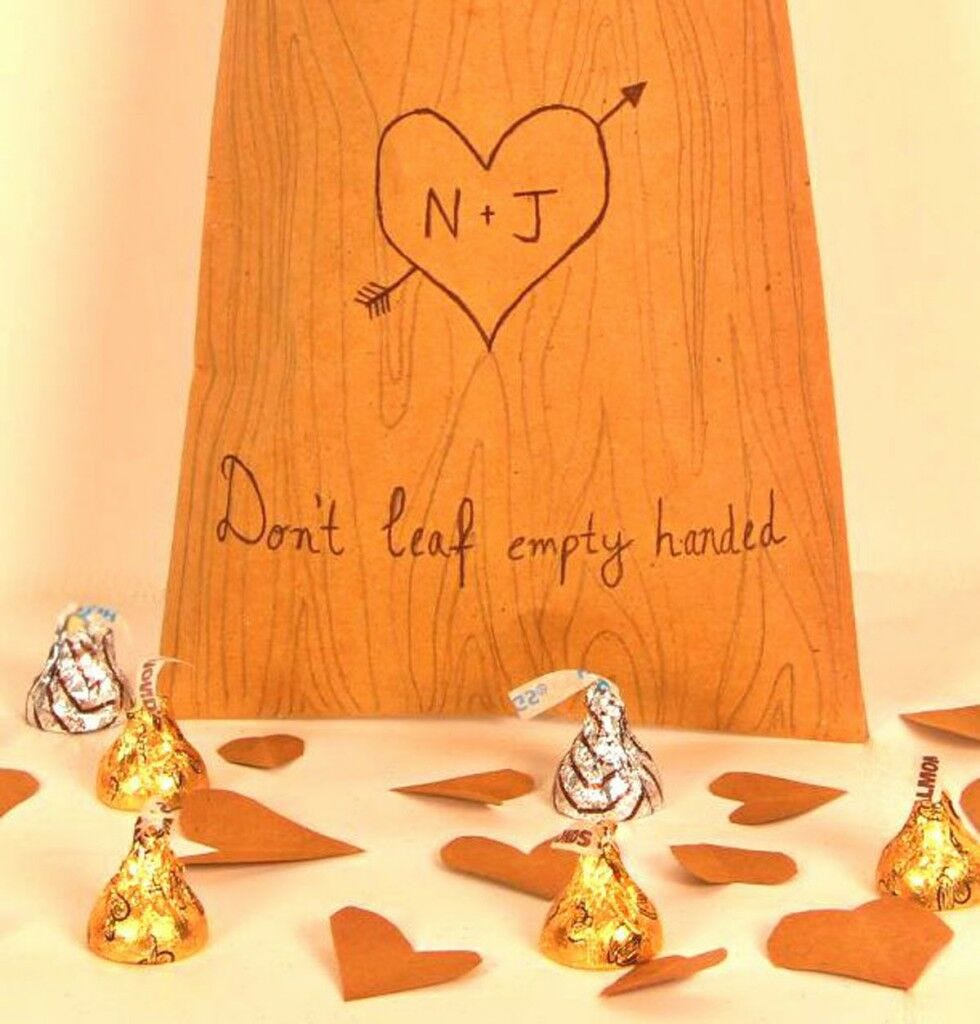 There you have it. A simple yet unique wedding favor that your guest are sure to enjoy. Oh and it's Eco-friendly too!