Easy Winter Crafts for Kids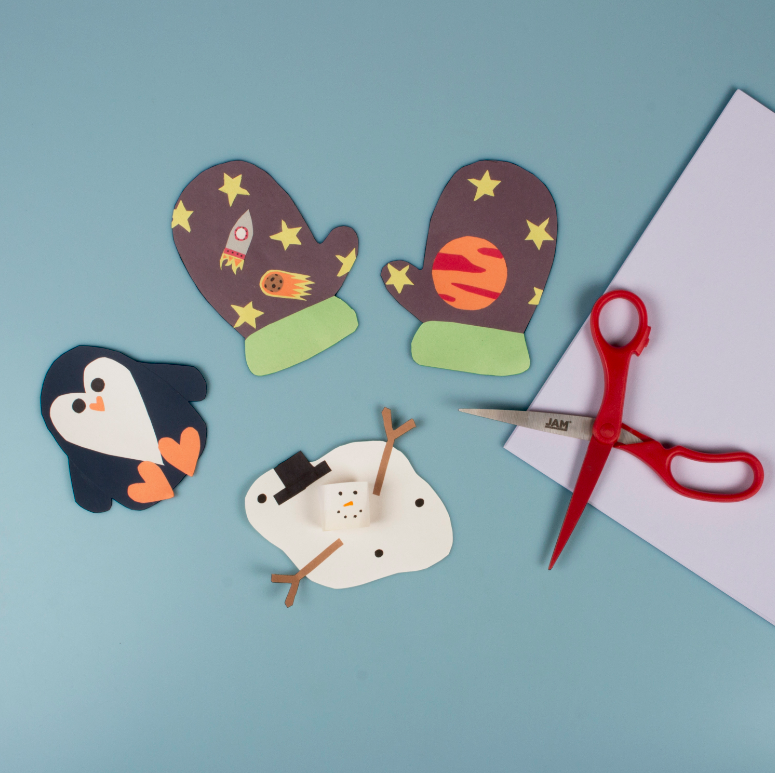 Winter is a wonderful time of year if you're a fan of snow days and hot cocoa. However, after a while, being stuck in the house can get boring. When the temperature outside becomes too cold to play in, you may feel trapped in a monotonous cycle of puzzles, cooking, and cleaning up after your kids. Everyday is chaos and if you're a teacher, you know how difficult it can be to entertain a child's mind. One activity that is sure to bring joy and relaxation is crafting. These three Easy Winter Crafts for Kids are sure to not only awaken your creative sides, but spice up your fridge door decor too.
Supplies:
Glue/Tape
Melted Snowman Steps:
Cut out a blob/cloud shape from white paper to make the melted body
For the head cut out a rectangle piece of paper (1 in x 3 in) and roll it.
Draw a face on the rolled piece of paper with a black marker for the eyes and an orange marker for the carrot nose.
Tape or Glue the face to center of the body.
Using black paper cut out a top-hat (square on top of a rectangle) and attach it to the top left corner of the melted body.
For the arms cut out brown skinny rectangles and glue them down wherever you want on the body.
For the finishing touch, take a black marker and draw three circles for the buttons randomly on the body to give that melted illusion.
Heart Penguin Steps:
For the body of your penguin, cut out an egg-like shape with a flat bottom. It can be any color you like.
Next, take a white sheet of paper and cut out a heart. The heart should be able to just fit inside the egg shape you created. This will give you a base for your face.
After pasting your white heart to the the body, take a black marker and draw the eyes on either side.
For the nose, cut out one tiny orange heart and then glue it under the eyes
Now for the feet, cut out two medium sized orange hearts and glue them towards the bottom of the body.
Then for the wings, cut out a heart a little larger than the white one. Then cut that heart in half.
Flip the penguin over and glue the wings on the back, rounded edge sticking out.
Custom Mittens Steps:
Trace your hand, leaving out the in-betweens of your fingers, to get a custom mitten shape OR look up paper mitten cut - outs on google to print out a pre-made one.
Trace that shape onto a colored piece of paper and cut our mittens out.
Now that you have the base use your imagination and design these anyway you want!
We went with a space theme! Using our colored paper, we cut our planet shapes, stars, and rocket ship details, but you can decorate these anyway you want! Have fun with it!
Which craft was your favorite? Which craft was your kids' favorite? These are questions we would love to know the answer to! It's JAM's goal as a company to provide you with quality products and amazing ways to use them. Make sure to follow our blog, Instagram and Pinterest to get the scoop on our latest new crafts and items! Also our Facebook and Twitter for promotions and sale updates! Don't forget to leave comments down below. We hope that these three Easy Winter Crafts for Kids worked well in your favor and were able to bring some smile and laughs to your home/classroom.