Easy D.I.Y. Easter Sticker Egg Decorations
Easter will be here on April first, which is this coming weekend! Thankfully, this quick and easy craft will help you get ready in time while having some creative fun! Egg decorating is a favorite pastime of many, but there are always new ways to do time-tested activities. In this post, I will show you how to make fun and easy, personalized Easter stickers for decorating eggs and any other surface you or your kids would like to brighten up for the holiday. This is a great craft for parents and children or for any DIY-ers looking for something quick ans cute to make for Easter! You will need:
JAM Paper labels in the colors of your choice
a pencil
scissors
a craft knife
colored eggs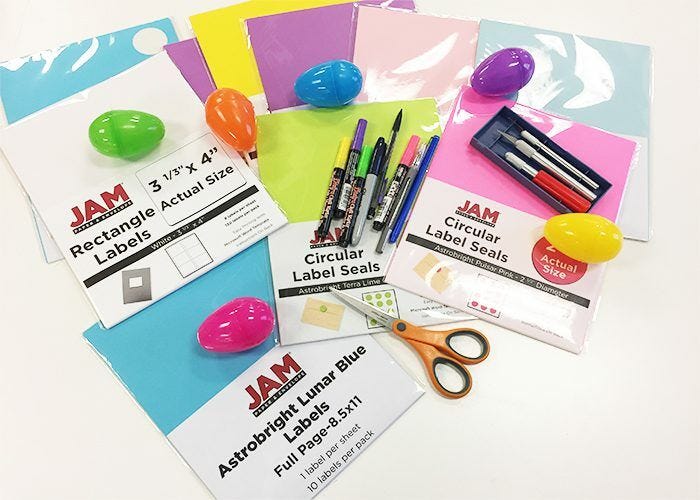 This craft is easiest with
full page
and
3 1/3 x 4 inch sized labels
, although you may use any size or shape, depending on the size and shape of the stickers you choose to make. The label colors shown above are
White
,
Astobright Lunar Blue
,
Astrobright Terra Lime
,
Astrobright Pulsar Pink
,
Astrobright Planetary Purple,
Baby Blue
,
Baby Pink
, and
Brite Hue Ultra Yellow
.
Step 1:
Begin with a sheet of labels appropriate for the size of the sticker you want to make. Flip the sheet over so that the back of the sheet (the non-label side) is facing you.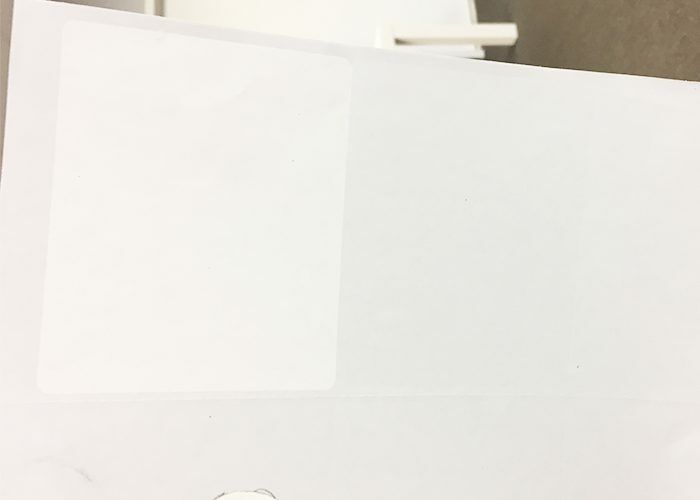 Step 2:
Next, take your pencil and draw the shape of the sticker you want to make on the back of the label sheet, making sure that your drawing stays within the space occupied by one single label. The shape below is for a basic rabbit head sticker. If you do not feel confident in your drawing skills, or if you are doing this craft with young children, feel free to use stencils!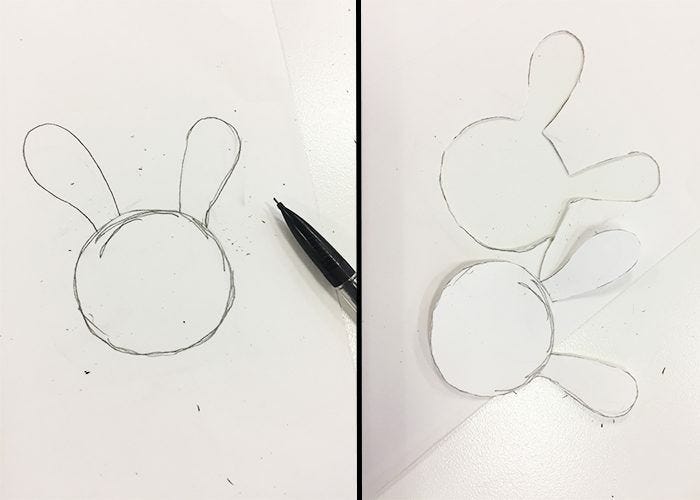 Step 3:
Use your scissors to carefully cut out the shape you have drawn. Flip it right side up so that the label side is facing you.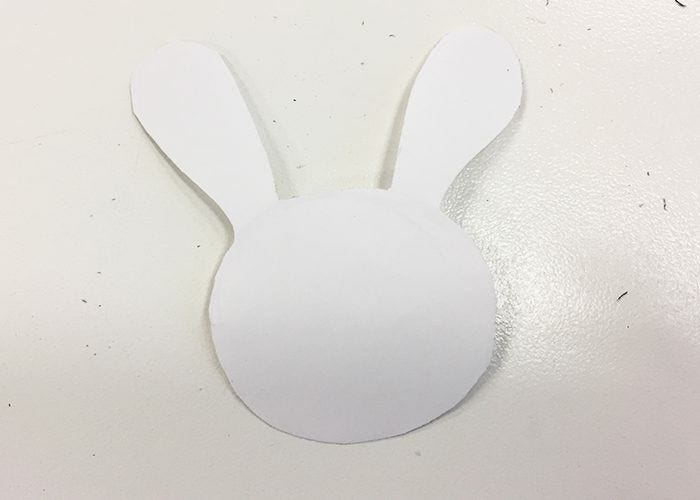 Step 4:
Now, you can further customize your sticker by using pens and markers to give it detail and color! For the rabbit face below, I used a black pen, a dark blue Sharpie marker, and a pink chalk marker.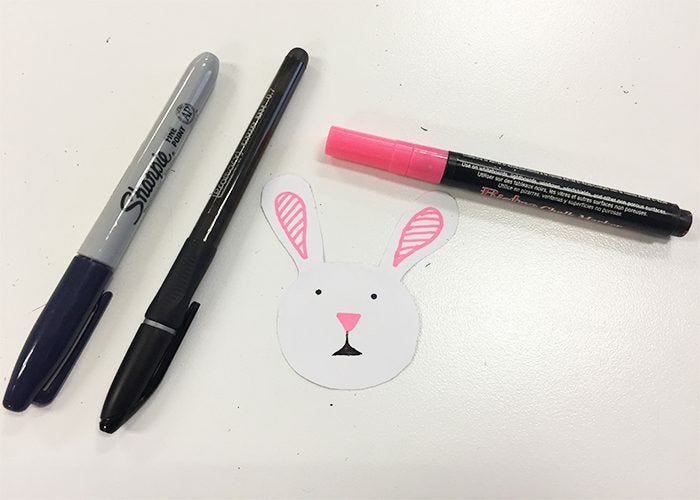 Step 5:
Once you are done detailing your sticker, peel it away from its backing and carefully place it on an Easter Egg or other surface. If you are placing your sticker on  an egg or another rounded surface, note that some wrinkling is normal.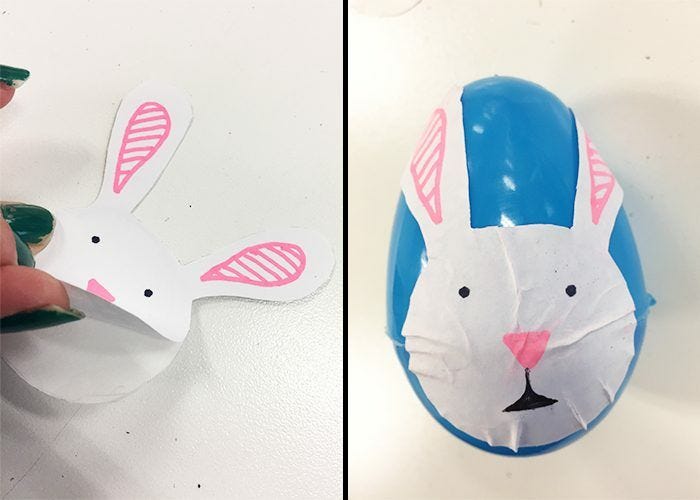 Step 6:
If you, like I have done, are placing your stickers on plastic Easter Eggs, you're going to need to get those eggs open without disrupting the sticker. That will be easy to do as long as you complete this step! Pop the egg open slightly and then use your craft knife to cut through the sticker along the edge of the bottom of the egg as shown below.
Note: If you are doing this craft with children under 10, please help or supervise them with this step as craft knives are often very sharp.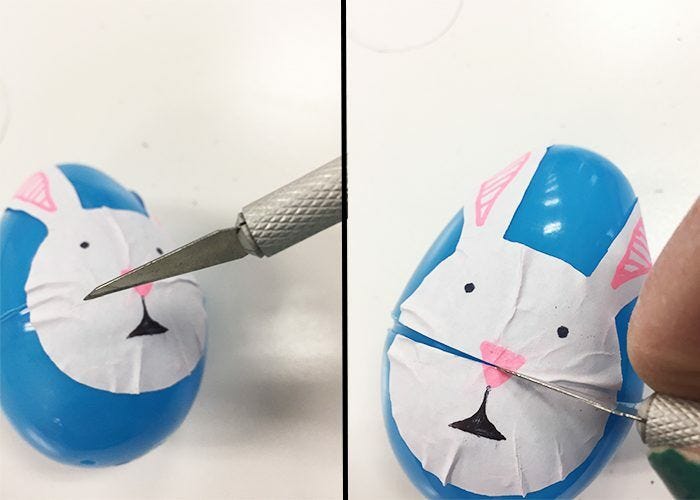 Now you can open your egg to put in or take out the treats inside! When you close it, the image on the sticker remains whole and unbroken!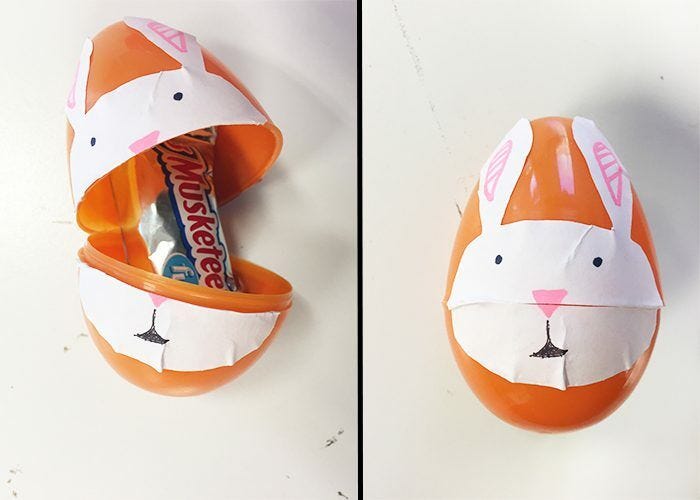 I decorated a total of six eggs. Some of them have only sticker while others feature a sticker on both sides. Have fun with this craft, and make as many stickers in as many different Easter shapes as you would like!
If you tried this craft, let us know in the comments below! We would love to see pictures of the stickers you made and to hear from you about your ideas!
Happy Easter from JAM!