It's that time of year again where not only children, but adults dress up as superheroes, cats, made-up characters and memes: Halloween! In my opinion, dressing up for Halloween is always more fun and easier when you're a kid, as you don't have to abide by any restrictions or juggle 20 responsibilities all at once. If you're an adult and work in a professional setting like me, you may find dressing up for the spookiest day of the year somewhat frustrating and time-consuming instead of exciting.
Furiously typing away on my keyboard surrounded by 3 monitors at work, my costume idea suddenly came to mind. With selling paper supplies, an open office concept and hilarious coworkers in common, dressing up as my favorite Dunder Mifflin employee from The Office, a television series depicting the everyday lives of office employees, started to become a reality not for just me, but for everyone else in the office!
With items from our own office and home plus a few trips to the dollar store, you too can create these costumes with minimal time and effort! Whether you are short on time or simply don't want to spend a fortune on something you'll only wear once, this guide will help you navigate the costume waters with ease. From everyone's favorite Prison Mike to Stanley on Pretzel Day, you're bound to kill it this Halloween! Read on to create your own DIY The Office Halloween costumes.
Jim Halpert as Three-Hole Punch Jim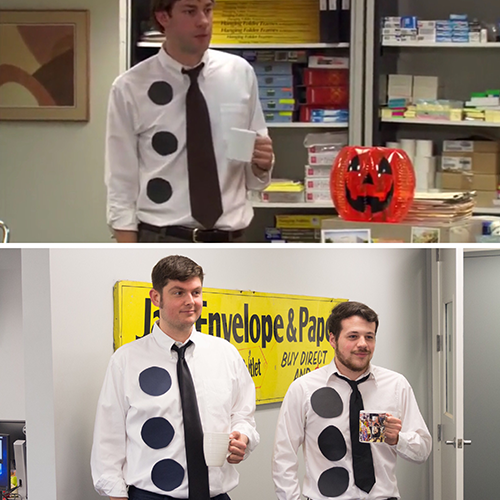 "Dwight: [eyeing Jim's costume] What is that?! What are you supposed to be?
Jim: I'm a three hole punch version of Jim. 'Cause you can have me either way. Plain White Jim, or Three-hole Punch."
Simply cut out 3 large holes on thick, quality black paper that is guaranteed to stick and attach to your white button down shirt. Finish with a simple black tie, pants and any white mug. Voila, you are now three-hole punch Jim!"
Stanley Hudson on Pretzel Day
"I wake up every morning in a bed that's too small, drive my daughter to a school that's too expensive, and then I go to work to a job for which I get paid too little. But on pretzel day? Well, I like pretzel day." - Stanley
We got creative with this one! While you can opt for being excited Stanley himself and hold a pretzel, a fellow coworker chose to be the pretzel instead! With a simple pretzel sweater/shirt and a line of hungry employees, you'll feel as excited as Stanley did on Pretzel Day.
Kelly Kapoor as Carrie Bradshaw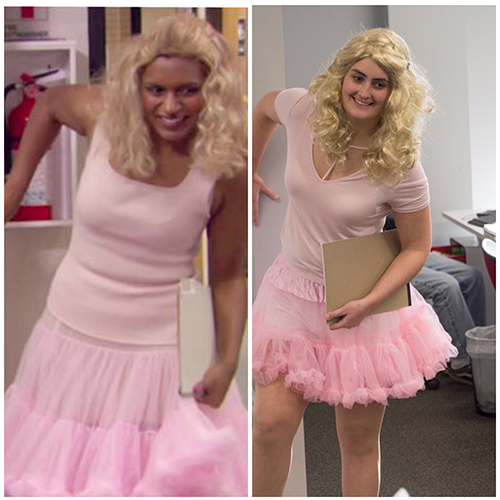 "Phyllis: I like your shoes.
Kelly: Thank you. Will you help walk me to the fax?"
Channel your inner Sex and the City and life like Carrie (or Kelly) for a day! All you need is a pink tutu, pink shoes/heels, pink shirt/tank top, and a blonde curly wig. Grab a stack of manila folders and you're ready to take on the town (or should we say office…)!
Michael Scott as Prison Mike
"Michael: Well, there's somebody I'd like you to meet. Somebody else who has been to prison, who can tell you what it is really like [puts on bandana]. I'm prison Mike!
Pam: Prison Mike? What was the food like in prison?
Michael: Gruel. Sandwiches. Gruel omelettes. Nothing but gruel. Plus, you can eat your own hair."
Purple bandana + scrunched up, scary prison face = Prison Mike. Boom, you're an instant felon.
Andy Bernard as a Construction Worker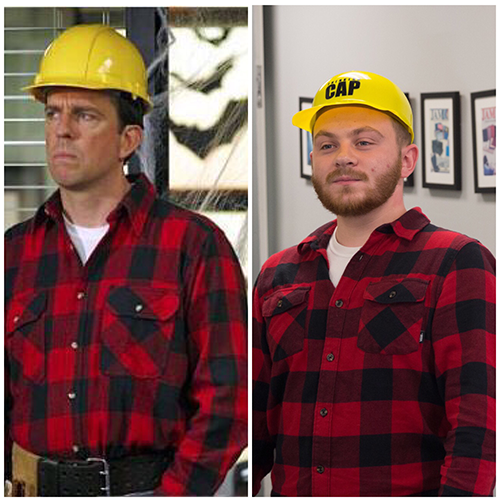 With a simple red flannel and yellow construction hat and belt, you can become an instant handyman (or woman)! This costume works both as Andy from the show and as a construction worker outside of the TV series.
Dwight Schrute as Recyclops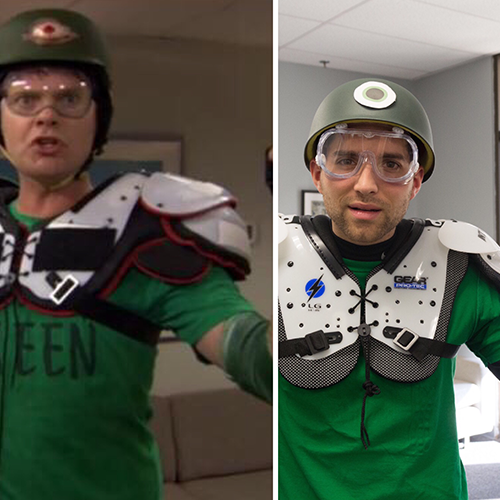 "Recylops will drown you in your over-watered lawns!" - Dwight
Save the planet and look ridiculous doing so! With a green shirt, football shoulder pads, and an army green hat you can be Recylops' partner in crime. DIY the eye with strong, quality paper and you're ready to fight litter and pollution!
Mose as Fear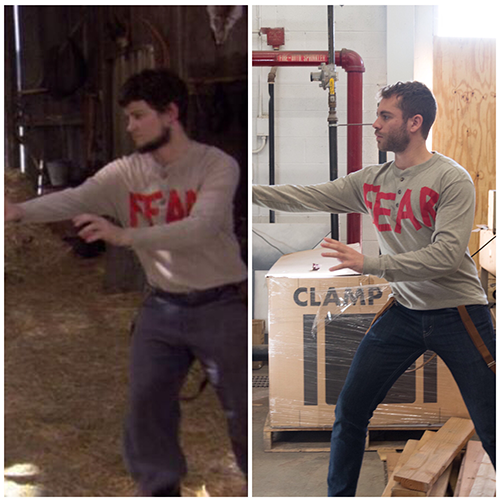 "Dwight: Final question, young Ryan Howard. What is Michael Scott's greatest fear?
Ryan: Um, loneliness. Maybe women.
Dwight: Wrong. He's not afraid of anything. Also, I would have accepted snakes. Fear is what it's all about. You cannot sell while undergoing fear. You need to vanquish fear! One must wrestle fear to the ground. You will now wrestle my cousin Mose."
Explaining this costume may be hard, but recreating it isn't! Cut pieces of red tape, spell out 'FEAR', and pair with jeans, suspenders, and a long sleeve shirt. Practice your fake attack stance and you have now become fear itself.
Pam Beesly as a Cat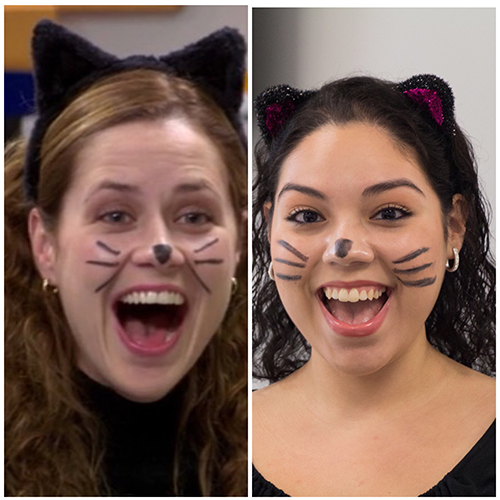 Don't knock the classic cat costume until you try it! This simple yet sweet costume only requires black face paint you can find in your drawers or at your local dollar store, cat ears, black stockings, a skirt and shirt! Apply 3 whiskers to each cheek and finish with an upside down triangle on the nose.
Kevin Malone/Darryl Philbin as Miami Heat Basketball Players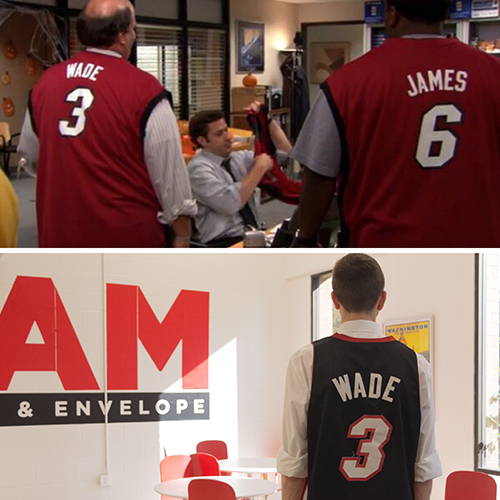 If you thought Prison Mike's costume was easy, you have another thing coming. All you need for this costume is a Miami Heat Dwayne Wade or LeBron James jersey and a camera timer to capture the winning shot.
Creed Bratton as a Killer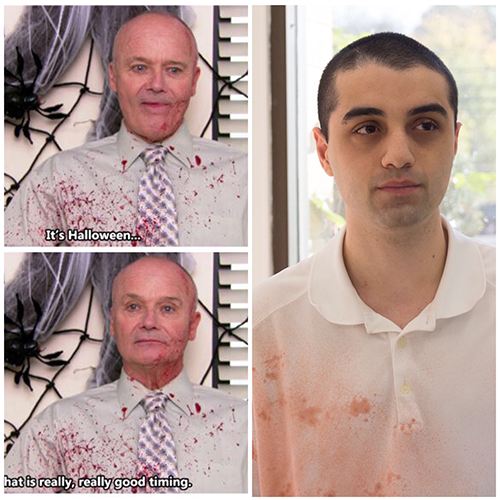 "Creed [wearing real blood stained shirt]: It's Halloween...that is really, really good timing."
Creed might've had it easier (we're not asking questions…), but recreating this costume is still super simple (and way less messy). Squirt some fake blood on any white polo or button up and practice your best Creed face!
Jim Halpert as Employee Transfer Dave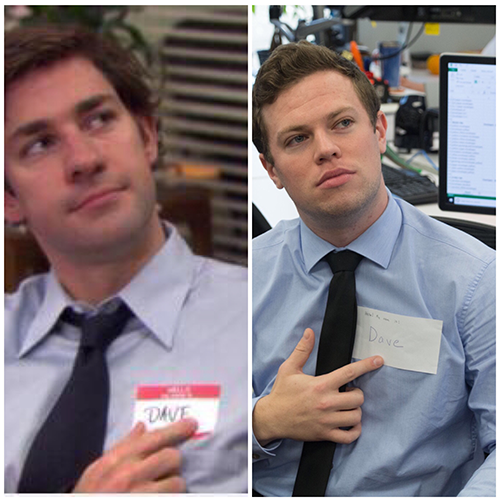 "Andy: Sweet 'stume, dude. Who are you supposed to be?
Jim: Dave.
Andy: Cool."
When all else fails, dress as another employee! On a white sticker label, simply write 'Hello my name is…Dave', stick to your shirt and dress as you normally would in the office. This effortless costume is a top choice for anyone who doesn't' necessarily enjoy dressing up in ridiculous costumes but still wants to keep up with the holiday spirit.
Stanley Hudson as Florida Stanley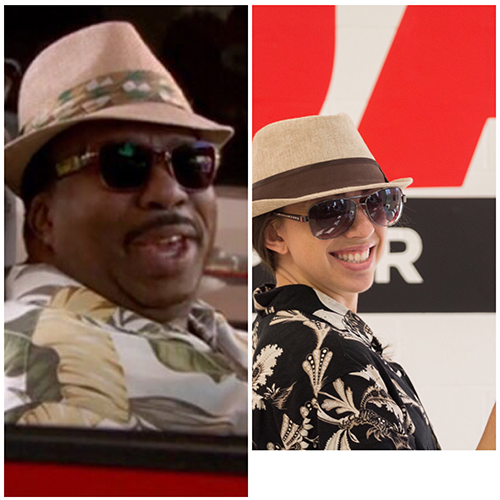 "Life is short. Drive fast and leave a sexy corpse. That's one of my mottos." -Stanley
There's no shame in wearing a fedora when it comes to being Florida Stanley. Paired with a floral shirt and sunglasses, this costume will have you looking and feeling as relaxed as Stanley on his way to Florida!
Now you're ready to make your Halloween costume! What are you dressing up as this year? Leave a comment letting us know!