DIY: Rainbow Flower Toilet Paper Roll Craft
You've probably seen the countless kid crafts you can make with toilet paper rolls, but how about something you and your child can equally appreciate? Collect toilet paper rolls and paper towel rolls to make a statement piece for your walls. Remember the more you save the bigger your craft will be. Toilet paper rolls can be painted any color or you can keep them in its natural form for a rustic look.
What makes this material so popular to craft with is its ability to bend in any shape you want. Bend them into oval shapes to resemble flower petals, keep them in a circle, cut, twist, or curl them. You can use all of these shapes in a single wall piece. Check out how others have livened up dull house settings with something you once considered trash!
Wreath
[caption id="attachment_9036" align="aligncenter" width="280"]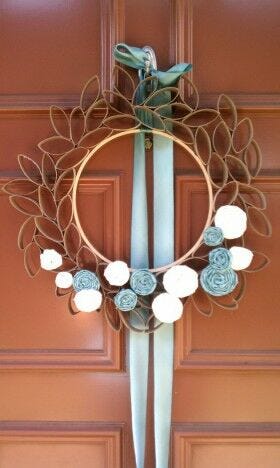 via
Bigger in Real Life
[/caption]
This beautiful wreath was made out of toilet paper rolls, flowers, and ribbon! It's such a simple craft that will really spruce up your home.
Mirror Fence
[caption id="attachment_9041" align="aligncenter" width="500"]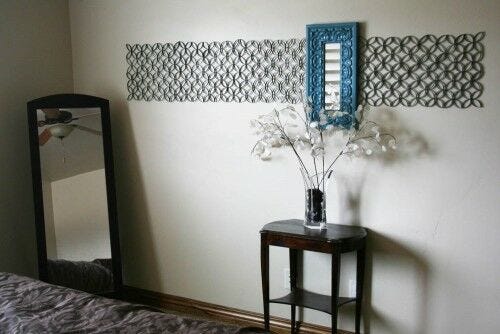 via
The How-To Gal
[/caption]
I love this four petal flower pattern, it reminds me of a fence. Once you commit yourself to this design you will be pleased with the results!
Mirror Wrap Around 
[caption id="attachment_9043" align="aligncenter" width="420"]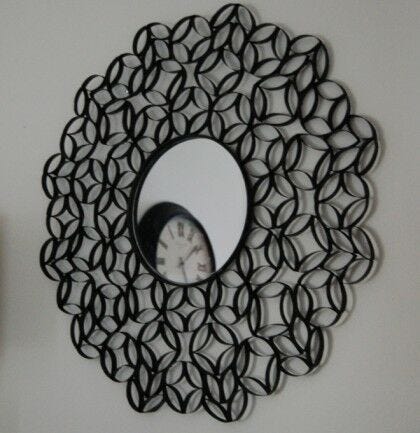 via
Made 2 Style
[/caption]
I think its amazing how you can take a plain circular mirror and make an intricate design around it. Now this is something worth keeping your toilet paper rolls for!
[caption id="attachment_9051" align="aligncenter" width="420"]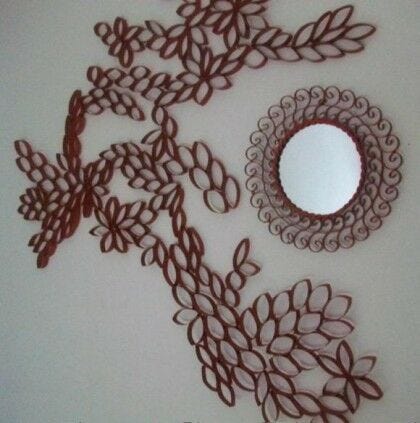 via
Lilly Loompa
[/caption]
This mirror craft might take more time and patience to create, but how many other houses have seen with this? I'd love to go to an event and see decorations like these. It's the definition of extraordinary.
Hanging Rolls
[caption id="attachment_9198" align="aligncenter" width="425"]
via
Pinterest
[/caption]
These rolls are so amazing color isn't even necessary! The design may have a ton going on but it's just the right amount not to overwhelm the room.
Baby Room Decor 
[caption id="attachment_9059" align="aligncenter" width="325"]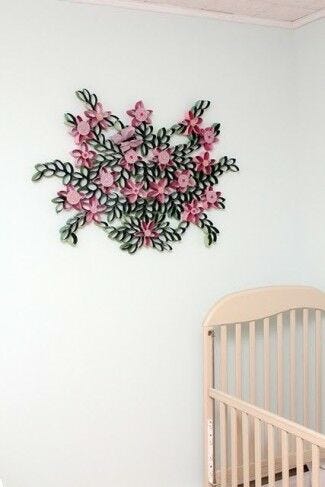 via
Indulgy
[/caption]
Isn't this darling? You don't have to drive yourself crazy with what color to paint your newborn's room, incorporate as many colors as you wish. This isn't permanent hence colors and shapes can constantly change the older your baby gets.
Framed 
[caption id="attachment_9047" align="aligncenter" width="325"]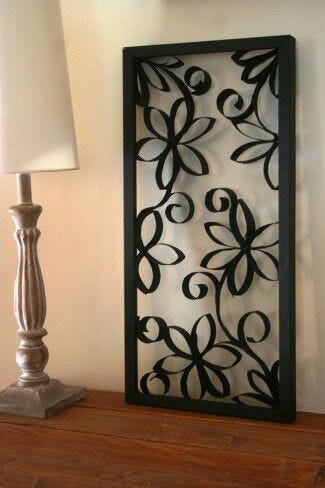 via
Condo DIY
[/caption]
Want to make something more subtle? Make a cute design and frame it. No one would ever suspect these were toilet paper rolls. You can put this on an end table as seen in the picture or hang it on the wall. It looks delicate and small.
Bathroom Scenery  
[caption id="attachment_9056" align="aligncenter" width="300"]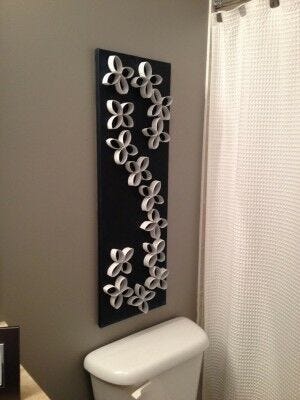 via
Pinterest
[/caption]
Paint your rolls and give your bathroom a modern look! Shower curtains and rugs aren't the only things you can use to decorate your bathroom. In fact, you don't even have to go far to get your crafting materials for this do-it-yourself project.
Now it's time to give it a try! The first time I saw this Hanging Rainbow Flower I couldn't stop looking at it, until I eventually talked myself into making one of my own. I decided to do this craft cross-legged in my room. It was comfortable and fun!
What You'll Need 
Toilet Paper Rolls/ Paper Towel Rolls
Ruler
Hot glue gun or stapler
Acrylic Pant
Paint brush
Paper plate
Garbage bag
Step #1 
Flatten your paper towel or toilet paper rolls and use a ruler to measure 1 inch wide rolls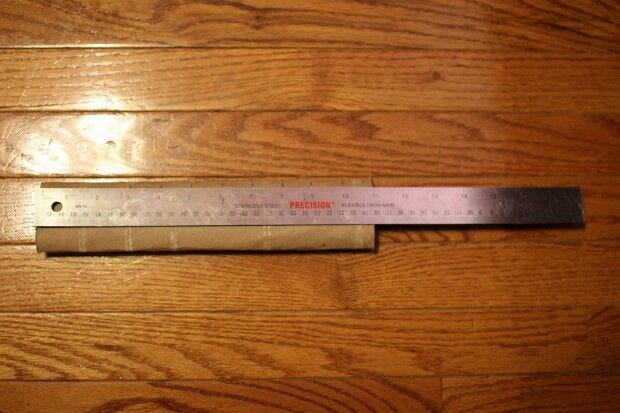 Step #2 
Cut your rolls out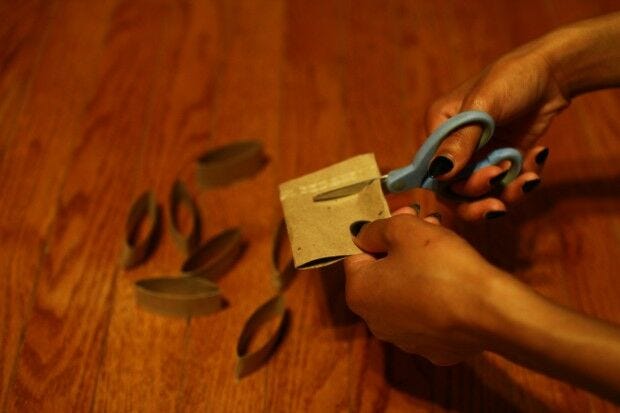 Step #3  
Play around with them until you have a design you like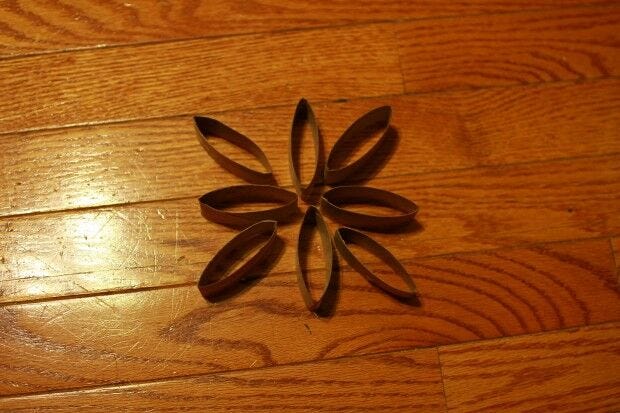 Step #4 
Now it's time to paint your rolls in bright colors. This is the fun and messy part. Whether you do this on a table or the floor, spread a garbage bag over it to prevent paint from getting everywhere.
Be patient and let them dry, it doesn't take too long!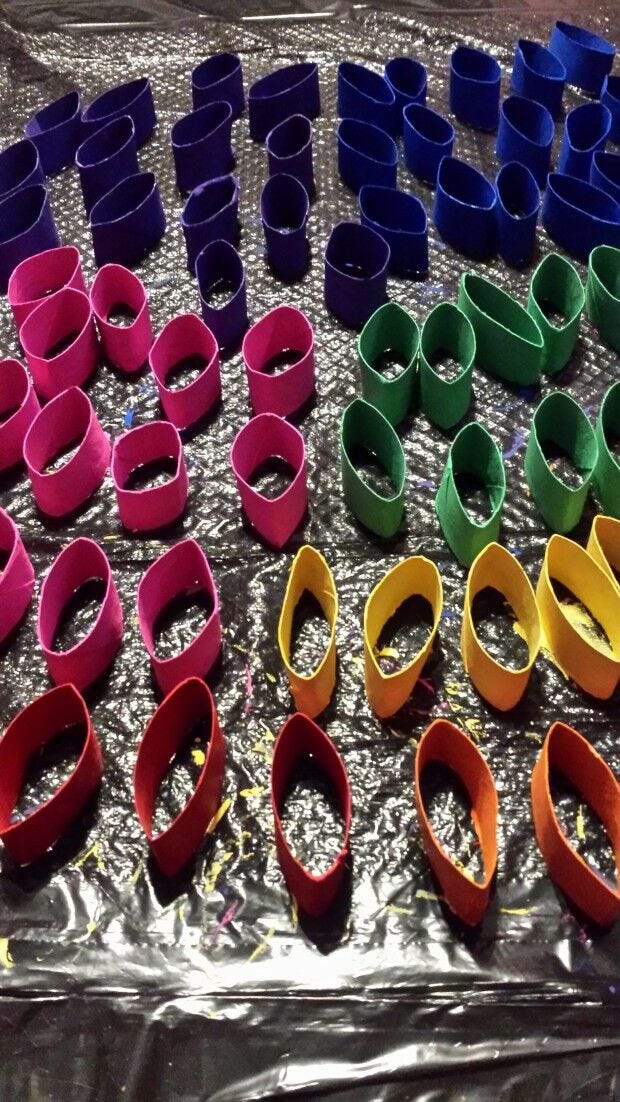 Step #5 
Glue your rolls together in your desired shape. I used a hot glue gun but kids should use regular glue, double sided tape, or a stapler.
Craft's Note: For hot gluers, squeeze hot gun unto your rolls then insert in place. Use tweezers to press your rolls into place. Also keep a cup of iced water nearby in case you get burned (but not close to the plug or your glue gun!)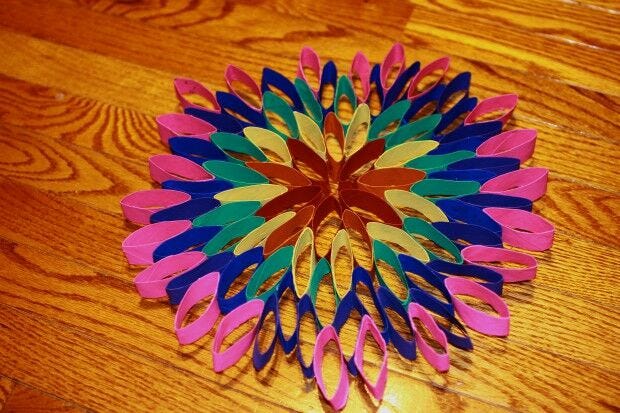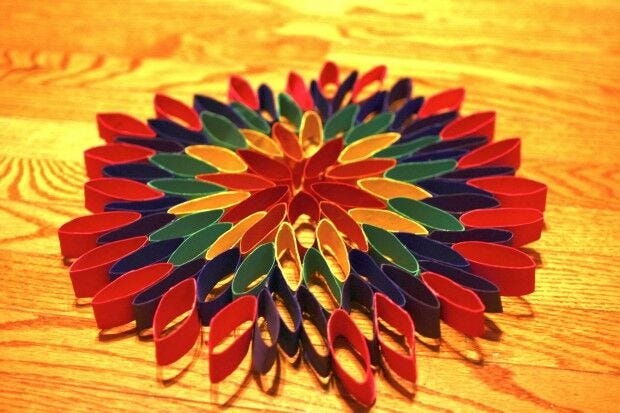 For hanging use command strips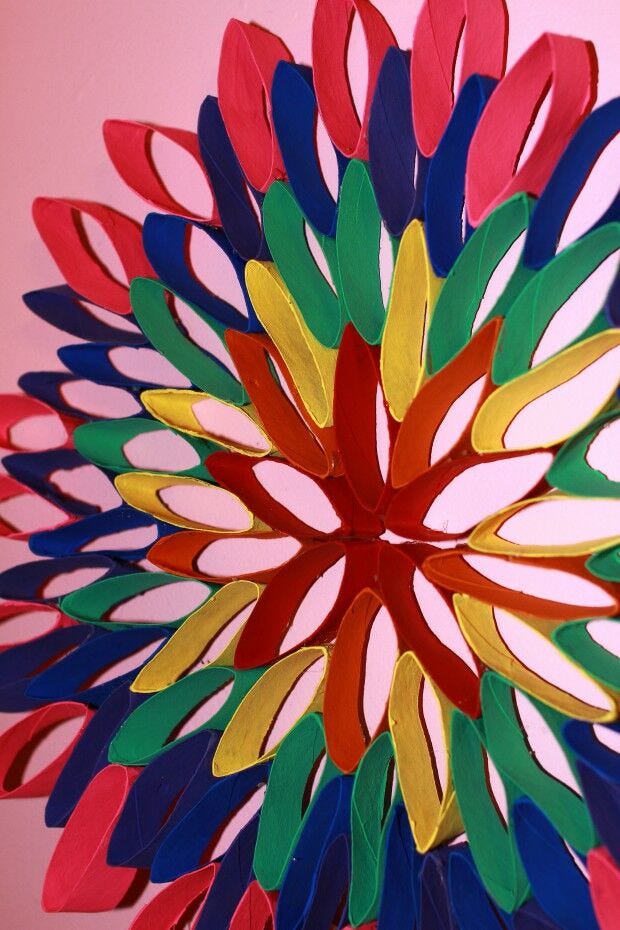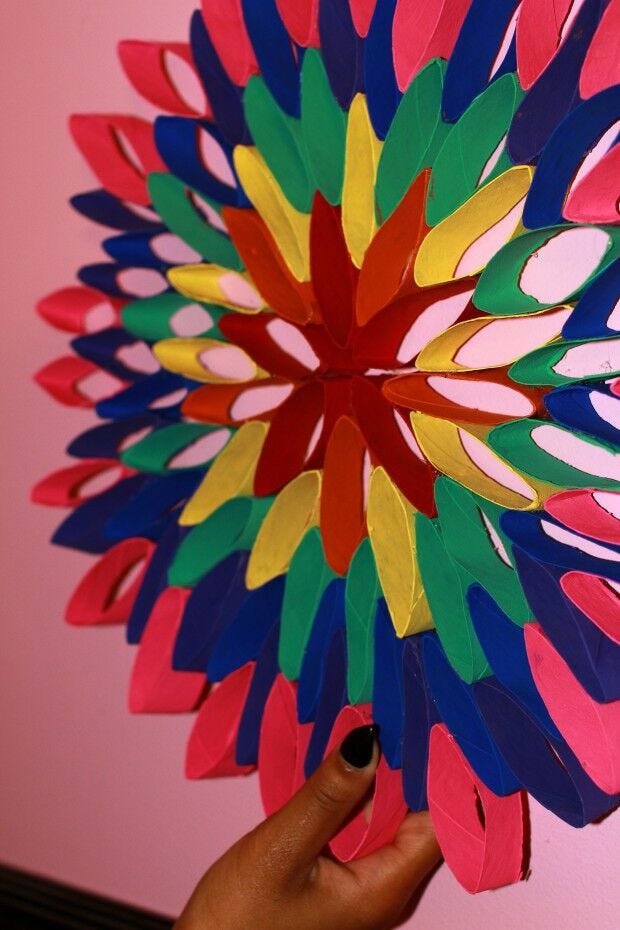 I love the rainbow!