DIY Oscar Décor
From Pittsburgh to Los Angeles to India, movies transcend real life culture and experiences. This year the Oscars represent movies from all walks of life, whether you're a scientist at NASA or a doctor in the military! I'm particularly excited this year because we are throwing an….drumroll please….OSCAR PARTY!  I know a lot of people have their own fancy Oscar parties and this year I wanted one too! We are dressing up and having catered food and classy drinks! Oh and did I mention only four people including myself will be in attendance. But hey, big or small a party is a party and what do you need at a party? DECORATIONS!! DIY Oscar Décor are super easy and is bound to beautify your Oscar party and make you and your guests feel like you're an A-Lister with the best table at the Oscars!
Get Starry with this Backdrop
Supplies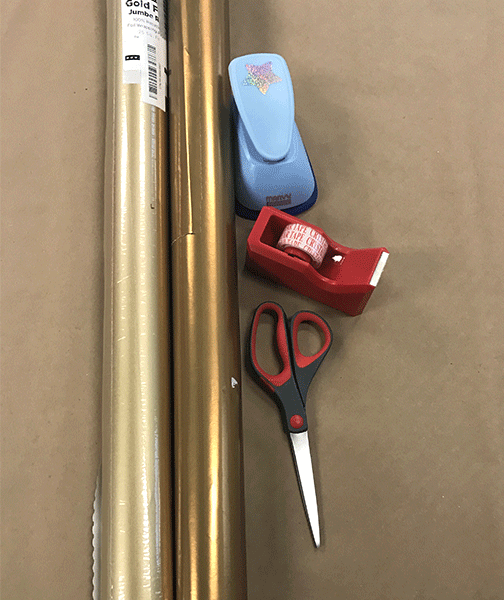 Step 1:
Cut a big piece of kraft wrapping paper. This will be the base of your backdrop so make it as large as you'd like!
Hint: Tape the sides of the craft wrapping paper onto the table to hold it in place.
Step 2:
Grab your favorite gold wrapping paper! I went with Gold Foil and Bronze Foil wrapping. Cut a decent size square. This just helps working with it more manageable.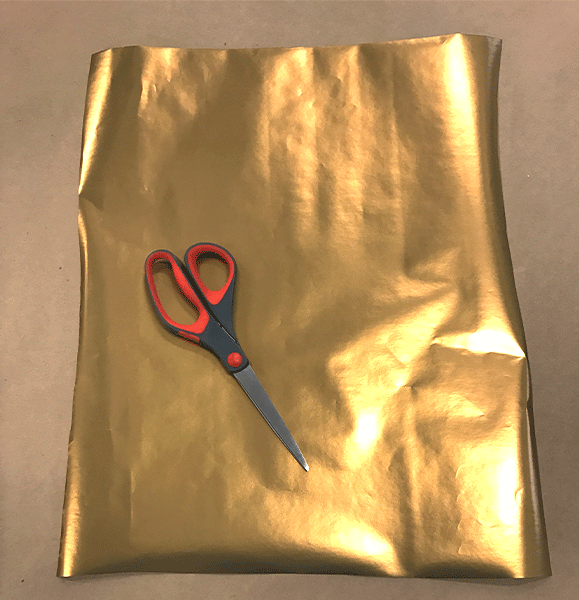 Step 3:
With your hole puncher (whichever shape you choose) start punching out stars from the gold wrapping paper.
Step 4:
Roll small pieces of tape and put them on the back of the stars. Then arrange them how'd you like on the craft wrapping. This is the most tedious part but trust me it'll be worth it!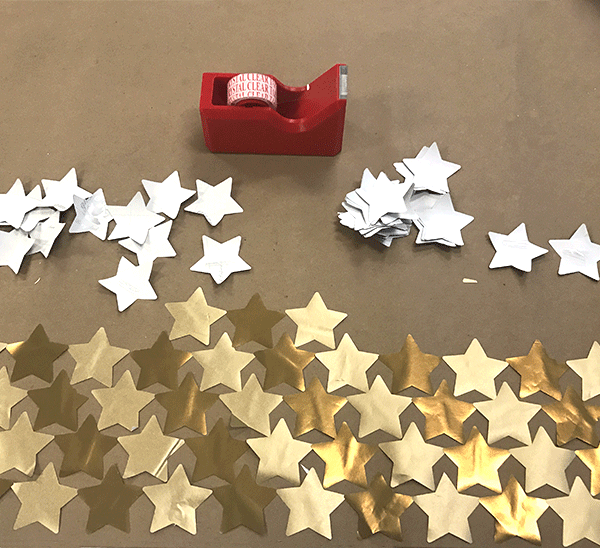 Tickets Please!
This is super easy pick your favorite paper or cardstock, I went with Platinum Translucent Vellum and Gold Stardream Metallic. Print out the tickets and hand them out to your guests. This is a great way to monitor drinking (one ticket is one drink) to make sure everyone gets home safe! Just tell your guests, "Sorry but we want you to actually remember the Oscars this year!" Or you can put them in your Oscar invitations to admit your guests into the party. No Ticket, no entry! It's all fun and games but it makes it feel more real! Just download,  print, and cut!
|   [media-downloader media_id="21652" texts=" Admission Tickets Template "]   |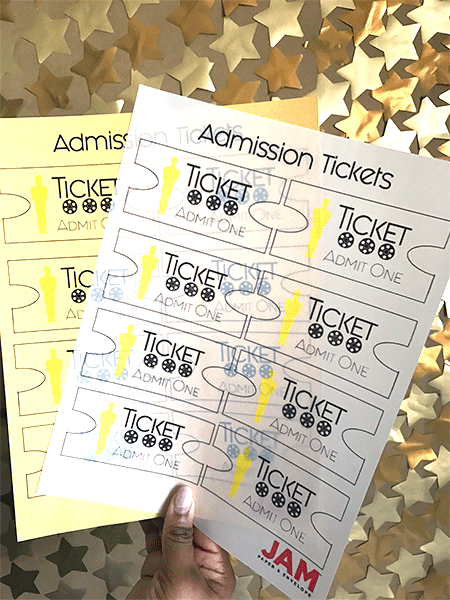 Can I See Your Pass
If you haven't guessed I tried to make this craft as easy as possible. From decorating, cooking, and getting dressed, hosting an Oscar party can be exhausting! The VIP passes are for your elite guests! The VIP can get unlimited food and drinks or can simply have dibs on the better couch – setting arrangements are serious business. Choose a color or paper or cardstock (cardstock would be better for this one). I also used Platinum Translucent Vellum and Gold Stardream Metallic for these as well. You can use a hole puncher and string the VIP passes so you're guest can wear them around the party. Another print and cut for your convenience!
|     [media-downloader media_id="21653" texts="VIP Passes Template "]    |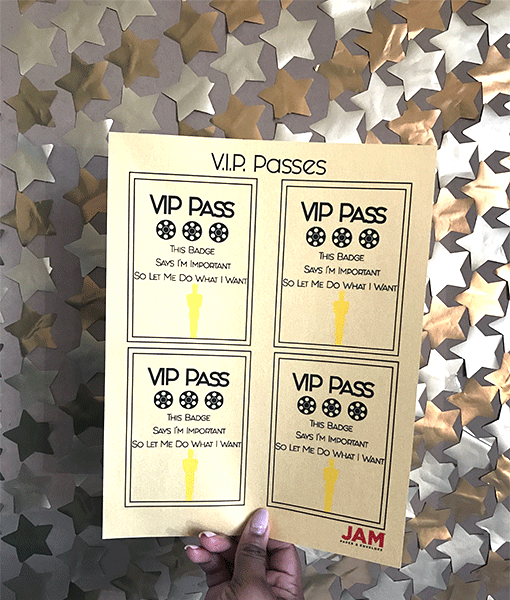 And the Winner is…
Since you are peers of all the nominated actors and actresses, you'll definitely need an Oscar Ballot! Before the Oscars come on, while watching all the people on the red carpet, have everyone check off who they think will win. This is just for fun but if you want to have a prize for the person who got the most correct feel free! This makes you feel more apart of the actual Oscars! Plus a little competition never hurt anybody. I chose Platinum Translucent Vellum for this one.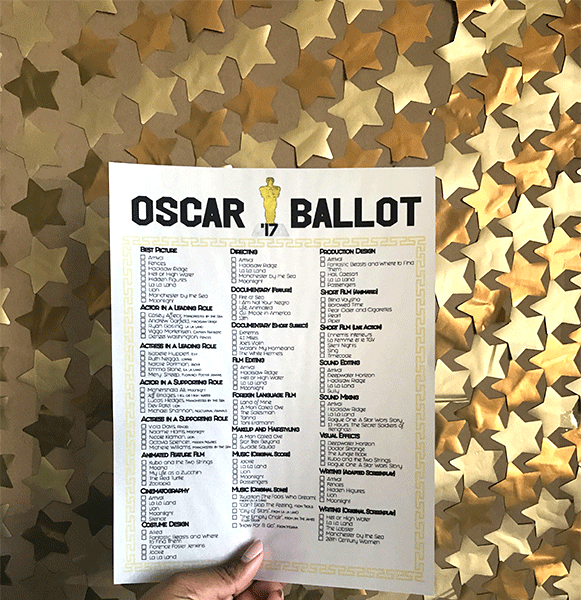 Voting time! You can't be at an Oscar Party with no winners – that'd be no fun! During the commercials hand out a few sheets of paper and vote for categories like "Best Dressed", "Best Makeup", "Quirkiest Outfit" and so on. It'll be a blast to see who wins among your guests! But you can't have a winner without a winner envelope! You'll need an envelope, I used the black gold lined envelope for dramatic effect and the Oscars envelope template. Print and cut then simply glue or tape on the outside of the envelope! Feel free to seal you envelope with a fancy gold wafer label!
|     [media-downloader media_id="21650" texts="Oscar Ballot'17 Template"]     |     [media-downloader media_id="21651" texts="Oscar Envelope Template"]    |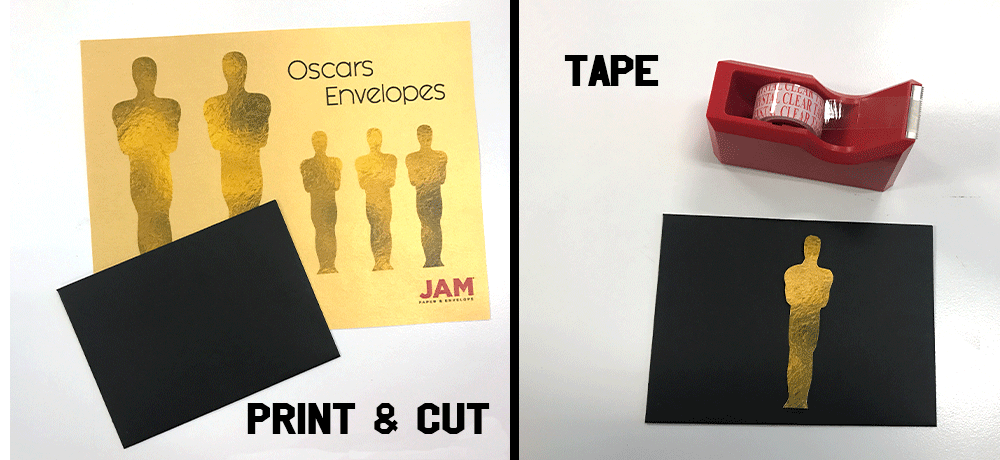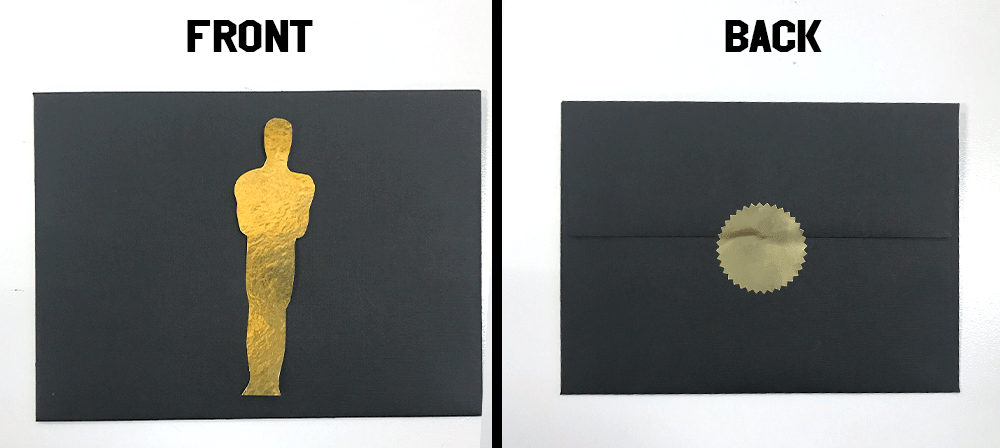 There you have it! Simple and sophisticated! These DIY Oscar Décor will make you feel like an A-Lister in your own home! You're Oscar party will e one to talk about with the authenticity of your decorations. Just add a red carpet and your guest will feel like a star! Share your DIY Oscar Décor pictures with us on Facebook, Instagram, and Twitter! Check out the pictures we took here at JAM!